Literatur Review: Perbedaan Menghafal Al-Qur'an Dengan Metode Takrir, Talaqqi dan Odoa Terhadap Perkembangan Hafalan Anak-Anak Usia Sekolah Dasar
Salman Salman

Universitas Muhammadiyah Riau, Indonesia

Safrizal Safrizal

Institut Agama Islam Negeri Batu Sangkar, Sumatera Barat, Indonesia
Keywords:
Al-Qur'an, Method, Takrir, Talaqqi, ODOA
Abstract
Memorizing the Qur'an with various methods applied is something extraordinary for every child to be able to do. Especially in memorization, a method is needed so that elementary age children are not bored and bored in studying it. So the right and good method in this article offers a very good method, namely the panipati method.
References
Abdurrahman Fadholi. (2019), Panduan Talaqqi al-Qur'an, Bekasi: Pustaka Adz-Dzhahabi.
Aiman Rusydi Suwaidi. ( 2012), Panduan Ilmu Tajwid, Terj. Umar Mujtahid, Maktabah Ibn al-Jazari, Suriah.
Abdul Fattah as-Sayyid al-Mushaffa. (1339), Hidayatul Qori' ila Tajwid Kalamil Bari, Madinah: Maktabah Thayyibah.
Ahsin. (2005), Bimbingan Praktis Menghafal Al-Qur'an, Ed. 1, Cet. III, Jakarta: Bumi Aksara.
Cucu Susianti. (2016), Efektivitas Metode Talaqqi Dalam Meningkatkan Kemampuan Menghafal Al-Qur'an Anak Usia Dini, Tunas Siliwangi, Vol.2, No.1,April 2016, Bandung.
Chairani, Lisya, dan Subandi. (2011), Psikologi Santri Penghafal Al-Qur'an. Yogyakarta: Pustaka Pelajar.
Desmita. (2011), Psikologi Perkembangan Peserta Didik, Cet. 3, Bandung: Remaja
Rosdakarya.
Fitriani Gade. (2014), Implementasi Metode Takrār Dalam Pembelajaran Menghafal Al-Qur'an, Jurnal Ilmiah DIDAKTIKA Februari 2014 VOL. XIV NO. 2,Aceh.
Khuirul Anwar. (2018), Implementasi Metode Odoa (One Day One Ayat) Dalam Meningkatkan Kemampuan Menghafal Al-Quran" JPII Volume 2, Nomor 2, April 2018, Situbondo
Syaikh Muhammad Mahmud. (2015), Hidyatul Mustafid fi ahkami Tajwid,Makatabah Hadyu Muhammadi: Mesir.
Syamsu. (2014), Psikologi Perkembangan Anak & Remaja, Cet. 14, Bandung:
Remaja Rosdakarya.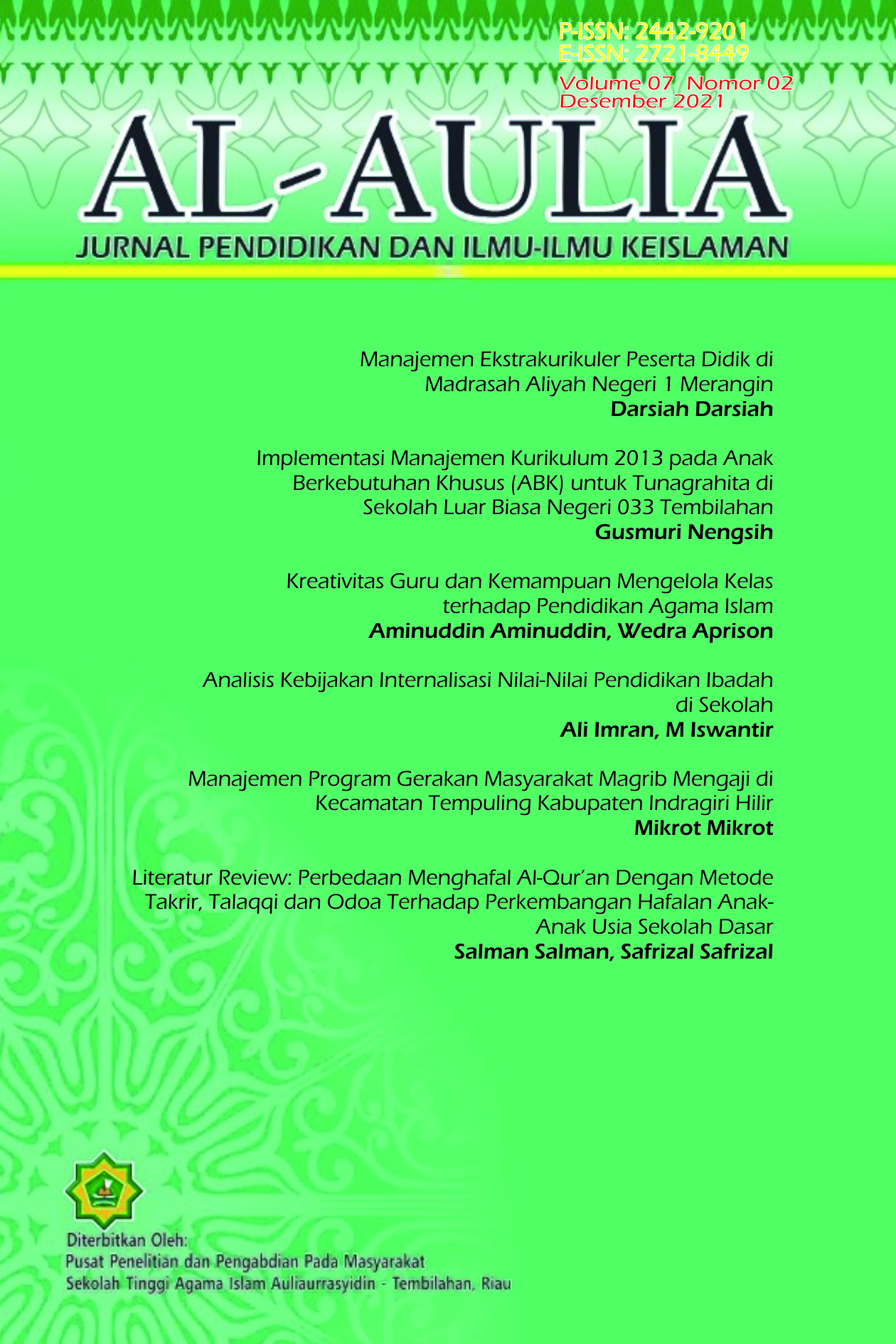 How to Cite
SalmanS., & SafrizalS. (2021). Literatur Review: Perbedaan Menghafal Al-Qur'an Dengan Metode Takrir, Talaqqi dan Odoa Terhadap Perkembangan Hafalan Anak-Anak Usia Sekolah Dasar. Al-Aulia: Jurnal Pendidikan Dan Ilmu-Ilmu Keislaman, 7(2), 153-159. Retrieved from https://ejournal.stai-tbh.ac.id/index.php/al-aulia/article/view/465
Copyright (c) 2021 Salman Salman, Safrizal Safrizal
This work is licensed under a Creative Commons Attribution-ShareAlike 4.0 International License.
Authors who publish with this journal agree to the following terms:
1. Copyright on any article is retained by the author(s).
2. The author grants the journal, right of first publication with the work simultaneously licensed under a Creative Commons Attribution License that allows others to share the work with an acknowledgment of the work's authorship and initial publication in this journal.
3. Authors are able to enter into separate, additional contractual arrangements for the non-exclusive distribution of the journal's published version of the work (e.g., post it to an institutional repository or publish it in a book), with an acknowledgment of its initial publication in this journal.
4. Authors are permitted and encouraged to post their work online (e.g., in institutional repositories or on their website) prior to and during the submission process, as it can lead to productive exchanges, as well as earlier and greater citation of published work.
5. The article and any associated published material is distributed under the Creative Commons Attribution-ShareAlike 4.0 International License