Peran Guru dalam Mengembangkan Moral Agama Anak Usia Dini di Taman Kanak-kanak Aisyiyah Bustanul Athfal III Pekanbaru
Keywords:
Teacher's Role, Children's Moral, Religion
Abstract
In developing morals and religion, early childhood requires the role of the teacher to nurture, educate, train, guide and always provide reinforcement and motivation, so as to make children interested and accustomed to doing so, in the sense that children have been accustomed to having morals and religion. Data collection was carried out by conducting observations, interviews, and documentation, and for this study using descriptive qualitative research methods, namely explaining and explaining data from research results. The method used in this research is descriptive method, by collecting data, compiling data, or classifying, analyzing and interpreting it. The results showed that the teacher's role in developing children's morals and religion in TK Aisyiyah Bustanul Athfal III Pekanbaru.
References
A.M, Sardinian, 2004, Interaksi dan motivasi belajar mengajar, Jakarta: PT Raja. Grafindo Persada
Amri, Sofan. 2013. Pengembangan & Model Pembelajaran dalam Kurikulum 2013. PT Prestasi Pustakaraya. Jakarta.
Anas Sudijono. (2010). Pengantar Statistik Pendidikan. Jakarta: Rajawali Press.
Arikunto, Suharsimi. 2002. Metodologi Penelitian. Penerbit PT. Rineka Cipta. Jakarta.
Bungin, Burhan. 2003. Analisis Data Penelitian Kualitatif . Jakarta: PT Raja Grafindo Persada.
Darmadi, Hamid. (2013). Metode Penelitian Pendidikan dan Sosial. Bandung : Alfabeta
Desmita, R. 2008. Psikologi Perkembangan. Bandung: PT.Remaja Rosdakarya.
Maria J Wantah. 2005. Pengembangan Disiplin dan Pembentukan Moral Pada Usia Dini. Jakarta: Departemen Pendidikan Nasional.
Moleong, Lexy J. 20014. Metodologi Penelitian Kualitatif Penerbit PT Remaja Rosdakarya Offset, Bandung
Rahman, Muhammad dan Sofan Amri .Model Pembelajaran ARIAS (Assurance, Relevance, Interest, Assessment, Satisfaction/ Terintegratif Dalam Teori dan Praktik Untuk Menunjang Penerapan Kuikulum 20/J.Jakarta: Prestasi Pustaka Raya
Roqib, Moh., Nurfuadi. 2009. Kepribadian Guru Upaya Mengembangkan Kepribadian Guru yang Sehat di Masa Depan. Yogyakarta: Grafindo Litera Media
Slavin, Robert E. (2005). Cooperative Learning: theory, research and practice (N. Yusron. Terjemahan). London: Allymand Bacon. Buku asli diterbitkan tahun 2005.
Soetjiningsih. (2012). Tumbuh Kembang Anak. Jakarta : EGC
Syaifiil Bahri Djamarah dan Aswan Zain. (2002). Strategi Belajar Mengajar. Jakarta: Rineka Cipta.
Sugiyono. (2007). Statistika Untuk Penelitian. Bandung. Penerbit: CV. Alfabeta
Sugiyono. 2012. Metode Penelitian Kuantitatif Kualitatif dan R&D. Bandung: Alfabeta.
Winamo Surakhmad, 2000. Pengantar Penelitian Ilmiah: Dasar, Metode dan Tekhnik, Bandung: Tarsito
Wahyudi, Imam. (2012). Mengejar Profsionalisme Guru Strategi Praktis Mexvujudkan Cintra Guru Profesional. Jakarta Prstasi Jakarta.
Yusuf, Syamsu LN. 2011. Psikologi Perkembangan Anak dan Remaja. Bandung: Remaja Rosdakarya.
Zuriah, Nurul. 2007. Metodologi Penelitian Sosial dan Pendidikan, Teori Aplikasi. Jakarta: Bumi Aksara.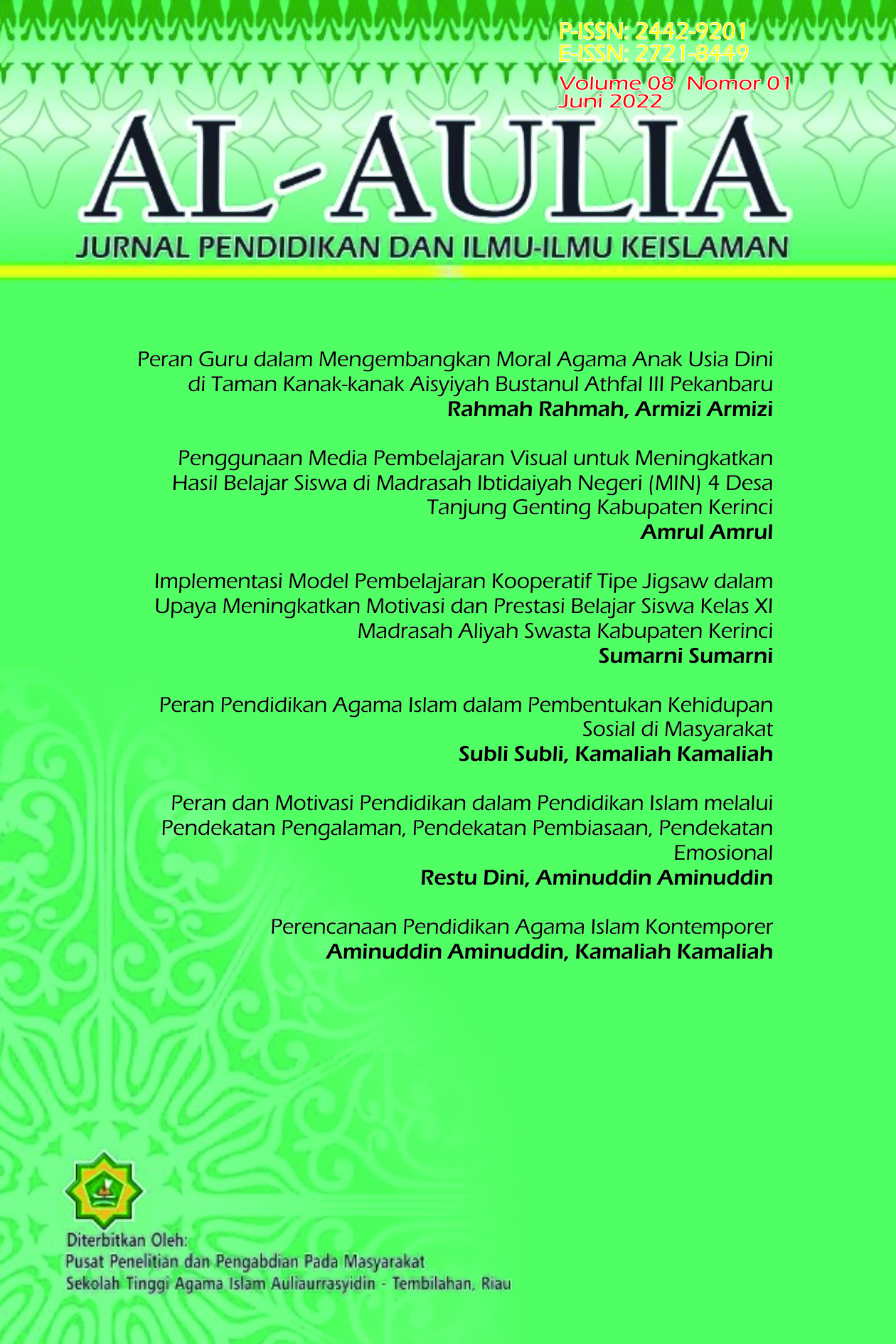 Downloads
How to Cite
Rahmah, R., & Armizi, A. (2022). Peran Guru dalam Mengembangkan Moral Agama Anak Usia Dini di Taman Kanak-kanak Aisyiyah Bustanul Athfal III Pekanbaru. Al-Aulia: Jurnal Pendidikan Dan Ilmu-Ilmu Keislaman, 8(1), 1–15. https://doi.org/10.46963/aulia.v8i1.496
License
Authors who publish with this journal agree to the following terms:
1. Copyright on any article is retained by the author(s).
2. The author grants the journal, right of first publication with the work simultaneously licensed under a Creative Commons Attribution License that allows others to share the work with an acknowledgment of the work's authorship and initial publication in this journal.
3. Authors are able to enter into separate, additional contractual arrangements for the non-exclusive distribution of the journal's published version of the work (e.g., post it to an institutional repository or publish it in a book), with an acknowledgment of its initial publication in this journal.
4. Authors are permitted and encouraged to post their work online (e.g., in institutional repositories or on their website) prior to and during the submission process, as it can lead to productive exchanges, as well as earlier and greater citation of published work.
5. The article and any associated published material is distributed under the Creative Commons Attribution-ShareAlike 4.0 International License