Nilai-nilai Pendidikan Toleransi dalam Kegiatan Bahs Al-Masāil di Pesantren Tradisional
Habib Maulana Maslahul Adi

UIN Sunan Kalijaga Yogyakarta, Indonesia
Keywords:
Islamic Bording School, Pesantren, Tolerance, Bahtsul Masail
Abstract
This study aims to reveal the educational value of tolerance contained in bahs al-masāil activities in traditional Islamic boarding schools. This research is a qualitative descriptive study which took place at the Pesantren Al-Anwar in Rembang and the Pesantren Al-Luqmaniyyah in Yogyakarta, with the object of research being the students from the pesantren who actively participated in the bahs al-masāil forum. Data collection techniques used are interviews and documentation. The results of the study indicate that there are at least four values ​​of tolerance education in bahs al-masāil activities, namely: mutual respect for the opinions of others shown by the bahs al-masāil participants; helping fellow participants in finding 'ta'bīr related to the problem being discussed from the reference book; upholding peace after leaving the baul masāil arena which is full of disputes; and justice realized by the moderator in leading the bahs al-masāil forum
Downloads
Download data is not yet available.
References
Aliyah, I. M. (2019). Implikasi model problem based learning (PBL) terhadap sikap toleransi bermadzhab fiqh mahasiswa PAI di Program Studi Pendidikan Agama Islam Fakultas Ilmu Agama Islam Universitas Islam Indonesia Angkatan 2016/2017. Yogyakarta: (Doctoral dissertation, Universitas Islam Indonesia).
Bruinessen, V. M. (1996). Kitab Kuning, Pesantren dan Tarekat: Tradisi-tradisi Islam di Indonesia. Bandung: Mizan Pustaka.
Bungin, B. (2001). Metode Penelitian Kualitatif: Aktualisasi Metodologis ke Arah Varian Kontemporer. Jakarta: Raja Grafindo Persada.
Faisal, S. (2001). Format-format Penelitian Sosial. Jakarta: Raja Grafindo Persada.
Hamka. (1986). Tafsir Al-Azhar. Jakarta: Panjimas.
Hamka. (2016). Dari Hati ke Hati. Jakarta: Gema Insani.
Harun, M. B. (2007). Pesantren dan Pluraisme dalam Budaya Damai Komunitas Pesantren. Jakarta: LP3ES Indonesia.
Lestari, I., Nurmilawati, M., & Santoso, A. M. (2015). Penerapan Problem Based Learning (PBL) untuk meningkatkan kemampuan berpikir kritis dan sikap sosial peserta didik kelas VIII. Prosiding Seminar Nasional Pendidikan Biologi 2015. Prodi Pendidikan Biologi FKIP Universitas Muhammadiyah Malang. http://research-report.umm.ac.id/index.php/research-report/article/view/487
Maknun, L. (2014). Tradisi ikhtilaf dan budaya damai di Pesantren Studi kasus PP Nurul Ummah dan Ar-Romli Yogyakarta. Fikrah: Jurnal Ilmu Aqidah dan Studi Keagamaan, 2(1). 331-356. http://dx.doi.org/10.21043/fikrah.v2i2.664
Maksum, A. (2011). Pluralisme dan Multikulturalisme: Paradigma Baru Pendidikan Agama Islam di Indonesia. Malang: Aditya Media.
Marom, A. A. (2012). Kyai, Nu, dan pesantren: Dalam perspektif demokrasi deliberatif. In Right: Jurnal Agama dan Hak Azazi Manusia, 2(1), 15-40. https://doi.org/10.14421/in%20right.v2i1.1231
Masduqi, G. I. (2018, September 18). Berbeda pendapat 14000 Masalah. NU Online - Suara Nahdlatul Ulama. [Video]. Youtube. https://www.youtube.com/watch?v=RPHB5pL4fLI
Masduqi, G. I. (2018, Agustus 24). Mengapa Santri Berpikir Moderat. Media RMI-Nahdlatul Ulama Rabithah Maahid Islamiyah. [Video]. Youtube. https://www.youtube.com/watch?v=yqpx1CWobjQ
Nasih, A. M. (2009). Bahtsul masail dan problematikanya di kalangan masyarakat muslim tradisional. Al-Qanun: Jurnal Pemikiran dan Pembaharuan Hukum Islam, 12(1), 106-29. https://doi.org/10.15642/alqanun.2009.12.1.106-129
Nazir, M. (2005). Metode Penelitian. Bogor: Ghalia Indonesia. Bogor: Ghalia Indonesia.
Novita, N. D., Syaifullah, & Hadi, M. N. (2019). Efektivitas model problem based learning pada pembelajaran pendidikan agama islam dalam meningkatkan motivasi belajar di SMA Negeri 1 Pandaan. Jurnal Al-Murabbi, 4(2), 165-176. https://doi.org/10.35891/amb.v4i2.1432
Ratnasari, D. (2016). Pesantren dalam Perspektif Fungsionalisme Struktural: Menimbang Teori Sosiologi Emile Durkheim. Yogyakarta: Universitas Negeri Yogyakarta.
Sa'doellah, A. (2000). Masa'ilnya Bahtsul Masa'il. Tashwirul Afkar Edisi, (9).
Shihab, M. Q. (2013). Wawasan Alquran dan Tafsir Tematik atas Pelbagai Persoalan Umat. Bandung: Mizan Pustaka.
Wahid, A. (2001). Menggerakkan Tradisi: Esai-esai Pesantren. Yogyakarta: LKiS.
Zamani, N., & Ilahiyah, I. I. (2019). Implementasi Nilai-Nilai Multikultural Di Pesantren Tebuireng. Al-Misbah: Jurnal Islamic Studies, 7(1), 14-20. https://doi.org/10.26555/almisbah.v7i1.1128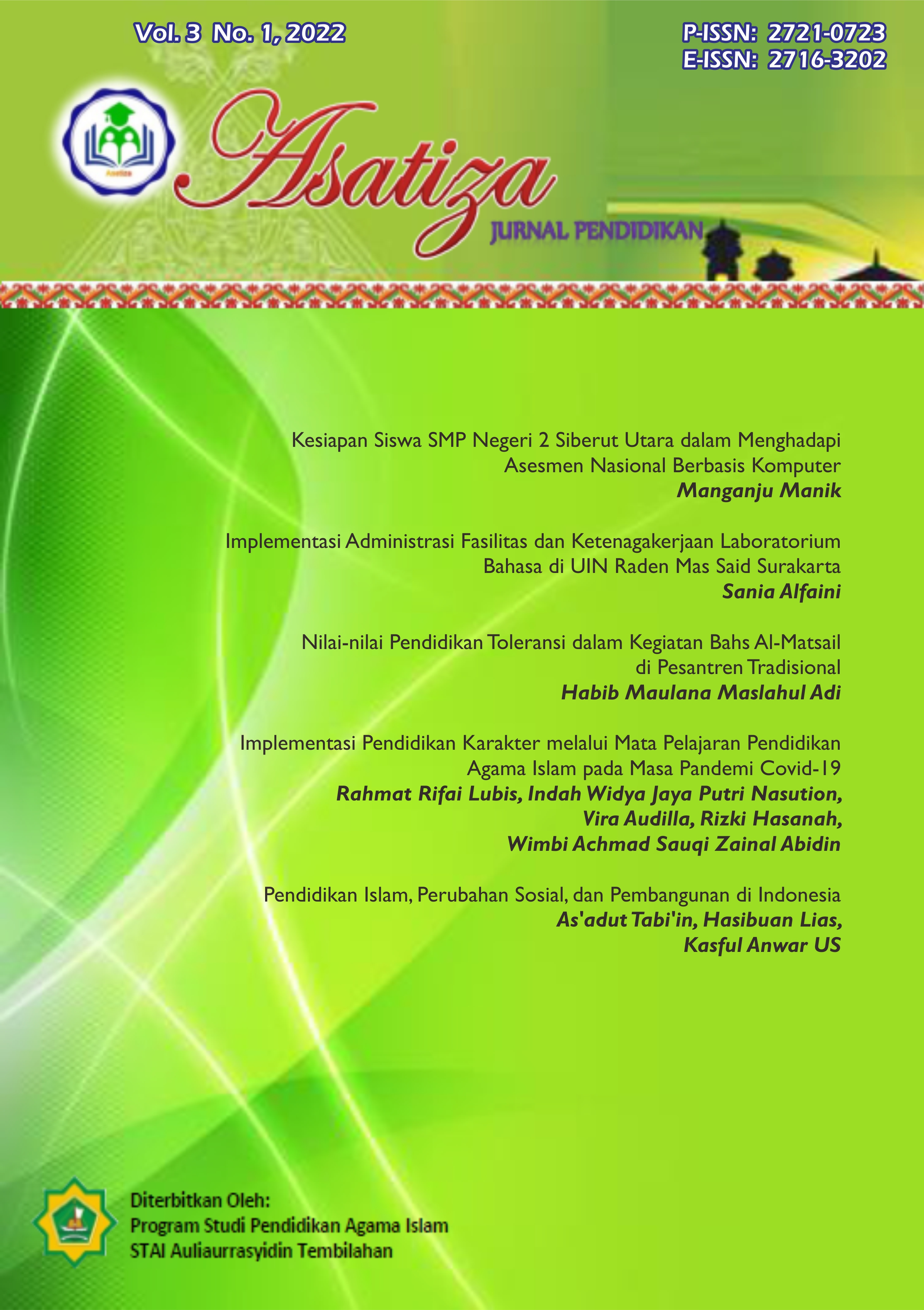 How to Cite
AdiH. M. M. (2022). Nilai-nilai Pendidikan Toleransi dalam Kegiatan Bahs Al-Masāil di Pesantren Tradisional. Asatiza: Jurnal Pendidikan, 3(1), 20-32. https://doi.org/10.46963/asatiza.v3i1.438
Copyright (c) 2022 Habib Maulana Maslahul Adi
This work is licensed under a Creative Commons Attribution-ShareAlike 4.0 International License.
Authors who publish with this journal agree to the following terms:
1. Copyright on any article is retained by the author(s).
2. The author grants the journal, right of first publication with the work simultaneously licensed under a Creative Commons Attribution shareAlike 4.0 International License that allows others to share the work with an acknowledgment of the work's authorship and initial publication in this journal.
3. Authors are able to enter into separate, additional contractual arrangements for the non-exclusive distribution of the journal's published version of the work (e.g., post it to an institutional repository or publish it in a book), with an acknowledgment of its initial publication in this journal.
4. Authors are permitted and encouraged to post their work online (e.g., in institutional repositories or on their website) prior to and during the submission process, as it can lead to productive exchanges, as well as earlier and greater citation of published work.
5. The article and any associated published material is distributed under the Creative Commons Attribution-ShareAlike 4.0 International License