Pemikiran Thomas Aquinas: Relevansi Pendidikan Spiritual dan Moral Aquinas dengan Pendidikan Islam di Tengah Era Disrupsi
Muhamad Basyrul Muvid

Universitas Dinamika, Surabaya, Jawa Timur, Indonesia
Keywords:
Thomas Aquinas, Spiritual Education, Morals, Islamic Education
Abstract
Globalization gave birth to a new paradigm for human life that gave rise to both negative and positive sides. Most of them are trapped in the negative side of globalization. The negative paradigms are liberalism, secularism, individualism, materialism, hedonism which causes humans to be far from the spirit of religion and norms. Finally, he experienced a drought; spiritual and moral crisis that has an impact on his social life. The purpose of this study is to analyze the thoughts of Thomas Aquinas, who is a famous realist philosophy figure about spiritual and moral education as a solution to the problems of society in the era of disruption and its relevance to Islamic education. Aquinas' spiritual education is a process to educate people to know their God by optimizing their minds through the meaning of the five paths offered by Aquinas. Then, Aquinas' moral education is the process of forming behavior in accordance with God's instructions as an effort to achieve true happiness by always emphasizing actions that are in accordance with God's norms. The relevance of Aquinas' spiritual and moral education with Islamic education is that Islamic education is also a process to educate people to become obedient individuals to God and individuals who uphold moral values ​​for their social life. Spiritual and moral aspects are a priority in Islamic education in addition to the knowledge aspect.
Downloads
Download data is not yet available.
References
A, Melliana, & Zain, I. (2013). "Analisis Statistika Faktor yang Mempengaruhi Indeks Pembangunan Manusia di Kabupaten/Kota Provinsi Jawa Timur dengan Menggunakan Regresi Panel", Jurnal Sains dan Seni Pomits, Vol. 2 , No. 2.
Al Walid, Khalid. (2005). Tasawuf Mulla Shadra: Konsep Ittihad al Aqil wa al Ma'qul. Bandung: Muthahhari Pres.
Aquinas, Thomas. (1952). Questiones Disputatae de Veritate.terj. Robbert W. Mulligan. Chicago: Henry Regnery Company. Vol. I
Aquinas, Thomas. (1972). Summa Theological. terj. Cornelius Ernst. London: Eyre & Spottiswoode. Jilid I.
Aristoteles. (1998). Nichomacean Ethics. New York: Oxford University Press. Vol. V.
Arkoun, Muhammed. (1994). Nalar Islami dan Nalar Modern; Berbagai Tantangan dan Jalan Baru, terj. Rahayu S. Hidayat. Jakarta: INIS.
Arum, Giovani Aditya. (2019). "Konsep Keadilan Perspektif Thomas Aquinas dan Relevansinya Bagi Pemaknaan Sila V Pancasila". Lumen Veritatis: Jurnal Filsafat dan Teologi. Vol. 12. No. 1.
Aziz, Muhammad. (2015). "Tuhan dan Manusia Dalam Perspektif Pemikiran Abu Nasr al Farabi". Jurnal Studi Islam, Vol. 10. No. 2.
Berger, Peter L. (1983). Prymids of Sacrifice: Political Ethics and Social Change, terj. Tim Iqra' Piramida Pengorbanan Manusia. Bandung: Iqra'.
Budiman, Kalvin S. (2006). Aquinas, Konsili Trent, dan Luther Tentang Pembenaran Iman: Sebuah Isu Tentang Kontinuitas dan Diskontinutas". Veritas. Vol. 7. No. 2. Oktober 2006.
Copleston, Fredrick. (1950). A History of Philosophy. London: Burns Cates & Washbourne. Vol. II.
De Boar, T.J. (1954). Tarikh al-Falsafat fi al-Islam, diterjemahkan kedalam bahasa Arab oleh Muhammad Abd al-Hady Abu Zaidah. Kairo: Mathba'ah Lajnah al-Ta'lif wa al-Tarjamat.
Dedi, Agus. (2014). Analisis Pemikiran Filsafat Politik Thomas Aquinas". Cakrawala, Vol. 4. No. 4.
Doyle, Dennis M. (2007). Thomas Aquinas: Integrating Faith and Reason in the Catholic School". Catholic Education: A Journal of Inquiry and Practice. Vol. 10. No. 3.
Dyson R.W. (ed). (2002). Aquinas Political Writtings. New York: Cambridge University Press.
Garvey, James. (2010). 20 Karya Filsafat Terbesar. Yogyakarta: Kanisius.
Geraudy, Roger. (1989). The Balance Sheet of Westem Philosophy in This Century dalam Toward Islamization of Diciplines No. 6. Malaysia: the Islamic Intitute if Islamic Thought, Islamization of Knowledge Series.
Gilson, Etienne. (1955). History of Christian Philosophy in the Middle Ages. London: Sheed and Ward.
Gilson, Etienne. (1961). Moral Value and The Moral Life, The Shoe String Press. t.tp: t.p.
Hadiwijono, Harun Sari Sejarah Filsafat. Yogyakarta: Kanisius. 1990. Jilid I.
Hanchin, Timothy. (2018). Read As You Believe: Redemptive Reading As Spiritual Pedagogy for Integrative Education. Religious Education, Vol. 113, No. 4.
Hassan, Aminuddin. et.al, (2010). The role of Islamic Philosophy of Education in Aspiring Holistic Learning. Procedia Social and Behavioral Sciences.
Hoff, Gregor Maria dan Ulrich H.J. Koertner. (2012). Arbeitsbuch Theologiegeschichte. Stutgart: Verlag W. Kohlhammer.
Ibrahim, Muhammad Zaki. (2002). Tasawuf Salafi, menyucikan Tasawuf dari Noda-noda. Jakarta: Hikmah.
Iqbal, Sir Muhammad. (1981). The Reconstruction of Religion Thought in Islam. New Delhi: Kitab Bhavan.
Karim, Rusli. (1992). Agama dan Masyarakat Industri Modern. Yogyakarta: Media Widya Mandala.
Karman. (2018). Tafsir Ayat-Ayat Pendidikan. Bandung: Rosdakarya.
Khoruddin, M. Arif. (2016). Peran Tasawuf Dalam Kehidupan Masyarakat Modern". IAIT Kediri. Vol. 27.
Langgulung, Hasan. (1988). Asas-asas Pendidikan Islam. Jakarta: Pustaka al-Husna.
Leahy, L. S.J. (1993). Filsafat Ketuhanan Kontemporer. Yogyakarta: Kanisius.
Levering, J. (2002). Christ's Fulfillment of Torah and Temple: Salvation According to Thomas Aquinas. Notre Dame-IN: University of Notre Dame Press.
Madjid, Nurcholis. (2000). Islam Doktrin dan Peradaban; Sebuah Telaah Kritis tentang Masalah Keimanan, Kemanusiaan dan Kemodernan. Jakarta: Paramadina.
Marimba, Ahmad D. (1998). Pengantar Filsafat Pendidikan Islam. Bandung: al Ma'arif.
Mayer, Frederick. (1950). A History of Medieval & Ancient Philosophy. New York: American Book Company.
Mcinerny, Ralph. (1986). Ethica Thomastica, The Moral Philosophy of Thomas Aquinas. Washington: The Catholic University of America.
Miskawaih, Ibnu. (1985). Tahdzib al Akhlak fiy al Tarbiyah. Beirut: Dar al Kutub al Ilmiyah.
Molnar, Thomas Steven. (1970). The of Education. New York: Fleet Academic Edition.
Muhaimin. (2003). Arah Baru Pengembangan Pendidikan Islam Pemberdayaan, Pengembangan Kurikulum Hingga Redefinisi Islamisasi Pengetahuan. Bandung : Nuansa.
Nashir, Haedar. (1997). Agama dan Krisis Manusia Modern. Yogyakarta: Pustaka Pelajar.
Nasr, Seyyed Hossein dan Oliver Leaman. (2003). Ensiklopedi Tematis Filsafat Islam. Bandung: Mizan.
Nasr, Seyyed Hossein. (1976). Islamic Science: An Illustrated Study. London: wp.
Nasution, Harun. (1973). Filsafat dan Mistisme Dalam Islam. Jakarta: Bulan Bintang.
Nasution, M. Yasir. (1994). Spiritualitas Abad Modern; Telaah tentang Signifikansi Konsep Manusia al Ghazali. Medan: t.p.
Nazir, Moh. (2005). Metode Penelitian. Bogor: Ghalia Indonesia.
Nelson, Daniel Mark. (1992). The Priority of Prudence: Virtue and Natural Law in Thomas Aquinas and the Implications for Modern Ethics. University Park: Pennsylvania State University Press.
Noor, Wahyudin. (2014). Rekonstruksi Pendidikan Agama Islam", Jurnal Qathrunâ Vol. 1 No.1
Petrarch. (1948). On His Own Ignorance and That of Many Other in The Renaissance Philosophy of Man, (ed) Ernst Cassirer. Chicogo: University of Chicago.
Power, F. Clrak et.al (ed). (2008). Moral Education: A Handbook. Westport: Praeger. Vol. I&II.
Rimper, Alfedro. (2011). Konsep Allah Menurut Thomas Aquinas". Tesis: Universitas Indonesia Depok.
Russel, Bertrand. (2002). Sejarah Filsafat Barat dan Kaitannya dengan Kondisi Sosio Politik dari Kuno hingga Sekarang, terj. Sigit Jatmiko, et,al. Yogyakarta: Pustaka Pelajar.
S., Jia, et.al. (2013). Electricity Consumption and Human Development Level: A Comparative Analysis Based on Panel Data for 50 Countries", Electrical Power and Energy Systems. Vol. 53
Sihaloho, Jasman Rufinus. (1997). Argumen Ontologis Thomas Aquinas. Jurnal Filsafat.
Spangenberg, J.H. "The Corporate Human Development Index CHDI: A Tool For Corporate Social Sustainability Management and Reporting," Journal of Cleaner Production. xxx(2015).
Spiazzi, Raimondo. (1989). Principi Di Etica Sosiale. Bologna-Italia: PDUL Edizioni Studio Domenicano.
Sriet, M. (2003). Offenbares Geheimnis. Regensburg: Pustet Verlag.
Sumaryono, E. (1995). Etika Profesi Hukum: Norma-norma Bagi Penegak Hukum. Yogyakarta: Kanisius.
Supriyadi, Dedi. (2009). Pengantar Filsafat Islam. Bandung: Pustaka Setia.
Suseno, F. Magnis. (1997). 13 Tokoh Etika Sejak Zaman Yunani Sampai Abad 19. Yogyakarta: Kanisius.
Suseno, F. Magnis.(2003). Etika Politik: Prinsip-prinsip Moral Dasar Kenegaraan Modern. Jakarta: Gramedia.
Suseno, F. Magnis. (2014). Iman dan Hati Nurani: Gereja Berhadapan dengan Tantangan-tantangan Zaman. Jakarta: Penerbit Obor.
Suseno, F. Magnis. (2006). Menalar Tuhan. Yogyakarta: Kanisius.
Syarifudin, S, D. Aji & Ishak, R. F. (2014). Identifikasi Tipologi Wilayah Perbatasan antar Kabupaten/ Kota dan Indeks Pembangunan Manusia di Provinsi Jawa Barat. Bandung: Lembaga Penelitian Universitas Pasundan.
Tafsir, Ahmad. (2001). Filsafat Umum; Akal dan Hati sejak Thales sampai Capra. Bandung: PT Remaja Rosdakarya.
Winarsih, Fransisca Y Sri. (2015). Pertutan Yang Real Dengan Yang Rasional Dalam Epistemologi Thomas Aquinas", Orientasi Baru, Vol. 24. No. 1.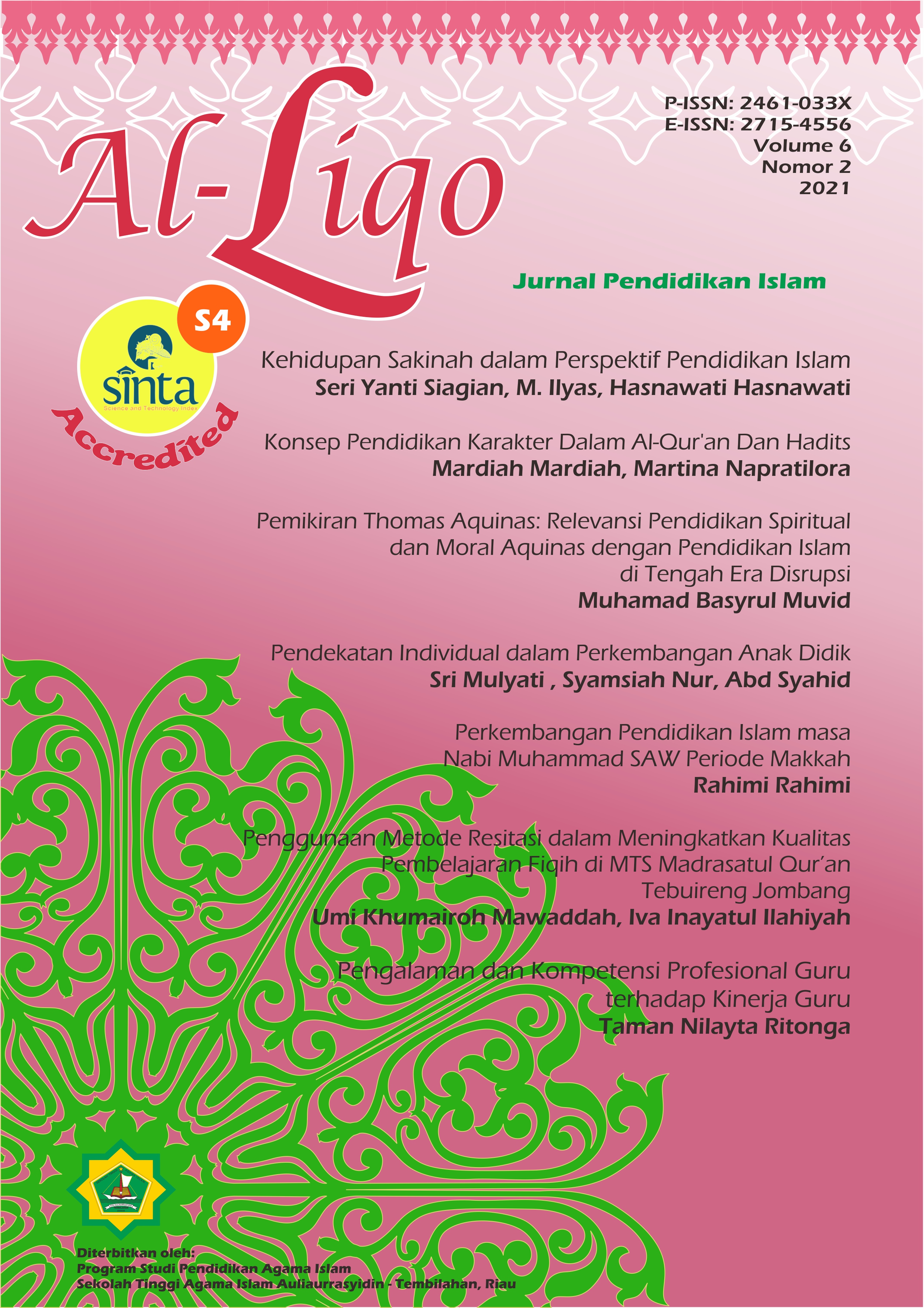 How to Cite
MuvidM. B. (2021). Pemikiran Thomas Aquinas: Relevansi Pendidikan Spiritual dan Moral Aquinas dengan Pendidikan Islam di Tengah Era Disrupsi. Al-Liqo: Jurnal Pendidikan Islam, 6(2), 131-158. https://doi.org/10.46963/alliqo.v6i2.418
Copyright (c) 2021 Muhamad Basyrul Muvid
This work is licensed under a Creative Commons Attribution-ShareAlike 4.0 International License.
Authors who publish with this journal agree to the following terms:
1. Copyright on any article is retained by the author(s).
2. The author grants the journal, right of first publication with the work simultaneously licensed under a Creative Commons Attribution shareAlike 4.0 International License that allows others to share the work with an acknowledgment of the work's authorship and initial publication in this journal.
3. Authors are able to enter into separate, additional contractual arrangements for the non-exclusive distribution of the journal's published version of the work (e.g., post it to an institutional repository or publish it in a book), with an acknowledgment of its initial publication in this journal.
4. Authors are permitted and encouraged to post their work online (e.g., in institutional repositories or on their website) prior to and during the submission process, as it can lead to productive exchanges, as well as earlier and greater citation of published work.
5. The article and any associated published material is distributed under the Creative Commons Attribution-ShareAlike 4.0 International License