Islamic Educational Thought: Zakiyah Darajat's Perspective
Keywords:
Islamic Education, Zakiyah Darajat, Education Center
Abstract
Islamic educational thought has an important role in counteracting moral decline and identity crisis. This study aims to examine Zakiyah Darajat's thoughts in Islamic education. This literature-type study shows the result that Zakiah Daradjat's thoughts in the realm of Islamic education encourage the study of progressive environmental aspects of Islamic education. This result is driven by a conceptual study of Islamic education which according to him must support the balance of the world and the hereafter. This balance will have implications for human behavior in developing social relationships. He also concluded that lifelong education which covers all dimensions of life is expected to achieve his rights in this world and the rights in the hereafter. From these findings, this research contributes to the formation of a new concept of Islamic education that is in line with the development of the modern world.
References
Abdullah Syafi'i. (2009). "Khazanah Tafsir di Nusantara: Penelitian terhadap Tokoh dan Karyanya di Malaysia, Brunei Darussalam, Singapura, dan Thailand." Jurnal Kontekstualita, 25.1.
Alfiani, Dwi Anita. (2011). KEBERAGAMAAN DALAM KESEHATAN MENTAL SEBAGAI PSIKOTERAPI (STUDI ANALISIS PEMIKIRAN Prof. DR. Hj. ZAKIYAH DARADJAT). Diss. IAIN Syekh Nurjati Cirebon.
Anshori, Isa. (2017). "Penguatan pendidikan karakter di madrasah." Halaqa: Islamic Education Journal 1.2, 63-74.
Bakri, Maskuri. 2013. "Paradigma Islam tentang Pengembangan Pendidikan Islam."..
Chamami, M. R., Nasikhin, N., & Saefudin, A. (2022). Development of Augmented Reality in Islamic Religious Education as an Anti-Corruption Learning Medium. Cendekia: Jurnal Kependidikan dan Kemasyarakatan, 1(2).
Chaniago Hasril, (2021). Orang Minang di Pentas Sejarah. Yayasan Citra Budaya Indonesia.
Fitriansyah, Andy Takwin, (2022). Maskuri Bakri, and Moh Eko Nasrullah. "PENDIDIKAN ISLAM DALAM PERSPEKTIF ZAKIYAH DARAJAT TENTANG CATUR PUSAT PENDIDIKAN ISLAM." Vicratina: Jurnal Ilmiah Keagamaan 7.4, 81-88.
Gadamer, Hans-Georg. (1992). Hans-Georg Gadamer on education, poetry, and history: Applied hermeneutics. SUNY Press.
Hafiddin, Hamim. (2015). "Pendidikan Islam pada Masa Rasulullah." TARBIYA: Jurnal Ilmu Pendidikan Islam 1.1, 17-30.
Hendriana, Evinna Cinda, and Arnold Jacobus. (2017) ."Implementasi pendidikan karakter di sekolah melalui keteladanan dan pembiasaan." JPDI (Jurnal Pendidikan Dasar Indonesia) 1.2, 25-29.
Huberman, Michael, and Matthew B. Miles. (2002). The qualitative researcher's companion. sage.
Ismail, Taufik. (2015) Konsep pendidikan islam dalam keluarga menurut Prof. Dr. Zakiyah Darajat. BS thesis. UIN Syarif Hidayatullah Jakarta: Fakultas Ilmu Tarbiyah dan Keguruan.
Junaedi, M., Nasikhin, N., & Hasanah, S. (2022). Issues in the Implementing of Online Learning in Islamic Higher Education During the Covid-19 Pandemic. Ta'dib, 25(1), 33-46.
Junaedi, Mahfud, Nasikhin Nasikhin, and Silviatul Hasanah. (2022). "Issues in the Implementing of Online Learning in Islamic Higher Education During the Covid-19 Pandemic." Ta'dib 25.1.
Khamalah, Nur. (2017). "Penguatan Pendidikan Karakter di Madrasah." Jurnal kependidikan 5.2, 200-215.
Laylia, Nurul, Muhammad Nur Hadi, and Syaifullah Syaifullah. (2020). "Klasifikasi Ilmu Dalam Islam Perspektif Imam Al Ghozali." Jurnal Mu'allim 2.2. 201-213.
Maunah, Binti. (2012). "Peer Review Jurnal Kesehatan Mental dalam Perspektif Pendidikan Zakiyah Darajat."
Nasikhin, N., & Raaharjo, R. (2022). Moderasi Beragama Nahdlatul Ulama dan Muhammadiyah dalam Konsep Islam Nusantara dan Islam Berkemajuan. Islamic Review: Jurnal Riset dan Kajian Keislaman, 11(1), 19-34.
Nasikhin, N., & Shodiq, S. (2021). DIFFERENT PERSPECTIVE OF RELIGIOUS EDUCATION IN ISLAMIC THEOLOGY AND WEST THEOLOGY. Jurnal Al-Fatih, 4(2), 328-342.
Nasikhin, N., Ismutik, I., & Albab, U. (2022). PHILOSOPHY OF ISLAMIC SCIENCE IN AL-FARABI'S PERSPECTIVE. RUSYDIAH: Jurnal Pemikiran Islam, 3(1), 20-34.
Nasikhin, N., Shodiq, S., Albab, U., Al-Ami, B., & Ismutik, I. (2022). Tantangan Pendidikan Agama Islam di Era Posh Truth. Al Manam: Jurnal Pendidikan dan Studi Keislaman, 2(1), 25-36.
Nata Abuddin. (2005). Tokoh-tokoh Pembaruan Pendidikan Islam di Indonesia, (Raja Grafindo Persada.
Nata, H. Abuddin. (2021). Ilmu kalam, Filsafat, dan tasawuf. Jakarta: Amzah, 2021.
Nurhalisa, S., Musayadah, A., Syarifah, N. U., Puspitasari, A., Nasikhin, N., & Junaedi, M. (2022). The Urgence Of Islamic Philosophy For Education In Elementary School. JASNA: Journal For Aswaja Studies, 2(2), 31-40.
Oktaviana, Sherli Kurnia. (2022). "Terapi Pemaafan untuk Menurunkan Tingkat Kecemasan Remaja Korban Kekerasan." Jurnal Psikologi Islam dan Budaya. 59-70.
Prasasti, Suci. (2017). "Kenakalan remaja dan faktor penyebabnya." Prosiding Seminar Nasional Bimbingan dan Konseling. Vol. 1. No. 1. .
Pritchard, Ivor. (1988). "Character education: Research prospects and problems." american Journal of Education 96.4, 469-495.
Rohendi, Edi. (2016). "Pendidikan karakter di sekolah." EduHumaniora| Jurnal Pendidikan Dasar Kampus Cibiru 3.1.
Sa'diyah, Halimatus, and Sri Nurhayati. (2019). "Pendidikan Perdamaian Perspektif Gus Dur: Kajian Filosofis Pemikiran Pendidikan Gus Dur." TADRIS: Jurnal Pendidikan Islam 14.2, 175-188.
Suryaman, M. (2020). Orientasi Pengembangan Kurikulum Merdeka Belajar. In Seminar Nasional Pendidikan Bahasa Dan Sastra Vol. 1, No. 1, pp. 13-28.
Unayah, Nunung, and Muslim Sabarisman. (2015) "Fenomena kenakalan remaja dan kriminalitas." Sosio Informa: Kajian Permasalahan Sosial dan Usaha Kesejahteraan Sosial 1.2.
Wibawa, Ramadhan Prasetya, and Dinna Ririn Agustina. (2019). "Peran pendidikan berbasis higher order thinking skills (hots) pada tingkat sekolah menengah pertama di era society 5.0 sebagai penentu kemajuan bangsa indonesia." EQUILIBRIUM: Jurnal Ilmiah Ekonomi dan Pembelajarannya 7.2 (2019): 137-141.
Wiyani, Novan Ardy. (2012) .Desain Manajemen Pendidikan Karakter di Madrasah." INSANIA: Jurnal Pemikiran Alternatif Kependidikan 17.1.
Wohlin, Claes. (2014) .Guidelines for snowballing in systematic literature studies and a replication in software engineering." Proceedings of the 18th international conference on evaluation and assessment in software engineering. 2014.
Zakiah Daradjat. (1989). Kesehatan Mental, (Jakarta: haji Mas Agung.
Zakiah Daradjat. (2012) .Ilmu Pendidikan Islam, Cet. X. Jakarta: Bumi Aksara.
Zakiah Daradjat. (2001). Metodik KhususPengajaran Agama Islam, (Jakarta: Bumi Akasara.
Zakiah Daradjat. (1995). Pendidikan Islam dalam Keluarga dan Sekolah. Jakarta: Ruhama.
Zakiyah Daradjat. (1995). Remaja Harapan dan Tantangan. Jakarta: Ruhama.
Zakiyah Darajat. (1988). Kesehatan Mental. Jakarta: CV Haji Mangsung.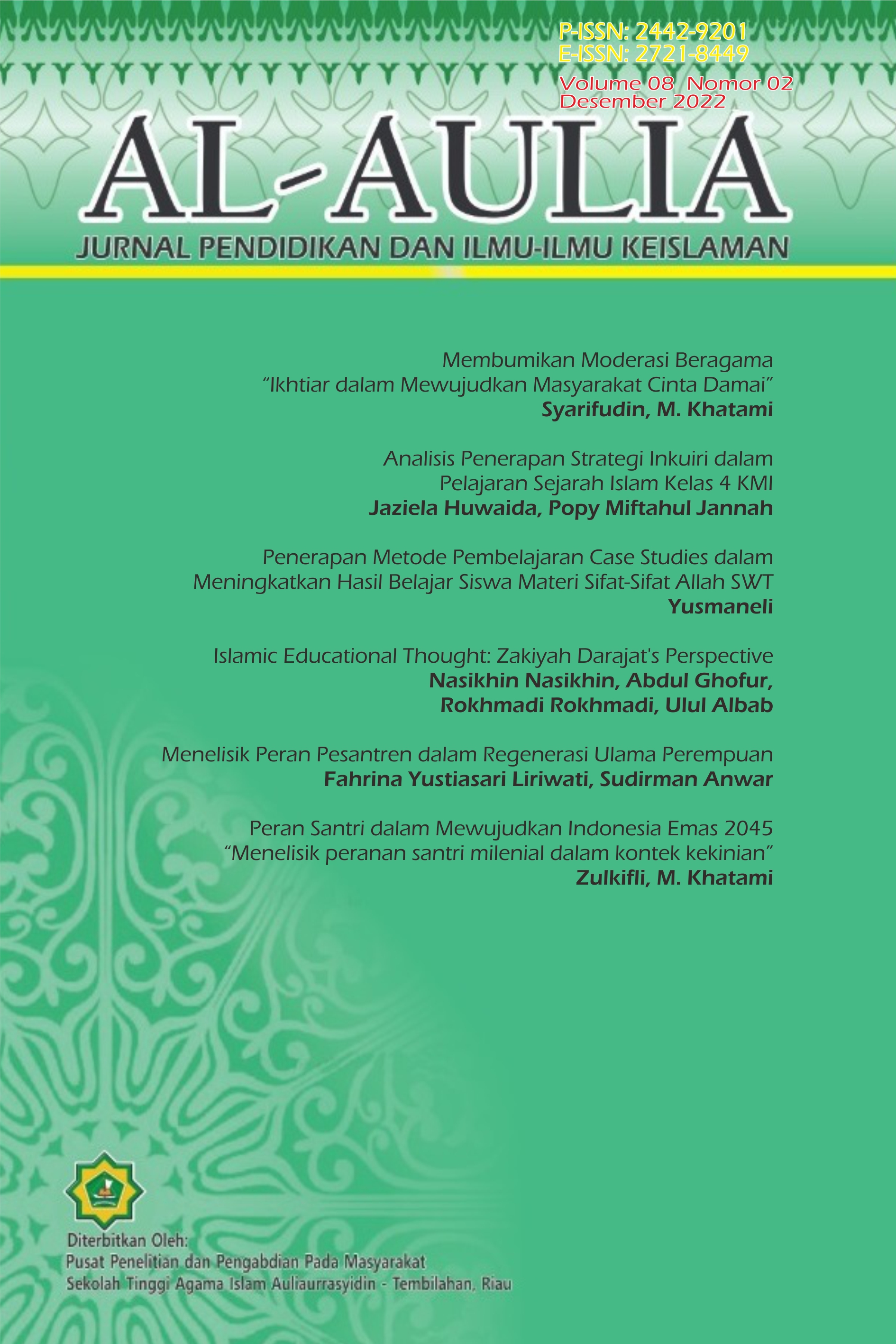 Downloads
How to Cite
Nasikhin, N., Ghofur, A., Rokhmadi, R., & Albab, U. (2022). Islamic Educational Thought: Zakiyah Darajat's Perspective. Al-Aulia: Jurnal Pendidikan Dan Ilmu-Ilmu Keislaman, 8(2), 95–107. https://doi.org/10.46963/aulia.v8i2.706
License
Copyright (c) 2022 Nasikhin Nasikhin, Abdul Ghofur, Rokhmadi Rokhmadi, Ulul Albab
This work is licensed under a Creative Commons Attribution-ShareAlike 4.0 International License.
Authors who publish with this journal agree to the following terms:
1. Copyright on any article is retained by the author(s).
2. The author grants the journal, right of first publication with the work simultaneously licensed under a Creative Commons Attribution License that allows others to share the work with an acknowledgment of the work's authorship and initial publication in this journal.
3. Authors are able to enter into separate, additional contractual arrangements for the non-exclusive distribution of the journal's published version of the work (e.g., post it to an institutional repository or publish it in a book), with an acknowledgment of its initial publication in this journal.
4. Authors are permitted and encouraged to post their work online (e.g., in institutional repositories or on their website) prior to and during the submission process, as it can lead to productive exchanges, as well as earlier and greater citation of published work.
5. The article and any associated published material is distributed under the Creative Commons Attribution-ShareAlike 4.0 International License