Metodologi Imam Al-Bukhari dalam Menentukan Cacat sebuah Hadis pada Kitab At-Tarikh Al-Kabir Jilid II
Keywords:
Methodology, Imam Al-Bukhari, Disability, Hadith, At-Tarikh Al-Kabir
Abstract
Hadith is the biggest main basis for Islam which is used as a basic guide in carrying out life in the world after the Qur'an. The hadith itself is all that is conveyed by the Prophet Muhammad, be it moral or physical. However, not all of the hadiths come from the Prophet, there are also false hadiths but still called hadiths because their form resembles hadith. the hadith was compiled by the narrators of the hadith whether it was believed or not. The collection of this hadith makes the occurrence of authentic hadiths that are believed to be authentic and are not valid which authenticity must be re-examined. Imam al-Bukhari is one of the scholars who gave an idea of ​​the methodology of determining the flaw of a hadith which he wrote in his book entitled At-Tarikh Al-Kabir Volume II
References
Al-Maliki, Muh. Alawi.2009. Ilmu Ushul Hadis.Yogyakarta: Pustaka Pelajar
Imam Az-zabidi kata pengantar Moh Ilyas Ruchiyat. 1997. Ringkasan Shahih Al-Bukhari.Bandung: Mizan
Anas, Mohammad. Imron Rosyadi, Metode Memahami Hadits-hadits Kontradiktif, diakses dalam Mutawatir: Jurnal Keilmuan Tafsir Hadits, Volume 3, Nomor 1, Juni 2013
Arifin. Johar. Pendekatan Ulama Hadits dan Ulama Fiqh dalam Menelaah Kontroversial Hadits, diakses dalam jurnal Ushuluddin, Volume XXII, Nomor 2, Juli 2014
Atmari, Kontribusi Al-Syafi'I Dalam Masalah Ikhtilaf Al-Hadits, diakses dalam jurnal Fikroh, Volume 8, Nomor 2, Januasi 2015
Bahrudin, Takhrij Sebagai Metode Penelusuran Kualitas Hadis Ahad, diakses dalam jurnal Ilmu Dakwah, Volume 4, Nomor 13, Januari-Juni 2009
Hasib, Sahwanuddin Abdul, Ardiansyah, Sulaiman M. Amir, Metodologi Imam Al-Bukhari Dalam Menentukan Cacat Sebuah Hadis Pada Kitab At-Tarikh Al-Kabir Jilid II, diakses dalam jurnal At-Tahdis: Journal Of Hadith Studies, Vol. 1, No. 1, Januari-Juni 2017
Idri, Otentitas Hadits Mutawatir Dalam Teori Common Link G.H.A Juynboll, diakses dalam jurnal IAIN Sunan Ampel Surabaya: Islamica, Volume 7, Nomor 2, 2013
Idri. 2010. Studi Hadits, Jakarta: Kencana
Loeis, Wisnawati. Imam Bukhari dan Metode Seleksi Hadits dalam jurnal Turats Vol.4 No.1 Juni 2008
Mukhtar, Mukhlis. Penelitian Rijal Al-Hadis Sebagai Kegiatan Ijtihad, diakses dalam jurnal Hukum Diktum, Vol 9, No 2, Juli 2011
Rusli, Muhammad. Nazar Husein HPW, Problematika Dan Solusi Masa Depan Hadits dan Ulumul Hadits, diakses dalam jurnal Al-Fikr Volume 17, Nomor 1, Tahun 2013
Sadar, Anwar. Ikhtilaf Di Kalangan Ulama Al-Mujtahidin, diakses dalam jurnal Al-Risalah, Volume 15, Nomor 2, Nopember 2015
Sadat, Anwar. Ikhtilaf Dikalangan Ulama Al-Mujtahidin, diakses dalam jurnal Al-Risalah, Volume 15, Nomor 2, Nopember 2015
Salahuddin, Agus & Agus Suyadi. 2015. Ulumul Hadis. Bandung: CV Pustaka Setia.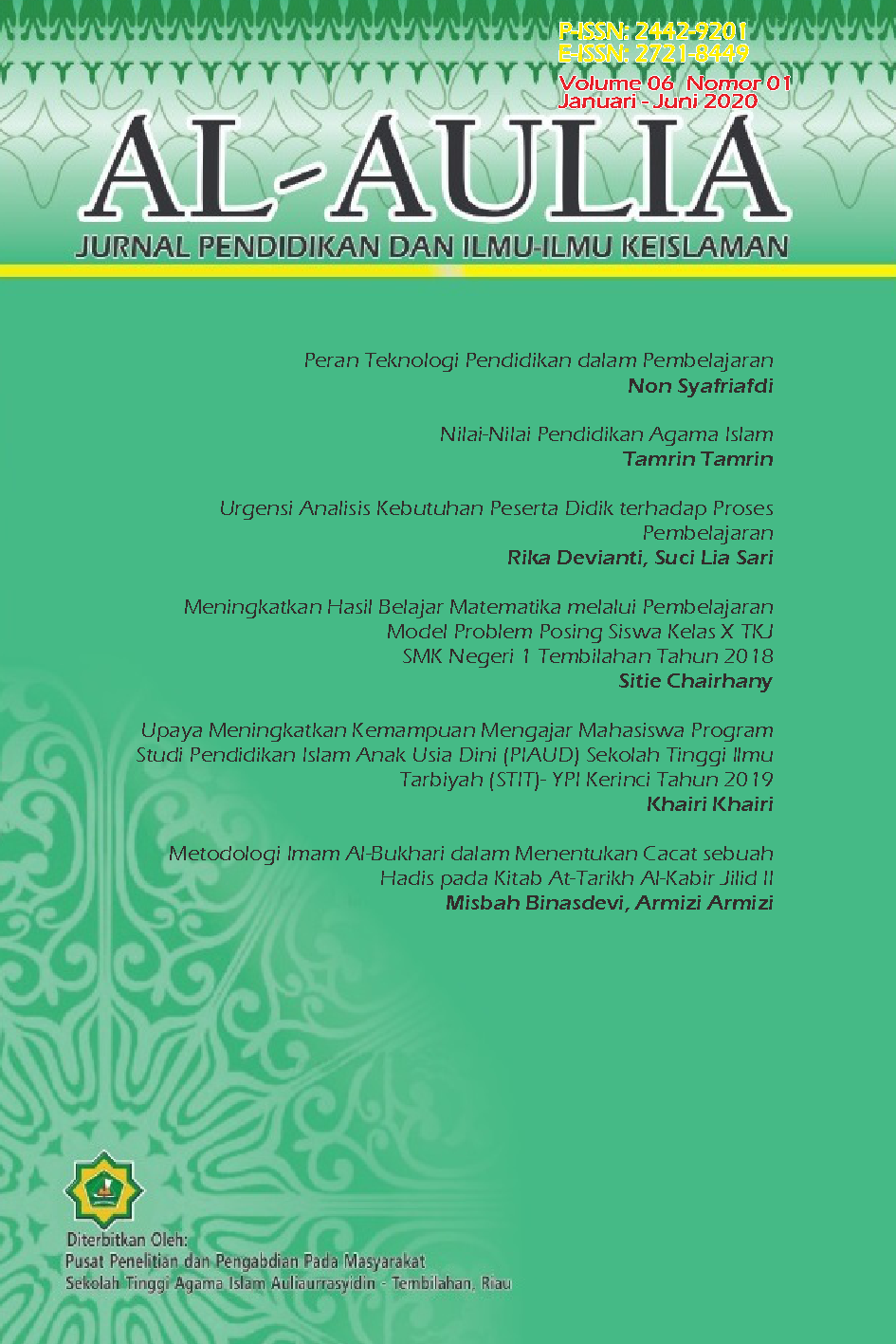 Downloads
How to Cite
Binasdevi, M., & Armizi, A. (2020). Metodologi Imam Al-Bukhari dalam Menentukan Cacat sebuah Hadis pada Kitab At-Tarikh Al-Kabir Jilid II. Al-Aulia: Jurnal Pendidikan Dan Ilmu-Ilmu Keislaman, 6(1), 52–65. Retrieved from https://ejournal.stai-tbh.ac.id/al-aulia/article/view/192
License
Authors who publish with this journal agree to the following terms:
1. Copyright on any article is retained by the author(s).
2. The author grants the journal, right of first publication with the work simultaneously licensed under a Creative Commons Attribution License that allows others to share the work with an acknowledgment of the work's authorship and initial publication in this journal.
3. Authors are able to enter into separate, additional contractual arrangements for the non-exclusive distribution of the journal's published version of the work (e.g., post it to an institutional repository or publish it in a book), with an acknowledgment of its initial publication in this journal.
4. Authors are permitted and encouraged to post their work online (e.g., in institutional repositories or on their website) prior to and during the submission process, as it can lead to productive exchanges, as well as earlier and greater citation of published work.
5. The article and any associated published material is distributed under the Creative Commons Attribution-ShareAlike 4.0 International License