Pendidikan Islam, Perubahan Sosial, dan Pembangunan di Indonesia
As'adut Tabi'in

STAI Madinatun Najah, Rengat, Indragiri Hulu, Riau, Indonesia

Lias Hasibuan

UIN Sulthan Thaha Saifuddin Jambi, Indonesia

Kasful Anwar US

UIN Sulthan Thaha Saifuddin Jambi, Indonesia
Keywords:
Islamic Education, Development in Indonesia, Social Changes
Abstract
This study aimed at determining how the implementation of Islamic education, describing the social changes and contribution to the development of Indonesia. This research was descriptive qualitative research using the library method. This study reveals several facts that the trend of understanding transnational Islam brought by several Indonesian students from the Middle East. The practice tends to become a conflict with Islamic values that Rahmatan Lil 'Alamin, participated in social change in Indonesia. Then it was also driven by the high religious spirit of young people without being equipped with qualified knowledge, strengthening them in taking a stand. This became one of the causes of the formation of perspectives, attitudes, and decisions to all conditions that exist in the environment
Downloads
Download data is not yet available.
References
Acikgenc, A. (2014). The Framework for a history of Islamic philosophy. Al-Shajarah: Journal of the International Institute of Islamic Thought and Civilization (ISTAC), 1(1,2). 1-2. https://journals.iium.edu.my/shajarah/index.php/shaj/article/view/177
Azra, A. (1998). Jaringan Ulama Timur Tengah dan Kepulauan Nusantara Abad XVII dan XVIII, Cet. IV. Bandung: Bandung: Mizan.
Charles Michael Stanton. (1994). Pendidikan Tinggi dalam Islam: Sejarah dan Peranannya dalam kemajuan Ilmu Pengetahuan. Jakarta: Logos Publising House.
Hardiman, F. B. (2002). Belajar dari Politik Multikulturalisme. Pengantar dalam Kimlicka. (2002). Kewargaan Multikultur: Teori Liberal Mengenal Hal-Hak Minoritas. Terjemahan oleh Edlina Efmini Eddin dari Jurnal Multicultural Citizenship: A Liberal Theory of Minority. Jakarta: LP3ES.
Kementerian Komunikasi dan Informatika Republik Indonesia. (2015). Setahun Pemerintahan Jokowi-JK Percepat Penyaluran Dana Desa https://kominfo.go.id/content/detail/6262/setahun-pemerintahan-jokowi-jk-percepat-penyaluran-dana-desa/0/rilis_media_gpr
Kementerian Koordinator Bidang Pembangunan Manusia dan Kebudayaan Republik Indonesia. (2021). Pemerintah Perkuat Implementasi Gerakan Nasional Revolusi Mental pada Bidang Sosial. https://www.kemenkopmk.go.id/pemerintah-perkuat-implementasi-gerakan-nasional-revolusi-mental-pada-bidang-sosial
Indy, R., Waani, F. J., & Kandowangko, N. (2019). Peran pendidikan dalam proses perubahan sosial di Desa Tumaluntung Kecamatan Kauditan Kabupaten Minahasa Utara. Holistik, Journal of Social and Culture, 12(4), 1-18. https://ejournal.unsrat.ac.id/index.php/holistik/article/view/25466
Kusumohamidjojo. (2000). Kebhinnekaan Masyarakat Indonesia: Suatu Problematik Filsafat Kebudayaan. Jakarta: Grasindo.
Madekhan, M. (2020). Fungsi pendidikan dalam perubahan sosial kontemporer. Reforma: Jurnal Pendidikan dan Pembelajaran, 9(1), 51-60. https://doi.org/10.30736/rf.v9i1.252
Mahfud, C. (2005). Pendidikan Multikultural. Yogyakarta: Pustaka Pelajar.
Maran, & Raga, R. (2007). Manusia Dan Kebudayaan dalam Perspektif Ilmu Budaya Dasar. Jakarta: Rineka Cipta.
Beg, M. A. J. (1983). Two lectures on Islamic civilization. The Muslim World League Journal. Edisi November-Desember, 38-42.
Nasikun, P. (2007). Sistem Sosial Indonesia. Jakarta: PT. RajaGrafindo Persada.
Nurcholish Madjid. (2009). Langit Peradaban Islam. Jakarta: Paramadina bekerjasama dengan Dian Rakyat.
Smart, N. (1983). Worldview, Crosscultural Explorations of Human Belief. New York: Charles Sribner's sons
Soemardjan, S. (1964). Setangkai Bunga Sosiologi: Buku bacaan untuk kuliah Pengantar Sosiologi. Jakarta: Lembaga Penerbit Fakultas Ekonomi.
Tylor, E. B. (1871). Primitive Culture. Researches Into the Development of Mythology, Philosophy, Religion, Art, and Custom, Vol (1). London: John Murray.
Wahyuni. (2013). Perilaku Beragama Studi Sosiologi Terhadap Asimilasi Agama dan Budaya di Sulawesi Selatan. Makassar: Alauddin University Press.
Wall, T. F. (2001). Thinking Critically About Philosophical Problem, Australia: A Modern Introduction, Wadsworth.
Warsito. (2012). Antropogi Budaya (Vols. 53-55). Yogyakarta: Yogyakarta: Ombak.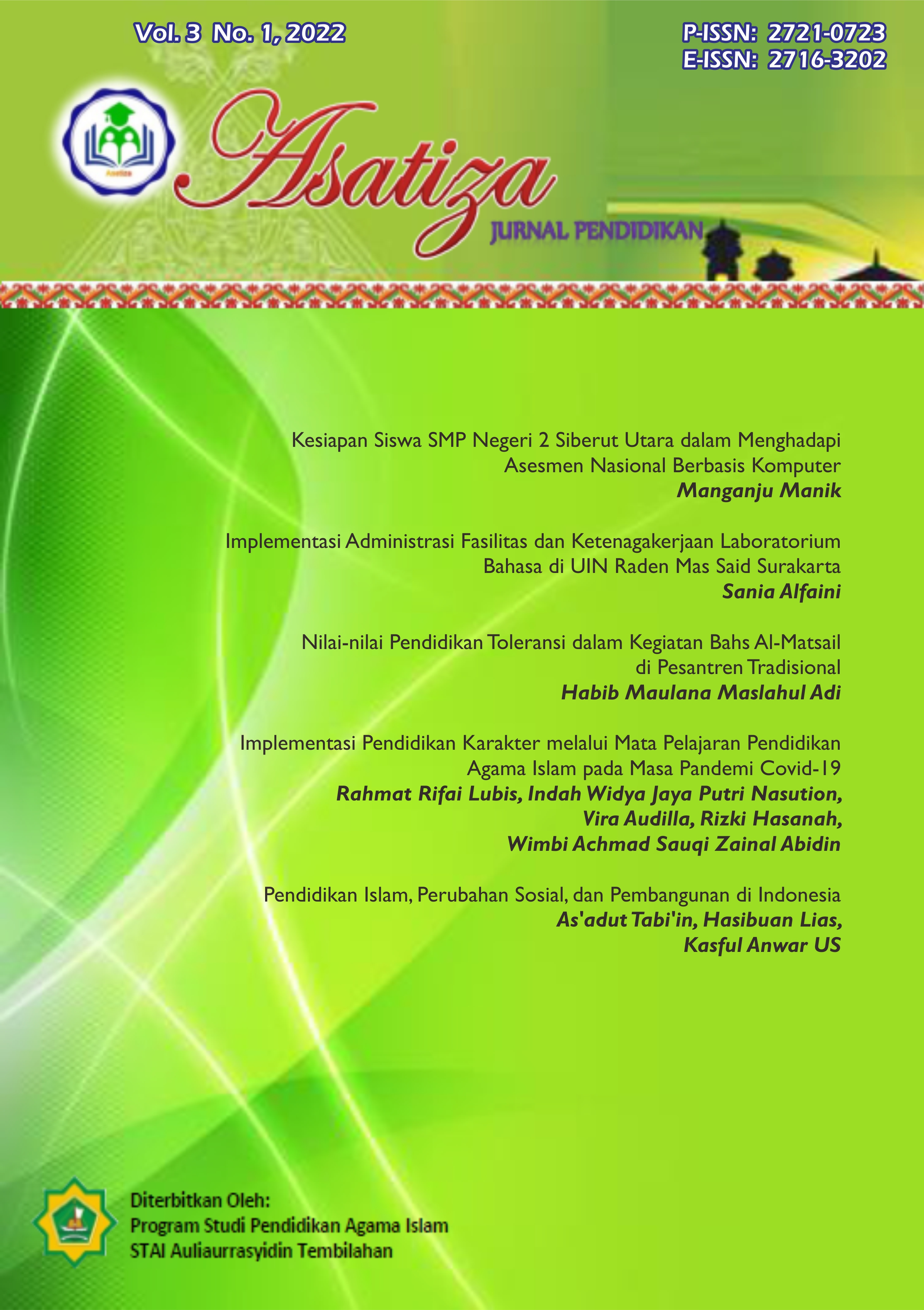 How to Cite
Tabi'inA., HasibuanL., & USK. A. (2022). Pendidikan Islam, Perubahan Sosial, dan Pembangunan di Indonesia. Asatiza: Jurnal Pendidikan, 3(1), 48-59. https://doi.org/10.46963/asatiza.v3i1.469
Copyright (c) 2022 As'adut Tabi'in, Hasibuan Lias, Kasful Anwar US
This work is licensed under a Creative Commons Attribution-ShareAlike 4.0 International License.
Authors who publish with this journal agree to the following terms:
1. Copyright on any article is retained by the author(s).
2. The author grants the journal, right of first publication with the work simultaneously licensed under a Creative Commons Attribution shareAlike 4.0 International License that allows others to share the work with an acknowledgment of the work's authorship and initial publication in this journal.
3. Authors are able to enter into separate, additional contractual arrangements for the non-exclusive distribution of the journal's published version of the work (e.g., post it to an institutional repository or publish it in a book), with an acknowledgment of its initial publication in this journal.
4. Authors are permitted and encouraged to post their work online (e.g., in institutional repositories or on their website) prior to and during the submission process, as it can lead to productive exchanges, as well as earlier and greater citation of published work.
5. The article and any associated published material is distributed under the Creative Commons Attribution-ShareAlike 4.0 International License