Pengaruh Inovasi Pendidikan terhadap Generasi Millenial
Keywords:
Education, Innovation, Millennial
Abstract
The millennial generation has several characteristics, millennials don't believe in one-way information, prefer cellphones over TV, must have social media, a place for self-actualization and expression, don't like reading conventionally, know more about technology, tend to be disloyal, do a lot of interactive interactions. cashless. Teachers in the millennial era are heavier than the previous era, in addition to understanding aspects of scientific material in teaching, teachers must master technology and become creative and innovative teachers and become role models for millennial generation students. Innovation is a renewal in education both regarding ideas, practices, methods or objects and is qualitatively different from the things that existed before and is deliberately attempted to improve the ability to achieve educational goals and solve educational problems. This study uses a literature study method, collecting primary and secondary sources related to the object of this research the influence of educational innovation on the millennial generation.
References
Barni, M. (TT).Tantangan Pendidik Di Era Millennial Jurnal Transformatif. Vol. 3 No. 1. UIN Antasari Banjarmasin.
Selvia, H.(2019).Sosoiologi Pendidikan Ke Indonesian, Armed Arruzz Media.
Ibrahim, R. & Kayadi, B. (1994).Pengembangan Inovasi dalam Kurikulum. Jakarta: UT. Depdikbud.
Susilana, R. (2006)Kurikulum dan Pembelajaran. Bandung: Jurusan Kutekpen FIP UPI.
Danim, S. (2002).Inovasi Pendidikan Dalam Upaya Peningkatan Profesionalisme Tenaga Kependidikan.Bandung: Pustaka Setia.
Jubaidi. (2012).Desain Pendidikan Karakter Cet. Kedua. Jakarta: Kencana Pranada Media
Ahmad, T. (2008).Pendidikan Islam di Era TransformasiGlobal Cet. Pertama. Semarang: PT. Pustaka Rizki Putra.
Msthofa Rembangi, Pendidikan Trasnpormatif, Pergulatan Kritis Merumuskan Pendidikan di Tengah Pusaran Arus Globalisai, (Yogyakarta: TERAS, Cet. 2,2010, hal. 222.
Hasan, S. Hamid, Pendekatan Multikultural untuk Penyempurnaan Kurikulum, Bandung: Remaja Rosdakary, 2000, hal, 23.
Anonim, Pendidikan di Era Milenial, diakses 10 Desember 2018. https://informasikita2017.wordpress.com/pendidikan-karakter-era-milenial/
Munir Abdullah, Pendidikan Karakter, Yogyakarta: Pedagogia, 2010, hal, 78.
H. Ahmad Tantowi, Pendidikan Islam di Era Transformasi Global, hal, 99-104.
Musthofa Rembangi, Pendidikan Trasnpormatif, Pergulatan Kritis Merumuskan Pendidikan di Tengah Pusaran Arus Globalisai, Yogyakarta: TERAS, Cet. 2, 2010, hal, 222.
Departemen Pendidikan Nasional, KBBI Pusat Bahasa Edisi Empat, PT. Gramedia Pustaka Utama, 2008 cet Pertama, hal, 455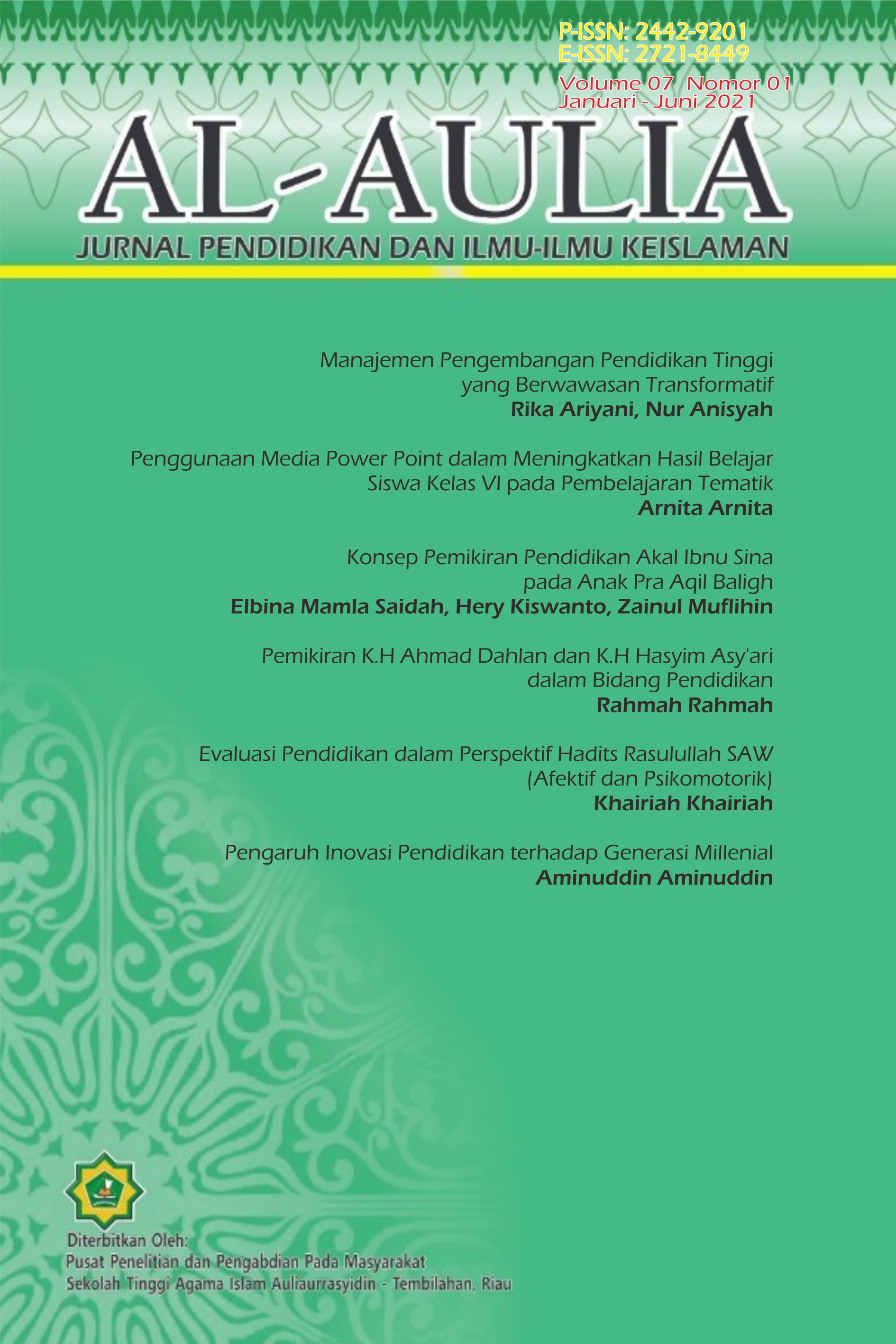 Downloads
How to Cite
Aminuddin, A. (2021). Pengaruh Inovasi Pendidikan terhadap Generasi Millenial. Al-Aulia: Jurnal Pendidikan Dan Ilmu-Ilmu Keislaman, 7(1), 75–93. Retrieved from https://ejournal.stai-tbh.ac.id/al-aulia/article/view/433
License
Authors who publish with this journal agree to the following terms:
1. Copyright on any article is retained by the author(s).
2. The author grants the journal, right of first publication with the work simultaneously licensed under a Creative Commons Attribution License that allows others to share the work with an acknowledgment of the work's authorship and initial publication in this journal.
3. Authors are able to enter into separate, additional contractual arrangements for the non-exclusive distribution of the journal's published version of the work (e.g., post it to an institutional repository or publish it in a book), with an acknowledgment of its initial publication in this journal.
4. Authors are permitted and encouraged to post their work online (e.g., in institutional repositories or on their website) prior to and during the submission process, as it can lead to productive exchanges, as well as earlier and greater citation of published work.
5. The article and any associated published material is distributed under the Creative Commons Attribution-ShareAlike 4.0 International License