Implementasi Pendidikan Karakter melalui Mata Pelajaran Pendidikan Agama Islam pada Masa Pandemi Covid-19
Rahmat Rifai Lubis

STAI Sumatera, Medan, Indonesia, UIN Sumatera Utara Indonesia

Indah Widya Jaya Putri Nasution

Universitas Islam Negeri Sumatera Utara, Indonesia

Vira Audilla

Universitas Islam Negeri Sumatera Utara, Indonesia

Rizki Hasanah

Universitas Islam Negeri Sumatera Utara, Indonesia

Wimbi Achmad Sauqi Zainal Abidin

Universitas Islam Negeri Sumatera Utara, Indonesia
Keywords:
Character Education, Covid-19 Pandemic, Islamic Religious Education
Abstract
This study aimed at finding out the implementation of character education through Islamic Religious Education during the Covid-19 period at Darul Ilmi Murni Private Junior High School. The study focused on three domains, namely planning, implementing, and evaluating the character education in Islamic Religious Education learning during the Covid-19 period. This research was qualitative. The subjects were principals and PAI teachers. The data were collected using observation, documentation, and in-depth interviews. The results indicated that in the planning process for character education during the COVID-19 pandemic, an educator is required to prepare an attractive lesson plan. While in the implementation of character education, educators instill character values with the method of inquiry, discussion, question and answer, lectures, giving advice, and the Al-Quran Tahfidz program. Meanwhile, the evaluation aspect is carried out through communication and assessment sheets
Downloads
Download data is not yet available.
References
Agung, L. (2011). Character education integration in social studies learning. Historia: Jurnal Pendidik dan Peneliti Sejarah, 12(2), 392-403. https://doi.org/10.17509/historia.v12i2.12111
Ahmad, M. A. (2008). Metodologi Pengajaran Agama Islam. Jakarta: Rineka Cipta.
Cahyaningrum, E. S., Sudaryanti, S., & Purwanto, N. A. (2017). Pengembangan nilai-nilai karakter anak usia dini melalui pembiasaan dan keteladanan. Jurnal Pendidikan Anak, 6(2), 203- 213. http://dx.doi.org/10.21831/jpa.v6i2.17707
Hariyanto, & Samani, M. (2011). Konsep Dan Model Pendidikan Karakter. Bandung: PT Remaja Rosdakarya Offset.
Hariyanto, H., & Anjaryati, F. (2016). Character building: Telaah pemikiran Ibnu Miskawaih tentang pendidikan karakter. Jurnal Pendidikan Islam Indonesia 1(1), 111–118. https://doi.org/10.35316/jpii.v1i1.41
Ilmiah, F. (2021). Problematika belajar dan pembelajaran daring pada masa pandemi covid-19. Skripsi Prodi Pendidikan Guru Madrasah. Universitas Muhammadiyah Sidoarjo. http://eprints.umsida.ac.id/id/eprint/8282
Jamal, & Asmani., M. (2012). Buku Panduan Internalisasi Pendidikan Karakter di Sekolah. Yogyakarta: DIVA Press.
Khan, Y. (2010). Pendidikan Karakter Berbasis Potensi Diri. Yogyakarta: Pelangi Publishing.
Lestari, T. E. (2020). Pendekatan Saintifik di Sekolah Dasar. Yogyakarta: Deepublish.
Marwoko, G. (2019). Psikologi perkembangan masa remaja. Tasyri': Jurnal Tarbiyah Syari'ah Islamiyah, 26(1), 60-75. http://ejournal.kopertais4.or.id/pantura/index.php/tasyri/article/view/3401
Nurasih, W., Rasidin, M., & Witro, D. (2020). Islam Dan Etika Bermedia Sosial Bagi Generasi Milenial: Telaah Surat Al-'Asr. Al-Mishbah: Jurnal Ilmu Dakwah dan Komunikasi, Vol 16 No 1 . doi:https://doi.org/10.24239/al-mishbah.Vol16.Iss1.194
Risalah, A., Ibad, W., Maghfiroh, L., M I Azza, S. A., & Ulfayati, Z. A. (2020). Dampak pandemi covid-19 terhadap kegiatan belajar mengajar di MI/SD (Studi KBM berbasis daring bagi guru dan siswa). JIEES: Journal of Islamic Education Elementary School, 1(1), 10-16. https://doi.org/10.47400/jiees.v1i1.5
Rosyad, A. M., & Zuchdi, D. (2018). Aktualisasi pendidikan karakter berbasis kultur sekolah dalam pembelajaran IPS di SMP. Harmoni Sosial: Jurnal Pendidikan IPS, 5(1), 79-92. http://dx.doi.org/10.21831/hsjpi.v5i1.14925
Siahaan, M. (2020). Dampak Pandemi Covid-19 Terhadap Dunia Pendidikan. Jurnal Kajian Ilmiah, 1(1), 73-80. https://doi.org/10.31599/jki.v1i1.265
Sugiana, A., & Sofyan, S. (2019). Penanaman nilai karakter disiplin dan tanggung jawab di SMK Ethika Palembang. Jurnal PAI Raden Falah, 1(1), 105-116. https://doi.org/https://doi.org/10.19109/pairf.v1i1.3020
Ulfa, M., & Saifuddin, S. (2018). Terampil memilih dan menggunakan metode pembelajaran. Suhuf, 30(1), 35-56. https://journals.ums.ac.id/index.php/suhuf/article/view/6721
Zakariah, A. (2020). Metodologi Penelitian Kualitatif, Kuantitatif, Action Research, Research and Development (R n D). Kolaka: Yayasan Pondok Pesantren Al Mawaddah Warahmah Kolaka.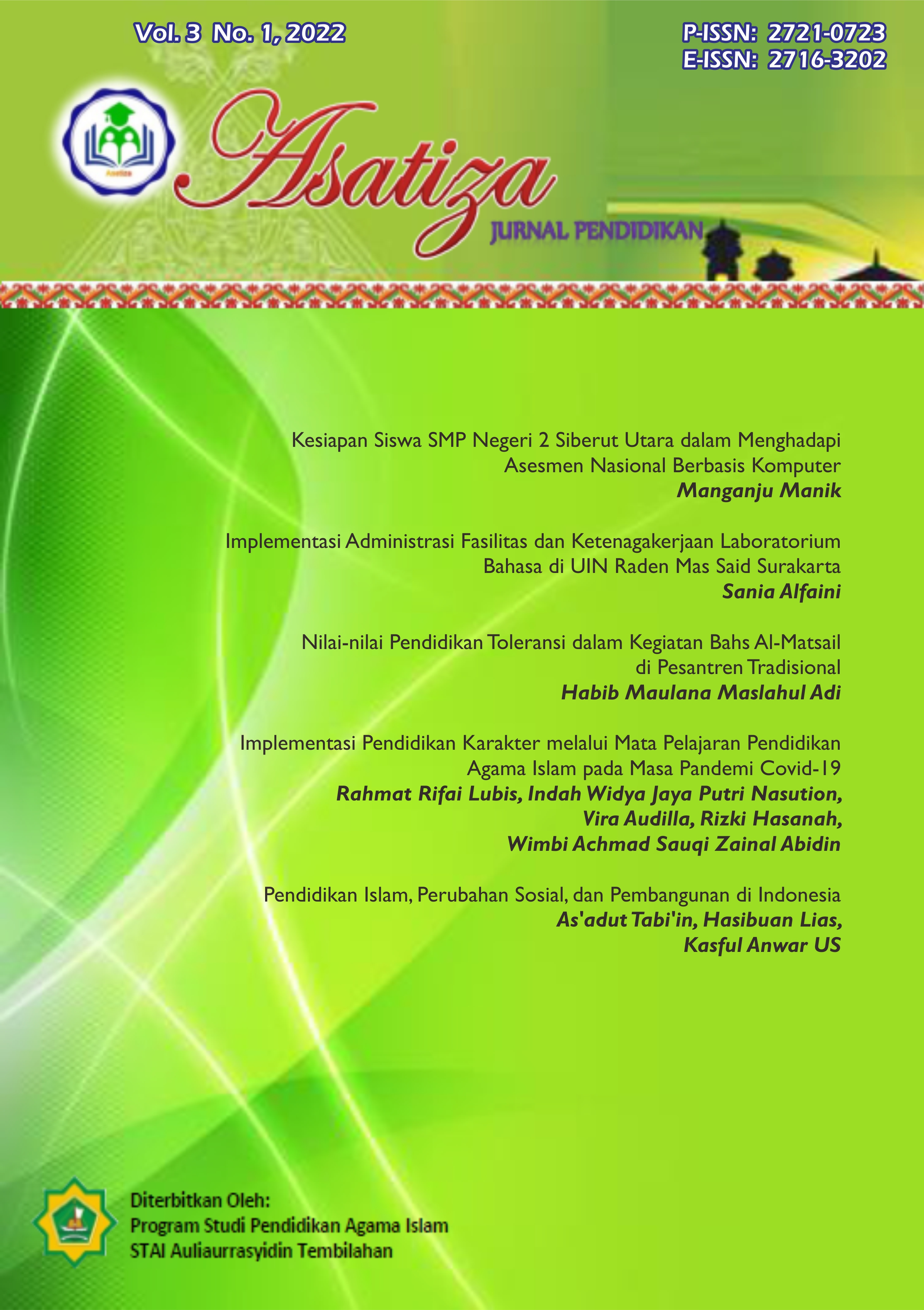 How to Cite
LubisR. R., NasutionI. W. J. P., AudillaV., HasanahR., & AbidinW. A. S. Z. (2022). Implementasi Pendidikan Karakter melalui Mata Pelajaran Pendidikan Agama Islam pada Masa Pandemi Covid-19. Asatiza: Jurnal Pendidikan, 3(1), 33-47. https://doi.org/10.46963/asatiza.v3i1.461
Copyright (c) 2022 Rahmat Rifai Lubis, Indah Widya Jaya Putri Nasution, Vira Audilla, Rizki Hasanah, Wimbi Achmad Sauqi Zainal Abidin
This work is licensed under a Creative Commons Attribution-ShareAlike 4.0 International License.
Authors who publish with this journal agree to the following terms:
1. Copyright on any article is retained by the author(s).
2. The author grants the journal, right of first publication with the work simultaneously licensed under a Creative Commons Attribution shareAlike 4.0 International License that allows others to share the work with an acknowledgment of the work's authorship and initial publication in this journal.
3. Authors are able to enter into separate, additional contractual arrangements for the non-exclusive distribution of the journal's published version of the work (e.g., post it to an institutional repository or publish it in a book), with an acknowledgment of its initial publication in this journal.
4. Authors are permitted and encouraged to post their work online (e.g., in institutional repositories or on their website) prior to and during the submission process, as it can lead to productive exchanges, as well as earlier and greater citation of published work.
5. The article and any associated published material is distributed under the Creative Commons Attribution-ShareAlike 4.0 International License