Pengintegrasian Nilai-Nilai ke-Islaman dengan Pembelajaran Bahasa Jawa
Muhamad Farizal

Pascasarjana, UIN Sunan Kalijaga Yogyakarta, Indonesia

Muqowim Muqowim

Pascasarjana, UIN Sunan Kalijaga Yogyakarta, Indonesia
Keywords:
Integration, Islamic Values, Javanese
Abstract
The purpose of this study was to determine the process and the integration of Islamic values ​​into Javanese language learning. This research method was carried out qualitatively descriptive. This study described how the teacher combines Islamic values ​​with Javanese language learning for grade V students. The subjects of this study were students and teachers of MI Ma'arif Darussalam. The data collection technique used was unstructured interviews. Observations are made by observing teacher activities in the classroom and outside the classroom in teaching activities that are familiar with the student's personality. Documentation was done by finding and collecting documents related to the teaching plan to get data about the habits of these characters. Data analysis techniques using data reduction, data display, and conclusions. The result of this research is that the integration of Islamic values ​​with Javanese language learning carried out by the teacher is already at a good stage and has been implemented in the Madrasah Ibtidaiyah
Downloads
Download data is not yet available.
References
Baharudin. (2009). Pendidikan dan Psikologi Perkembangan. Yogyakarta. Ar Ruzz Media.
Kholidah, L. N. (2015). Pola Integrasi Nilai-Nilai Keislaman dalam Pembelajaran Pendidikan Agama Islam pada Lembaga Pendidikan. At-Ta'dib, 10(2).
Kurniawan, D. (2013). Pembelajaran Berbasis Teknologi Informasi dan Komunikasi. Rajawali Press.
Munjin, A., Nasih, & Nur Kholidah, L. (2009). Metode dan Teknik Pembelajaran Pendidikan Agama Islam. Refika Adi Tama.
Nurdyansyah, M. (2015). Pendekatan Pembelajaran Saintifik. Nizamia Learning.
Nurdyansyah, N., Rais, P., & Aini, Q. (2017). The Role of Education Technology in Mathematic of Third Grade Students in MI Ma'arif Pademonegoro Sukodono. Madrosatuna: Journal of Islamic Elementary School, 1(1), 37–46.
Purwadi, P. (2011). Etika Komunikasi dalam Budaya Jawa. Jurnal Ilmu Komunikasi Terakreditasi, 9(3), 139–249.
Rochayanti, C., Pujiastuti, E. E., & Warsiki, A. Y. N. (2014). Sosialisasi Budaya Lokal dalam Keluarga Jawa. Jurnal Ilmu Komunikasi, 10(3).
Rofi'ah, S. (2020). Integrasi Nilai-nilai Keislaman dalam Pembelajaran Sains di Madrasah Ibtidaiyah Ma'arif 01 KH. Shiddiq Jember. Childhood Education: Jurnal Pendidikan Anak Usia Dini, 1(2), 137-148. https://doi.org/https://doi.org/10.1234/cej.v2i2.3765
Sani, R. A., & Kadri, M. (2016). Pendidikan Karakter: Mengembangkan karakter anak yang Islami. Bumi Aksara.
Sanjaya, W. (2013). Penelitian Pendidikan: Jenis, Metode, dan Prosedur. Kencana.
Setyanto, A. E., Anggraini, L. S., & CW, D. T. (2015). Faktor-Faktor yang Mempengaruhi Memudarnya Etika Komunikasi Masyarakat Jawa Di Kota Surakarta. Komunikasi Massa Jurnal, 121.
Sri Maruti, E. (2015). Pembelajaran Bahasa Jawa di Sekolah Dasar. Media Grafika.
Sudjana, N. (2013). Dasar-dasar Proses Belajar Mengajar. Sinar Baru.
Yulianti, I., Isnani, A., Zakkiyyah, A. L., & Hakim, J. (2018). Penerapan Bahasa Jawa Krama Untuk Membentuk Karakter Sopan Santun Di Sekolah Dasar. Prosiding Seminar Nasional Universitas Muria Kudus 11, 160-165.
Zain, Z., & Vebrianto, R. (2017). Integrasi keilmuan sains dan islam dalam proses pembelajaran rumpun IPA. Seminar Nasional Teknologi Informasi Komunikasi dan Industri, 703–708.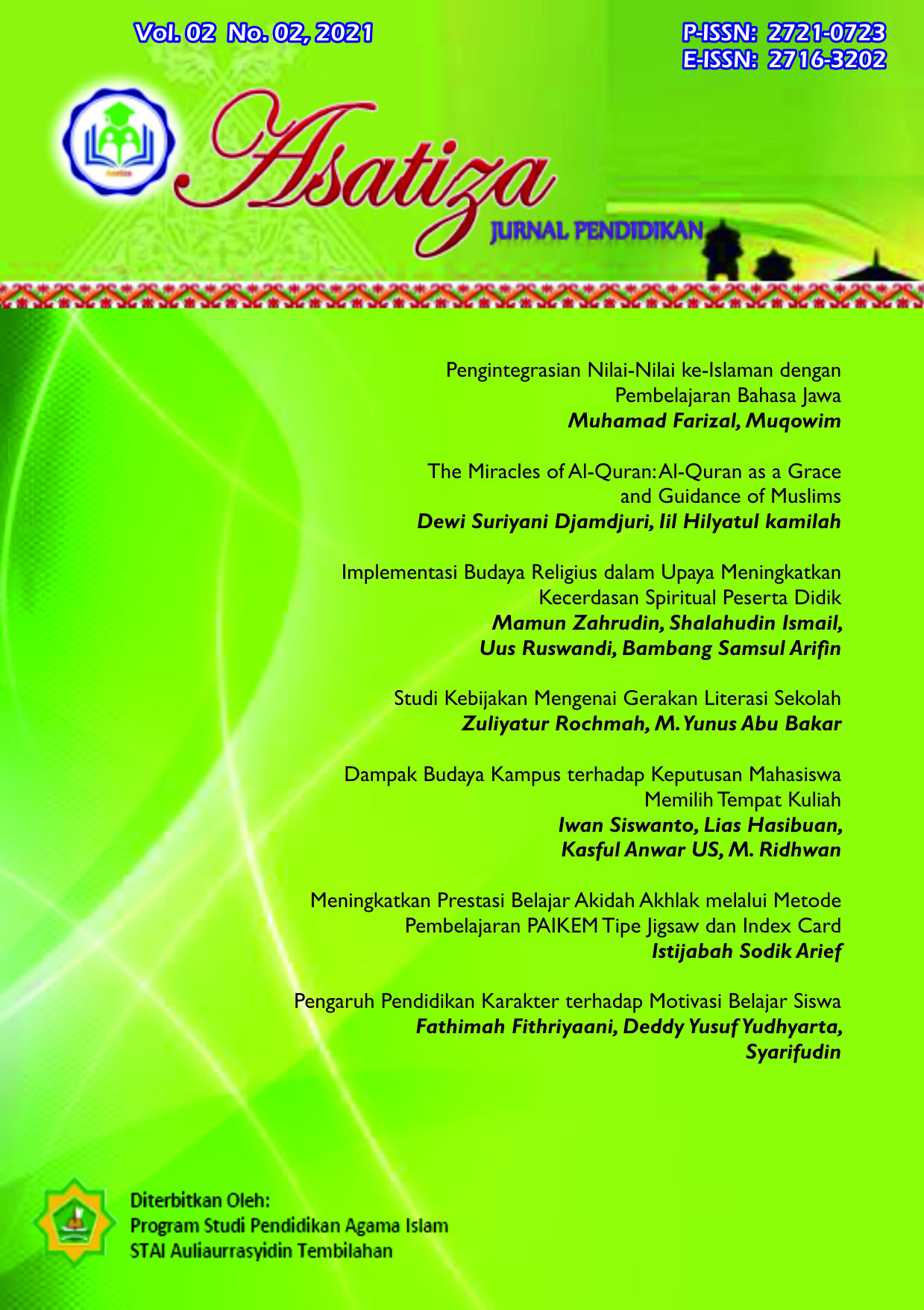 How to Cite
FarizalM., & MuqowimM. (2021). Pengintegrasian Nilai-Nilai ke-Islaman dengan Pembelajaran Bahasa Jawa. Asatiza: Jurnal Pendidikan, 2(2), 77-88. https://doi.org/10.46963/asatiza.v2i2.296
Copyright (c) 2021 Muhamad Farizal, Muqowim
This work is licensed under a Creative Commons Attribution-ShareAlike 4.0 International License.
Authors who publish with this journal agree to the following terms:
1. Copyright on any article is retained by the author(s).
2. The author grants the journal, right of first publication with the work simultaneously licensed under a Creative Commons Attribution shareAlike 4.0 International License that allows others to share the work with an acknowledgment of the work's authorship and initial publication in this journal.
3. Authors are able to enter into separate, additional contractual arrangements for the non-exclusive distribution of the journal's published version of the work (e.g., post it to an institutional repository or publish it in a book), with an acknowledgment of its initial publication in this journal.
4. Authors are permitted and encouraged to post their work online (e.g., in institutional repositories or on their website) prior to and during the submission process, as it can lead to productive exchanges, as well as earlier and greater citation of published work.
5. The article and any associated published material is distributed under the Creative Commons Attribution-ShareAlike 4.0 International License