Membangun Mental Kewirausahaan Santri di Pondok Pesantren Al-Kasyaf Bandung
Keywords:
Mental, Enterpreneurship, Boarding School
Abstract
Islamic boarding schools in the last few decades have given birth to several innovations in improving the quality of human resources that are able to respond to the challenges and needs of the times in terms of social, industrial and technological transformation. Several changes occurred in the pesantren curriculum. Changes in the pesantren curriculum are not limited to religious studies, but are currently in the form of pesantren entrepreneurship and agribusiness curricula. Islamic boarding schools have taught entrepreneurship and expertise in the field of agribusiness to improve the mentality and independence of students. One of them is at the Al-Kasyaf Islamic Boarding School in Bandung. Students are directed to become Muslim entrepreneurs from an early age. They are taught how to make good and quality products, they are also trained and taught in product design, good promotion and how to sell through online stores. Al-Kasyaf Islamic Boarding School even has several business units and independent products, including: Al-Kasyaf Tempe, Santri soap (Sasan), hand washing soap, salt and processed food and vegetable products.
Downloads
Download data is not yet available.
References
Adawiyah, S. R. (2018). Pendidikan Kewirausahaan Di Pondok Pesantren Sirojul Huda. Comm-Edu (Community Education Journal), 1(2), 81-87.
Ahmad Tanzeh & Suyitno (2006). Dasar-dasar Penelitian. Surabaya: Pustaka Elkaf
Ali, N. (2020). Model pendidikan pesantren berbasis wirausaha dan implikasinya terhadap kemandirian santri. Jurnal Pendidikan Glasser, 4(2), 72-79.
Anam, S. (2016). Pesantren Entrepreneur Dan Analisis Kurikulum Pesantren Mukmin Mandiri Waru Sidoarjo Dalam Pengembangan Dunia Usaha. Marâji: Jurnal Ilmu Keislaman, 2(2), 304-329.
Anggiani Sarfilianty.(2021). Kewirausahan Pola Pikir Pengetahuan Keterampilan. Jakarta : Kencana
Arifin Rijal. (2001). Mengenal Jenis Dan Tekhnik Penelitian, Jakarta: Erlangga. Dhofier Zamakhsyari. (1983). Tradisi Pesantren Studi Tentang Pandangan Hidup Kyai. Jakarta:LP3.
Arifin, M., 1991. Kapita Selekta Pendidikan (Islam dan Umum). Jakarta: Bumi Aksara
Chotimah, C. (2014). Pendidikan kewirausahaan di pondok pesantren sidogiri pasuruan. INFERENSI: Jurnal Penelitian Sosial Keagamaan, 8(1), 114-136. Hasan, M. (2015). Perkembangan Pendidikan Pesantren di Indonesia. TADRIS: Jurnal Pendidikan Islam, 10(1), 55-73.
Hasbi, R. P. A. C., & Mahmudah, F. N. (2020). Pengembangan Kurikulum Sekolah Berbasis Kewirausahaan Di SMA Negeri 1 Temon. Nidhomul Haq: Jurnal Manajemen Pendidikan Islam, 5(2), 180-194.
Isrososiawan, S. (2013). Peran Kewirausahaan Dalam Pendidikan. Society, 4(1), 26-49.
Madjid, Nurcholis. (1997). Bilik-Bilik Pesantren Sebuah Potret Perjalanan. Jakarta: Paramadina
Saepudin, A. (2005). Pembelajaran Nilai-Nilai Kewirausahaan dalam Menumbuh kembangkan Kemandirian Santri (Studi Kasus Tentang Pembinaan Kemandirian Santri Melalui Program Santri Mukim Pesantren Daarut Tauhiid, Gegerkalong, Bandung). MIMBAR: Jurnal Sosial dan Pembangunan, 21(3), 342-361.
Santoso, S. (2011). Konsep Pendidikan Anak Usia Dini Menurut Pendirinya. Jakarta: UNJ.
Sarosa Samiaji. (2012). Penelitian Kualitatif. Jakarta: Indeks.
Steentbrink Karel A. (1989). Pesantren Madrasah Sekolah. Jakarta: LP3ES.
Suherman Eman. (2008). Desain Pembelajaran Kewirausahaan. Bandung : Alfabeta
Sunarso, S. (2010). Sikap Mental Wirausahawan dalam Menghadapi Perkembangan Zaman. Jurnal Ekonomi dan Kewirausahaan, 10(2), 23414.
Suryabrata Sumaidi. (1998). Metodologi Penelitian. Jakarta: Raja Grafindo Persada.
Wahid Abdurrahman. (1998). Principles the Pesantren Education dalam Manfred Oepen and Wolfgang Karcher (eds) the Impact of Pesantren. Jakarta: P3M
Widodo Aris Slamet. (2012). Buku Ajar Kewirausahaan Entrepreneur Agribusiness START Your Own Business. Yogyakarta : Jaring Inspiratif.
Zulhimma, H. (2018). Upaya Kewirausahaan dalam Meningkatkan Kemandirian Ekonomi Lembaga Pendidikan Islam. Tazkir: Jurnal Penelitian Ilmu-ilmu Sosial dan Keislaman, 4(2), 313-328.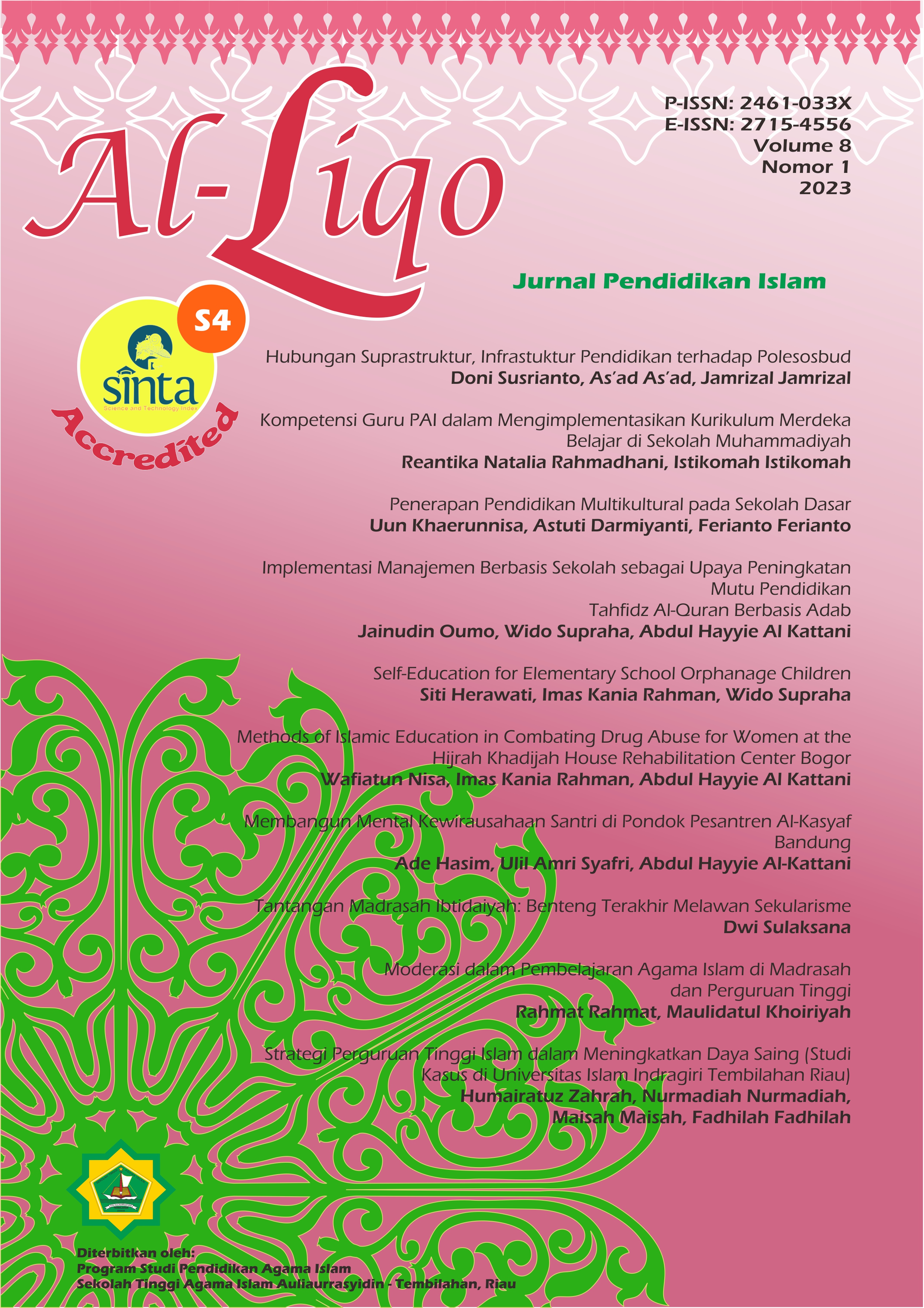 Downloads
How to Cite
Hasim, A., Syafri, U. A., & Al-Kattani, A. H. (2023). Membangun Mental Kewirausahaan Santri di Pondok Pesantren Al-Kasyaf Bandung. Al-Liqo: Jurnal Pendidikan Islam, 8(1), 89–102. https://doi.org/10.46963/alliqo.v8i1.623
License
Copyright (c) 2023 Ade Hasim, Ulil Amri Syafri, Abdul Hayyie Al-Kattani
This work is licensed under a Creative Commons Attribution-ShareAlike 4.0 International License.
Authors who publish with this journal agree to the following terms:
1. Copyright on any article is retained by the author(s).
2. The author grants the journal, right of first publication with the work simultaneously licensed under a Creative Commons Attribution shareAlike 4.0 International License that allows others to share the work with an acknowledgment of the work's authorship and initial publication in this journal.
3. Authors are able to enter into separate, additional contractual arrangements for the non-exclusive distribution of the journal's published version of the work (e.g., post it to an institutional repository or publish it in a book), with an acknowledgment of its initial publication in this journal.
4. Authors are permitted and encouraged to post their work online (e.g., in institutional repositories or on their website) prior to and during the submission process, as it can lead to productive exchanges, as well as earlier and greater citation of published work.
5. The article and any associated published material is distributed under the Creative Commons Attribution-ShareAlike 4.0 International License