Peran Guru M. Jeddawi "Harimau Jantan Kota Jambi" dalam Menegakkan Syari'at Islam pada Pertengahan Abad ke XX
Keywords:
Tiger, Jambi, Figure
Abstract
In the past, one of the teachers (Kyai) named M. Jeddawi in Jambi was nicknamed by the community as the "Tiger of the City of Jambi," in addition to this nickname there was also another nickname for him, namely "Lion of Jambi" because his behavior bears a resemblance to Umar bin Khath-thab, as it is known that Umar bin Khath-thab was nicknamed the "Lion of the Desert" because of his brave attitude, that is what the "Male Tiger of Jambi City" did. In this research method we use the basis of historical methods, the theory is qualitative theory; the aim is to find out why the community gave the nickname "Male Tiger of Jambi City" to Kiyai M. Jeddawi? If observed, a role like that of Kiyai M. Jeddawi is very much needed, because his attitude is very helpful to the community, because of that the people in the city feel very lost. Hopefully someone like this character will emerge. We must admit, living in this era is much more difficult than conditions in the past.
References
Abdul, Fattah Isham, (2013). Umar Mukhtar. Jakarta: Pustaka Al-Kautsar,
Amali, Karimatul, (2021). Dua Permata Islam. Yogyakarta: Lansana,
Alwi, Muhammad Khidri, (2017). Kepemimpinan dalam Perspektif Hadis. Jurnal Rihlah, Vol. 5. No. 2, 32-80,
Ash-shalabi, Ali Muhammad, (2008). Biografi Umar bin Al-Khathab. Jakarta: Pustaka Al-Kautsar,
Badan Narkotik Nasional, (2017). Narkoba dan Permasalahannya. Jakarta,
Garraghan, Gilbert J, (1997). A Guide to Historical Method. New York: Fordham University Press,
Husain, Abdullah, (2023). Sejarah Perkembangan Islam di Mesir (Masa Kekhalifahan Umar Bin Khththab Sampai Masa Dinasti Ayyubiyah), Yogyakarta: Deepublish Publisher,
Ibrahim Alfian, Teuku, (1994) Metodologi Penelitian Sejarah Diktat (Banda Aceh: Arsip Nasional Penelitian Daerah Istimewa Aceh, Museum Negeri Aceh.
Muthalib, A, (2022). Edukasi, Vol. 10, No. 2, Fakultas Pendidikan dan Ilmu Pendidikan, Universitas Islam Indragiri,
Nurhayati, (2018). Memahami Konsep Syari'ah, Fikih, Hukum dan Ushul Fikih. Jurnal Hukum Ekonomi Syari'ah (J-HES), Vol. 2, No. 2, 124-134,
Oktaviyani, Dini, (2013). Bahaya Penyalahgunaan Narkoba, Kurikulum dan Teknologi Pendidikan Fakultas Ilmu Pendidikan, Universitas Negeri Semarang,
Rohim, Abdul, (2021). Jejak Langkah Umar Bin Khattab, Yogyakarta: Anak Hebat Indonesia,
Syekh, Maulana Shibli Nu'mani, (2015). Umar Bin Khaththab, Jakarta: Kaysa Media,
Syihab, Quraisy, 2002. Tafsir al-Misbah, Is ted., Vol. No. 2,
Syarifuddin, Amir, (2011). Ushul Fiqh, Jilid I, Jakarta: Kencana,
Usman bin, Muhammad Ahsan, (2021). Umar Bin al-Khaththab, Yogyakarta: Hikam Pustaka,
Yunus, Muhammad, (1979). Sejarah Pendidikan Islam di Indonesia, Jakarta: Mutiara.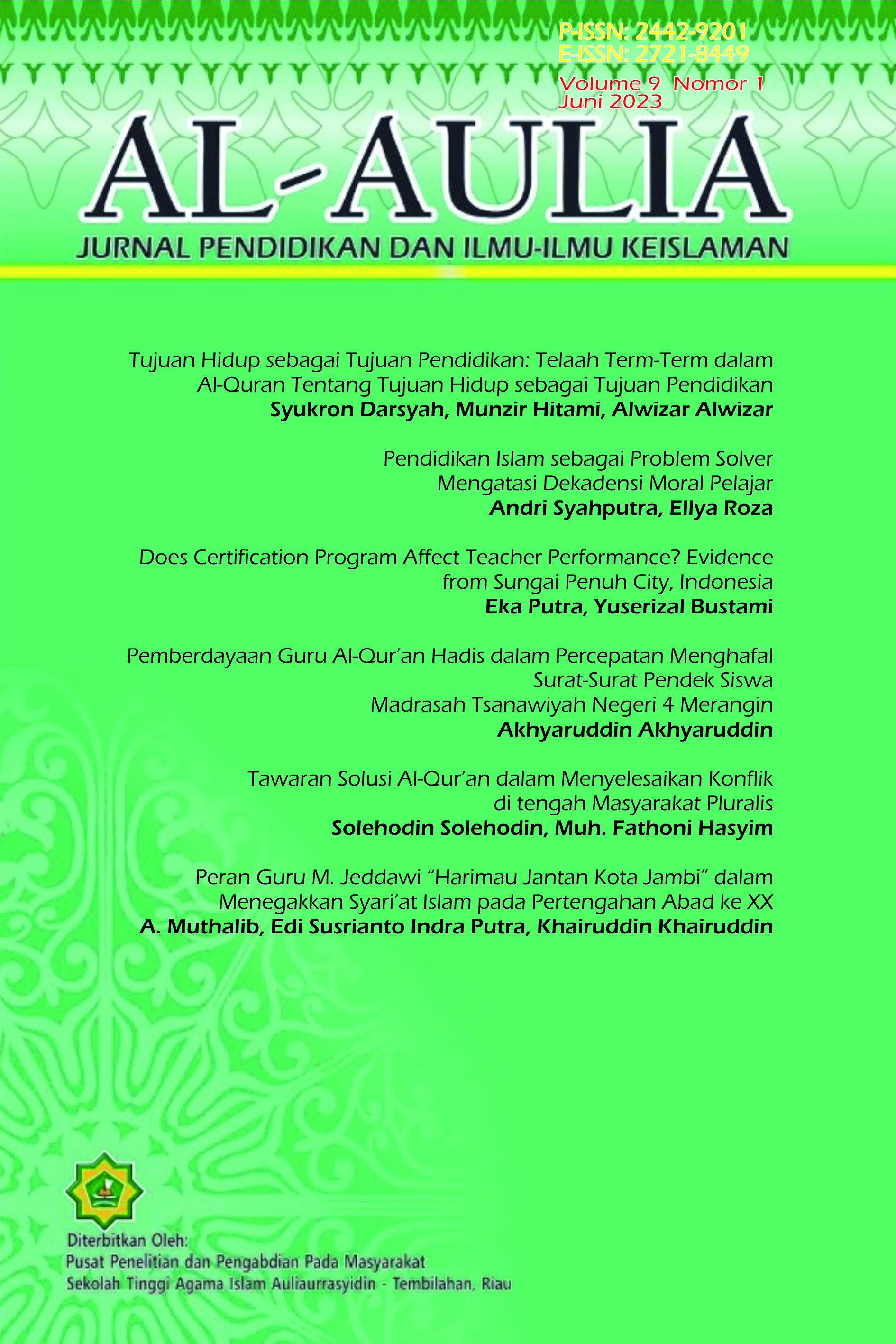 Downloads
How to Cite
Muthalib, A., Putra, E. S. I., & Khairuddin, K. (2023). Peran Guru M. Jeddawi "Harimau Jantan Kota Jambi" dalam Menegakkan Syari'at Islam pada Pertengahan Abad ke XX. Al-Aulia: Jurnal Pendidikan Dan Ilmu-Ilmu Keislaman, 9(1), 67–77. https://doi.org/10.46963/aulia.v9i1.1043
License
Copyright (c) 2023 A. Muthalib, Edi Susrianto Indra Putra, Khairuddin Khairuddin
This work is licensed under a Creative Commons Attribution-ShareAlike 4.0 International License.
Authors who publish with this journal agree to the following terms:
1. Copyright on any article is retained by the author(s).
2. The author grants the journal, right of first publication with the work simultaneously licensed under a Creative Commons Attribution License that allows others to share the work with an acknowledgment of the work's authorship and initial publication in this journal.
3. Authors are able to enter into separate, additional contractual arrangements for the non-exclusive distribution of the journal's published version of the work (e.g., post it to an institutional repository or publish it in a book), with an acknowledgment of its initial publication in this journal.
4. Authors are permitted and encouraged to post their work online (e.g., in institutional repositories or on their website) prior to and during the submission process, as it can lead to productive exchanges, as well as earlier and greater citation of published work.
5. The article and any associated published material is distributed under the Creative Commons Attribution-ShareAlike 4.0 International License