Orientasi Perkembangan Pendidikan Islam Pasca Proklamasi Indonesia
Keywords:
Islamic Education, Post Independence, Indonesia
Abstract
History revealed that Islamic education in Indonesia has its characteristics and plays a vital role in advancing Islamic culture in Indonesia. This study used a library research method that relies on sources from books and articles in scientific journals. The results showed that after the proclamation, there are four types of Islamic education in Indonesia, i.e., Madrasah, Islamic boarding schools, Public Schools, and Islamic schools. The development of Islamic in Indonesia as a revival, renewal, and enlightenment. The Islamic education system that existed at that time had developed as an effort of implementing Islamic law, so it guarantees and opportunities to continue to exist and develop.
Downloads
Download data is not yet available.
References
Abdullah, A. (2013). Pendidikan Islam sepanjang sejarah: Sebuah kajian politik pendidikan di Indonesia. SUSURGALUR: Jurnal Kajian Sejarah & Pendidikan Sejarah, 1(2), 213-228. https://doi.org/10.2121/susurgalur.v1i2.68
Akhiruddin, K. (2015). Lembaga Pendidikan Islam di Nusantara. Tarbiya: Jurnal Ilmu Pendidikan Islam, 1(1). 195-219. https://journal.uinsgd.ac.id/index.php/jurnal-tarbiya/article/view/143
Bafadhol, I. (2017). Lembaga Pendidikan Islam di Indoesia. Edukasi Islami: Jurnal Pendidikan Islam, 6(11), 59-72. http://dx.doi.org/10.30868/ei.v6i11.95
Daulay, H. P., & Tobroni, T. (2017). Islamic education in Indonesia: A historical analysis of development and dynamics. British Journal of Education, 5(13), 109-126.
Drajat, M. (2018). Sejarah madrasah di indonesia. Al-Afkar, Journal For Islamic Studies, 1(1), 192–206. https://doi.org/10.31943/afkar_journal.v1i1.17
Hanipudin, S. (2019). Pendidikan Islam di Indonesia dari masa ke masa. Matan: Journal Of Islam And Muslim Society, 1(1), 39-53. https://doi.org/10.20884/1.matan.2019.1.1.2037
Haryanto, B. (2016). Perbandingan pendidikan islam di Indonesia dan Malaysia. Adabiyah: Jurnal Pendidikan Islam, 1(1), 81-98. https://doi.org/10.21070/ja.v1i1.166
Herman. (2013). Sejarah Pesantren Di Indonesia. Al-TA'DIB: Jurnal Kajian Ilmu Kependidikan, 6(2). 145-158. http://dx.doi.org/10.31332/atdb.v6i2.311
Idris, S. (2018). pembaruan pendidikan Islam di Indonesia. KREATIF: Jurnal Studi Pemikiran Pendidikan Agama Islam, 13(2), 148-165. https://doi.org/https://doi.org/10.52266/kreatif.v13i2.90
Kurniyat, E. (2018). Memahami dikotomi dan dualisme pendidikan di Indonesia. Rausyan Fikr: Jurnal Pemikiran dan Pencerahan, 14(1). 1-19. http://dx.doi.org/10.31000/rf.v14i1.669
Maghfuri, A. (2020). Manajemen sinergis pesantren-madrasah di era modern sebagai alternatif pendidikan Islam Indonesia. POTENSIA: Jurnal Kependidikan Islam, 6(1), 51-71. http://dx.doi.org/10.24014/potensia.v6i1.8036
Nursyarief, A. (2014). Pendidikan Islam di Indonesia dalam lintasan sejarah (Perspektif Kerajaan Islam). Lentera Pendidikan: Jurnal Ilmu Tarbiyah dan Keguruan, 17(2), 256-271. https://doi.org/10.24252/lp.2014v17n2a8
Sya'adah, A., Saputra, B. A., Jannah, M., & Mahfud, C. (2019). Sejarah reformasi pendidikan Islam di Indonesia. Ta'dibuna: Jurnal Pendidikan Islam, 8(1), 38-46. https://doi.org/10.32832/tadibuna.v8i1.1793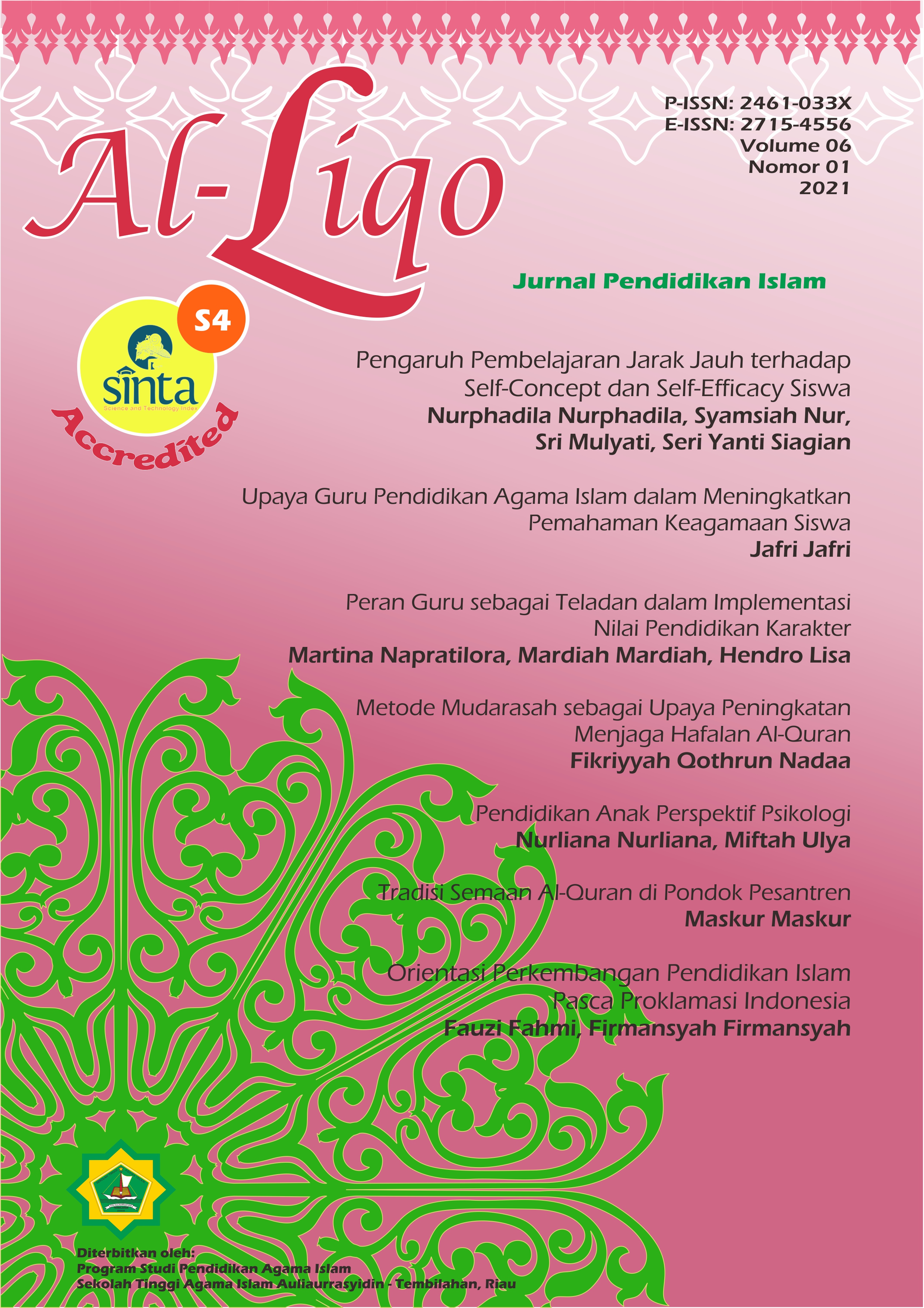 Downloads
How to Cite
Fahmi, F., & Firmansyah, F. (2021). Orientasi Perkembangan Pendidikan Islam Pasca Proklamasi Indonesia. Al-Liqo: Jurnal Pendidikan Islam, 6(1), 83–95. https://doi.org/10.46963/alliqo.v6i1.262
License
Authors who publish with this journal agree to the following terms:
1. Copyright on any article is retained by the author(s).
2. The author grants the journal, right of first publication with the work simultaneously licensed under a Creative Commons Attribution shareAlike 4.0 International License that allows others to share the work with an acknowledgment of the work's authorship and initial publication in this journal.
3. Authors are able to enter into separate, additional contractual arrangements for the non-exclusive distribution of the journal's published version of the work (e.g., post it to an institutional repository or publish it in a book), with an acknowledgment of its initial publication in this journal.
4. Authors are permitted and encouraged to post their work online (e.g., in institutional repositories or on their website) prior to and during the submission process, as it can lead to productive exchanges, as well as earlier and greater citation of published work.
5. The article and any associated published material is distributed under the Creative Commons Attribution-ShareAlike 4.0 International License