Pengembangan Kreativitas Guru dalam Proses Pembelajaran
Keywords:
Teacher's creativity, Learning process, Skills
Abstract
Creativity is a key oriented towards the effectiveness of the learning process carried out by the teacher in achieving learning and educational goals. This study aims to reveal the teachers' creativity in the learning process. Teacher's creativity is the skills to have such as skills in making teaching materials, carrying out learning in class properly, learning methods that are relevant to the material, appropriate learning media, quality learning resources related to the discussion, etc. The research method used was a qualitative descriptive approach, and the research subjects are teachers in schools who expected to have creativity in the form of quality skills.
Downloads
Download data is not yet available.
References
Ali. Mudlofir. (2011). Aplikasi Pengembangan Kurikulum Tingkat Satuan Pendidikan (KTSP) dan Bahan Ajar dalam Pendidikan Agama Islam. Jakarta: Rajawali Pers.
E. Mulyasa, (2006). Kurikulum Berbasis Kompetensi, Bandung: Remaja Rosdakarya.
Hamzah B. Uno dan Nurdin Mohamad, (2012). Belajar dengan Pendekatan PAIKEM, Jakarta: Bumi Aksara.
Jufni, M., Djailani, A. R., & Ibrahim, S. (2015). Kreativitas Guru Pai Dalam Pengembangan Bahan Ajar Di Madrasah Aliyah Jeumala Amal Lueng Putu. Jurnal Administrasi Pendidikan: Program Pascasarjana Unsyiah, Volume 3, Nomor. 4, November.
Luqita, Aria. Agus Susanti. (2013). Perspektif Guru Terhadap Kemitraan Antara Sekolah, Guru Dan Masyarakat. Jurnal Psikologi Industri dan Organisasi Volume 2 Nomor. 2, Agustus.
Mamo, (2011). Pengembangan Bahan Ajar PAI Pada Sekolah. Direktorat Pendidikan Agama Islam Kementrian Agama Replublik Indonesia.
Miranda, D. (2016). Upaya Guru Dalam Mengembangkan Kreativitas Anak Usia Dini di Kota Pontianak. Jurnal Pembelajaran Prospektif, Volume 1 Nomor 1.
Mohammad Jauhar, (2011). Implementasi PAIKEM dari Behavioristik sampai Konstruktivistik, Jakarta: Prestasi Pustakaraya.
Monawati, M., & Fauzi, F. (2018). Hubungan Kreativitas Mengajar Guru dengan Prestasi Belajar Siswa. Jurnal Pesona Dasar, Volume 6 Nomor 2 Oktober.
Pamungkas, Rahmawati, Susi Wendhaningsih, Hasyim. (2017). Peran Guru Dalam Pembelajaran Seni Tari SMAN 1 Seputih Agung Lampung Tengah. Jurnal Seni Dan Pembelajaran.
Rachmawati, Y. (2012). Strategi Pengembangan Kreativitas Pada Anak. Prenada Media.
Rahma, A. (2017). Pendidikan Humanis Paulo Freire Dalam Perspektif Pendidikan Islam (Doctoral dissertation, IAIN Raden Intan Lampung).
Sitaasih, D. K. (2020). Supervisi Akademik untuk Meningkatkan Kompetensi Guru Dalam Proses Pembelajaran di SD. Jurnal Ilmiah Sekolah Dasar, Volume 4 Nomor. 2.
Syaikhudin, Ahmad. (2013). Pengembangan Kreativitas Guru Dalam Proses Pembelajaran. LISAN AL-HAL: Jurnal Pengembangan Pemikiran dan Kebudayaan, Volume 7, Nomor. 2.
Tanjung, Y. P. (2020). Pengaruh Kreativitas Guru Dalam Mengajar Terhadap Minat Belajar Siswa Di MTs Negeri Kota Tebing Tinggi. Murabbi, ISSN : 2620-6692 Volume 03 Nomor 01 Januari-Juni.
Winataputra, Usin S. (2014). Teori Belajar Dan Pembelajaran. MKDK 4004/Modul 1.
Yatim Rianto, (2010). Paradigma Baru Pembelajaran, (Jakarta: Kencana Prenada Media Group.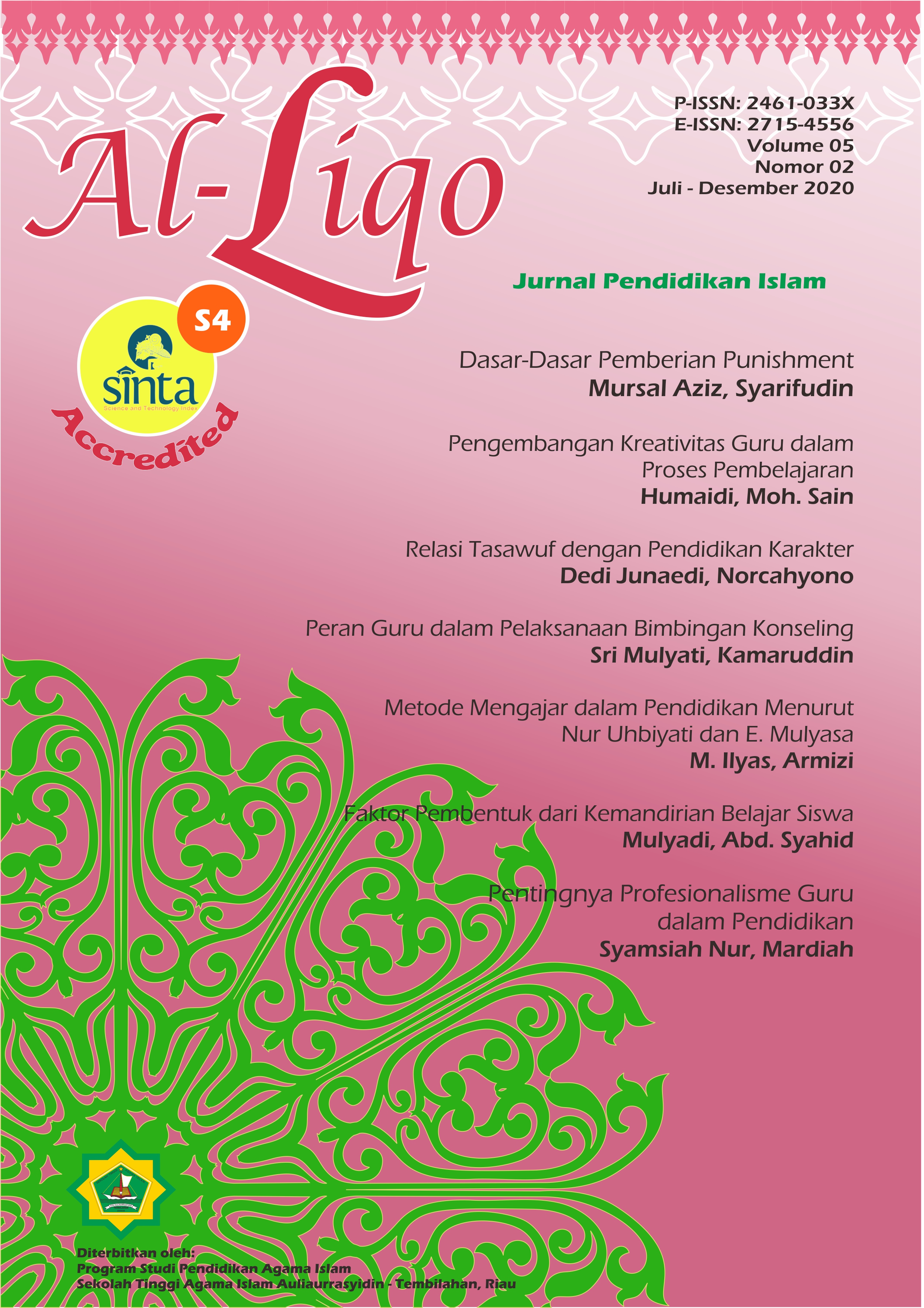 Downloads
How to Cite
Humaidi, H., & Sain, M. (2020). Pengembangan Kreativitas Guru dalam Proses Pembelajaran. Al-Liqo: Jurnal Pendidikan Islam, 5(02), 146–160. https://doi.org/10.46963/alliqo.v5i02.238
License
Authors who publish with this journal agree to the following terms:
1. Copyright on any article is retained by the author(s).
2. The author grants the journal, right of first publication with the work simultaneously licensed under a Creative Commons Attribution shareAlike 4.0 International License that allows others to share the work with an acknowledgment of the work's authorship and initial publication in this journal.
3. Authors are able to enter into separate, additional contractual arrangements for the non-exclusive distribution of the journal's published version of the work (e.g., post it to an institutional repository or publish it in a book), with an acknowledgment of its initial publication in this journal.
4. Authors are permitted and encouraged to post their work online (e.g., in institutional repositories or on their website) prior to and during the submission process, as it can lead to productive exchanges, as well as earlier and greater citation of published work.
5. The article and any associated published material is distributed under the Creative Commons Attribution-ShareAlike 4.0 International License