Integrasi Teknologi Baru dalam Meningkatkan Pendidikan Islam di Indonesia
Keywords:
Teaching and Learning, Integration, Islamic Studies, ICT
Abstract
Islamic Studies teachers face challenging challenges Based on the understanding that the duties and responsibilities of religious teachers are more than onerous, globalization which has become part of people's lives causes difficulties for teachers. Challenges for teachers today are different from the past. It is necessary that we do a lot in the form of skills and strategies to ensure that teachers are always in their best role. There is a need for a variety of instructional approaches, methods, and course materials in the field of Islamic Studies. Among these are aqidah (Islamic beliefs), sabi'ah (Islamic ethics), fiqh (Islamic law), the Koran, and Islamic history. With this in mind, it was necessary for the author to research and articulate this research in order to spend a lot of time in class using the "chalk and talk" technique to explain topics such as prayer, pilgrimage, and Islamic history. Therefore, the use of ICT in the classroom is certainly very possible, such as the use of laptops and internet connections. Many academics teaching Islamic Studies rarely use any kind of digital technology, according to previous research. This method is based on concrete field data and literature, and collects data, classifies, analyzes or processes the data, and outputs the situation objectively, taking books, magazines, newspapers, etc. as related issues, carried out by steps on these root causes.
Downloads
Download data is not yet available.
References
A.Fatoni. (2020). Konsep Manajemen Pendidikan Islam Perspektif Al-Qur'an. Fakultas Tarbiyah dan Keguruan IAIN Raden Intan Lampung.
Arianto, D. A. N., & Fajrie, M. (2012). Penerapan e-Learning Dalam Pembelajaran di Program Pasca Sarjana IAIN Walisongo Semarang. In Seruni-Seminar Riset Unggulan Nasional Inoformatika dan Komputer, 1(1).
Asrori, M. (2016). Masyarakat Madani Dan Pendidikan Islam (Mengkonstruksi Masyarakat Madani Melalui Pendidikan Islam). MADRASAH. https://doi.org/10.18860/jt.v6i2.3317
Azhari, M. R., Mashuri, S., & ... (2022). Integrasi Pendidikan Agama Islam dalam Pemanfaatan Teknologi di Era Society 5.0. … Ilmu Di Era Society …, 1, 212–217.
Basyit, A. (2018). Implementasi Manajemen Mutu Pendidikan Islam. Kordinat: Jurnal Komunikasi Antar Perguruan Tinggi Agama Islam. https://doi.org/10.15408/kordinat.v17i1.8102.
Daryanto. (2020). Media Pembelajaran. Yogyakarta: Gava Media.
DePorter, B., Reardon, M., & Singer-Nourie, S. (2020). Quantum teaching: mempraktikkan quantum learning di ruang-ruang kelas. Kaifa.
Eliza, F. (2013). Pengembangan bahan ajar berbasis multimedia interaktif mata kuliah gambar listrik yang menggunakan autocad pada program studi pendidikan teknik elektro FT UNP. Jurnal Teknologi Informasi Pendidikan, Col, 6, 63-89.
Faulinda Ely Nastiti, Aghni Rizqi Ni'mal 'Abdu (2020), Kesiapan Pendidikan Indonesia Menghadapi era society 5.0, Jurnal Kajian Teknologi Pendidikan, 5 (1), 61-66.
Hamka, H. (2015). Penggunaan internet sebagai media pembelajaran pada mahasiswa iain palu. HUNAFA: Jurnal Studia Islamika, 12(1), 95-119.
Hapsari, L.P, Bahasa, W. (2014). Pengaruh Penggunaan Internet dalam Pembelajaran Jarak Jauh (E-Learning) terhadap Efektivitas Pengajaran Bahasa Indonesia kepada Penutur Asing "Studi Kasus pada Pengajar Bahasa Indonesia Wisma Bahasa Yogyakarta 2013", Prosiding ASILE Conference, 1-62.
Hardjito. (2012). Internet untuk Pembelajaran, Jurnal Teknodik, 6(10), 1-23.
Im, C., & Park, M. (2014). Development and evaluation of a computerized multimedia approach to educate older adults about safe medication. Asian Nursing Research, 8(3), 193-200.
Jamaluddin, H. & Zaidatun, T. (2013). Multimedia Dalam Pendidikan. Bentong: PTS Publications.
Jasmy, M,. & Rahman, A. Ismail, A.M. (2017). Teknologi Maklumat dan Komunikasi Serta Aplikasi Multimedia dalam Pendidikan di Malaysia dan Indonesia. Bangi: Universiti Kebangsaan Malaysia.
Katadata (2022). Pengertian Teknologi, Jenis, Contoh, dan Manfaatnya. Diakses 19 Juni 2022
Khanifatul. (2013). Pembelajaran Inovatif: Strategi Mengelola Kelas Secara Efektif dan Menyenangkan. Yogyakarta: Ar-Ruzz Media.
Kusuma, A. (2021). E-learning Dalam Pembelajaran. Jurnal Lentera Pendidikan, 12(1), 35-51.
Maslay, R.E. (2021). Multimedia learning. Cambridge: Cambridge University Press.
Miarso, Y. (2014). Menyemai benih teknologi pendidikan. Kencana.
Mira Marisa (2021), Filosofi Manajemen Pendidikan Islam Dalam Perspektif AlQur'an. Al-Idaroh: Jurnal Studi Manajemen Pendidikan Islam Volume 5 Nomor 1 Maret 2021; p-ISSN: 2549-8339; e-ISSN: 2579-3683
Munir. (2019). Kontribusi Teknologi Informasi Dan Komunikasi (TIK) Dalam Pendidikan di Era Globalisasi Pendidikan Indonesia, Jurnal Pendidikan Teknologi Informasi Dan Komunikasi (PTIK), 2(2), 1-4.
Murtafiah, N. H. (2022). Analisis Manajemen Pengembangan Sumber Daya Manusia Yang Handal Dan Profesional (Studi Kasus: Iai An Nur Lampung). Edukasi Islami: Jurnal Pendidikan Islam, 10(02).
Nandi, S. (2016). Penggunaan Multimedia Interaktif dalam Pembelajaran Geografi di Persekolahan. Jurnal GEA, 6(1).
Noordin, T.A. & Aini, N. (2022). Pendidikan dan Pembangunan Manusia: Pendekatan Bersepadu. Bangi: As-Syabab Media Malaysia.
Oetomo, B.S.D. (2012). Education: Konsep, Teknologi dan Aplikasi Internet Pendidikan. Yogyakarta: Penerbit Andi.
Perbawaningsih, Y. (2013). Plus Minus of ICT Usage in Higher Education Students, Journal Social and Behavioral Sciences, vol. 103, no. 110, 717– 724.
Rahim, A. & Saad, M. (2021). Teknologi maklumat dan komunikasi: Keperluan pertimbangan semula program pendidikan tinggi. Kertas Kerja Dibentang di Seminar Dinamika Perubahan Pengurusan Menuju Era Kepada 20 & 21 September 2001: Penerbit Universiti Sains Malaysia (USM).
Raihan, M. A., & Shamim, M. R. H. (2013). A Study to Explore the Practice of ICTs in TVET in Bangladesh and South Korea. International Journal of Engineering Science and Innovative Technology (IJESIT), 2(4), 351-360.
Razak, A. (2021). Online delivery systems: Setting baseline for professional development of educators. Journal of Educational Technology, 1(2), 47-52.
Rohaya, H. (2013). Tahap Pengetahuan dan Kemahiran Komputer Dari Perspektif Guru Pendidikan Islam di Daerah Kuala Terengganu. Tesis sarjana yang tidak diterbitkan. Bangi: Universiti Kebangsan Malaysia.
Rosenberg, J.M., (2021). E-learning: Strategies For Delevering Knowledge in the Digital Age. U.S.A: McGraw-Hill.
Rusdiana, A. (2014). Integrasi Pendidikan Agama Islam dengan Sains dan Teknologi. Istek , 8 (2), 123-143.
Rusman. (2012). Pembelajaran Berbasis Teknologi Informasi dan Komunikasi, Jakarta: Rajawali Press.
Shephard, K. (2013). Questioning, promoting and evaluating the use of streaming video to support student learning. British Journal of Educational Technology, 34(3), 295-308.
Turyati, M.M. & Winarno. (2016). Pengaruh Penggunaan Media Video Edukasi Terhadap Hasil Belajar PKN Siswa Kelas VII SMP Negeri 2 Gondangrejo. Jurnal PKn Progresif, 11(1), 257-267.
UNESCO Institute for Information Technologies in Education (IITE). (2015). ICT application in technical and vocational education and training: specialized training course. Moscow: UNESCO Institute for Information Technologies in Education (IITE) AUTHOR.
Webster, L. & Murphy, D. (2018). Enhancing Learning through Technology: Challenges and Responses. Research on Emerging Technologies and Pedagogies, 1-16. Singapore: World Scientific.
Yasak, Z., & Alias, M. (2015). ICT integrations in TVET: Is it up to expectations?. Procedia-Social and Behavioral Sciences, 204, 88-97.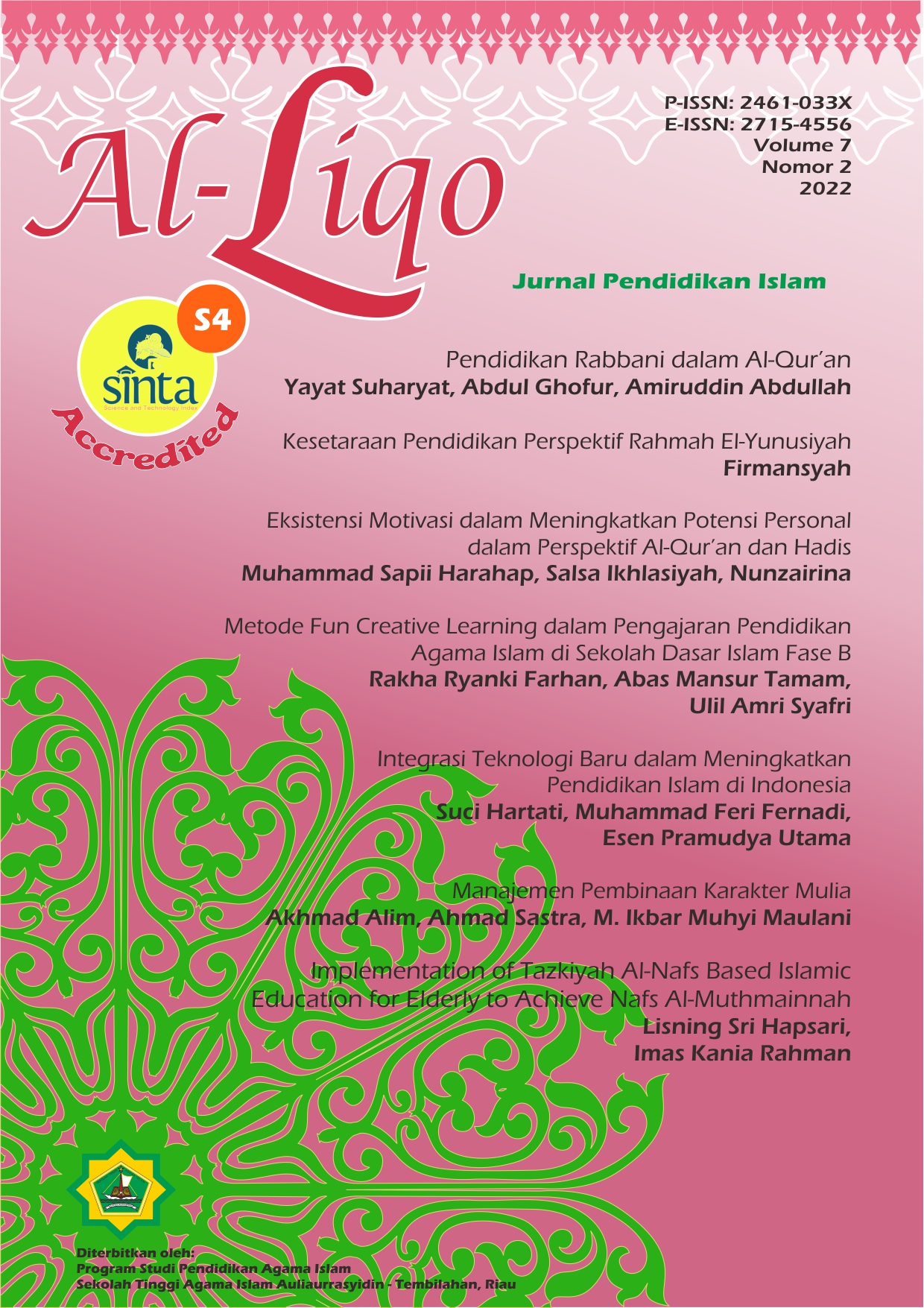 Downloads
How to Cite
Hartati, S., Fernadi, M. F., & Utama, E. P. (2022). Integrasi Teknologi Baru dalam Meningkatkan Pendidikan Islam di Indonesia. Al-Liqo: Jurnal Pendidikan Islam, 7(2), 159–178. https://doi.org/10.46963/alliqo.v7i2.581
License
Copyright (c) 20232 Suci Hartati, Muhammad Feri Fernadi, Esen Pramudya
This work is licensed under a Creative Commons Attribution-ShareAlike 4.0 International License.
Authors who publish with this journal agree to the following terms:
1. Copyright on any article is retained by the author(s).
2. The author grants the journal, right of first publication with the work simultaneously licensed under a Creative Commons Attribution shareAlike 4.0 International License that allows others to share the work with an acknowledgment of the work's authorship and initial publication in this journal.
3. Authors are able to enter into separate, additional contractual arrangements for the non-exclusive distribution of the journal's published version of the work (e.g., post it to an institutional repository or publish it in a book), with an acknowledgment of its initial publication in this journal.
4. Authors are permitted and encouraged to post their work online (e.g., in institutional repositories or on their website) prior to and during the submission process, as it can lead to productive exchanges, as well as earlier and greater citation of published work.
5. The article and any associated published material is distributed under the Creative Commons Attribution-ShareAlike 4.0 International License