Manajemen Program Gerakan Masyarakat Magrib Mengaji di Kecamatan Tempuling Kabupaten Indragiri Hilir
Mikrot Mikrot

Ponpes Darussalam Kecamatan Tempuling Kabupaten Indragiri Hilir, Indonesia
Keywords:
management, magrib mengaji
Abstract
The Koran is an activity that is closely related to the Muslim community in Indonesia since the beginning of the development of Islam. Maghrib Koran is an activity to cultivate the habit of reading the Koran after the evening prayer among the community both in urban and rural areas. This study aims to determine the management of reading time in Tempuling District, Indragiri Hilir Regency, to determine the factors that support and hinder the Magrib Mengaji program in Tempuling District, Indragiri Hilir Regency. This research is a field research conducted in mosques, mosques and mosques that carry out activities in Tempuling District, Indragiri Hilir Regency using the observation method, 5 people using the interview method and the documentation method. Factors that support the Magrib Recitation program are the majority of community leaders strongly support the Maghrib Koran activities, the form of caring in various ways, sometimes by giving gifts, sitting together in the mosque or prayer room, donating. In terms of the quality of teaching, the time available in mosques and surau is adequate and of good quality, the family and community environment is also very supportive, while the factors that hinder the Maghrib Koran program are the managers of the Maghrib Koran in mosques, mosques and prayer rooms not receiving socialization and manuals. or guidelines on the Koran and Islam, the delay in providing incentives for teachers of the Maghrib Koran and the absence of increased incentives and the lack of facilities and infrastructure that support the Maghrib Koran program.
References
Abu Hazim Muhsin. (2007). Panduan Praktis Tajwid. Magetan: Maktabah Daarul Atsar Al-Islamiyah.
Ahmad Yunus. (2011). Nasehat Untukmu Wahai Saudaraku. Surabaya: Cahaya Ilmu.
Anwar Prabu Mangkunegara. (2009). Manajemen Sumberdaya Manusia. Bandung: Remaja Rosda Karya.
Delfi Indra. (2014). Pelaksanaan Manajemen Program Gerakan Masyarakat Magrib Mengaji di Provinsi Sumatra Barat. (Solok: Jurnal Al-Fikrah Vol. 2. No. 2).
Departemen Agama RI. (2002). Al-Quran dan Terjemahnya. Bandung: Syamil Cipta Media.
Departemen Agama RI. (2002). Al-Quran dan Terjemahannya. (Semarang: Karya Toha Putra).
Depdiknas. (2005). Kamus besar Bahasa Indonesia. Jakarta: Balai pustaka.
Dessy Anwar. (2005). Kamus Lengkap Bahasa Indonesia. Surabaya: Amelia.
Direktorat Penerangan Agama Islam Ditjen Bimas Islam Kementerian Agama Republik Indonesia. (2013). Pedoman Gerakan Masyarakat Magrib Mengaji (Gemmar Mengaji), Jakarta: Kementerian Agama.
Faustino Cardoso Gomes. (2003). Manajemen Sumber Daya Manusia. Yogyakarta: Andi.
Gansah Sugestia. (2017). Pembinaan Keagamaan Masyarakat Kota Bandung Melalui Program Magrib Mengaji. (Bandung: Tarbawy. Indonesian Journal of Islamic Education-Vol. 4. No. 2. )
George R. Terry. (2010). Dasar-dasar manajemen. Jakarta: Bumi Aksara.
Hamidi. (2010). Metode Penelitian Kualitatif , cet. 2 Malang: UMM Press.
Hasan bin Ali Al-Hjazy.(2001). Manhaj Tarbiyah Ibnu Qayyim, terj. Muzadi Hasbullah. Jakarta: Pustaka Al-Kautsar.
http://kbbi.web.id/kelola.diakses-sabtu-10-juni-2017.
Irawan Soehartono. (1995). Metode Penelitian Sosial, Cet. I. Bandung : Remaja Rosdakarya.
Kementerian Kesehatan RI. (2016). Buku Panduan Gerakan Masyarakat Hidup Sehat. Jakarta: Kementerian Kesehatan RI.
Lexy J. Moleong. (2005). Metodologi Penelititan Kualitatif. Bandung: Remaja Rosdakarya.
M. Quraish Shihab. (1999). Membumikan Al-Quran, Fungsi dan Peran Wahyu dalam Kehidupan Masyarakat. Bandung: Mizan.
Mahdini. (2005). Refungsionalisasi Nilai-Nilai Qur'ani Dalam Kehidupan Masyarakat. Tembilahan: STQ XVI Provinsi Riau.
Mahmud Yunus. (1983). Metodik Khusus Pendidikan Agama. Jakarta: Hilda Karya.
Manajemen PT. Arun & Dosen IAIN ar-Raniry. (1996). Pernik-Pernik Manajemen Qur'ani. Aceh Utara: Humas PT. Arun NGL. Co.
Masri Singarimbun dkk. (1995). Metodelogi Penelitian Survai, Cet 2, Jakarta: LP3ES.
Peraturan Daerah Kabupaten Indragiri Hilir No. 2 Tahun 2016 tentang Gerakan Masyarkat Magrib Mengaji.
Rosady Ruslan. (2008). Metode Penelititan Publik Relation dan Komunikasi. Jakarta: Raja Grafindo Persada.
Rue and Byars. (2006). Human Resource Managemen: A Practical Approach, New York: Harcourt Brace.
S. Badudu. (2003). Kamus Kata-Kata Serapan Asing dalam Bahasa Indonesia. Jakarta: Kompas Media Nusantara.
Sugiyono. (2008). Metode Penelitian Kuantitaitif, Kualitatif dan R&D Bandung: Alfabeta.
________. (2009). Memahami Penelitian Kualitatif, cet. 9. Bandung: Alfabeta.
Suharsimi Arikunto. (1993). Manajemen Penelitian. Jakarta: Rineka Cipta.
Supian. (2012). Ilmu-Ilmu Alquran Praktis Jakarta: Gaung Persada Press.
Sutarno. NS. (2004). Manajemen Perpustakaan. Jakarta: Samitra Media Utama.
Sutrisno Hadi. (1983). Metodelogi Research Jilid 1. Yogyakarta: Fakultas Psikologi UGM.
T. Hani Handoko. (1995). Manajemen Edisi 2, Yogyakarta: BPEF.
Tarigan. Henry Guntur dan Djago Tarigan. (1986). Telaah Buku Teks Bahasa Indonesia. Bandung: Angkasa.
The Liang Gie. (2000). Administrasi Perkantoran. Yogyakarta: Modern Liberty.
Tim Koordinator Program Gerakan Masyarakat Magrib Mengaji Kabupaten Indragiri Hilir. (2017). Buku Panduan Program Gerakan Masyarakat Magrib Mengaji Kabupaten Indragiri Hilir. Tembilahan: Bagian Kesra Setda INHIL.
www.kumpulandefinisi.com. diakses-kamis-26-oktober-2017.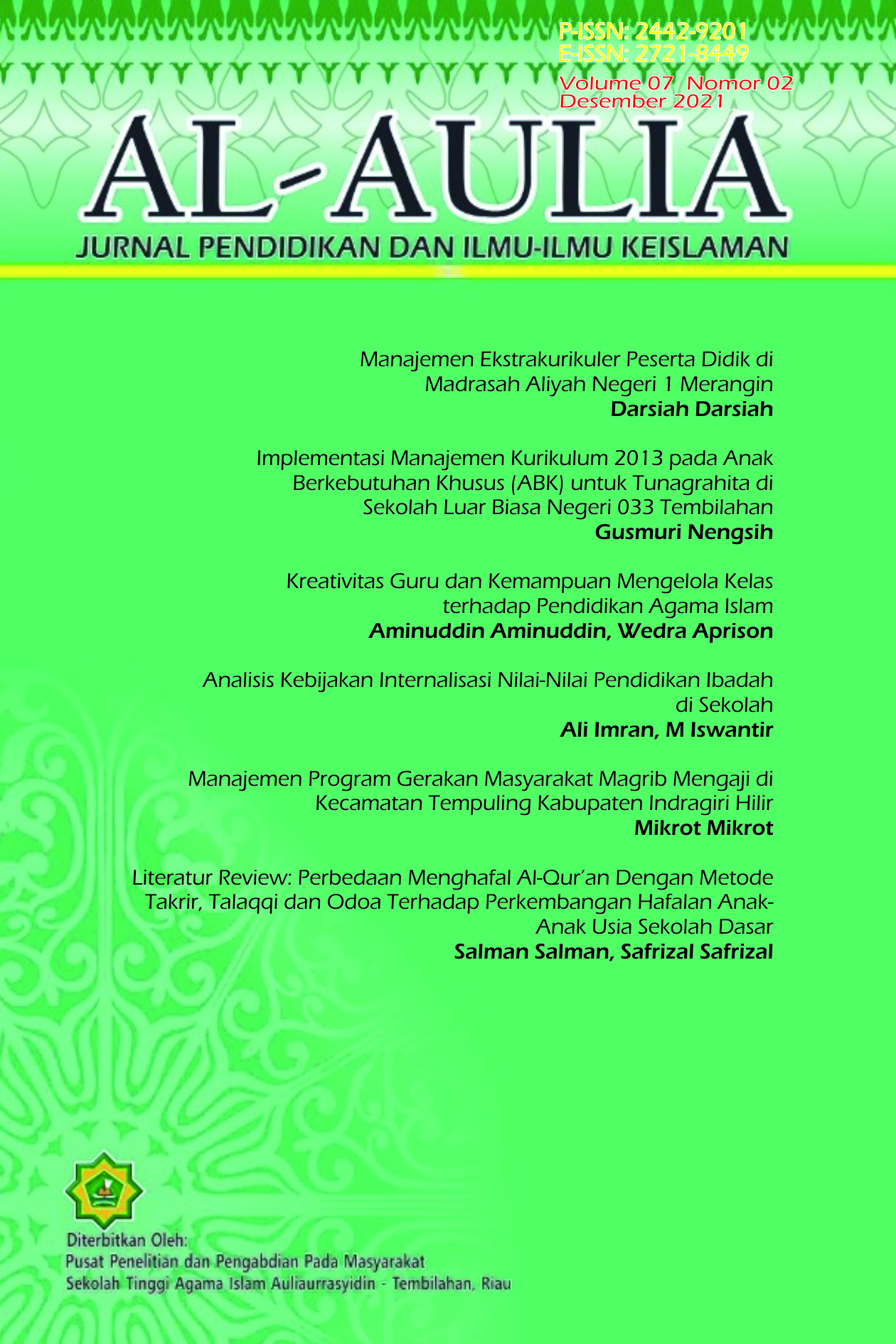 How to Cite
MikrotM. (2021). Manajemen Program Gerakan Masyarakat Magrib Mengaji di Kecamatan Tempuling Kabupaten Indragiri Hilir. Al-Aulia: Jurnal Pendidikan Dan Ilmu-Ilmu Keislaman, 7(2), 141-152. Retrieved from https://ejournal.stai-tbh.ac.id/index.php/al-aulia/article/view/458
Copyright (c) 2021 Mikrot Mikrot
This work is licensed under a Creative Commons Attribution-ShareAlike 4.0 International License.
Authors who publish with this journal agree to the following terms:
1. Copyright on any article is retained by the author(s).
2. The author grants the journal, right of first publication with the work simultaneously licensed under a Creative Commons Attribution License that allows others to share the work with an acknowledgment of the work's authorship and initial publication in this journal.
3. Authors are able to enter into separate, additional contractual arrangements for the non-exclusive distribution of the journal's published version of the work (e.g., post it to an institutional repository or publish it in a book), with an acknowledgment of its initial publication in this journal.
4. Authors are permitted and encouraged to post their work online (e.g., in institutional repositories or on their website) prior to and during the submission process, as it can lead to productive exchanges, as well as earlier and greater citation of published work.
5. The article and any associated published material is distributed under the Creative Commons Attribution-ShareAlike 4.0 International License