Pendekatan Integralistik sebagai Media Alternatif Inovasi Pendidikan Islam di Era Milenial
Nur Zaytun Hasanah

Universitas Islam Indonesia, Sleman, Yogyakarta, Indonesia

Dhiko Saifuddin Zakly

Universitas Islam Indonesia, Sleman, Yogyakarta, Indonesia
Keywords:
Education, Integrated Approach, Islam
Abstract
In the current millennial era, many young Muslim generations are exposed to the millennial effect, which has an impact on emerging behavior. The purpose of this study was to describe an integrated approach as an alternative medium for Islamic education innovation. This research is a descriptive qualitative approach. Data collection techniques used were observation, documentation, and interview. The data were analyzed using Miles Huberman and Saldana's stages of data collection, data condensation, data presentation, and conclusion drawing. The results showed that the integrated approach implemented at SMP IT Salman Al-Farizi Yogyakarta was able to be an alternative media for Islamic education innovation in the millennial era. This integrated approach makes the Islamic faith as its foundation, it also enables teachers to create students who have Islamic personalities, smart, and skillful in mastering science and technology.
Downloads
Download data is not yet available.
References
Bafadal. (2013). Strategi Pembelajaran. Yogyakarta. Ar-Ruzz Media.
Barni, M. (2019). Tantangan pendidik di era millennial. Jurnal Transformatif (Islamic Studies), 3(1), 99-116. https://doi.org/10.23971/tf.v3i1.1251
Burhan, B. (2013). Analisis Data Penelitian Kualitatif Pemahaman Filosofis dan Metodologis ke Arah Penguasaan Model Aplikasi. Yogyakarta. Raja Grafindo Persada.
Hikmat. (2019). Manajemen Pendidikan. Bandung. Pustaka Setia.
Khalis, N., & Akhiruddin, A. (2019). Membaca peluang dan tantangan paradigma baru pendidikan Islam di era millenial. Tarbawiyah: Jurnal Ilmiah Pendidikan, 3(1), 73-89. https://doi.org/10.32332/tarbawiyah.v3i1.1695
Kurniawan H. 2016. Metode Edutainment. Yogyakarta. Ar-Ruzz Media.
Nata, A. (2018). Pendidikan Islam di era milenial. Conciencia, 18(1), 10-28. https://doi.org/https://doi.org/10.19109/conciencia.v18i1.2436
Putra, Y.S. (2016). Theoritical review: teori perbedaan generasi. Among Makarti, 9(2), 123-134. http://dx.doi.org/10.52353/ama.v9i2.142
Qodir, Z. (2016). Mempertimbangkan metode integralistik: Sosiologi untuk kajian islam dan sosial. Jurnal Sosiologi Reflektif, 10(2), 1-14. https://doi.org/10.14421/jsr.v10i2.1164
Ritonga, A. H., & Bafadhal, F. (2018). Tantangan dan peluang pendidikan islam pada era milenial. Innovatio: Journal for Religious-Innovation Studies, 18(1), 27-38. https://doi.org/10.30631/innovatio.v18i1.38
Saldana, & Huberman. M. (2014). Qualitative Data Analysis. America. SAGE Publications.
Samsirin, S. (2017). Nilai-nilai pendidikan karakter menurut konsep Yusuf Qardhawi. Educan: Jurnal Pendidikan Islam, 1(1). http://dx.doi.org/10.21111/educan.v1i1.1301
Sugiyono. (2017). Metode Penelitian Ilmu Sosial. Bandung. Alfabeta.
Sugiyono. (2017). Metode Penelitian Kuantitatif, Kualitatif, dan R&D. Bandung. Alfabeta.
Syah M. (2013). Psikologi Belajar Ed Revisi. Jakarta. Rajawali Press.
Umaimah, R. (2017). Pendekatan integralistik pendidikan agama pada sekolah (Reformulasi Filsafat Pendidikan Islam). Transformasi: Jurnal Studi Agama Islam, 10(2), 24-35.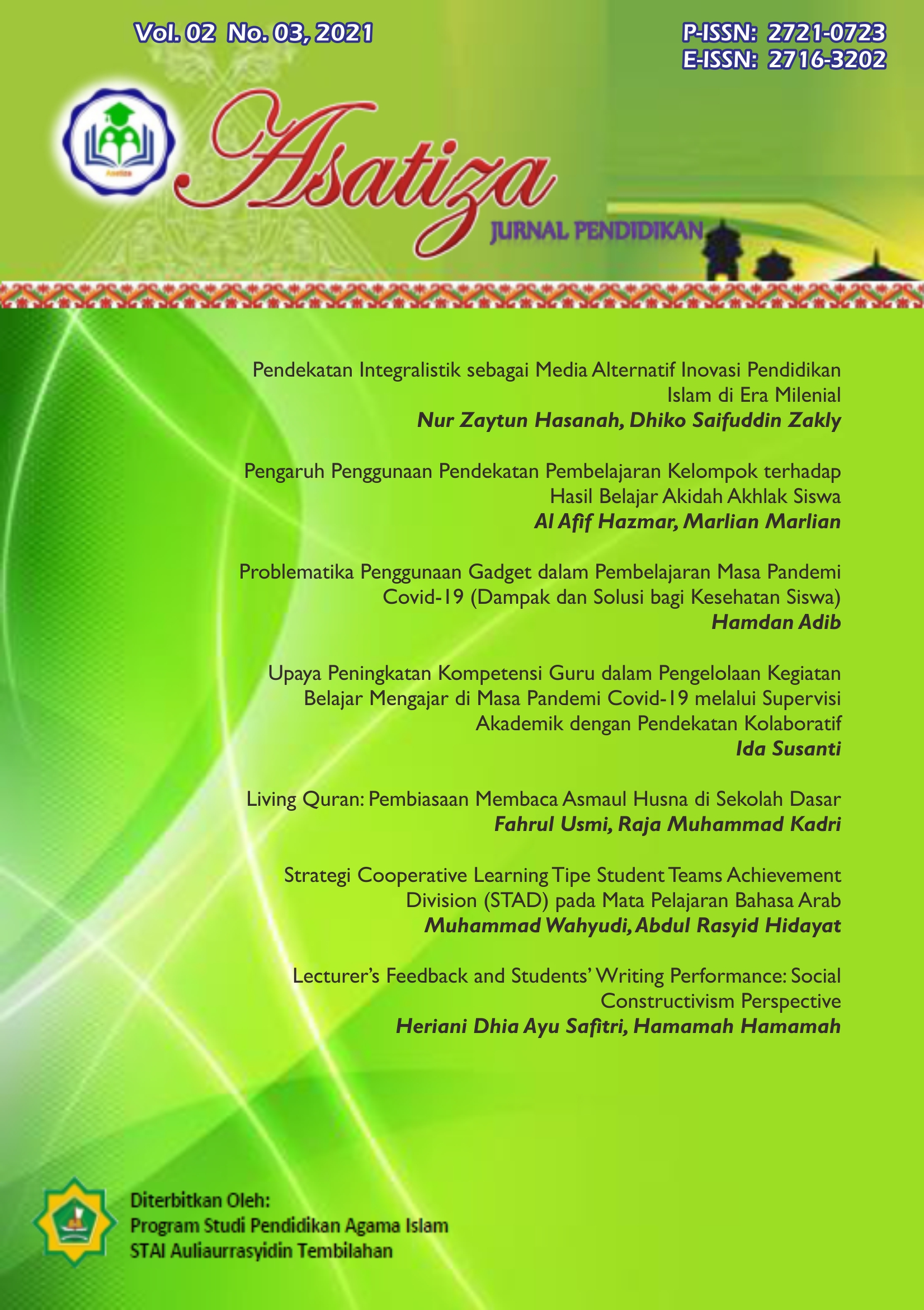 How to Cite
HasanahN. Z., & ZaklyD. S. (2021). Pendekatan Integralistik sebagai Media Alternatif Inovasi Pendidikan Islam di Era Milenial. Asatiza: Jurnal Pendidikan, 2(3), 151-161. https://doi.org/10.46963/asatiza.v2i3.384
Copyright (c) 2021 Nur Zaytun Hasanah, Dhiko Saifuddin Zakly
This work is licensed under a Creative Commons Attribution-ShareAlike 4.0 International License.
Authors who publish with this journal agree to the following terms:
1. Copyright on any article is retained by the author(s).
2. The author grants the journal, right of first publication with the work simultaneously licensed under a Creative Commons Attribution shareAlike 4.0 International License that allows others to share the work with an acknowledgment of the work's authorship and initial publication in this journal.
3. Authors are able to enter into separate, additional contractual arrangements for the non-exclusive distribution of the journal's published version of the work (e.g., post it to an institutional repository or publish it in a book), with an acknowledgment of its initial publication in this journal.
4. Authors are permitted and encouraged to post their work online (e.g., in institutional repositories or on their website) prior to and during the submission process, as it can lead to productive exchanges, as well as earlier and greater citation of published work.
5. The article and any associated published material is distributed under the Creative Commons Attribution-ShareAlike 4.0 International License