Meningkatkan Prestasi Belajar Akidah Akhlak melalui Metode Pembelajaran PAIKEM Tipe Jigsaw dan Index Card
Istijabah Sodik Arief

Madrasah Aliyah Salafiyah, Cirebon, Jawa Barat, Indonesia
Keywords:
Jigsaw, Index card, Learning Achievement
Abstract
This study aimed to improve student's learning achievement of Akidah Akhlak using the jigsaw type and index card match. The research method used was classroom action research. The instruments were pretest and post-test, observation sheets, and interviews. The results of this study have reached the criteria that become the limiting indicators of success which are shown by increasing the category of aspects of learning achievement in each cycle. Likewise, with the results of the learning outcomes test, there was an increase in the average score, which in the first cycle was 66.4, in the second cycle was increased to 78.2 and there was an increase again to 88.6 and there were no more students who scored less than 75. The interviews have also responded positively to the learning process using this type of jigsaw and index card match. This research has shown that learning jigsaw type and index card match has had a positive impact on students in the learning process
Downloads
Download data is not yet available.
References
Alim. M., Wijaksana. D. (2006). Pendidikan Agama Islam: Upaya Pembentukan Pemikiran Dan Kepribadian Muslim. Bandung: Remaja Rosdakarya.
Amelia, L. (2020). Pengaruh model PAIKEM terhadap hasil belajar peserta didik dalam pembelajaran pendidikan pancasila dan kewarganegaraan (Studi kolerasi di SMK Sasmita Jaya 2 pamulang). Online Repository: Universitas Pamulang. Retrieved from: http://eprints.unpam.ac.id/id/eprint/8711
Amelia, R., Remiswal. (2013). Format pengembangan strategi PAIKEM dalam Pembelajaran Agama Islam. Yogyakarta: Graha Ilmu.
Bahari, S. (2013). Peningkatan prestasi belajar Aqidah Akhlak dengan model pembelajaran "PAIKEM " di kelas IV Al-husna Kecamatan Neglasari Kota Tangerang. Jakarta: Universitas Islam Negeri Jakarta.
Cece, S. (2012). Implemetasi Pembelajaran Aktif, Inovatif, Kreatif, Efektif, Dan Menyenangkan (PAIKEM) Pada Mata Pelajaran Pendidikan Agama Islam Di SDN Cijambu Kecamatan Cisaat Kabupaten Sukabumi. Jakarta: Universitas Islam Negeri Jakarta.
Fathurrohman, Pupuh, & Sutikno. (2019). Strategi belajar mengajar melalui penanaman konsep umum & konsep Islami. Bandung: Refika Aditama.
Halawati, F. (2020). Pengaruh penggunaan metode index card match terhadap hasil belajar siswa. Jurnal Fakultas Ilmu Keislaman Kuningan, 1(1), 33-39. Retrieved from: https://jurnal.unisa.ac.id/index.php/jfik/article/view/36
Kurniati, I., Kurniawan, A., & Pdi, S. Strategi pembelajaran aktif, inovatif, kreatif, dan menyenangkan (PAIKEM) dalam pembelajaran PAI. Pengembangan Pembelajaran PAI di Era Digital. Banyumas: Amerta Media. Retrieved from: https://penerbitbuku.id/wp-content/uploads/2020/06/Edit-NASKAH-KUMPULAN-JURNAL.pdf#page=155
Kusnandar. (2011). Langkah Mudah Penelitian Tindakan Kelas Sebagai Pengembangan Profesi Guru. Jakarta: PT Rajagrafindo Persada.
Malik, A. (2020). Penerapan model PAIKEM dalam meningkatkan hasil belajar. Education and Learning Journal, 1(1), 50-63. http://dx.doi.org/10.33096/eljour.v1i1.38
Marinta. F. D., Khutobah, K., Marjono, M. (2020). Penerapan model pembelajaran PAIKEM untuk meningkatkan aktivitas dan hasil belajar siswa kelas IV bidang studi IPS pada pokok bahasan jenis dan persebaran SDA serta pemanfaatannya di SDN tempursari 01 tahun pelajaran 2012/2013. Jurnal Edukasi, 1(1), 44-47. https://doi.org/10.19184/jukasi.v1i1.1033
Melvin L., Silberman. (2013). Active Learning 101 Cara Belajar Siswa Aktif. Bandung: Nusamedia & Nuansa Cendekia.
Suranto, J., Chusniatun, M. A., & Abidin, Z. (2020). Metode Pembelajaran PAIKEM dalam Belajar Mandiri Siswa Mata Pelajaran Bahasa Arab Studi Kasus di MTS Ponpes Imam Bukhari Surakarta. (Doctoral dissertation, Universitas Muhammadiyah Surakarta)
Syarifuddin, A. (2011). Model pembelajaran cooperative learning tipe jigsaw dalam pembelajaran. Ta'dib: Jurnal Pendidikan Islam, 16(2), 209-226. https://doi.org/https://doi.org/10.19109/td.v16i02.61
Wardani. (2002). Penelitian Tindakan Kelas. Jakarta: Universitas Terbuka.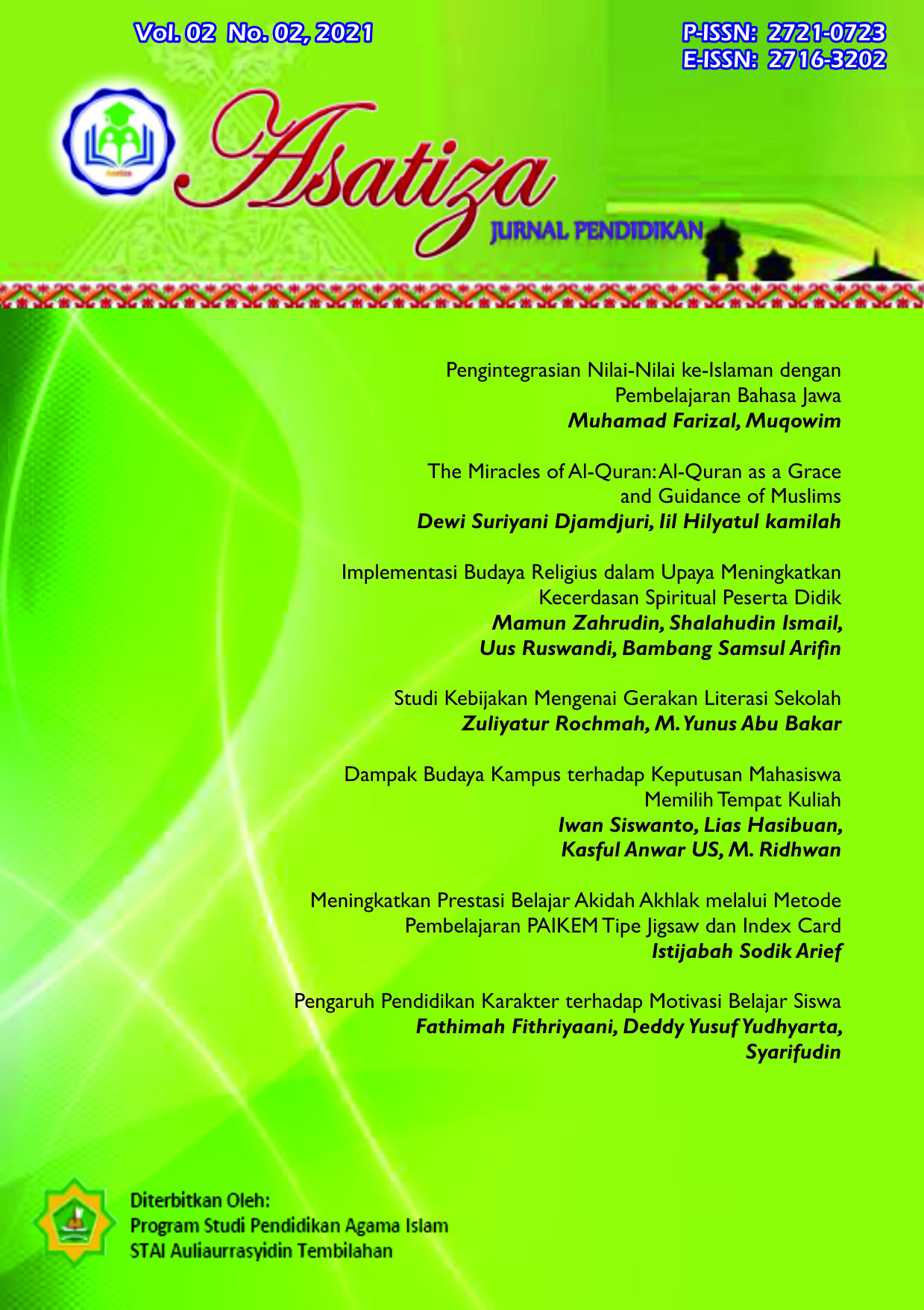 How to Cite
AriefI. S. (2021). Meningkatkan Prestasi Belajar Akidah Akhlak melalui Metode Pembelajaran PAIKEM Tipe Jigsaw dan Index Card . Asatiza: Jurnal Pendidikan, 2(2), 124-137. https://doi.org/10.46963/asatiza.v2i2.272
Copyright (c) 2021 Istijabah Sodik Arief
This work is licensed under a Creative Commons Attribution-ShareAlike 4.0 International License.
Authors who publish with this journal agree to the following terms:
1. Copyright on any article is retained by the author(s).
2. The author grants the journal, right of first publication with the work simultaneously licensed under a Creative Commons Attribution shareAlike 4.0 International License that allows others to share the work with an acknowledgment of the work's authorship and initial publication in this journal.
3. Authors are able to enter into separate, additional contractual arrangements for the non-exclusive distribution of the journal's published version of the work (e.g., post it to an institutional repository or publish it in a book), with an acknowledgment of its initial publication in this journal.
4. Authors are permitted and encouraged to post their work online (e.g., in institutional repositories or on their website) prior to and during the submission process, as it can lead to productive exchanges, as well as earlier and greater citation of published work.
5. The article and any associated published material is distributed under the Creative Commons Attribution-ShareAlike 4.0 International License