Implementasi Manajemen Kurikulum 2013 pada Anak Berkebutuhan Khusus (ABK) untuk Tunagrahita di Sekolah Luar Biasa Negeri 033 Tembilahan
Gusmuri Nengsih

SMA Negeri 1 Gaung Anak serka, Indragiri Hilir, Riau, Indonesia
Keywords:
The 2013 Curriculum, Management, Children with special needs
Abstract
The 2013 Curriculum is a set of plans and arrangements regarding the objectives, content, and learning materials used as the latest guidelines for the implementation of education in Indonesia which began in 2013. The 2013 curriculum is implemented in all subjects in all schools that apply the curriculum both public and outside schools normal The application of the 2013 curriculum in special schools is proof of the absence of discrimination for children with special needs in obtaining their educational rights.
The results of the study implementation of the 2013 curriculum management for children with special needs for mental retardation in State Special School (SLBN) 033 Tembilahan was not all in accordance with the standards in the 2013 curriculum. This can be seen from the organization and implementation process of learning that simplifies learning material in accordance with the character of mentally retarded children.
References
Budi Santoso,Satmoko. (2010),Sekolah Alternatif, Mengapa Tidak?, Jogyakarta: DIVA Press
Darniwati Selaku Kepala Sekolah, Wawancara pada hari Senin,tanggal 20 Mei 2019
Efendi, Mohammad. (2006), Pengantar Psikopedagogik Anak Berkelainan, Jakarta: Bumi Aksara
Ginanjar, Adriana.(2008), Menjadi Orang Tua Istimewa, Jakarta: Dian Rakyat.
Herry Widyastono, (2014),Pengembangan Kurikulum di Era Otonomi Daerah dari Kurikulum 2004,2006, ke Kurikulum 2013, Jakarta: Bumi Aksara
Isnaini Rodhiya, Wawancarapada Kamis, tanggal 23 Mei 2019
Kamaliah, Dina. (2016), Implementasi Kurikulum 2013 Bagi Peserta Didik Berkebutuhan Khusus di SMK Inklusif, Jurnal Pendidikan Khusus, UNESA
Kemis dan Ati Rosnawati, (2013),Pendidikan Anak Berkebutuhan Khusus Tunagrahita, Jakarta Timur: Luxima Metro Media
Lexy J. Moleong. (2011), Metode Penelitian Kualitatif, Bandung: Remaja Rosdakarya
Mulyasa E, (2013), Pengembangan dan Implementasi Kurikulum 2013, Bandung: PT. Remaja Rosdakarya
Mulyono. (2010), Manajemen Administrasi & Organisasi Pendidikan, Jogjakarta: Ar-Ruzz Media
Ratih Putri Pratiwi-Afin Murtiningsih, (2013), Kiat Sukses Mengasuh Anak Berkebutuhan Khusus, Yogyakarta: Ar-Ruzz
Ririn Warista, Ari Pristiana Dewi Dan Siti Rahmalia Hairani Damanik. (2018), Gambaran Persepsi Orangtua Tentang Pendidikan Seksual Pada Remaja Tunagrahita, Jom Fkp, Vol. 5 No. 2 (Juli – Desember)
Smart, Aqila. (2010), Anak Cacat bukan Kiamat, Yogyakarta: Kata Hati, Cetakan Pertama
Somantri T, Sutjihati. (2007),Psikologi Anak Luar Biasa, Bandung: Refika Aditama
Suparno, (2007), Pendidikan Anak Berkebutuhan Khusus, Jakarta: Dirjen Dikti Depdiknas
Uno,B. Hamzah. (2007),Profesi Kependidikan, Jakarta: Bumi Aksara
Usman, Husaini (2009). Manajemen; Teori, Praktik, dan Riset Pendidikan. Jakarta: Bumi Aksara
Purwanta, Edi. (2012),Modifikasi Perilaku Alternatif Penanganan Anak Berkebutuhan Khusus. Yogyakarta: Pustaka Pelajar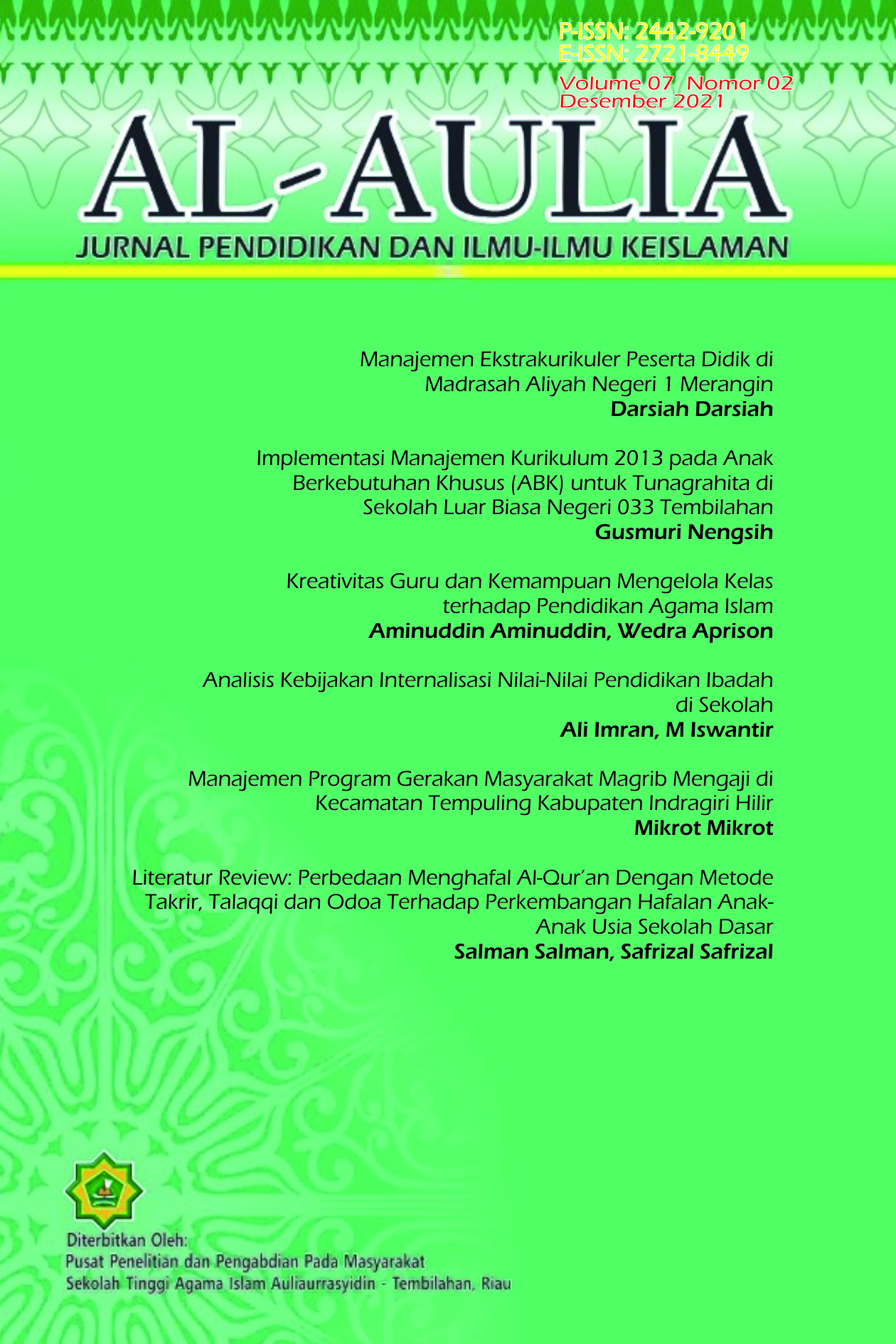 How to Cite
NengsihG. (2021). Implementasi Manajemen Kurikulum 2013 pada Anak Berkebutuhan Khusus (ABK) untuk Tunagrahita di Sekolah Luar Biasa Negeri 033 Tembilahan. Al-Aulia: Jurnal Pendidikan Dan Ilmu-Ilmu Keislaman, 7(2), 104-116. Retrieved from https://ejournal.stai-tbh.ac.id/index.php/al-aulia/article/view/450
Copyright (c) 2021 Gusmuri Nengsih
This work is licensed under a Creative Commons Attribution-ShareAlike 4.0 International License.
Authors who publish with this journal agree to the following terms:
1. Copyright on any article is retained by the author(s).
2. The author grants the journal, right of first publication with the work simultaneously licensed under a Creative Commons Attribution License that allows others to share the work with an acknowledgment of the work's authorship and initial publication in this journal.
3. Authors are able to enter into separate, additional contractual arrangements for the non-exclusive distribution of the journal's published version of the work (e.g., post it to an institutional repository or publish it in a book), with an acknowledgment of its initial publication in this journal.
4. Authors are permitted and encouraged to post their work online (e.g., in institutional repositories or on their website) prior to and during the submission process, as it can lead to productive exchanges, as well as earlier and greater citation of published work.
5. The article and any associated published material is distributed under the Creative Commons Attribution-ShareAlike 4.0 International License