Eksistensi Motivasi dalam Meningkatkan Potensi Personal dalam Perspektif Al-Qur'an dan Hadis
Keywords:
Existence of Motivation, Personal Potential, Quran and Hadith
Abstract
The main sources of Islamic references are the Qur'an and Hadith. These two sources of law provide encouragement to each individual to always try to increase the potential in him, both the potential is beneficial for life in this world and beneficial for life in the hereafter. With the ultimate goal of achieving behavior change, motivation is needed. Motivation is one of the elements that encourage a person to need to increase his potential. Motivation has an important role and determines a person's success in achieving the goals he sets or realizing his hopes. This research uses literature research (library research) or literature research with a qualitative approach, that data comes from books, journals, books, and other scientific writings. In collecting data used documentation techniques. The sources of data collected in this study consisted of primary and secondary data sources. The primary data from this research are several verses of the Qur'an, the hadith of the prophet and the book of interpretation. The secondary data in this study are in the form of supporting documents in this study such as books, articles, and journals. Extrinsic and intrinsic motivation have a positive influence as an individual driver in developing his potential. There are several verses of the Koran and the hadith of the prophet contained in it extrinsic and intrinsic motivation.
Downloads
Download data is not yet available.
References
Al-Ba'labaky, Munir. 1995. Al-Maurid ( Kamus English-Arab). Beirut: Dar al-Ilm li al-Malayin.
Amalia, Vani Rahmayani dan Rizki. 2020. "Strategi Peningkatan Motivasi Siswa Dalam Pembelajaran Matematika Di Kelas." JOURNAL ON TEACHER EDUCATION 2(1).
Amaliyah, AmaAam, and Azwar Rahmat. 2021. "Pengembangan Potensi Diri Peserta Didik Melalui Proses Pendidikan." Journal of Elementary Education 5(1).
Arianti. 2018. "Peranan Guru Dalam Menigkatkan Motivasi Belajar." Didaktika 12(2).
Dr. Amiruddin Siahaan, M.Pd., Turham AG, S.Ag., M.Pd., Isnawati, MA., Abbas Siregar, M.Pd., Nunzairina, M.Ag., Muhammad Sapii Harahap, M.Pd., Dkk. 2022. Book Chapter " Sistem Finansial Pendidikan ."
Grafiyana, Elfrida Khoerunnisa dan Gisella Arnis. 2019. "Motivasi Siswa Mengikuti Bimbingan Belajar." PSISULA: Prosiding Berkala Psikologi 1(September).
Harahap, Muhammad Sapii. 2019a. "Pelaksanaan Pendidikan Boarding School Di Sekolah Tinggi Agama Islam As-Sunnah Deli Serdang."
Harahap, Muhammad Sapii. 2019b. "Sejarah Dinasti Bani Umaiyyah Dan Pendidikan Islam." WARAQAT: Jurnal Ilmu-Ilmu Keislaman 4(2).
Harahap, Muhammad Sapii. 2020. Boarding School Perguruan Tinggi Islam (Kajian Berbasis Data Penelitian Lapangan). PKBM AL-AMIN.
Harahap, Muhammad Sapii. 2022. "Observing the Development of the As-Sunnah Islamic College." WARAQAT: Jurnal Ilmu-Ilmu Keislaman 7(1).
Harahap, Muhammad Sapii, and Isnawati Isnawati. 2021. "Teachers'perceptions Of Reward And Punishment And Its Implementation In Learning At Smp It Khairul Imam Medan." Pp. 185–92 in Proceeding International Seminar of Islamic Studies. Vol. 2. Medan: Faculty of Islamic Religion, Muhammadiyah of Sumatera Utara.
Harahap, Muhammad Sapii, Benny Munardi, Zulham Effendi, Daryanto Setiawan, Fian Triadi, Dasa Syawal Syahputra, and Junaidi Junaidi. 2022. "Learning Al-Quran and Arabic at the Orphanage." Al-Arkhabiil: Jurnal Pengabdian Masyarakat 1(1).
Harahap, Nursapia. 2020. Penelitian Kualitatif. edited by H. Sazali. Medan: Wal Ashri Publishing.
Idris, Muhammad. 2018. "Konsep Motivasi Dalam Pendidikan Agama Islam." Ta'dibi VI(September 2017).
Muhammad Sapii Harahap. 2022. Sejarah Pendidikan Islam. As-Sunnah Press.
Nini, Zulvia Trinoval; Rahmita Sari; 2018. "Motivasi Intrinsik Dan Ekstrinsik Dalam Meningkatkan Aktivitas Belajar Peserta Didik Pada Bidang Studi Quran Hadis Di Man Lubuk Alung Kabupaten Padang Pariaman." Jurnal Tarbiyah Islamiyah 8(1).
RI, Departemen Agama. 2011. Al-Qur ' An Dan Tafsirnya. Jakarta: Widya Cahaya.
Sugiyono. 2019. Metode Penelitian Pendidikan. Bnadung: Alfabeta.
Syeikh, Abdullah ibn Muhamad ibn Abdurrahman ibn Ishaq Ali. 1994. Lubaabut Tafsiir Ibni Katsiir. Kairo: Muassasah Daar Al-Hilaal Khairo.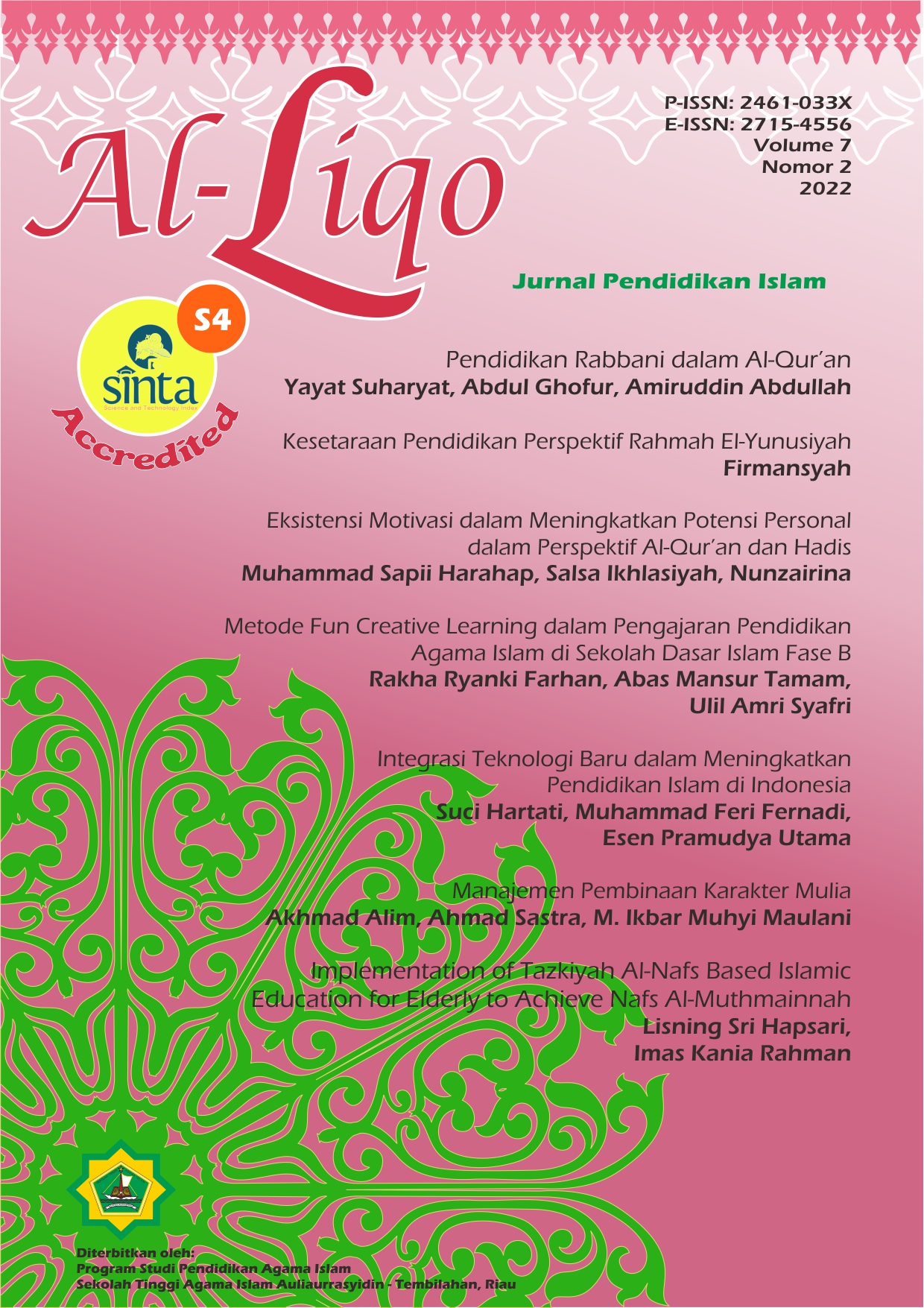 Downloads
How to Cite
Harahap, M. S., Ikhlasiyah, S., & Nunzairina, N. (2022). Eksistensi Motivasi dalam Meningkatkan Potensi Personal dalam Perspektif Al-Qur'an dan Hadis. Al-Liqo: Jurnal Pendidikan Islam, 7(2), 128–141. https://doi.org/10.46963/alliqo.v7i2.587
License
Copyright (c) 2022 Muhammad Sapii Harahap, Salsa Ikhlasiyah, Nunzairina Nunzairina
This work is licensed under a Creative Commons Attribution-ShareAlike 4.0 International License.
Authors who publish with this journal agree to the following terms:
1. Copyright on any article is retained by the author(s).
2. The author grants the journal, right of first publication with the work simultaneously licensed under a Creative Commons Attribution shareAlike 4.0 International License that allows others to share the work with an acknowledgment of the work's authorship and initial publication in this journal.
3. Authors are able to enter into separate, additional contractual arrangements for the non-exclusive distribution of the journal's published version of the work (e.g., post it to an institutional repository or publish it in a book), with an acknowledgment of its initial publication in this journal.
4. Authors are permitted and encouraged to post their work online (e.g., in institutional repositories or on their website) prior to and during the submission process, as it can lead to productive exchanges, as well as earlier and greater citation of published work.
5. The article and any associated published material is distributed under the Creative Commons Attribution-ShareAlike 4.0 International License