Pentingnya Profesionalisme Guru dalam Pendidikan
Keywords:
Teacher Professionalism, Education
Abstract
This study aimed to determine the importance of teacher professionalism in education. This study used descriptive qualitative research by describing the importance of professionalism for teachers. One of the most important factors in realizing the goals of education in Indonesia is the teacher's professionalism in the implementation of teaching and learning activities. The problem today is that many students are confused after completing their education. Where to go? What kind of work? What student's want with this certificate? More unemployment means education has a lack of quality. Educational institutions that were supposed to produce knowledgeable students were lost due to the unprofessional quality teachers. The results showed that professionalism is very important for teachers and is a demand in a profession so that there are laws that regulate the obligations of professional teachers, there are several assumptions that underlie the needs for teacher professionalism in education, and there are some special requirements that must be met by professionalism teachers in education.
Downloads
Download data is not yet available.
References
Arka, I. W. (2020). Kompetensi pendidik perspektif membangun profesionalisme guru. Widyacarya: Jurnal Pendidikan, Agama dan Budaya, 4(1). 55-62. https://jurnal.stahnmpukuturan.ac.id/index.php/widyacarya/article/view/552
Budianto, A. A. (2020). Persepsi mahasiswa bimbingan dan konseling terhadap pentingnya profesionalisme guru bimbingan dan konseling di sekolah. Edu Consilium: Jurnal Bimbingan dan Konseling Pendidikan Islam, 1(1). 1-12. http://dx.doi.org/10.1905/ec.v1i1.2930
Daradjat, Z. (2006). Ilmu Pendidikan Islam, Jakarta: Bumi Aksara.
Husaini, R. (2018). Pembinaan profesional guru. Jurnal Tarbiyah Islamiyah: Jurnal Ilmiah Pendidikan Agama Islam, 8(2). https://jurnal.uin-antasari.ac.id/index.php/tiftk/article/view/2541
Karwati, E., & Priansa, D. J. (2015). Manajemen Kelas Classroom Management Guru Profesional yang Inspiratif, Kreatif, Menyenangkan, dan Berprestasi, Bandung: Alfabeta.
Marjuni, A., & Suban, A. (2020). Profil guru harapan masa depan. Al asma: Journal of Islamic Education, 2(1), 13-22, http://journal.uin-alauddin.ac.id/index.php/alasma/article/view/13361
Nurdin, Syafrudin dan M. Basyirudin Usman. (2002). Guru Profesional dan Implementasi Kurikulum. Jakarta: Ciputat Pers.
Rosyada, Dede. (2017). Madrasah dan Profesionalisme Guru dalam Arus Dinamika Pendidikan Islam di Era Otonomi Daerah. Kencana.
Roza, D., Nurhafizah, N., & Yaswinda, Y. (2019). Urgensi profesionalisme guru pendidikan anak usia dini dalam penyelenggaraan perlindungan anak. Jurnal Obsesi : Jurnal Pendidikan Anak Usia Dini, 4(1), 267-273. https://doi.org/10.31004/obsesi.v4i1.325
Rusman. (2014). Model-Model Pembelajaran (Mengembangkan Profesionalisme Guru). Jakarta: Raja Grafindo Persada.
Samani, Mukhlas dkk. (2003). Pembinaan Profesi Guru. Jakarta: Depdiknas.
Sumarno, S. (2019). Profesionalisme Dalam Pendidikan Islam. Al-Lubab: Jurnal Penelitian Pendidikan dan Keagamaan Islam, 5(1), 45-62. http://ejournal.kopertais4.or.id/mataraman/index.php/allubab/article/view/3728
U, M. Shabir. (2015). Kedudukan guru sebagai pendidik (Tugas dan tanggung jawab, hak dan kewajiban, dan kompetensi guru). Jurnal Auladuna, 2(2), 221 – 232. http://journal.uin-alauddin.ac.id/index.php/auladuna/issue/view/158
Usman, Moh. Uzer. (2009). Menjadi Guru Profesional. Bandung, Remaja Rosdakarya.
Yamin, M. (2006). Sertifikasi profesi keguruan di Indonesia. Jakarta: Gaung Persada Press.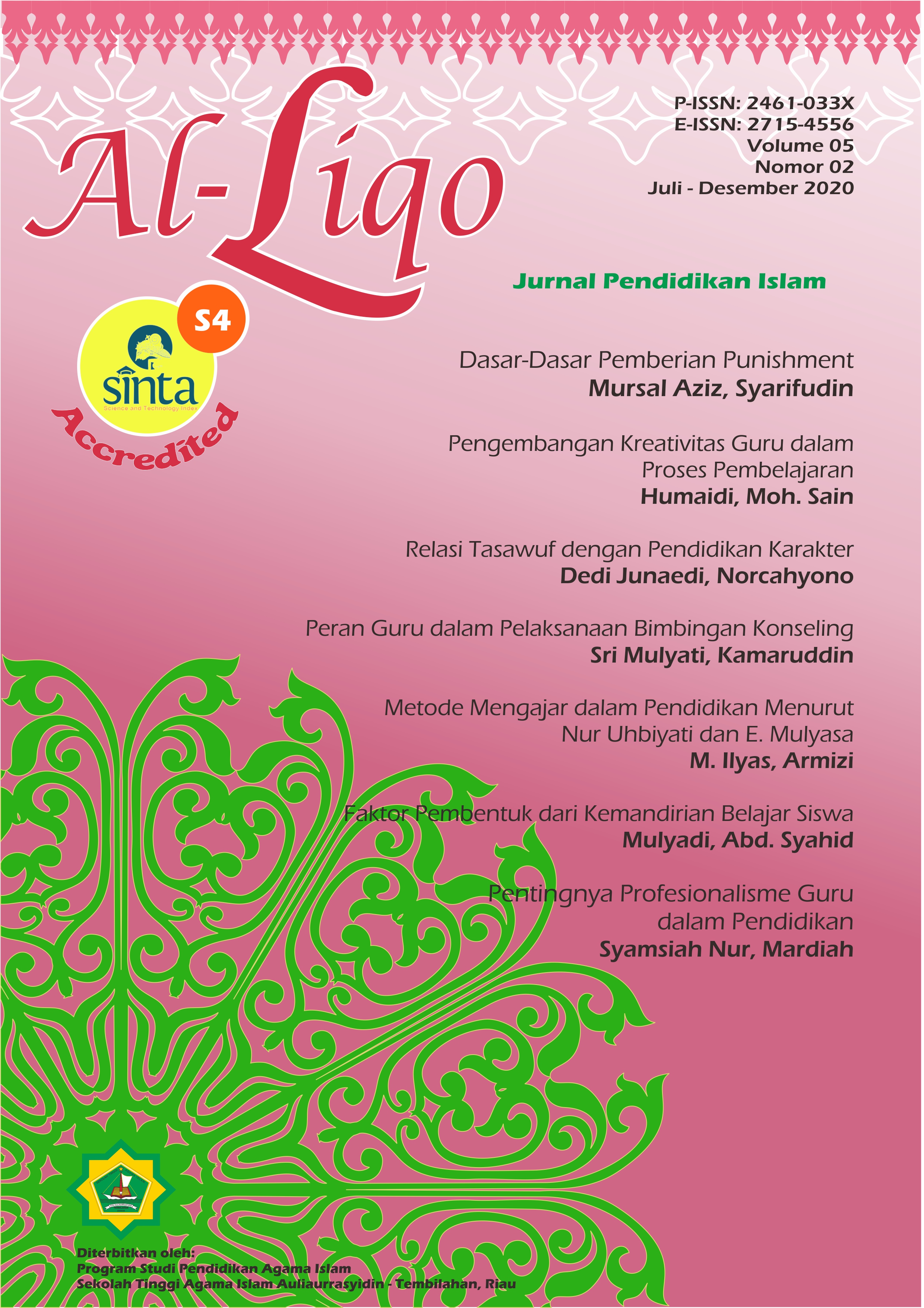 Downloads
How to Cite
Nur, S. ., & Mardiah, M. (2020). Pentingnya Profesionalisme Guru dalam Pendidikan. Al-Liqo: Jurnal Pendidikan Islam, 5(02), 215–228. https://doi.org/10.46963/alliqo.v5i02.245
License
Authors who publish with this journal agree to the following terms:
1. Copyright on any article is retained by the author(s).
2. The author grants the journal, right of first publication with the work simultaneously licensed under a Creative Commons Attribution shareAlike 4.0 International License that allows others to share the work with an acknowledgment of the work's authorship and initial publication in this journal.
3. Authors are able to enter into separate, additional contractual arrangements for the non-exclusive distribution of the journal's published version of the work (e.g., post it to an institutional repository or publish it in a book), with an acknowledgment of its initial publication in this journal.
4. Authors are permitted and encouraged to post their work online (e.g., in institutional repositories or on their website) prior to and during the submission process, as it can lead to productive exchanges, as well as earlier and greater citation of published work.
5. The article and any associated published material is distributed under the Creative Commons Attribution-ShareAlike 4.0 International License