Implementasi Kebijakan Kepemimpinan dalam Pengembangan Pendidikan Non Formal di Pondok Pesantren Al-Baqiyatussa'adiyah Kecamatan Tembilahan Hulu Kabupaten Indragiri Hilir
Muhammadiyah Muhammadiyah

STAI Auliaurrasyidin Tembilahan, Indragiri Hilir, Riau, Indonesia
Keywords:
Islamic Boarding School, Leadership Policy, Non Formal Education Development
Abstract
This study aims to find out 1) To find out the leadership policies in preparing the agenda for developing non-formal education at the al-Baqiyatussa'adiah Islamic boarding school, Tembilahan Hulu District, Indragiri Hilir Regency, 2) To find out the leadership policies in implementing the development of non-formal education in the al-Islamic boarding school. Baqiyatussa'adiah, Tembilahan Hulu District, Indragiri Hilir Regency. This research uses the type of field (field research) with a naturalistic qualitative approach. Data collection techniques with in-depth interviews, observation and documentation.
The results of the study conclude that: Policies in the development of non-formal education development agendas begin with environmental observations, input from institutional leaders and the kiai's own initiative. The main issues will first be discussed within the scope of the institution, then forwarded in a large meeting or directly to the chairman of the foundation and caregivers. This is what makes the development of non-formal education at the Al-Baqiyatussa'adiah Islamic Boarding School different from other Islamic boarding schools. Meanwhile, the formulation of policy problems was obtained through many sources including input from education administrators, committee administrators, foundation administrators. Policy implementation in the development of non-formal education is through the realization of the vision and mission of the foundation. The development of non-formal education involves the administrators of related institutions according to their respective policy areas, fully facilitates the needs of students for non-academic activities, for infrastructure needs to communicate with the guardians of students and non-permanent donors, fully facilitates extracurricular activities.
References
Ahmadi, Abu. 2001. Ilmu pendidikan. Jakarta: Rineka Cipta.
Ahmadi, Rulam. 2005. Memahami Metode Penelitian Kualitatif. Malang: Universitas Negeri Malang.
Arikunto, Suharsimi. 2006. Prosedur Penelitian Suatu Pendekatan Praktis. Jakarta: Rineka Cipta.
Bogdan, Robert dan Sari Knopp Biklen. 1982. Qualitative research for education and introduction to theory and methods. Boston: Allyn dan Bacon Ine.
Daulay, Haidar P. 2009. Sejarah Pertumbuhan dan Pembaruan Pendidikan Islam di Indonesia. Jakarta: Kencana.
Efendy, M. 1985. Manajemen; Suatu Pendekatan Berdasarkan Ajaran Islam. Palembang.
Hadori. 2010. Pengembangan Sistem Pendidikan Pondok Pesantren Dalam Mencetak Santri Profesional. Jakarta: Rineka Cipta.
Haidari, Amin dan Ishom El Saha. 2004. Peningkatan Mutu Terpadu Pesantren dan Madrasah Diniyah. Jakarta: Diva Pustaka.
Mj, Aida. 2005. Ilmu Pendidikan. Semarang: Putra Sanjaya.
Moleong, Lexy J. 2005. Metodologi Penelitian Kualitatif. Bandung: Remaja Rosdakarya.
Mulyasa, E. 2013. Manajemen & Kepemimpinan Kepala Sekolah. Jakarta: Bumi Aksara.
Mutohar, Prim Masrokan. 2014. Manajemen Mutu Sekolah. Yogyakarta : Ar Ruzz Media.
Nurkolis. 2003. Manajemen Berbasis Sekolah, Teori, Model dan Aplikasi. Jakarta: Gramedia Widiasarana Indonesia.
Qomar, Mujamil. 2004. Pesantren dari Tarnsformasi Metodologi Menuju Demokratisasii Institusi. Jakarta: Erlangga.
Rivai, V. 2003. Kepemimpinan dan Perilaku Organisasi. Jakarta: Radja Grafindo Persada.
Siswanto. 2001. Pengantar Pendidikan. Jakarta:Bumi Aksara.
Subarsono. 2015. Analisis Kebijakan Publik: Konsep, Teori dan Aplikasi. Yogyakarta: Pustaka Pelajar.
Sulistyani, Ambar Teguh. 2008. Kepemimpinan Profesional Pendekatan Leadership Games. Yogyakarta : Gava Media.
Sulistyorini. 2006. Manajemen Pendidikan Islam. Surabaya : Elkaf.
Suprayogo, Imam dan Tobroni. 2003. Metode Penelitian Sosial Dan Agama. Bandung: Rosda Karya.
Suryosubroto. 2010. Beberapa Aspek Dasar-Dasar Kependidikan. Jakarta: Rineka Cipta.
Syafaruddin. 2008. Efektivitas Kebijakan Pendidikan. Jakarta: Rineka Cipta. Tamam, Baddrut. 2010. Pesantren Nalar dan Tradisi. Yogyakarta: Pustaka Pelajar. Tanzeh, Ahmad dan Suyitno. 2006. Dasar-Dasar Penelitian. Surabaya: Elkaf.
Widodo, Djoko. 2007. Analisi kebijakan Publik: Konsep dan Aplikasi Analisis Proses Kebijakan Publik. Malang: Bayu Media.
Winarno, Budi. 2002. Teori Dan Proses Kebijakan Public. Yogyakarta: Medi Presindo.
Yasmadi. 2002. Modernisasi Pesantren: Kritik Nurcholis Madjid Terhadap Pendidikan Islam Tradisional. Jakarta: Ciputat Press.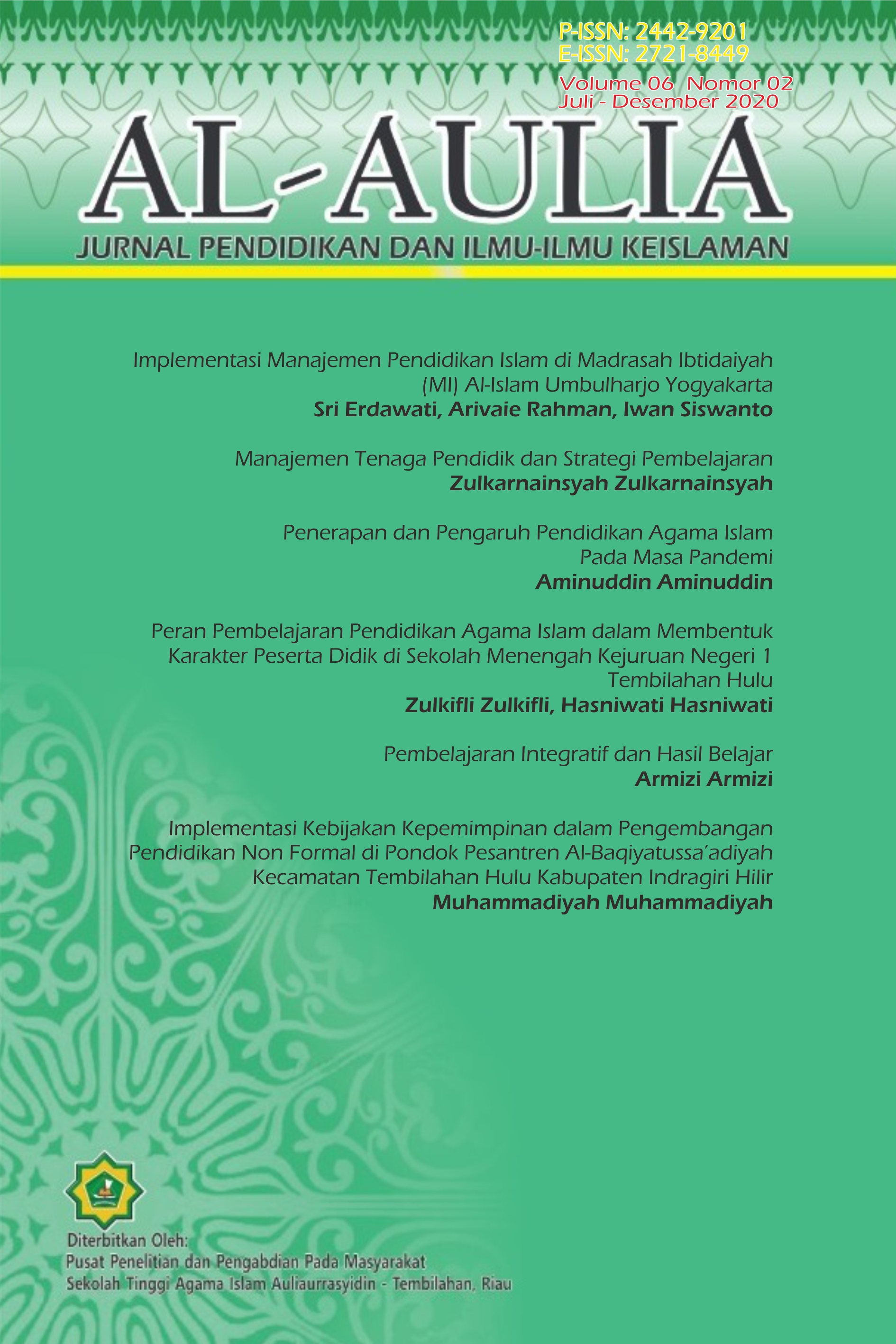 How to Cite
MuhammadiyahM. (2020). Implementasi Kebijakan Kepemimpinan dalam Pengembangan Pendidikan Non Formal di Pondok Pesantren Al-Baqiyatussa'adiyah Kecamatan Tembilahan Hulu Kabupaten Indragiri Hilir. Al-Aulia: Jurnal Pendidikan Dan Ilmu-Ilmu Keislaman, 6(2), 124-136. Retrieved from https://ejournal.stai-tbh.ac.id/index.php/al-aulia/article/view/278
Copyright (c) 2020 Muhammadiyah Muhammadiyah
This work is licensed under a Creative Commons Attribution-ShareAlike 4.0 International License.
Authors who publish with this journal agree to the following terms:
1. Copyright on any article is retained by the author(s).
2. The author grants the journal, right of first publication with the work simultaneously licensed under a Creative Commons Attribution License that allows others to share the work with an acknowledgment of the work's authorship and initial publication in this journal.
3. Authors are able to enter into separate, additional contractual arrangements for the non-exclusive distribution of the journal's published version of the work (e.g., post it to an institutional repository or publish it in a book), with an acknowledgment of its initial publication in this journal.
4. Authors are permitted and encouraged to post their work online (e.g., in institutional repositories or on their website) prior to and during the submission process, as it can lead to productive exchanges, as well as earlier and greater citation of published work.
5. The article and any associated published material is distributed under the Creative Commons Attribution-ShareAlike 4.0 International License