Pengaruh Persepsi Muzaki terhadap Minat Membayar Zakat di BAZNAS
Keywords:
Perception, Muzaki, Interest and Zakat
Abstract
Muzaki's perception of zakat is important in influencing interest in paying zakat, because a broad perception of zakat will affect the interest of muzaki to pay zakat. The purpose of this study is to examine how much influence the perception of muzaki (variable X) has on interest in paying zakat (variable Y). In this study, the subject of this research is BAZNAS Tembilahan muzakki while the object of the research is the effect of muzakki's perception on interest in paying zakat. This type of research is quantitative research because the data obtained are a collection of numbers. By using a simple linear regression method. This research was conducted for 3 months. The results of the regression showed that the value of tcount > ttable was 9.666 > 2.068 with a significance of 0.000 <0.05. Thus, it can be concluded that there is a significant influence between the perception of muzakki on the interest in paying zakat at BAZNAS, Tembilahan District
Downloads
Download data is not yet available.
References
Anshori, Abdul Ghafur. (2006). Hukum Dan Pemberdayaan Zakat: Upaya Sinergis Wajib Zakat Dan Pajak Di Indonesia. Yogyakarta: Pilar Media
Arifin Zainal. (2014). Penelitian Metode Dan Paradigma Baru. Bandung: Pt. Remaja Rosdakarya.
Azid, A. A. (2017). Faktor-faktor yang mempengaruhi minat muzakki dalam menunaikan zakat di Nurul Hayat Cabang Jember. Economic: Journal of Economic and Islamic Law, 8(2), 173-198. Retrieved from http://ejournal.kopertais4.or.id/tapalkuda/index.php/economic/article/view/2991
Badan Amil Zakat Nasional, Profil BAZNAS Kabupaten Indra giri Hilir, Tembilahan.
Eri Yanti Nasution. (2017). Pengaruh Pendidikan, Pendapatan dan Kesadaran Terhadap Minat Masyarakat Membayar Zakat di Badan Amil Zakat Nasional (BAZNAS): Studi Kasus Kota Medan. Jurnal Ilmu Ekonomi dan Studi Pembangunan: 17(2). 147-158. http://dx.doi.org/10.30596%2Fekonomikawan.v17i2.1797
Ghozali, Syukri,dkk. (1982). Pedoman Zakat Seri 9: Sistem Pengelolaan. Jakarta:Departemen Agama
Hanifah Nur'aini, & M.Rasyid Ridla. (2015). Pengaruh kualitas pelayanan, citra lembaga dan religiusitas terhadap minat muzaki untuk menyalurkan zakat profesi. Jurnal MD: Jurnal Dakwah dan Komunikasi. 1(3), 207-228. https://doi.org/10.14421/jmd.2015.%25x
Hasan, Fuad. (2003). Kamus Istilah Psikologi. Jakarta:Progres
Kelompok Gema Insani. (2015). Al-Qur'an Terjemah Al-Muhaimin. Depok: Gema Insani
Muhammad Yunus .(2016). Analisis pengaruh kepercayaan, religiusitas, dan kontribusi terhadap minat pedagang mengeluarkan zakat di Baitul Mal. Jurnal At-Tawassuth, 95-124, 1 (1). http://dx.doi.org/10.30821/ajei.v1i1.365
Mursyidi. (2011). Akuntansi Zakat Kontenporer. Bandung: Pt Remaja Rosdakarya
Noor, Juliansyah. (2011). Metodologi Penelitian: Skripsi, Tesis, Disertasi, Dan Karya Ilmiah .Jakarta: Kencana
Qaradhawi, Yusuf. (2005). Spektrum Zakat: Dalam Membangun Ekonomi Kerakyatan. Jakatra: Anggota IKAPI
Rasjid, Sulaiman. (2015). Fiqih Islam. Bandung:Sinar Baru Algensindo
Ridwan, Ahmad Hasan. (2013). Manajemen Baitul Mal Wa Tamwil. Bandung: Cv Pustaka Setia
Ridwan, Muhammad. (2004). Manajemen Baitul Maal Wa Tamwil. Yogyakarta: UII Press
Siregar, Syofian. (2013). Metode Penelitian Kuantitatif: Dilenkapi perbandingan Perhitungan Manual & SPSS. Jakarta: Kencana
Sugiyono. (2016). Metode Penelitian Manajemen. Bandung: Alfabeta
Zulfahmi. (2018). Pengaruh pengetahuan, pendapatan, dan kepercayaan terhadap minat muzaki dalam membayar zakat di Baitul Mal Kota Lhokseumawe, Jurnal Ekonomi Regional Unimal, 1(3), 89-99. https://doi.org/10.29103/jeru.v1i3.592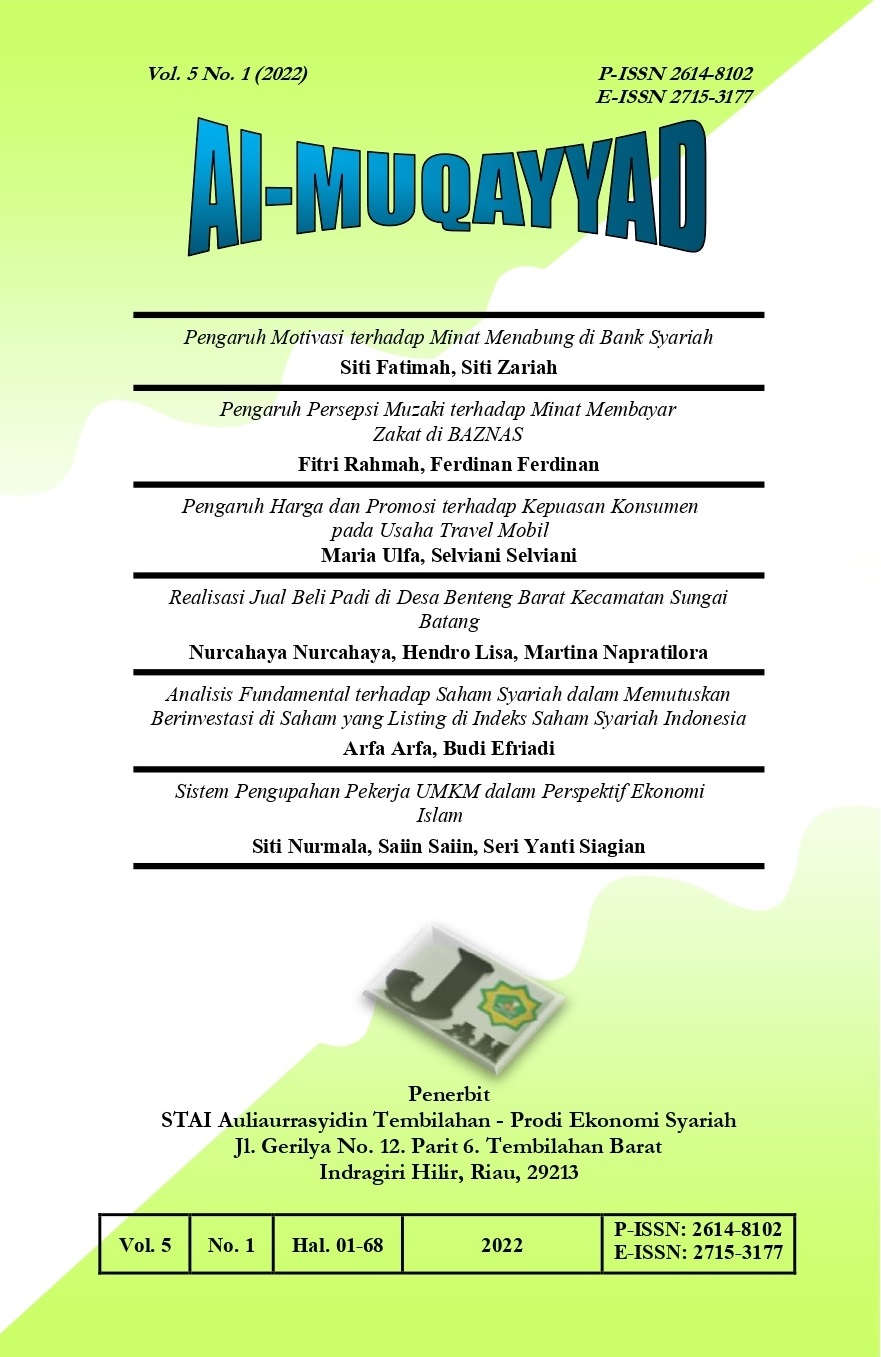 Downloads
How to Cite
Rahmah, F., & Ferdinan, F. (2022). Pengaruh Persepsi Muzaki terhadap Minat Membayar Zakat di BAZNAS. AL-Muqayyad, 5(1), 11–19. https://doi.org/10.46963/jam.v5i1.558
License
Copyright (c) 2022 Fitri Rahmah, Ferdinan Ferdinan
This work is licensed under a Creative Commons Attribution-ShareAlike 4.0 International License.
Authors who publish with this journal agree to the following terms:
1. Copyright on any article is retained by the author(s).
2. The author grants the journal, right of first publication with the work simultaneously licensed under a Creative Commons Attribution shareAlike 4.0 International License that allows others to share the work with an acknowledgment of the work's authorship and initial publication in this journal.
3. Authors are able to enter into separate, additional contractual arrangements for the non-exclusive distribution of the journal's published version of the work (e.g., post it to an institutional repository or publish it in a book), with an acknowledgment of its initial publication in this journal.
4. Authors are permitted and encouraged to post their work online (e.g., in institutional repositories or on their website) prior to and during the submission process, as it can lead to productive exchanges, as well as earlier and greater citation of published work.
5. The article and any associated published material is distributed under the Creative Commons Attribution-ShareAlike 4.0 International License