Pengaruh E-Commerce terhadap Perilaku Konsumen dalam Perspektif Ekonomi Syariah
Keywords:
E-Commerce, Consumer Behavior, Islamic Economics Perspective
Abstract
This study aimed at exploring whether e-commerce has an effect on consumer behavior in the perspective of Islamic economics in Islamic Economics students STAI Auliaurrasyidin Tembilahan. This research was motivated by the development of e-commerce as an online shopping application that has an impact on student consumer behavior. This study used a quantitative method with a simple linear regression analysis. The sample in this study was 146 respondents. In the simple linear regression test, the equation Y = 16.444 + 0.787 was obtained. Then from the t-test results obtained tcount (9.927) <ttable (1.976), so e-commerce has a significant effect on consumer behavior in the Islamic economic perspective. Based on the calculation of the coefficient of determination, the value is 0.406 or 40.6%. This data stated that the effect of e-commerce on consumer behavior in the Islamic economic perspective was 40.6%, while the remaining 59.4% was explained by other factors that were not observed in this study.
Downloads
Download data is not yet available.
References
Al Arif, M Nur Rianto. (2015). Pengantar Ekonomi Syariah Teori dan Praktik. Bandung: CV Pustaka Setia.
Azizah, L., Supandi, S., & Waluyo, S. D. (2019). E-commerce dalam perspektif ekonomi pertahanan. Jurnal Ekonomi Pertahanan, 5(2), 275-296. http://jurnalprodi.idu.ac.id/index.php/EP/article/view/558
Departemen Agama RI. (2011). Al–Qur'an Tajwid Dan Terjemah. Jawa Barat: CV Penerbit Diponegoro.
Fahmi, I. (2014). Kewirausahaan Teori Kasus dan Solusi. Bandung: Alfabeta.
Hakim, L. (2012). Prinsip Prinsip Ekonomi Islam. Surakarta: Erlangga.
Kurniati., K. (2016). Teori perilaku konsumen perspektif ekonomi Islam. Jurnal Ekonomi Syariah Indonesia (JESI), 6(1), 45-52. http://dx.doi.org/10.21927/jesi.2016.6(1).%25p
Nurzaman, K. (2013). Manajemen Perusahaan. Bandung: CV Pustaka Setia.
Pusat Pengkajian dan Pengembangan Ekonomi Islam. (2015). Ekonomi Islam. Jakarta: PT. Raja Grafindo Persada.
Putri, Y. H. (2015). Pola perilaku konsumsi Islami mahasiswa muslim Fakultas Ekonomi dan Bisnis Universitas Airlangga ditinjau dari tingkat religiusitas, Jurnal Ekonomi Syariah Teori dan Terapan, 2(7), 570-582. http://dx.doi.org/10.20473/vol2iss20157pp570-582.
Siregar, Syofian. (2013). Metode Penelitian Kuantitatif: Dilengkapi Perbandingan Perhitungan Manual % SPSS. Jakarta: Kencana.
Sugiyono. (2016). Metode Penelitian Manajemen. Bandung: CV Alfabeta.
Sugiyono. (2016). Statistika untuk Penelitian. Bandung: Alfabeta.
Wibowo, S., & Dedi, S. (2013). Ekonomi Mikro Islam. Bandung: Pustaka Setia.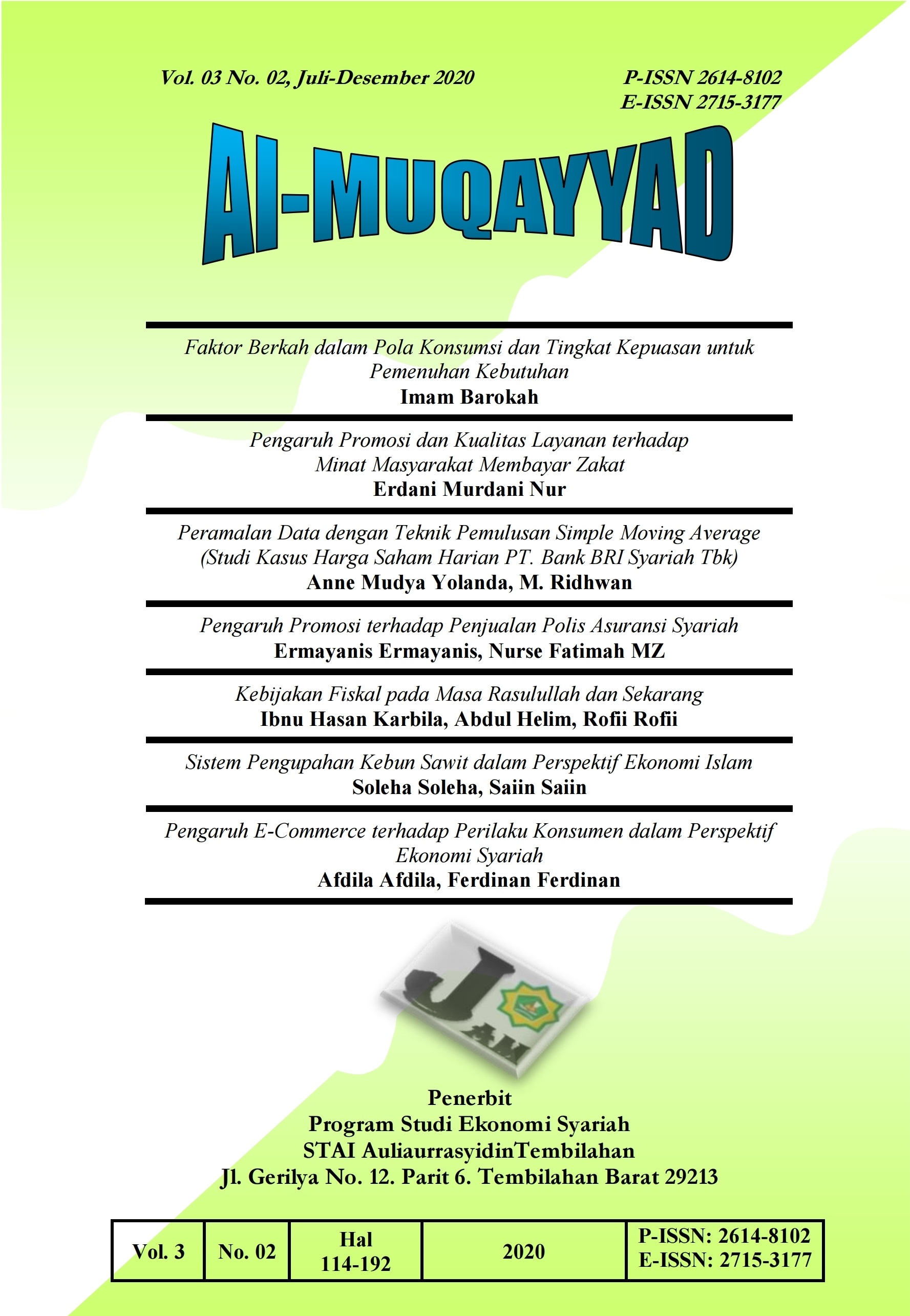 Downloads
How to Cite
Afdila, A., & Ferdinan, F. (2020). Pengaruh E-Commerce terhadap Perilaku Konsumen dalam Perspektif Ekonomi Syariah. AL-Muqayyad, 3(2), 180–192. https://doi.org/10.46963/jam.v3i2.285
License
Authors who publish with this journal agree to the following terms:
1. Copyright on any article is retained by the author(s).
2. The author grants the journal, right of first publication with the work simultaneously licensed under a Creative Commons Attribution shareAlike 4.0 International License that allows others to share the work with an acknowledgment of the work's authorship and initial publication in this journal.
3. Authors are able to enter into separate, additional contractual arrangements for the non-exclusive distribution of the journal's published version of the work (e.g., post it to an institutional repository or publish it in a book), with an acknowledgment of its initial publication in this journal.
4. Authors are permitted and encouraged to post their work online (e.g., in institutional repositories or on their website) prior to and during the submission process, as it can lead to productive exchanges, as well as earlier and greater citation of published work.
5. The article and any associated published material is distributed under the Creative Commons Attribution-ShareAlike 4.0 International License