Pengaruh Religiositas terhadap Keputusan Pembelian Pakaian Muslimah
Keywords:
Religiosity, Fashion, Muslim Women
Abstract
Starting from the phenomenon occurred especially among Muslim women who were very concerned with fashion issues. Many of them did not know the function of the clothes they wear, and how Islam arranges the clothes. The purpose of this study was to determine the influence of religiosity on the decision of purchasing Muslim clothes in Tembilahan District. This was quantitative research by simple linear regression method analysis. The results showed that the T count was bigger than the T table. The T table was 12,763>2,024 and sig. 0.000 <0.05 means Ha was accepted, and Ho was rejected. The contribution of religiosity to the decision toward purchasing Muslim clothing by looking at the results of the R Square was 81.1%, while the remaining 18.9% influenced by other factors outside of the researcher's discussion.
Downloads
Download data is not yet available.
References
Amirullah. A. (2015). Populasi dan Sampel (Pemahaman, Jenis dan Teknik). Malang: Bayumedia Publishing.
Ancok, D., Suroso, F. N. (2008). Psikologi Islami: Solusi Islam atas problem-problem psikologi. Yogyakarta: Pustaka Pelajar.
Andi, M. A. (2006). Kamus Istilah Konseling & Terapi. Jakarta: Raja Grafindo Persada.
Anwar, H. (2014). Proses pengambilan keputusan untuk mengembangkan mutu madrasah. Nadwa: Jurnal Pendidikan Islam, 8(1), 37-56. http://dx.doi.org/10.21580/nw.2014.8.1.569
Arikunto. S. (2006). Prosedur Penelitian Suatu Pendekatan Praktek. Jakarta: PT Rineka Cipta.
Artmanda, F. (2005). Kamus Lengkap Bahasa Indonesia. Jombang: Lintas Media.
Asy-Syirbaany, R. (2008). Membentuk Pribadi Lebih Islami Suatu Kajian Akhlaq. Jakarta: Intimedia Ciptanusantara.
Badan Pusat Statistik Tembilahan. Peta Wilayah Kecamatan Tembilahan.
Bugin, B. (2010). Metodologi Penelitian Kuantitatif. Jakarta: Prenada Media Groub.
Dermawan, R. (2016). Pengambilan Keputusan Landasan Filosofis, Konsep dan Aplikasi. Bandung: Alfabeta.
Noor, J. (2011). Metodologi Penelitian: Skripsi, Tesis, Disertasi, Dan Karya Ilmiah Edisi Pertama. Jakarta: Kencana Prenada Media Group.
Pengkajian, Pusat dan pengembangan ekonomi islam (P3EI). (2014). Ekonomi Islam. Jakarta: PT Rajagrafindo Persada.
Rahman, A. R. (2005). Akidah Merakit Hubungan Manusia Dengan Khaliknya Melalui Pendidikan Akidah Anak Usia Dini. Surabaya: Amelia surabaya.
Ridwan. (2007). Belajar Mudah Penelitian Untuk Guru-Karyawan dan Peneliti Pemula. Bandung: Alfabeta.
Salusu, J. (1996). Pengambilan Keputusan Stratejik untuk Organisasi Publik dan Organisasi Nonprofit. Jakarta: Grasindo.
Shihab, Q. M. (2004). Jilbab Pakaian Wanita Muslimah: Pandangan Ulama Masa Lalu & Cendikiawan Kontenporer. Jakarta: Lentera Hati.
Thouless, R. (2000). Pengantar Psikologi Agama. Jakarta: Raja Grafindo Persada.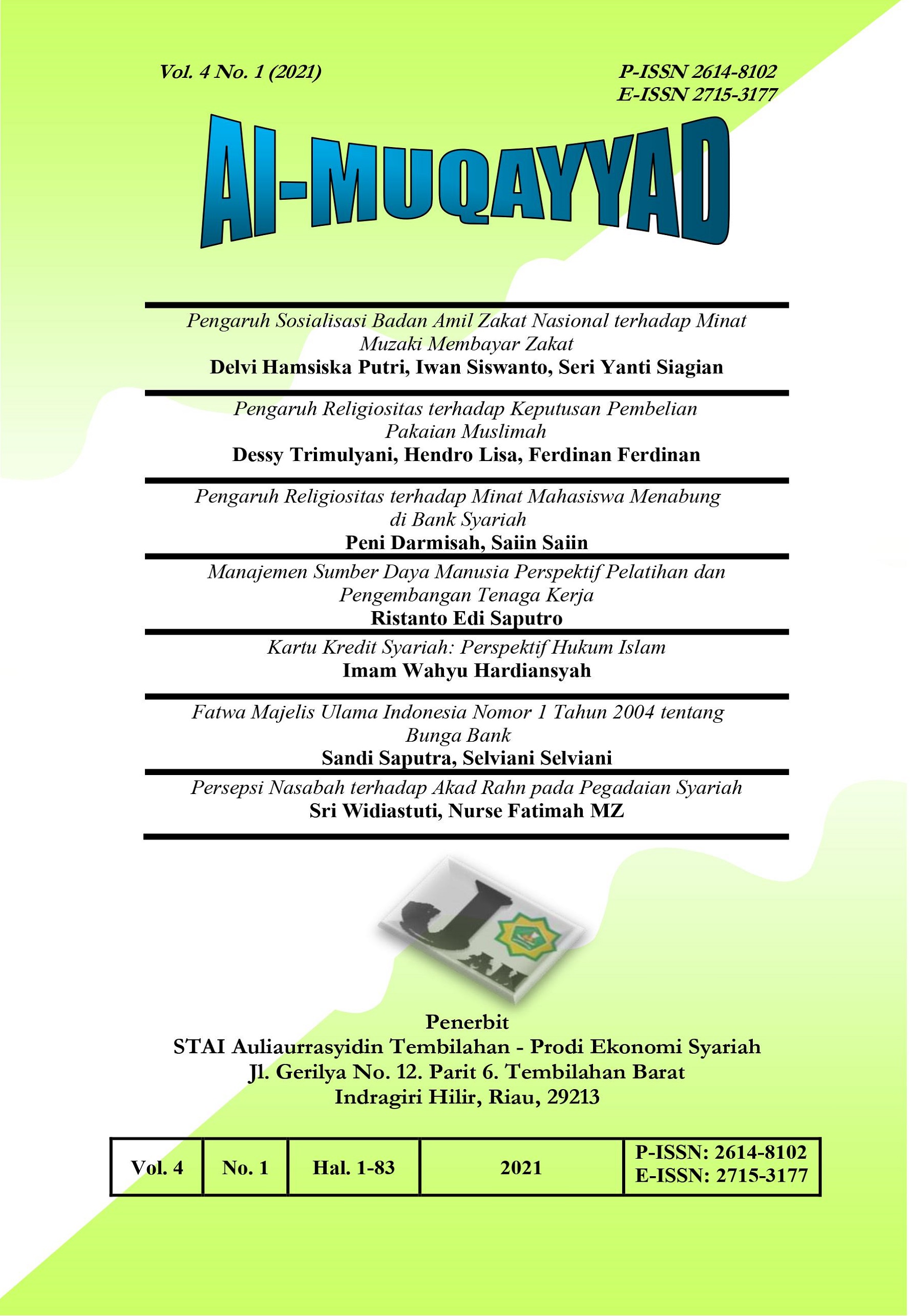 Downloads
How to Cite
Trimulyani, D., Lisa, H., & Ferdinan, F. (2021). Pengaruh Religiositas terhadap Keputusan Pembelian Pakaian Muslimah. AL-Muqayyad, 4(1), 14–24. https://doi.org/10.46963/jam.v4i1.369
License
Authors who publish with this journal agree to the following terms:
1. Copyright on any article is retained by the author(s).
2. The author grants the journal, right of first publication with the work simultaneously licensed under a Creative Commons Attribution shareAlike 4.0 International License that allows others to share the work with an acknowledgment of the work's authorship and initial publication in this journal.
3. Authors are able to enter into separate, additional contractual arrangements for the non-exclusive distribution of the journal's published version of the work (e.g., post it to an institutional repository or publish it in a book), with an acknowledgment of its initial publication in this journal.
4. Authors are permitted and encouraged to post their work online (e.g., in institutional repositories or on their website) prior to and during the submission process, as it can lead to productive exchanges, as well as earlier and greater citation of published work.
5. The article and any associated published material is distributed under the Creative Commons Attribution-ShareAlike 4.0 International License