Strategi Perguruan Tinggi Islam dalam Meningkatkan Daya Saing (Studi Kasus di Universitas Islam Indragiri Tembilahan Riau)
Keywords:
Strategy, competitiveness
Abstract
A university strategy that is competitive must have the role of being a center for fostering and producing human resources who have skills and professionals with nuances in science and technology and imtaq. The role of Higher Education in domestic science and technology must be able to support development, especially productive sectors which are conducted appropriately, effectively and efficiently. Science and technology development that is oriented towards market demand, highly competitive and far-sighted, will only be realized if it is supported by the creation of new developments and innovations through optimal and planned handling and utilization of science and technology. As for efforts to achieve excellence, it is necessary to reposition and re- actualize education by conducting various policies and educational transformations that are based on four aspects, first. Development of Higher Education's Tri Dharma. Second, HR Quality Improvement. Third, Development of Supporting Facilities and Infrastructure. Fourth. Quality Assurance System.
Downloads
Download data is not yet available.
References
Anwar, S. (2009). Peningkatan Mutu, Relevansi dan Daya Saing Perguruan Tinggi) Studi tentang Kebijakan di Universitas Negeri Bengkulu). Jakarta.
Chotimah, C. (2019). Blue Ocean Strategy Humas dalam Pengembangan Lembaga Perguruan Tinggi Keagamaan Islam, . Surabaya: IAIN Tulung Agung.
Constantine. (2005). The Intellectual Capital of Universities, Academy of Economic Studies. Bucharest.
Constantine. (2017). The Intellectual Capital of Universities. Bucharest: Academy of Eco-nomic Studies. Jurnal Akuntansi dan Investasi, 18 (2), , 153-162.
Fazlagic, a. S. (2014). The Role of Intellectual Capital in Building Competitive Advantage of Non-Public Universities. Economic and Social Development: Book of Proceedings, (p. 547).
Hamid, E. S. (2008). Membangun Daya Saing Institusi Pendidikan Berbasis Kompetensi Dasar Organisasi. . UNISIA, 31(67).
Hayduk, H. d. (2003). Communication in Organization. singapore: Prentice Hall.
Hidayat, R. (2013). Pengaruh Manajemen Strategik dan Biaya Pendidikan terhadap Daya Saing Sekolah di Sekolah Dasar Negeri se-Kecamatan Mangkubumi Kota Tasikmalaya. Administrasi Pendidikan. Jurnal Ilmiah Mahasiswa Pascasarjana, 1(2), , 187-192.
Hubbard, G. &. (2011). Strategic Management: Thinking. Analysis, Action, 4.
Hurriyati, B. A. (2008). Manajemen Coorporate dan Strategi Pemasaran Jasa Pendidikan; Fokus pada Mutu Layanan Prima. Bandung: Alfabeta.
Marasabessy, M. J. (2016). Manajemen Peningkatan Mutu Akademik Menuju World Class University: Studi Multikasus di Universitas Islam Negeri Malang dan Universitas Brawijaya,. Malang: Universitas Islam Negeri Maulana Malik Ibrahim,
Mufidah, N. (2019). Strategi Meningkatkan Daya Saing SMK Negeri 3 Batu Jurusan Broadcasting, Disertasi. Malang: Universitas Islam Negeri Maulana Malik Ibrahim.
Orr, D. J. (2007). Performance Based Funding as an Instrument of Competition in German Higher Education. Journal of Higher Education Policy and management, 29 (1), 3-32.
Philip, K. (2001). Marketing Management. Printice Hall Inc. USA: Upper Sadlle River New Jersey
Porter, M. E. (2001). Competitive Advantage. Alih Bahasa Indonesia Jakarta. Jakarta: PT Indeks Kelompok Gramedia.
Rahayu, A. (2008). Strategi Meraih Keunggulan dalam Industri Jasa Pendidikan (Suatu Kajian Manajemen Stratejik). Bandung: Alfabeta.
Sagala, S. (2011). Manajemen Strategik dalam Peningkatan Mutu Pendidikan. Bandung: Alfabeta.
Sallis, E. (2007). Total Quality Management in Education. Yogyakarta: IRCISoD.
Siudek, &. Z. (2014). Competitiveness in Economic Concepts, Theories and Empirical Research. Oeconomia Warsaw University of Life Sciences – SGGW 13 (1), 91-108. volume13/issue1/ abstract-91.
Suharto, H. B. (2015). Marketing Pendidikan; Menata Ulang PTKI Menghadapi Pasar Bebas Asean. Yogyakarta: LKIS Pelangi Aksara; Bantul.
Sumihardjo, T. (2008). Penyelenggaraan pemerintah daerah melalui pengembangan daya saing berbasis potensi daerah. Bandung: Fokusmedia.
Tholkhah.I. (2017). Strategi Peningkatan Daya Saing Madrasah; Studi Kasus Madrasah Ibtidaiyah Negeri Madiun. Jurnal Penelitian Pendidikan Agama dan Keagamaan. Balitbang dan Diklat Kemenag RI.
Umar, H. (2001). Strategic Management in Action. Jakarta: Gramedia Pustaka Utama.
Wheelen, T. L. (2017). Strategic Management and Business policy. boston: Pearson.
Zayadi, A. (2005). Desain Pendidikan Madrasah. Jakarta: Dirjend Kelembagaan Pendidikan Islam Departemen Agama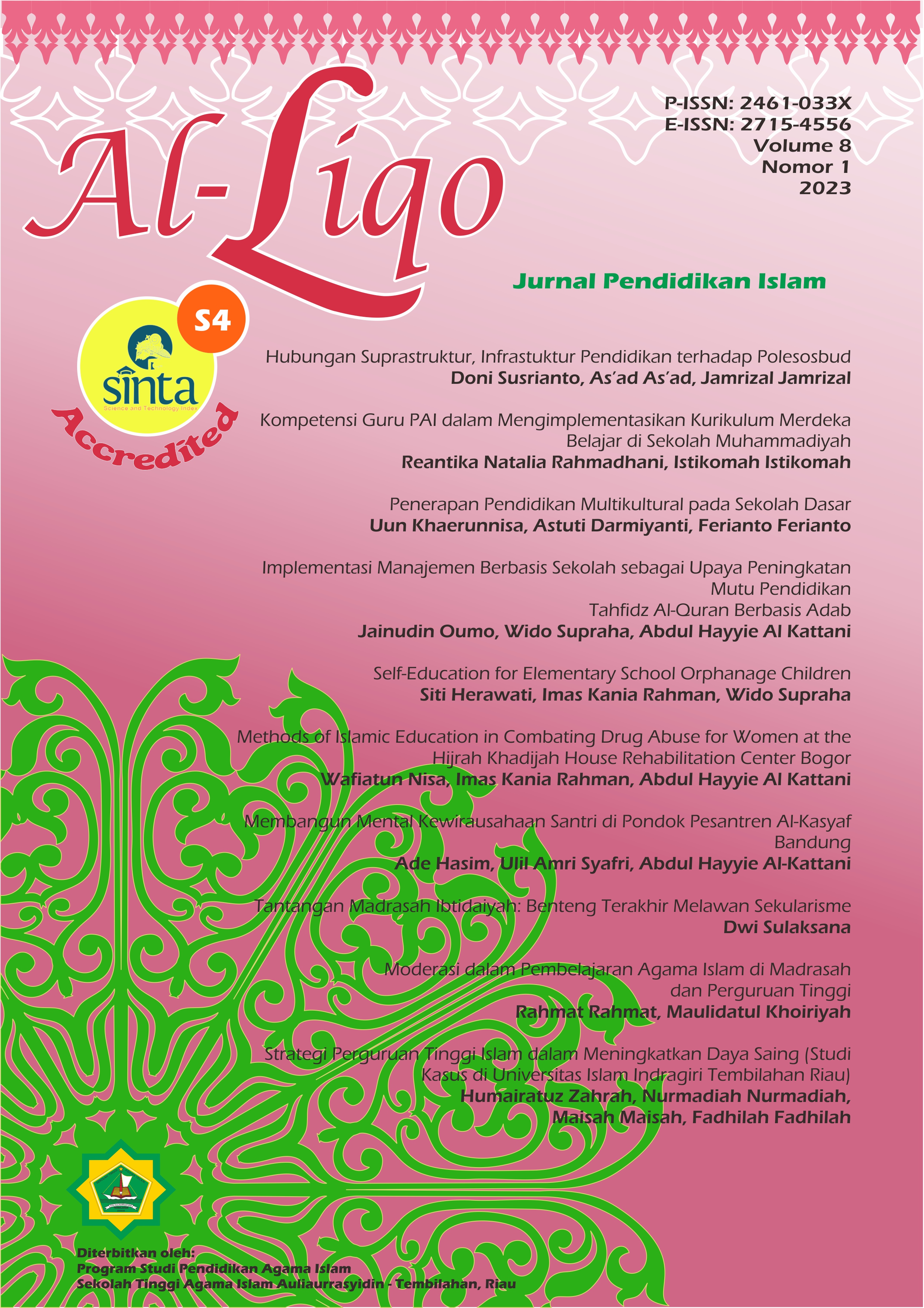 Downloads
How to Cite
Zahrah, H., Nurmadiah, N., Maisah, M., & Fadhilah, F. (2023). Strategi Perguruan Tinggi Islam dalam Meningkatkan Daya Saing (Studi Kasus di Universitas Islam Indragiri Tembilahan Riau). Al-Liqo: Jurnal Pendidikan Islam, 8(1), 149–164. https://doi.org/10.46963/alliqo.v8i1.1120
License
Copyright (c) 2023 Humairatuz Zahrah, Nurmadiah Nurmadiah, Maisah Maisah, Fadhilah Fadhilah
This work is licensed under a Creative Commons Attribution-ShareAlike 4.0 International License.
Authors who publish with this journal agree to the following terms:
1. Copyright on any article is retained by the author(s).
2. The author grants the journal, right of first publication with the work simultaneously licensed under a Creative Commons Attribution shareAlike 4.0 International License that allows others to share the work with an acknowledgment of the work's authorship and initial publication in this journal.
3. Authors are able to enter into separate, additional contractual arrangements for the non-exclusive distribution of the journal's published version of the work (e.g., post it to an institutional repository or publish it in a book), with an acknowledgment of its initial publication in this journal.
4. Authors are permitted and encouraged to post their work online (e.g., in institutional repositories or on their website) prior to and during the submission process, as it can lead to productive exchanges, as well as earlier and greater citation of published work.
5. The article and any associated published material is distributed under the Creative Commons Attribution-ShareAlike 4.0 International License