Peran Guru terhadap Aktivitas Bermain Anak Usia Dini
Keywords:
Teachers' role, Playing, Early Childhood
Abstract
Education is a means for teachers to provide knowledge and experience as well as values ​​in life. For this reason, teachers are to provide a comfortable and joyful learning atmosphere for students, one of which is playing activities. In playing activities, students often behave badly, such as scuffle, and being selfish. This requires a teacher to be able to educate and facilitate them not to do so. This research was to recognize the teachers' role in early childhood playing activities, especially at As-Salam Kindergarten, Pekan Arba, Tembilahan. This research is descriptive qualitative. The data were collected using structured interview techniques, observation, and documentation. The informants of the research were 3 teachers, a headmaster, head of foundations, and 38 students. The data were analyzed using the data triangulation technique by the Miles and Huberman model. The results showed that the teachers play a vital role as designers, observers, models, facilitators, elaborators, and evaluators.
Downloads
Download data is not yet available.
References
Fadillah, M., & dkk. (2014). Edutaiment Pendidikan Anak Usia Dini (Menciptakan Pembelajaran Menarik, Kreatif, dan Menyenangkan). Jakarta: Kencana.
Ghofar, A. (2017). Guru: Digugu dan Ditiru. AL-MISHBAH, 05(1), 1-14. Dipetik July 19, 2021, dari http://journal2.uad.ac.id/index.php/almisbah/article/view/163
Hewi, L., & Asnawati, L. (2021). Strategi Pendidik Anak Usia Dini Era Covid-19 dalam Menumbuhkan Kemampuan Berfikir Logis. Jurnal Obsesi: Jurnal Pendidikan Anak Usia Dini, 5(1), 158-167. doi:10.31004/obsesi.v5i1.530
Jateng, P. (2015, November 6). Inilah Peran Guru PAUD Dalam Pendidikan Anak Usia Dini. Diambil kembali dari Materi Diklat PAUD Online: https://www.paud.id/peran-guru-paud-dalam-pendidikan-anak/
Jateng, P. (2015, November 6). Peranan Guru PAUD dalam Perencanaan Pembelajaran Anak. Diambil kembali dari Materi Diklat PAUD Online: https://www.paud.id/peranan-guru-paud-dalam-perencanaan-pembelajaran/
Khaironi, M. (2018). Perkembangan Anak Usia DIni. Jurnal Golden Age Hamzanwadi University, 3(1), 1-12.
Mulyasa, E. (2012). Manajemen PAUD. Bandung: Remaja Rosdakarya.
Nurhasanah. (2019). Pengelolaan Pembelajaran Pendidikan Anak Usia Dini (PAUD) di Kelompok Bermain. Prosiding Seminar Nasional Pendidikan Program Pascasarjana Universitas PGRI Palembang (hal. 664-675). Palembang: Universitas PGRI Palembang.
Rohmah, N. (2016). Bermain dan Pemanfaatannya dalam Perkembangan Anak Usia Dini. Jurnal Tarbawi, 13(2), 27-35.
Sagala, S. (2012). Konsep dan Makna Pembelajaran untuk Membantu Memecahkan Problematika Belajar dan Mengajar. Bandung: Alfabeta.
Sari, D. Y. (2017). Peran Guru Dalam Menumbuhkan Literasi Melalui Bermain Pada Anak Usia Dini. Golden Age: Jurnal Pendidikan Anak Usia Dini, 1(2), 69-76. doi:10.29313/ga.v1i2.3316
Sujiono, Y. N. (2009). Konsep Dasar Pendidikan Anak Usia Dini. Jakarta Barat: PT Mancanan Jaya Cemerlang.
Sutarman, M., & Asih. (2016). Manajemen Pendidikan Anak Usia Dini. Bandung: Pustaka Setia.
Tri, F. L. (2016). Perilaku Sosial Anak Usia Dini di Lingkungan Lokalisasi Guyangan (Studi Kasus pada Anak Usia 5-6 Tahun). Jurnal PG-PAUD Trunojoyo, 3(1), 28-28.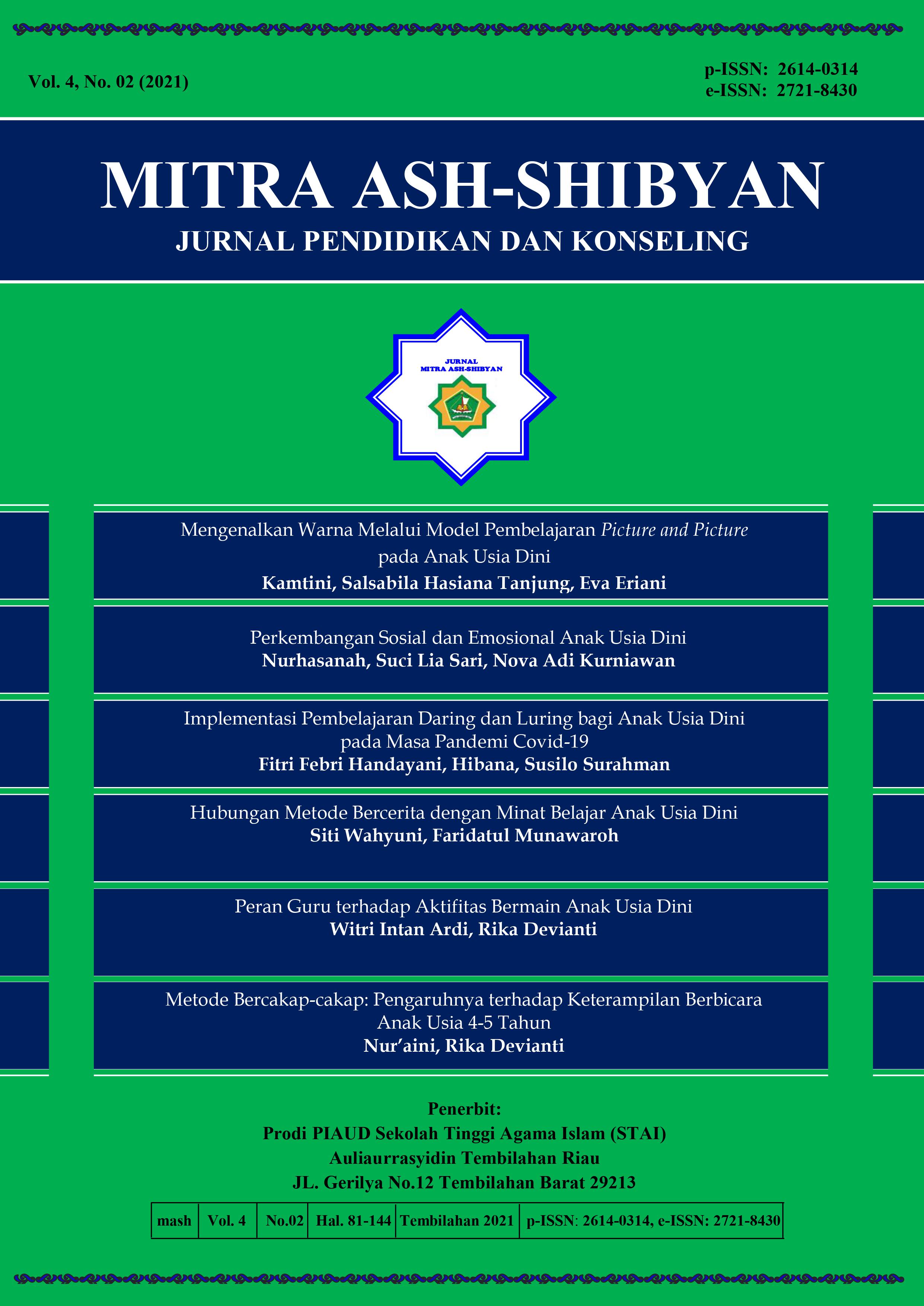 Downloads
How to Cite
Ardi, W. I., & Devianti, R. (2021). Peran Guru terhadap Aktivitas Bermain Anak Usia Dini. Mitra Ash-Shibyan: Jurnal Pendidikan Dan Konseling, 4(02), 125–134. https://doi.org/10.46963/mash.v4i02.344
License
Authors who publish with this journal agree to the following terms:
1. Copyright on any article is retained by the author(s).
2. The author grants the journal, right of first publication with the work simultaneously licensed under a Creative Commons Attribution shareAlike 4.0 International License that allows others to share the work with an acknowledgment of the work's authorship and initial publication in this journal.
3. Authors are able to enter into separate, additional contractual arrangements for the non-exclusive distribution of the journal's published version of the work (e.g., post it to an institutional repository or publish it in a book), with an acknowledgment of its initial publication in this journal.
4. Authors are permitted and encouraged to post their work online (e.g., in institutional repositories or on their website) prior to and during the submission process, as it can lead to productive exchanges, as well as earlier and greater citation of published work.
5. The article and any associated published material is distributed under the Creative Commons Attribution-ShareAlike 4.0 International License