Pengajian Kitab Akhlak Lil Banin Juz Pertama bagi Remaja Masjid Al-Mukhlisin Desa Air Bagi Kecamatan Concong
Abd. Syahid

STAI Auliaurrasyidin Tembilahan, Indragiri Hilir, Riau, Indonesia

Syamsiah Nur

STAI Auliaurrasyidin Tembilahan

Masriani Masriani

STAI Auliaurrasyidin Tembilahan

Hasnawati Hasnawati

STAI Auliaurrasyidin Tembilahan, Indragiri Hilir, Riau, Indonesia
Keywords:
Book, Moral, Lil banin
Abstract
The author of the Book of Al-Akhlak Lil Banin is Al-Ustadz 'Umar bin Achmad Baradja, he is a scholar who has very noble character. Since childhood he was raised and educated by his maternal grandfather, Shaykh Hasan bin Muhammad Baradja, a scholar of nahwu and fiqh. Nasab Baradja comes from Seiwun, Hadramaut, Yemen. The spirit of struggle carried out by Al-Ustadz 'Umar bin Achmad Baradja to spread religion and form good moral character in early childhood in Indonesia in general and in Ampel in particular, who saw the moral damage that had undermined the morals of teenagers at that time. So that Al-Ustadz 'Umar Baradja composed as well as compiled the book Al-Akhlak Lil Banin to guide them to always do positive things, such as keeping their bodies clean, clothes, to morals to Allah SWT, parents, teachers, friends and so on. , and the character most described by him is the character of social care. The problems that will be discussed are, (1) Who is Al-Ustadz 'Umar Baradja and his activities (2) What is the thought of Al-Ustadz 'Umar Baradja in the book Al-Akhlak Lil Banin . The thoughts of Al-Ustadz 'Umar Baradja in the book Al-Akhlak Lil Banin are more focused on special morals for boys, because they are prepared for the future to become leaders. If he grows up in noble character and grows up with the right education, he will also become a role model and be obeyed by his children in particular and the wider community in general
Downloads
Download data is not yet available.
References
Umar bin Achmad Baradja.tt. Akhlakul Banin Juz Pertama, Maktabah Muhammad Ibnu Ahmad Nabahan wa Auladuhu, Surabaya, Juz 1
Muhammad Achmad Asseggaf. (1995). Sekelumit riwayat hidup Al-Ustadz Umar bin Achmad Baradja, Surabay: Panitia Haul ke-V.
Ali Jarim dan Musthofa Amin. (1954). Annahwu Al-Wadhih, Daarul Ma'arif, Gontor Ponorogo, Juz 1-III.
Ahmad Warson Munawwir. (2002). Kamus Al-Munawwir Arab-Indonesia Terlengkap, Penerbit Puataka Progressif, Surabaya, cet. 25
Mahmud Yunus. (1972). Kamus Arab-Indonesia, Penerbit Hidakarya Agung, Jakarta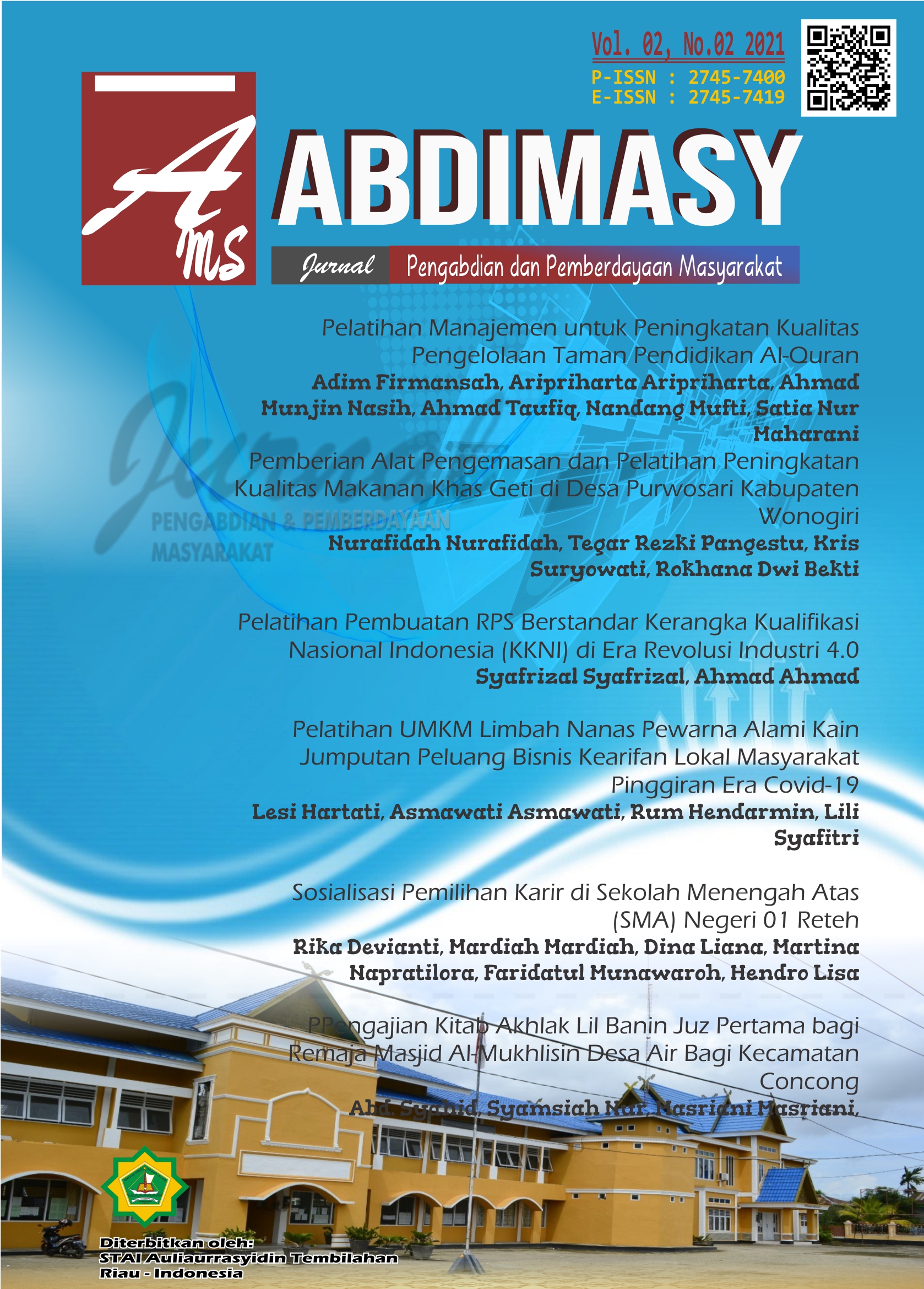 How to Cite
SyahidA., NurS., MasrianiM., & HasnawatiH. (2021). Pengajian Kitab Akhlak Lil Banin Juz Pertama bagi Remaja Masjid Al-Mukhlisin Desa Air Bagi Kecamatan Concong. ABDIMASY: Jurnal Pengabdian Dan Pemberdayaan Masyarakat, 2(2), 104-114. https://doi.org/10.46963/ams.v2i2.462
Copyright (c) 2021 Abd. Syahid, Syamsiah Nur, Masriani Masriani, Hasnawati Hasnawati
This work is licensed under a Creative Commons Attribution-ShareAlike 4.0 International License.
Authors who publish with this journal agree to the following terms:
1. Copyright on any article is retained by the author(s).
2. The author grants the journal, right of first publication with the work simultaneously licensed under a Creative Commons Attribution shareAlike 4.0 International License that allows others to share the work with an acknowledgment of the work's authorship and initial publication in this journal.
3. Authors are able to enter into separate, additional contractual arrangements for the non-exclusive distribution of the journal's published version of the work (e.g., post it to an institutional repository or publish it in a book), with an acknowledgment of its initial publication in this journal.
4. Authors are permitted and encouraged to post their work online (e.g., in institutional repositories or on their website) prior to and during the submission process, as it can lead to productive exchanges, as well as earlier and greater citation of published work.
5. The article and any associated published material is distributed under the Creative Commons Attribution-ShareAlike 4.0 International License