Fatwa Majelis Ulama Indonesia Nomor 1 Tahun 2004 tentang Bunga Bank
Keywords:
MUI, Fatwa, Interest
Abstract
This study aimed to explain the citizen of Pulau Palas's perspective on the MUI fatwa number 1 of 2004 regarding bank interest. This type of research was qualitative research using a purposive sampling technique. Data were analyzed using the Miles and Huberman method. The research findings showed that the public agreed that bank interest is usury, the fatwa should be comprehended as long as the decision is sincere for the benefit of the people. However, most of them still rely on conventional banking because of distrust of the system used by Islamic banks, as well as the ignorance of the existence of the fatwa. Therefore, the people viewed that the fatwa was issued to promote or increase the prestige of Islamic banks so that people turn to Islamic banks and leave conventional banks.
Downloads
Download data is not yet available.
References
Abdullah, B., & Beni, A. (2014). Metode Penelitian Ekonomi Islam (Muamalah). Bandung: Pustaka Setia.
Alma, B., & Donni, J. P. (2014). Manajemen Bisnis Syariah, Menanamkan Nilai dan Praktik Syariah dalam Bisnis Kontemporer. Bandung: Alfabeta.
Al-Qardhawi, Y. (1997). Fatwa Antara Ketelitian dan Kecerobohan. (edisi terjemah oleh Yasin, As'ad. Jakarta: Gema Insani.
Antonio, M. S. 2001. Bank Syari'ah dari Teori ke Praktik. Jakarta: Gema Insani.
Ash-Shawi, S., & Abdullah, A. (2015). Fikih Ekonomi Islam. (edisi terjemah oleh Basyir, Abu Umar). Jakarta: Darul Haq.
Baits, A. N. (2016). Ada Apa dengan Riba?. Yogjakarta: Pustaka Muamalah.
Basrowi, & Suwandi. (2008). Memahami Penelitian Kualitatif. Jakarta: Renika Cipta.
Depertemen Pendidikan Nasional. (2002). Kamus Besar Bahasa Indonesia Edisi Ketiga. Jakarta: Balai Pustaka.
Fuad, A. (ed). (2015). Riba Halal Riba Haram. Bogor: Pustaka Thariqul Izzah.
Kalsum, U. (2014). Riba dan Bunga Bank dalam Islam (Analisis Hukum dan Dampaknya Terhadap Perekonomian Umat). Jurnal Al-'Adl, 7(2), 67-82. Retrieved from https://ejournal.iainkendiri.ac.id.
Keputusan Fatwa Majelis Ulama Indonesia Nomor 1 Tahun 2004 tentang Bunga (Interest/Fa'idah).
Luthfi, H. (ed). (2019). Mengenal Lebih Dekat MUI. Jakarta: Rumah Fiqih Publishing.
Moleong, L. J. (2015). Metodologi Penelitian Kualitatif. Bandung: Remaja Rosdakarya.
Mubarak, F. A. A A. (ed). (2015). Bulughul Maram & Penjelasannya. (edisi terjemah oleh Fauji, Imam dan Ikhwanuddin Abdillah). Jakarta: Ummul Qura'.
Mustofa, A., Unggul, P., & Mahmudi. (2014). Reorientasi Ekonomi Syariah. Yogyakarta: UII Press.
Nurhadi. (2017). Bunga Bank Antara Halal dan Haram. Jurnal Nur El-Islam, 4(2), 49-78. Retrieved from. https://media.neliti.com.
Rahim, A. (2015). Konsep Bunga dan Prinsip Ekonomi Islam dalam Perbankan Syariah. Jurnal Human Falah, 2(2), 1-15. Retrieved from http://jurnal.uinsu.ac.id.
Rasiam. (2014). Rasionalisasi Pengharaman Bunga Bank. Jurnal Muqtasid, 5(1), 145-161. Retrieved from http://muqtasid.iainsalatiga.ac.id.
Sabiq, S. (1987). Fikih Sunnah 12. (edisi terjemah oleh Marzuki, Kamaluddin A). Bandung: Alma'arif.
Saeed, A. (2008). Bank Islam dan Bunga Studi Kritis dan Interpretasi Kontemporer tentang Riba dan Bunga. (edisi terjemah oleh Muhammad Mubin, Ufuqul, Nurul Huda, dan Ahmad Sahidan). Yogyakarta: Pustaka Pelajar.
Sarono, A. (2015). Mengkritisi Makna Hukum Riba Bunga Bank. Jurnal Humanika, 21(1), 75-85. https://ejournal.undip.ac.id.
Sholahuddin, M. (2011). Kamus Istilah Ekonomi, Keuangan, dan Bisnis Syariah. Jakarta: Gramedia Pustaka Utama.
Sholihin, A. I. (2016). Logika Fikih Muamalah Kontemporer. Yogyakarta: Amana Sharia Consulting.
Sugiyono. (2016). Metode Penelitian Manajemen. Bandung: Alfabeta.
Suhendi, H. (2014). Fiqh Muamalah. Jakarta: Rajawali Press.
Wiroso. (2009). Produk Perbankan Syariah. Jakarta: LPFE Usakti.
Yuliantin. (2011). Studi tentang Sistem Penerapan Fatwa Bunga Bank di Indonesia. Jurnal Ar-Risalah: Kajian Hukum Islam dan Sosial Kemasyarakatan, 11(2), 119-145. Retrieved from http://e-journal.lp2m.uinjambi.ac.id.
Yusuf, M. Y. (2012). Dinamika Fatwa Bunga Bank Di Indonesia: Kajian Terhadap Fatwa MUI, Muhammaddiyah dan Nahdhatul Ulama. Jurnal Media Syariah, 14(2), 151-159. Retrieved from https://jurnal.ar-raniry.ac.id.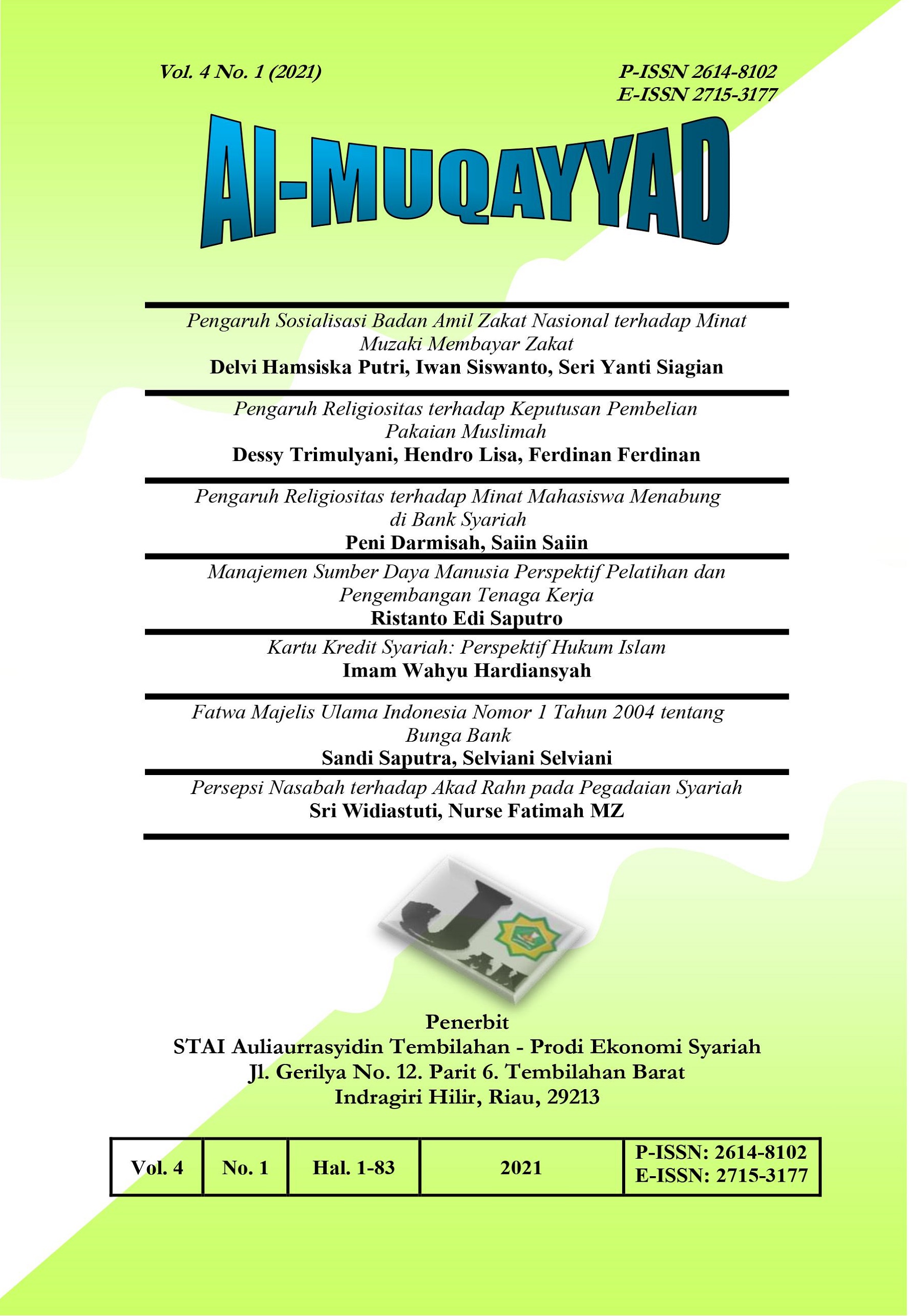 Downloads
How to Cite
Saputra, S., & Selviani, S. (2021). Fatwa Majelis Ulama Indonesia Nomor 1 Tahun 2004 tentang Bunga Bank. AL-Muqayyad, 4(1), 53–69. https://doi.org/10.46963/jam.v4i1.372
License
Authors who publish with this journal agree to the following terms:
1. Copyright on any article is retained by the author(s).
2. The author grants the journal, right of first publication with the work simultaneously licensed under a Creative Commons Attribution shareAlike 4.0 International License that allows others to share the work with an acknowledgment of the work's authorship and initial publication in this journal.
3. Authors are able to enter into separate, additional contractual arrangements for the non-exclusive distribution of the journal's published version of the work (e.g., post it to an institutional repository or publish it in a book), with an acknowledgment of its initial publication in this journal.
4. Authors are permitted and encouraged to post their work online (e.g., in institutional repositories or on their website) prior to and during the submission process, as it can lead to productive exchanges, as well as earlier and greater citation of published work.
5. The article and any associated published material is distributed under the Creative Commons Attribution-ShareAlike 4.0 International License