Using WhatsApp as a Learning Media in Teaching Reading
Keywords:
Pengajaran, Media, Whatsapp
Abstract
Dalam mendukung keberhasilan proses pembelajaran dan pengajaran, para pendidik tentunya tidak asing lagi dengan penggunaan berbagai media pembelajaran dalam pembelajarannya seperti media audio dan visual atau menggunakan cards, kertas karton, stik, maupun gambar. Saat ini dunia lagi dilanda musibah yang mengakibatkan ssemua lapisan masyarakat harus terkena social distancing. Demikian juga dengan dunia pendidikan. Para siswa tidak diperbolehkan melakukan pendidikan di sekolah demi terhidar dari covid-19 atau menekan penyebaran covid-19. Agar  pendidikan tetap bias dilakukan maka pemerintah menganjurkan para pendidik untuk melaukan pengajaran secara daring menggunakan technology. Technology yang terus berkembang mengakibatkan bermunculannya aplikasi-aplikasi yang bias digunakan dengan smart phone seperti ruang guru, zoom, google meet, whatsapp, facebook dan yang lainnya. Diantara semua aplikasi tersebut whatsapp adalah aplikasi  yang terpopuler dan mudah digunakan. Melalui whatsapp kita bisa mengirim foto, audio, dokumen, video bukan hanya secara individu namun bias juga dilakukan secara group dengan berbagai kemudahan  yang tersedia difitur whatsapp maka sangat layaklah para pendidik dan siswa menggunakan whatsapp sebagai salah satu media pembelajaran apalagi dimasa covid-19 ini.
Downloads
Download data is not yet available.
References
Alderman, S. (2017). 5 Ways to Use WhatsApp in the ELT Classroom. Pearson English. Retrieved July 10, 2018, from https://www.english.com/blog/5-ways-use-whatsapp-elt-classroom/
Biancarosa, G., & Griffiths, G. G. (2012). Technology Tools to Support Reading in the Digital Age. Future of Children, 22(2), 139–160.
Bouhnik, D., & Deshen, M. (2014). WhatsApp Goes to School: Mobile Instant Messaging between Teachers and Students. Journal of Information Technology Education: Research, 13, 217–231.
D'Eca, T. A. (2003). The Use of Chat in EFL/ESL. Retrieved July 9, 2018, from http://www.tesl-ej.org/wordpress/issues/volume7/ej25/ej25int/
George, M. S. (2018). Developing Listening and Reading Skills through Social Media using Apps. Literary Studies, III(i), 93–101.
Jumiatmoko. (2016). WhatsApp Messenger dalam Tinjauan Manfaat dan Adab. Wahana Akademika, 3(1), 51–66.
Justina, M. (2016). Use of Whatsapp to Enhance Reading and Writing Skills at Undergraduate College Level. Language in India, 16(11), 47–60.
Kheryadi. (2017). The Implementation of "Whatsapp" as A Media of English Language Teaching. LOQUEN, 10(2), 1–14.
Khusaini, Suyudi, A., Winarto, & Sugiyanto. (2017). Optimalisasi Penggunaan WhatsApp dalam Perkuliahan Penilaian Pendidikan Fisika. JRKPF UAD, 4(1), 1–7.
Linse, C., & Nunan, D. (2005). Practical English Language Teaching: Young Learners.
M, M., & Kanchana, K. (2016). A Study on Developing Reading Skills of Engineering Students through WhatsApp as Motivational Strategy. International journal of english research, 2(3), 1–4.
Pyrhonen, H. (2018). Reading Today: Comparative Literature and Culture. In H. Pyrhonen & J. Kantola (Eds.), New Perspectives on Reading: An Introduction (pp. 1–199). London: UCL Press.
Santrossa, C., & Castillo, J. (2017). No Title. Learning Technologies Special Interest Group. Retrieved July 10, 2018, from https://ltsig.iatefl.org/whats-up-in-the-classroom-whatsapp/
Scanlon, D. M., Anderson, K. L., & Sweeney, J. M. (2010). Early Intervention for Reading Difficulties: The Interactive Strategies Approach. New York: The Guilfrd Press.
Snow, C. E. (2002). Reading for Understanding: Toward an R&D Program in Reading Comprehension. New York: Rand.
Sugiyono. (2015). Metode Penelitian Kuantitatif, Kualitatif dan R & D. Bandung: Alfabeta, cv.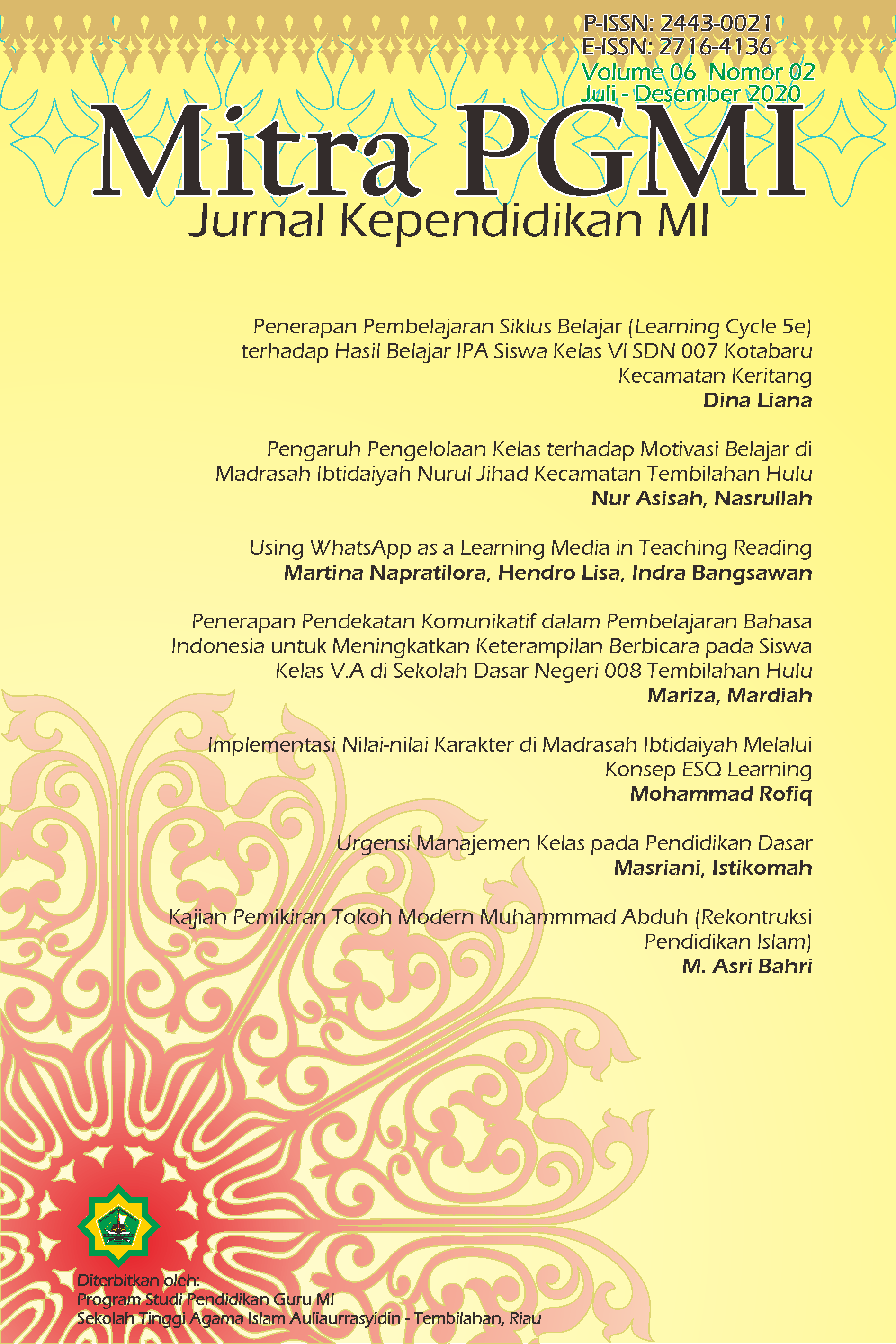 Downloads
How to Cite
Napratilora, M., Lisa, H., & Bangsawan, I. (2020). Using WhatsApp as a Learning Media in Teaching Reading. Mitra PGMI: Jurnal Kependidikan MI, 6(2), 116–125. https://doi.org/10.46963/mpgmi.v6i2.129
License
Authors who publish with this journal agree to the following terms:
1. Copyright on any article is retained by the author(s).
2. The author grants the journal, right of first publication with the work simultaneously licensed under a Creative Commons Attribution shareAlike 4.0 International License that allows others to share the work with an acknowledgment of the work's authorship and initial publication in this journal.
3. Authors are able to enter into separate, additional contractual arrangements for the non-exclusive distribution of the journal's published version of the work (e.g., post it to an institutional repository or publish it in a book), with an acknowledgment of its initial publication in this journal.
4. Authors are permitted and encouraged to post their work online (e.g., in institutional repositories or on their website) prior to and during the submission process, as it can lead to productive exchanges, as well as earlier and greater citation of published work.
5. The article and any associated published material is distributed under the Creative Commons Attribution-ShareAlike 4.0 International License