Kearifan Lokal Permainan Jamuran sebagai Penguatan Karakter Siswa melalui Layanan Bimbingan Konseling
Keywords:
Mushroom game, Student character, Counseling
Abstract
The development of technology affects the games played by students through gadgets. Many interesting games can have a negative impact, such as the lack of socialization of students with their friends, emotional disturbances, behavior, and others. This study aims to instill character education through traditional "mushroom games" with a Counseling Guidance approach at Pertiwi Rengat Kindergarten. This research is qualitative research with Miles and Huberman model analysis techniques. The results showed that students' behavior changed, such as throwing garbage in its place, greeting each other, and shaking hands with teachers and other people (guests at school) when meeting face-to-face. In addition, observations showed that the students looked happy when doing activities together. Thus, traditional mushroom games with a group guidance approach can be used to instill students' character to be even better.
Downloads
Download data is not yet available.
References
Arik, S., Nuraida, P., Krisphianti, Y. D. W. I., & Panca, S. R. I. (2021). Layanan Bk Berbasis Kearifan Lokal Melalui Permainan Jamuran Terhadap Percaya Diri Siswa. Prosiding …, 211–221. https://proceeding.unpkediri.ac.id/index.php/kkn/article/view/1375
Fitriani, M. (2019). Fitriani, Maharani: Peningkatan Kemampuan Sosial Anak Melalui Permainan. 4 Nomor 3, 37–43.
Iswinarti. (2017). Permainan Tradisional: Prosedur dan Analisis Manfaat Psikologis.
Karim, A. A., & Muqowim. (2020). Implementasi Permainan Tradisional Jamuran Dalam Meningkatkan Sosial Emosional Anak Usia 5-6 Tahun. PAUD Lectura: Jurnal Pendidikan Anak Usia Dini, 4(1), 32–41. https://doi.org/10.31849/paud-lectura.v
Lacksana, I. (2017). Kearifan Lokal Permainan Congklak Sebagai Penguatan Karakter Peserta Didik Melalui Layanan Bimbingan Konseling Disekolah. Satya Widya, 33(2), 109–116. https://doi.org/10.24246/j.sw.2017.v33.i2.p109-116
Lestari, I., Riana, A. W., & Taftazani, B. M. (2015). Pengaruh Gadget Pada Interaksi Sosial Dalam Keluarga. Prosiding Penelitian Dan Pengabdian Kepada Masyarakat, 2(2), 204–209. https://doi.org/10.24198/jppm.v2i2.13280
Megawangi, R. (2007). Character Parenting Space.
Moleong. (2018). Metodologi penelitian kualitatif / penulis, Prof. DR. Lexy J. Moleong, M.A. | OPAC Perpustakaan Nasional RI. Online Public Acces Catalog.
N, O. (2015). Pentingnya Pendidikan Karakter Dalam Dunia Pendidikan. Nopan Omeri, 9(manager pendidikan), 464–468.
Nurhayati, S., & Putro, K.Z. (2021). Bermain Dan Permainan Anak Usia Dini. Jurnal Pendidikan Islam Anak Usia Dini, 4(1), 52–64.
Purwanti, D. (2017). Pendidikan Karakter Peduli Lingkungan Dan Implementasinya. DWIJA CENDEKIA: Jurnal Riset Pedagogik, 1(2), 14–20. https://doi.org/10.20961/jdc.v1i2.17622
Sakman, S., & Syam, S. R. (2020). Penguatan Pendidikan Karakter Berbasis Kearifan Lokal Bagi Peserta Didik Di Sekolah. SUPREMASI: Jurnal Pemikiran, Penelitian Ilmu-Ilmu …, 15(2), 101–111.
Saputri, R. D. R., & Setyawan, A. (2022). Dampak Penggunaan Gadget terhadap Perkembangan Karakter pada Anak Sekolah Dasar. AMAL INSANI (Indonesian Multidiscipline of Social Journal), 3(1), 24–31. https://doi.org/10.56721/amalinsani.v3i1.109
Willis, Sofyan S. (2007). Konseling individual: teori dan praktek. Bandung; AlfaBeta;
Somantri, G. R. (2005). Memahami Metode Kualitatif. Makara Human Behavior Studies in Asia, 9(2), 57. https://doi.org/10.7454/mssh.v9i2.122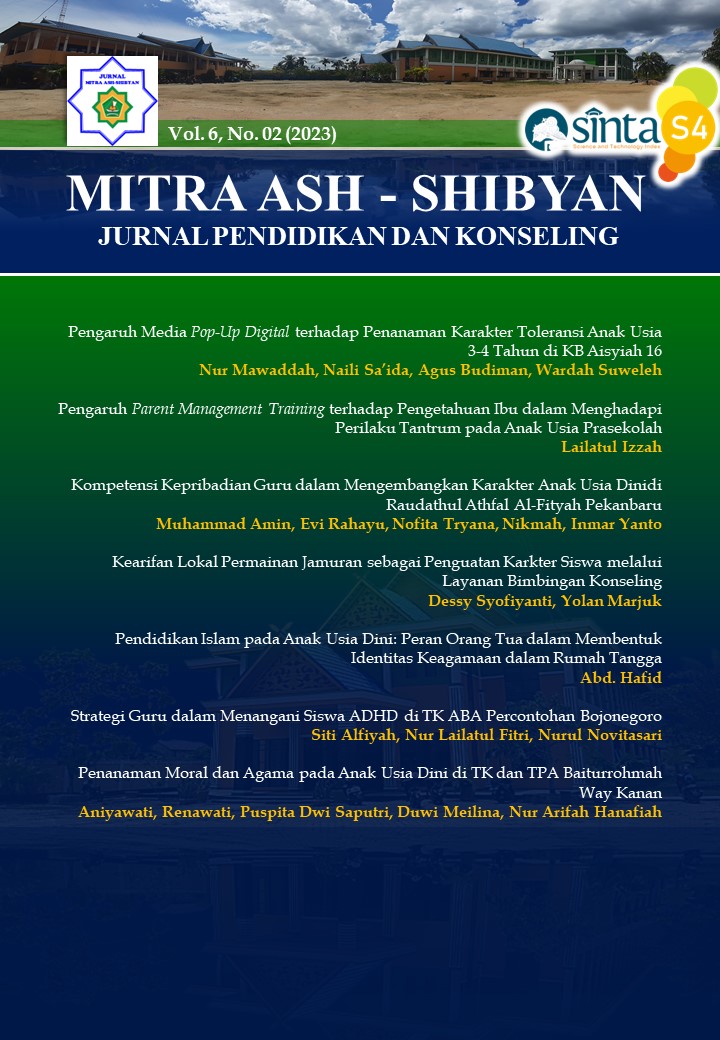 Downloads
How to Cite
Syofiyanti, D., & Marjuk, Y. (2023). Kearifan Lokal Permainan Jamuran sebagai Penguatan Karakter Siswa melalui Layanan Bimbingan Konseling. Mitra Ash-Shibyan: Jurnal Pendidikan Dan Konseling, 6(02), 89–98. https://doi.org/10.46963/mash.v6i02.942
License
Copyright (c) 2023 Dessy Syofiyanti, Yolan Marjuk
This work is licensed under a Creative Commons Attribution-ShareAlike 4.0 International License.
Authors who publish with this journal agree to the following terms:
1. Copyright on any article is retained by the author(s).
2. The author grants the journal, right of first publication with the work simultaneously licensed under a Creative Commons Attribution shareAlike 4.0 International License that allows others to share the work with an acknowledgment of the work's authorship and initial publication in this journal.
3. Authors are able to enter into separate, additional contractual arrangements for the non-exclusive distribution of the journal's published version of the work (e.g., post it to an institutional repository or publish it in a book), with an acknowledgment of its initial publication in this journal.
4. Authors are permitted and encouraged to post their work online (e.g., in institutional repositories or on their website) prior to and during the submission process, as it can lead to productive exchanges, as well as earlier and greater citation of published work.
5. The article and any associated published material is distributed under the Creative Commons Attribution-ShareAlike 4.0 International License