Strategi Guru dalam Menangani Siswa ADHD di TK ABA Percontohan Bojonegoro
Keywords:
Teacher strategy, Treatment, Student with ADHD
Abstract
This research was motivated by the phenomenon that ADHD or hyperactive students tend to be more active and find it more difficult to concentrate on learning when compared to other students. In addition, students with ADHD often scream, run around, and disturb their friends. This study aims to: 1) describe teacher strategies and obstacles experienced by teachers in handling and teaching ADHD students in ABA Percontohan Kindergarten Bojonegoro. This study is field research with a qualitative approach. Data was collected through observation, interview, and documentation techniques. The data was analyzed through three stages: data reduction, data display, and conclusions. The results showed that: 1) teachers use five strategies in dealing with ADHD students, namely: a) establishing good communication between teachers and parents, b) looking for strengths and developing talents, c) not requiring children to achieve teaching and learning activities, d) helping students stay focused, and e) always being patient and always trying to make children happy by learning while playing; and, 2) teachers experience obstacles in the form of difficulties in overcoming children's poor behavior, such as providing answers before the question is finished.
Downloads
Download data is not yet available.
References
Atmaja, J. R. (2017). Pendidikan dan Bimbingan Anak Berkebutuhan Khusus (P. Latifah, Ed.). Bandung: PT Remaja Rosdakarya.
Azmira, V., & Cemerlang, T. R. (2015). A Gift: Anak Hiperaktif. Yogyakarta: Rapha Publishing.
Barkley. (2012). Barkley, R.A. Attention Deficit Hyperactivity Disorder: A Handbook For Diagnosis and Treatment . (New York: Guilford Press, 1990), hal. 34 1 1. 1–20.
Darmadi, H., & MM, M. M. (2018). Asyiknya belajar sambil bermain. Guepedia.
Dermawan, D. (2018). Perancangan aplikasi belajar untuk anak penderita Attention Deficit Hyperactivity Disorder.
Eka Putra, Z. (2018). Metode penanganan masalah klient ADHD di CV Insight Consulting Pringsewu Lampung. In Skripsi. Lampung: Universitas Islam Negri RADEN INTAN.
Fitriyani, P. (2018). Pendidikan karakter bagi generasi Z. Prosiding Konferensi Nasional Ke-7 Asosiasi Program Pascasarjana Perguruan Tinggi Muhammadiyah Aisyiyah (APPPTMA). Jakarta, 23–25.
Lase, F. (2016). Kompetensi kepribadian guru profesional. Pelita Bangsa Pelestari Pancasila, 11(1).
Marlina, M., & Kusumastuti, G. (2019). Strategi Penanganan Anak ADHD. repository.unp.ac.id. Retrieved from http://repository.unp.ac.id/26759/1/2019 November Buku Strategi Penanganan Anak ADHD-min.pdf
Maryatun, I. B. (2016). Peran pendidik PAUD dalam membangun Karakter Anak. Jurnal Pendidikan Anak, 5(1).
Pane, A., & Dasopang, M. D. (2017). Belajar dan pembelajaran. Fitrah: Jurnal Kajian Ilmu-Ilmu Keislaman, 3(2), 333–352.
Permendikbud 146 Tahun 2014 tentang k 13 pasal 5. (n.d.).
Rahmani, S. (2021). Peran guru dalam penanganan anak attention deficit and hyperactivity disorder usia 5-6 tahun (studi kasus di ra al-hilal 02 cikarang utara). In Skripsi (Vol. 2). Jakarta: Universitas Islam Negri SYARIF HIDAYATULLAH.
Rozie, F., Safitri, D., & Haryani, W. (2019). Peran Guru Dalam Penanganan Perilaku Anak Hiperaktif Di Tk Negeri 1 Samarinda. Journal of Early Childhood Education (JECE), 1(2), 53–59. https://doi.org/10.15408/jece.v1i2.12874
Samad, F., & Alhadad, B. (2016). Implementasi metode beyond center and circle time (BCCT) dalam upaya penanaman nilai-nilai agama islam di kelompok B Taman Kanak-kanak Khalifah kota Ternate. Jurnal Pendidikan Usia Dini, 10(2), 233–254.
Widijati, U. (2022). Terapi Non Medis Bagi Anak ADHD (2022nd ed.). Bantul Yogyakarta: Penerbit Bumi Literasi.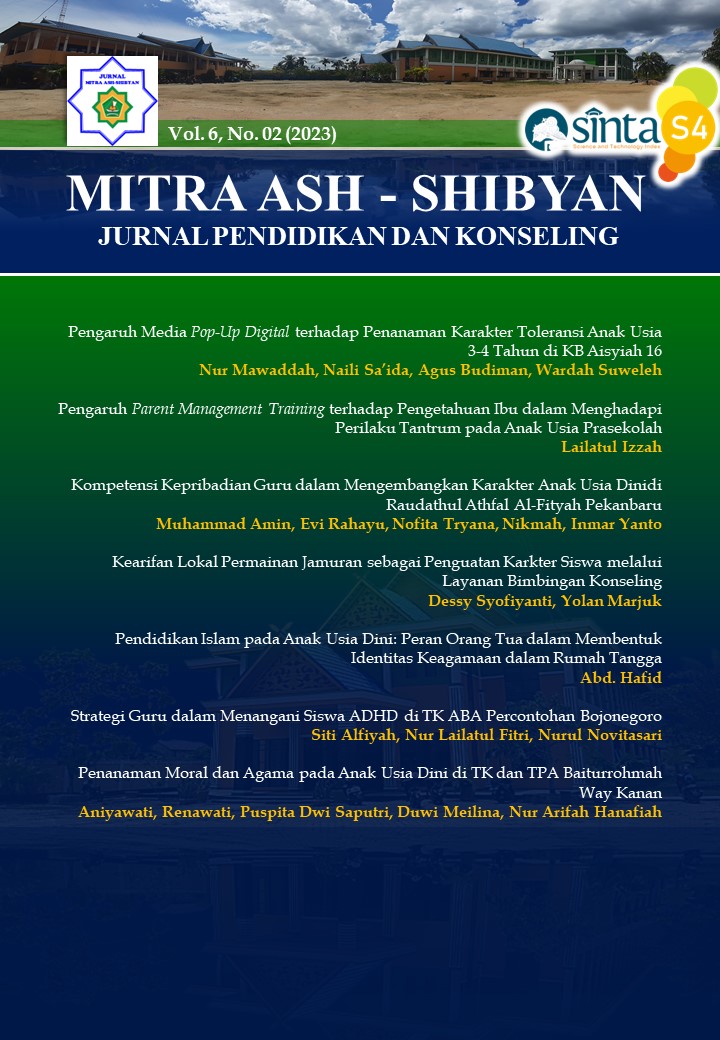 Downloads
How to Cite
Alfiyah, S., Fitri, N. L., & Novitasari, N. (2023). Strategi Guru dalam Menangani Siswa ADHD di TK ABA Percontohan Bojonegoro. Mitra Ash-Shibyan: Jurnal Pendidikan Dan Konseling, 6(02), 115–124. https://doi.org/10.46963/mash.v6i02.927
License
Copyright (c) 2023 Siti Alfiyah, Nur Lailatul Fitri, Nurul Novitasari
This work is licensed under a Creative Commons Attribution-ShareAlike 4.0 International License.
Authors who publish with this journal agree to the following terms:
1. Copyright on any article is retained by the author(s).
2. The author grants the journal, right of first publication with the work simultaneously licensed under a Creative Commons Attribution shareAlike 4.0 International License that allows others to share the work with an acknowledgment of the work's authorship and initial publication in this journal.
3. Authors are able to enter into separate, additional contractual arrangements for the non-exclusive distribution of the journal's published version of the work (e.g., post it to an institutional repository or publish it in a book), with an acknowledgment of its initial publication in this journal.
4. Authors are permitted and encouraged to post their work online (e.g., in institutional repositories or on their website) prior to and during the submission process, as it can lead to productive exchanges, as well as earlier and greater citation of published work.
5. The article and any associated published material is distributed under the Creative Commons Attribution-ShareAlike 4.0 International License