Kompetensi Kepribadian Guru dalam Mengembangkan Karakter Anak Usia Dini di Raudhatul Athfal Al-Fityah Pekanbaru
Keywords:
Character, Teacher's personality competence, Early childhood
Abstract
This study aims to determine how teacher personality competence and teacher strategies in developing early childhood character in Raudhatul Athfal Al-Fityah Pekanbaru. This research is qualitative descriptive. Data was collected through observation, interviews, and documentation. The results showed that the development of characteristics in early childhood was in the good category. This happens because teachers always set an example and practice habituation in every activity. In addition, the implementation of teacher capacity development in the form of training, weekly meetings for teacher evaluation and sharing, performance evaluations, and weekly coaching activities to increase teachers' Islamic insight and understanding were carried out to support the process of developing children's character. Thus, teacher personality competence has a positive impact on the development of early childhood character, especially through habituation and exemplary activities.
Downloads
Download data is not yet available.
References
'Ulwan, A. N. (2020). Pendidikan Anak Dalam Islam. Solo: Insan Kamil.
Abidin, A. M. (2018). Penerapan Pendidikan Karakter Pada Kegiatan Ekstrakurikuler Melalui Metode Pembiasaan. Didaktika, 183-196.
Asmani, J. M. (2009). 7 Kompetensi Guru menyenangkan dan Profesional. Yogjakarta: Power Books Ihdina.
Astuti, R. F., Riyadi, R., & Ellyawati, N. (2021). Profesi Kependidikan. Madiun: CV. Bayfa Cendekia Indonesia.
Dalmeri. (2014). Pendidikan untuk Pengembangan Karakter (Telaah Terhadap Gagasan Thomas Lickona dalam Educating for Character). Al-Ulum, 268-288.
Haidir, S. (2019). Penelitian Pendidikan: Metode,Pendekatan,dan Jenis. Jakarta: Kencana.
Hatta Hs, H. M. (2018). Empat Kompetensi Untuk Membangun Profesionalisme Guru. Jakarta: Nizamia Learning Center.
Hidayati, L. (2017). Fungsi Kompetensi Kepribadian Pendidik Anak Usia Dini Dalam Proses Penyesuaian Diri Siswa Baru. Al-Hikmah, 45-47.
Indonesia, R. (2005). Undang-Undang Republik Indonesia Nomor 14 Tahun 2005 tentang Guru dan Dosen. Jakarta: Sekretariat Negara.
Marwiyati, S. (2020). Penanaman Pendidikan Karakter Melalui Pembiasaan. Thufula, 152-163.
Masduki, Y. (2016). Pendidikan Kecerdasan Berbasis Keimanan. Tarbiyatuna, 53-81.
Mulyasa, E. (2012). Manajemen Pendidikan Karakter. Jakarta : PT Bumi Aksara.
Nasution, E. (2015). Penguatan Tiga Pilar Pendidikan di Era Globalisasi. Dialektina, 90.
Nasution, I. (2019). Kompetensi Kepribadian Guru PAUD dan Upaya Pengembangannya. Medan: Perdana Publishing.
Ngafifi, M. (2014). Kemajuan Teknologi dan Pola Hidup Manusia dalam Perspektif Sosial Budaya. Jurnal Pembangunan Pendidikan, 33-47.
Nurchalli. (2010). Membentuk Karakter Siswa Melalui Keteladanan Guru. Jurnal Pendidikan dan Kebudayaan, 234.
Nurfuadi, M. (2020). Kepribadian Guru Upaya Mengembangkan Kepribadian Guru yang Sehat di Masa Depan. Yogyakarta: CV. Cinta Buku.
Permendiknas. (2007). Peraturan Menteri Pendidikan Nasional Nomer 16 Tahun 2007 Tentang Standar Kualifikai Akademik.
Ratnawati. (2018). Peranan Guru Sebagai Model dalam Pembentukan Karakter Peserta Didik. Jurkam, 1-11.
Rulianto, & Hartono, F. (2018). Pendidikan Sejarah Sebagai Penguat Pendidikan Karakter. Jurnal Ilmiah Ilmu Sosial, 127-138.
Rusman. (2014). Model-Model Pembelajaran (Mengembangkan Profesionalisme Guru). Jakarta: PT Remaja Rosdakarya .
Safitri, D., Zakaria, & Kahfi, A. (2023). Pendidikan Kecerdasan Spiritual Perspektif Al-Gazali dan Relevansinya dengan Emotional Spiritual Quotient (ESQ). Tarbawi, 78-97.
Sum, T. A. (2019). Kompetensi Guru PAUD dalam Pembelajaran di PAUD di Kecamatan Langke Rembong Kabupaten Manggarai. Jurnal Lonto Leok Pendidikan Anak Usia Dini, 69.
Syahfutra, W., Ramadhan, S., & Akhyar, Y. (2020). Metodologi Penelitian Pendidikan. Pekanbaru: Media Al-Kifayah.
Syaikh, A. B. (2008). Tafsir Ibnu Katsir. Jakarta: Pustaka Imam Asy-Syafi'I.
Widiyati, S. (2019). Peranan Guru dalam Pembelajaran Bahasa. Edukasi Lingua Sastra, 1-14.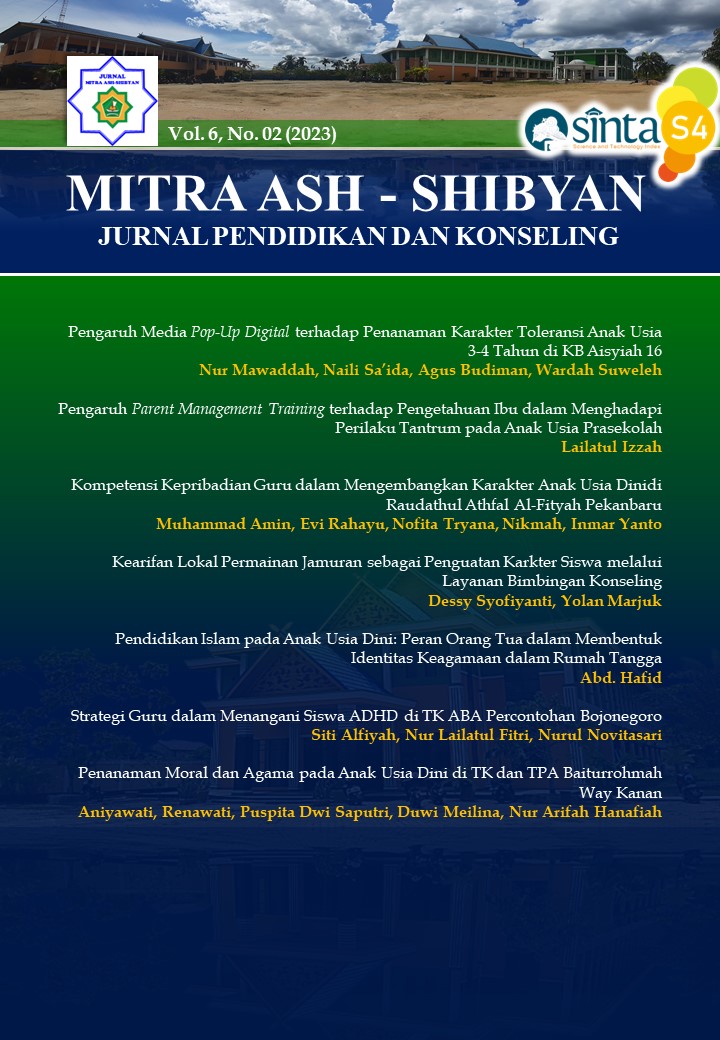 Downloads
How to Cite
Amin, M., Rahayu, E., Tryana, N., Nikmah, N., & Yanto, I. (2023). Kompetensi Kepribadian Guru dalam Mengembangkan Karakter Anak Usia Dini di Raudhatul Athfal Al-Fityah Pekanbaru. Mitra Ash-Shibyan: Jurnal Pendidikan Dan Konseling, 6(02), 75–88. https://doi.org/10.46963/mash.v6i02.885
License
Copyright (c) 2023 Muhammad Amin, Evi Rahayu, Nofita Tryana, Nikmah Nikmah, Inmar Yanto
This work is licensed under a Creative Commons Attribution-ShareAlike 4.0 International License.
Authors who publish with this journal agree to the following terms:
1. Copyright on any article is retained by the author(s).
2. The author grants the journal, right of first publication with the work simultaneously licensed under a Creative Commons Attribution shareAlike 4.0 International License that allows others to share the work with an acknowledgment of the work's authorship and initial publication in this journal.
3. Authors are able to enter into separate, additional contractual arrangements for the non-exclusive distribution of the journal's published version of the work (e.g., post it to an institutional repository or publish it in a book), with an acknowledgment of its initial publication in this journal.
4. Authors are permitted and encouraged to post their work online (e.g., in institutional repositories or on their website) prior to and during the submission process, as it can lead to productive exchanges, as well as earlier and greater citation of published work.
5. The article and any associated published material is distributed under the Creative Commons Attribution-ShareAlike 4.0 International License