Pengembangan Alat Permainan Puzzle Alquran untuk Kemampuan Menghafal pada Anak Kelompok B PAUD Sabilal Muhtadin Tembilahan Hulu Indragiri Hilir Riau
Keywords:
Alquran puzzle, Memorization ability, Group B
Abstract
The convenient process of teaching and learning are things that teachers should consider to get maximum results. This study aims at knowing the feasibility of quranic puzzles to improve early childhood memorization skills. It is a Research and Development (R&D) that adopts the Borg and Gall model. This was conducted on 8 students of group B of PAUD Sabilal Muhtadin Tembilahan Hulu. Data was collected by using questionnaires, interviews, observations, and documentation. The data was then analyzed by using statistics with Likert scale measurements. The findings revealed that the average assessment of a) media experts were at 85.7% (Very Feasible), b) material experts were at 94.2% (Very Feasible), c) class teachers were at 83.9% (Very Feasible); and the results of pre-test tests (41.74%) and posttests (80.35%) of product development increased by 38.61%. Thus, quranic puzzles are feasible for improving the memorization ability of group B students of PAUD Sabilal Muhtadin Tembilahan Hulu Indragiri Hilir Riau.
Downloads
Download data is not yet available.
References
Aniqiyah, L., Wilson, & Puspitasari, E. (2014). Analisis Kinerja Kepala Sekolah TK dalam Bidang Supervisi Se-Kecamatan Tampan Kota Pekanbaru. Jurnal Online Mahasiswa: Fakultas Keguruan dan Ilmu Pendidikan, 1(2), 1-12. https://jom.unri.ac.id/index.php/JOMFKIP/article/view/21168
Arikunto, S. (2019). Dasar-dasar Evaluasi Pendidikan. Jakarta: Bumi Aksara.
Habibullah, N., Mukhtar, Risnita, & Anwar, K. (2019). Effectiveness of Supervisory Coaching in Developing Professional of Islamic Teachers. International Journal of Recent Technology and Engineering (IJRTE), 8(4), 8107-8112. doi:10.35940/ijrte.D8523.118419
Indonesia, R. (2003). Undang-undang Republik Indonesia Nomor 2003 Tentang Sistem Pendidikan Nasional. Jakarta: Sekretariat Negara.
Lindawati, Y. I., & Rahman, C. A. (2020). Adaptasi Guru dalam Implementasi Pembelajaran Daring di Era Pandemi Covid-19. Prosiding Seminar Nasional Pendidikan FKIP. 3, pp. 60-67. Serang: FKIP Untirta. https://jurnal.untirta.ac.id/index.php/psnp/article/view/9906/6433
Mulyasa, E. (2016). Menjadi Kepala Sekolah Profesional. Bandung: PT. Remaja Rosdakarya.
Nizamuddin, Azan, K., Anwar, K., Ashoer, M., Nuramini, A., Dewi, I., . . . Sumianto. (2021). Metodologi Penelitian: Kajian Teoritis dan Praktis bagi Mahasiswa. Bengkalis, Riau: DOTPLUS Publisher. https://books.google.co.id/books?hl=en&lr=&id=66MqEAAAQBAJ&oi=fnd&pg=PA75&ots=4KB1wBOMsR&sig=yn7o4KbydKPLLb8xt2ulRksJtLQ&redir_esc=y#v=onepage&q&f=false
Nudin, B., Prayesti, T., Suratiningsih, & Dovianty, W. D. (2020). Manajemen Gerakan Sekolah Menyenangkan dalam Penguatan Pendidikan Karakter (PPK) di SD Negeri Buayan Kebumen. Manageria: Jurnal Manajemen Pendidikan Islam, 5(1), 95-118. doi:https://doi.org/10.14421/manageria.2020.51-06
Nurmala. (2021). Upaya Kepala Sekolah dalam Meningkatkan Kinerja Guru di SDN 17 Rupat melalui Supervisi Akademik. PRIMARY: Jurnal Pendidikan Guru Sekolah Dasar, 10(6), 1533-1539. doi:http://dx.doi.org/10.33578/jpfkip.v10i6.8582
Prabowo, H. (2012). Aspek-aspek Pengelolaan dan Kepemimpinan Inovatif untuk Implementasi Teknologi Informasi dan Komunikasi di Perguruan Tinggi. BINUS BUSINESS REVIEW, 3(2), 795-802. doi:https://doi.org/10.21512/bbr.v3i2.1362
Prasetyo, M. A., & Anwar, K. (2021). Assessing Organizational Culture: An Important Step for Enhancing the Implementation of Junior High School-Based Pesantren. Al-Ishlah: Jurnal Pendidikan, 13(1), 6464-659. doi:10.35445/alishlah.v13i1. 461
Salbiyah, S., & Mahardika, B. W. (2017). Pengaruh Motivasi Kerja terhadap Kinerja Tenaga Kependidikan Universitas Muhammadiyah Surabaya Tahun 2016. Balance: Economic, Bussiness, Management and Accounting Journal, 14(02), 83-105.
Sergiovanni, T. J., & Green, R. (2015). Characteristics of Successful Schools. Boston: MA: Allyn & Bacon.
Solehan. (2014). Strategi Peningkatan Mutu Pendidikan di Madrsah Aliyah Negeri Muara Enim. CONCIENCIA: Journal of Islamic Education, 14(2), 1-15. doi:https://doi.org/10.19109/conciencia.v14i2.95
Sugiyono. (2017). Metode Penelitian Kuantitatif, Kualitatif, dan R&D. Bandung: ALFABETA.
Suryani, L., Anwar, K., & Majir, A. (2022). Pembentukan Karakter Islami Peserta Didik melalui Program Pembinaan Pribadi Islami. JIIP - Jurnal Ilmiah Ilmu Pendidikan, 5(4), 1220-1226. doi:https://doi.org/10.54371/jiip.v5i4.549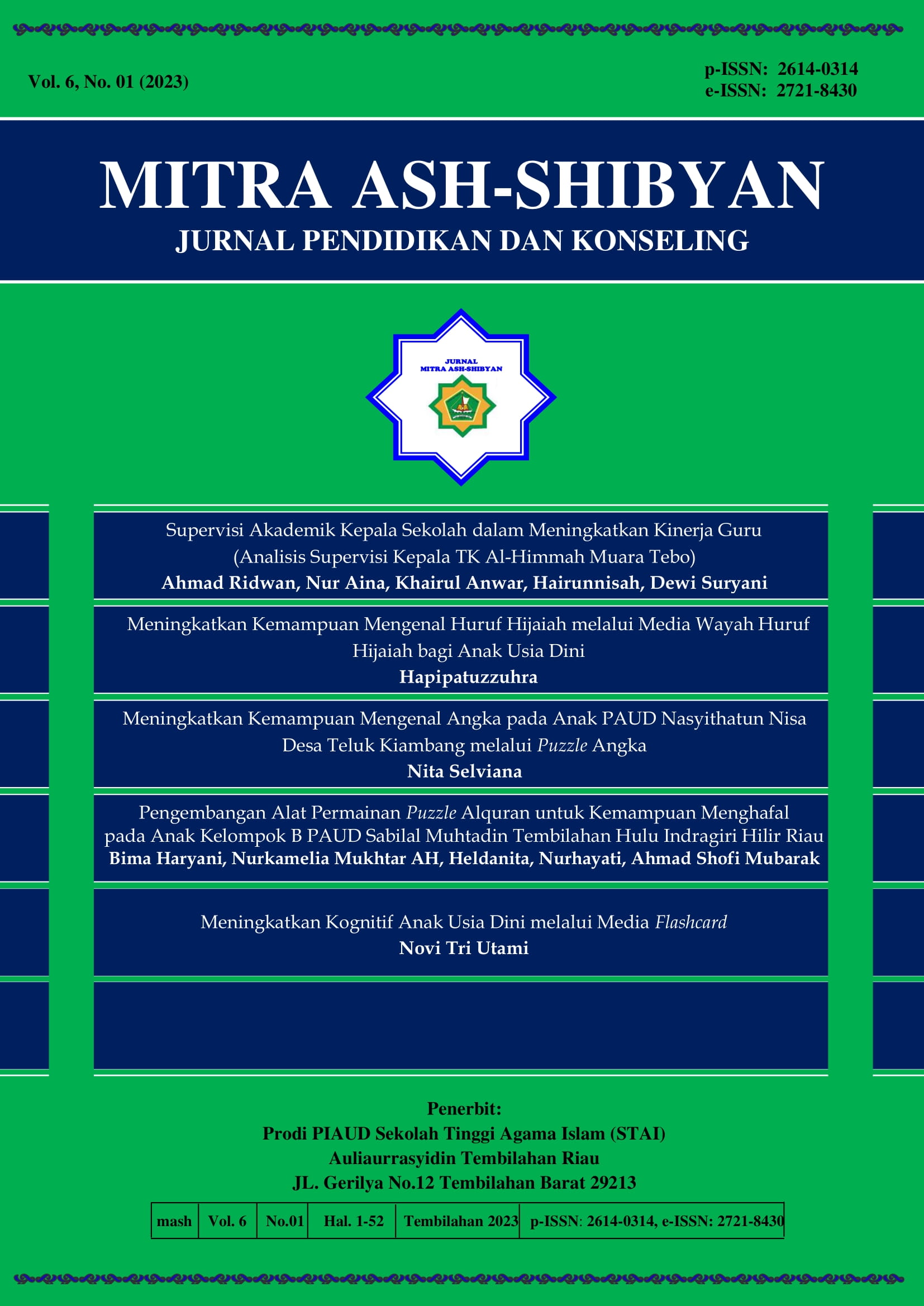 Downloads
How to Cite
Haryani, B., AH, N. M., Heldanita, Nurhayati, N., & Mubarak, A. S. (2023). Pengembangan Alat Permainan Puzzle Alquran untuk Kemampuan Menghafal pada Anak Kelompok B PAUD Sabilal Muhtadin Tembilahan Hulu Indragiri Hilir Riau. Mitra Ash-Shibyan: Jurnal Pendidikan Dan Konseling, 6(01), 33–42. https://doi.org/10.46963/mash.v6i01.778
License
Copyright (c) 2023 Bima Haryani, Nurkamelia Mukhtar AH, Heldanita, Nurhayati, Ahmad Shofi Mubarak
This work is licensed under a Creative Commons Attribution-ShareAlike 4.0 International License.
Authors who publish with this journal agree to the following terms:
1. Copyright on any article is retained by the author(s).
2. The author grants the journal, right of first publication with the work simultaneously licensed under a Creative Commons Attribution shareAlike 4.0 International License that allows others to share the work with an acknowledgment of the work's authorship and initial publication in this journal.
3. Authors are able to enter into separate, additional contractual arrangements for the non-exclusive distribution of the journal's published version of the work (e.g., post it to an institutional repository or publish it in a book), with an acknowledgment of its initial publication in this journal.
4. Authors are permitted and encouraged to post their work online (e.g., in institutional repositories or on their website) prior to and during the submission process, as it can lead to productive exchanges, as well as earlier and greater citation of published work.
5. The article and any associated published material is distributed under the Creative Commons Attribution-ShareAlike 4.0 International License