Pengelolaan Keuangan pada TK Bunga Tanjung, Sarolangun
Keywords:
Management, Finance, ECCE Institution
Abstract
An educational institution must be well managed in order to produce the expected results. There is often however misappropriation by individuals. In addition, the lack of institutions' ability to obtain financial resources, the large operational expenditures of education and infrastructure and the non-transparency of financial information submitted to institutional supervisory get serious problems. This study aims to find out the picture of financial management in Bunga Tanjung Kindergarten, Sarolangun. This research uses a qualitative descriptive approach. The data was collected through a structured interview with the manager of Bunga Tanjung Kindergarten, Sarolangun. The data were analyzed using Miles and Huberman's model, namely: data collection, data reduction, data presentation and drawing conclusions. The results showed that school finances were well managed as planned as budgets. This is shown by several activity plans that are realized as appropriate namely transparency, accountable, effective, and efficiency. The financial management in this school starts from planning, implementing, recording, accountability, and reporting.
Downloads
Download data is not yet available.
References
Andiawati, E. (2017). Pengelolaan Keuangan Lembaga Pendidikan/Sekolah. Prosiding Seminar Nasional Pendidikan Ekonomi, Bisnis, dan Keuangan. 3, hal. 2. Surakarta: FKIP UNS .
Arwildayanto, Lamatenggo, N., & Sumar, W. T. (2017). Manajemen Keuangan dan Pembiayaan Pendidikan: Program Pendidikan untuk Rakyat (PRODIRA) Akselerasi Pemerataan dan Peningkatan Jenjang Layanan Pendidikan di Provinsi Gorontalo (Vol. 1). Bandung: Widya Padjajaran.
Bafadal, I. (2012). Manajemen Peningkatan Mutu Sekolah Dasar. Jakarta: Bumi Aksara.
Dewi, R. M., & Aminah, A. (2018). Pelatihan Manajemen dan Administrasi Keuangan Sekolah di TK 'Aisyiyah Tanggerang Selatan. SEMBADHA 2018: Seminar Hasil Pengabdian Kepada Masyarakat. 1, hal. 177-179. Tangerang Selatan: Politeknik Keuangan Negara STAN. Diambil kembali dari https://core.ac.uk/download/pdf/230466373.pdf
Dilla, R. F. (2019). Manajemen Keuangan Pendidikan Anak Usia Dini Perspektif Wealth Management: Studi di TK Ceria Demangan Baru Yogyakarta. Manageria: Jurnal Manajemen Pendidikan Islam, 4(2), 353-371. doi:https://doi.org/10.14421/manageria.2019.42-09
Hasibuan, A. R. (2021). Penerapan Tata Kelola KeuanganPendidikan Sekolah Dasar pada Akhir Periode 2020. Juripol (Jurnal Instutusi Politeknik Ganesha Medan), 4(1), 305.
Indawati, E., Mulyati, & Miftakhodin. (2019). Pengelolaan Keuangan Sekolah (MPPKS - Keu). Jakarta: Direktorat PembDirektorat Jenderal Guru dan Tenaga Kependidikan, Kementerian Pendidikan dan Kebudayaan.
Nugrahani, F. (2014). Metode Penelitian Kualitatif dalam Penelitian Pendidikan Bahasa. Surakarta: Cakra Buku.
Pusvitasari, R., & Sukur, M. (2020). Manajemen Keuangan Sekolah dalam Pemenuhan Sarana Prasarana Pendidikan: Studi Kasus di SD Muhammadiyah 1 Krian, Sidoarjo. Al-Tanzim: Jurnal Manajemen Pendidikan Islam, 4(1), 94-106. doi:https://doi.org/10.33650/al-tanzim.v4i1.959
Rahmah, N. (2016). Prinsip-prinsip Manajemen Keuangan Sekolah. Kelola: Journal of Islamic Education Management, 1(1), 73-77. doi:10.24256/kelola.v1i1.430
Rijali, A. (2018). Analisis Data Kualitatif. Jurnal Ahadharah, 83.
Rohmat. (2017). Manajemen Pendidikan Anak Usia Dini. Yin Yang, 309-310.
Rusdiana, A., & Wardija. (2013). Manajemen Keuangan Sekolah : Konsep, Prinsip dan Aplikasinya di Sekolah/Madrasah (Vol. 1). Bandung: Arsad Press.
Tyas, E., Akil, & Kejora, M. t. (2021). Pengelolaan Keuangan dan Upaya Perbaikan Sistem Keuangan di TK Al-Istiqomah. PeTeKa (Jurnal Penelitian Tindakan Kelas dan Pengembangan Pembelajaran), 4(2), 333-342. doi:10.31604/ptk.v4i2.333-342
Yusuf, S. (2019). Strategi Kepengawasan Tumpang Sari Menuju PAUD Berkualitas. Jurnal Ilmiah Profesi Pendidikan, 4(2), 124-127. doi:10.29303/jipp.v4i2.93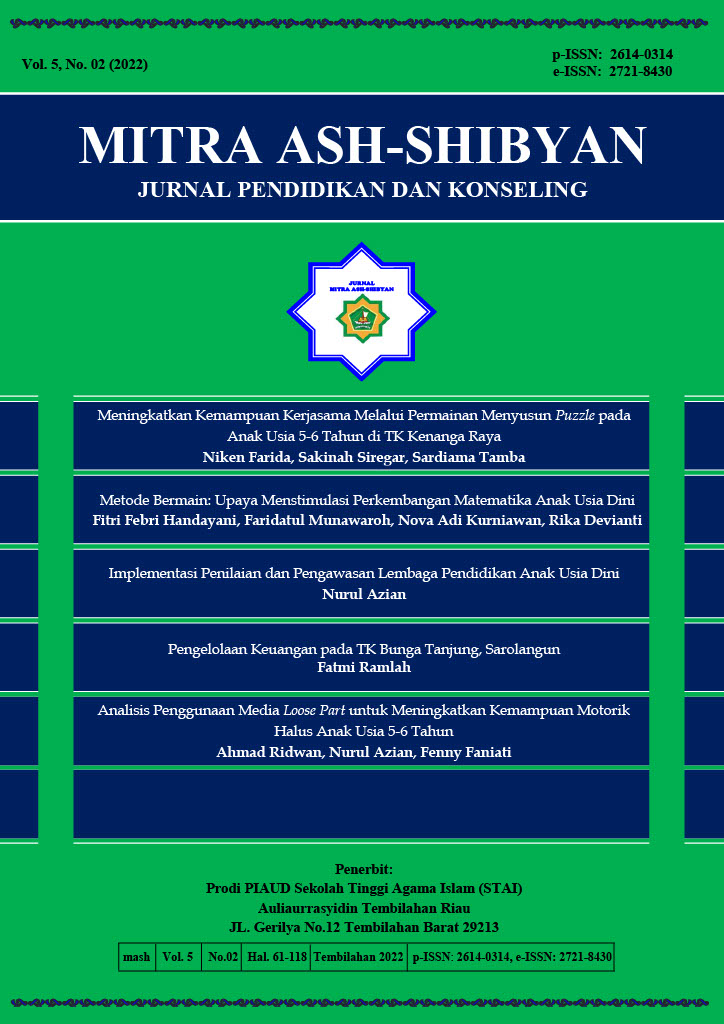 Downloads
How to Cite
Ramlah, F. (2022). Pengelolaan Keuangan pada TK Bunga Tanjung, Sarolangun. Mitra Ash-Shibyan: Jurnal Pendidikan Dan Konseling, 5(02), 95–104. https://doi.org/10.46963/mash.v5i02.532
License
Copyright (c) 2022 Fatmi Ramlah
This work is licensed under a Creative Commons Attribution-ShareAlike 4.0 International License.
Authors who publish with this journal agree to the following terms:
1. Copyright on any article is retained by the author(s).
2. The author grants the journal, right of first publication with the work simultaneously licensed under a Creative Commons Attribution shareAlike 4.0 International License that allows others to share the work with an acknowledgment of the work's authorship and initial publication in this journal.
3. Authors are able to enter into separate, additional contractual arrangements for the non-exclusive distribution of the journal's published version of the work (e.g., post it to an institutional repository or publish it in a book), with an acknowledgment of its initial publication in this journal.
4. Authors are permitted and encouraged to post their work online (e.g., in institutional repositories or on their website) prior to and during the submission process, as it can lead to productive exchanges, as well as earlier and greater citation of published work.
5. The article and any associated published material is distributed under the Creative Commons Attribution-ShareAlike 4.0 International License