Metode Bercakap-cakap: Pengaruhnya terhadap Keterampilan Berbicara Anak Usia 4-5 Tahun
Keywords:
Conversation, Speaking skill, Early childhood
Abstract
Language is the ability to communicate with other people. One of the language skills that can be developed first is speaking skill. Speaking skills need to be optimized because they can affect the next child's life. There are various kinds of problems related to speaking skills including some children who have not been able to communicate the ideas in their minds, express their opinions, and have not dared to speak. In addition, the teaching methods used by teachers have an influence on children's interest in expressing their opinions. This study aims to determine the effect of the conversing method on the speaking skills of children aged 4-5 years. The quantitative approach was carried out using an experimental method of pre-experimental design, one group pretest, and post-test design. Subjects in this study as many as 17 children, data collection techniques using the method of observation and documentation. Furthermore, the data analysis technique used the Wilcoxon Matched Pairs Test formula. The results showed that the method of speaking had an effect on children's speaking skills.
Downloads
Download data is not yet available.
References
Arikunto, S. (2002). Prosedur Penelitian Suatu Pendekatan Praktik. Jakarta: Rineka Cipta.
Astuti, H. (2012). Meningkatkan Kemampuan Berbahasa Lisan Anak Melalui Metode Bercakap-Cakap Bagi Anak Kelompok B TK Pertiwi Nangsri Manisrenggo Klaten Tahun Ajaran 2012/2013, (Skripsi Universitas Muhammadiyah Surakarta.).
Ayuandia, N., Saparahayuningsih, S., & Ardina, M. (2017). Meningkatkan Keterampilan Berbicara Melalui Metode Karyawisata pada Anak Kelompok B Lab School PAUD UNIB Kota Bengkulu. Jurnal Potensia PG-PAUD UNIB, 2(1), 32–36.
Depdiknas. (2014). Permendikbud No. 146 Tahun 2014. Jakarta: Depdiknas.
Dhieni, N. (2007). Penggunaan Metode Bercakap-Cakap dan Keterampilan Berbicara Anak Usia Dini. Jakarta: Universitas Terbuka.
Eriani, E., & Dimyati. (2019). Story Telling using Madihin : Learning Methods for Early Childhood Listening Skills. Jurnal Obsesi : Jurnal Pendidikan Anak Usia Dini, 3(2), 303–310. https://doi.org/10.31004/obsesi.v3i2.172
Isjoni. (2011). Model Pembelajaran Anak Usia Dini. Bandung: Alfabeta.
Khoiriyah, & Rachman, A. U. (2019). Metode Bercakap-cakap Sebagai Kemampuan Peningkatan Berbicara Anak. Journal of Early Childhood Care & Education (JECCE), 2(1), 38–54. https://doi.org/10.26555/jecce.v2i1.567
Komariah, N., Haenilah, E. Y., & Riswandi, R. (2019). Penggunaan Metode Bercakap-Cakap dan Keterampilan Berbicara Anak Usia Dini. Jurnal Pendidikan Anak (PG-PAUD FKIP Universitas Lampung), 5(1).
Sugiyono. (2016). Metode Penelitian Pendidikan. Bandung: Alfabeta.
Sujiono, Y. N. (2012). Konsep Dasar Pendidikan Anak Usia Dini. Jakarta: Indeks.
Susanto, A. (2011). Perkembangan Anak Usia Dini (Pengantar dalam Berbagai Aspeknya). Jakarta: Kencana.
Trianto. (2013). Desain Pengembangan Pembelajaran Tematik bagi Anak Usia dini TK/RA dan Anak Usia Kelas Awal SD/MI. Jakarta: Kencana Prenada Media Guru.
Utari, R. (2014). Pengaruh Metode Bercakap-Cakap Terhadap Kemampuan Membaca Anak Usia 5-6 Tahun di TK Pelangi Medan T.A 2013/2014., (Undergraduate Thesis, UNIMED).
Wiyani, N. A., & Barnawi. (2014). Format PAUD (Konsep, Karakteristik, dan Implementasi Pendidikan Anak Usia Dini. Yogyakarta: Ar-Ruzz Media.
Yusuf, S. (2009). Psikologi Perkembangan Anak dan Remaja. Bandung: Rosdakarya.
Zubaidah, E. (2003). Pengembangan Bahasa Anak Usia Dini. Yogyakarta: Universitas Negeri Yogyakarta.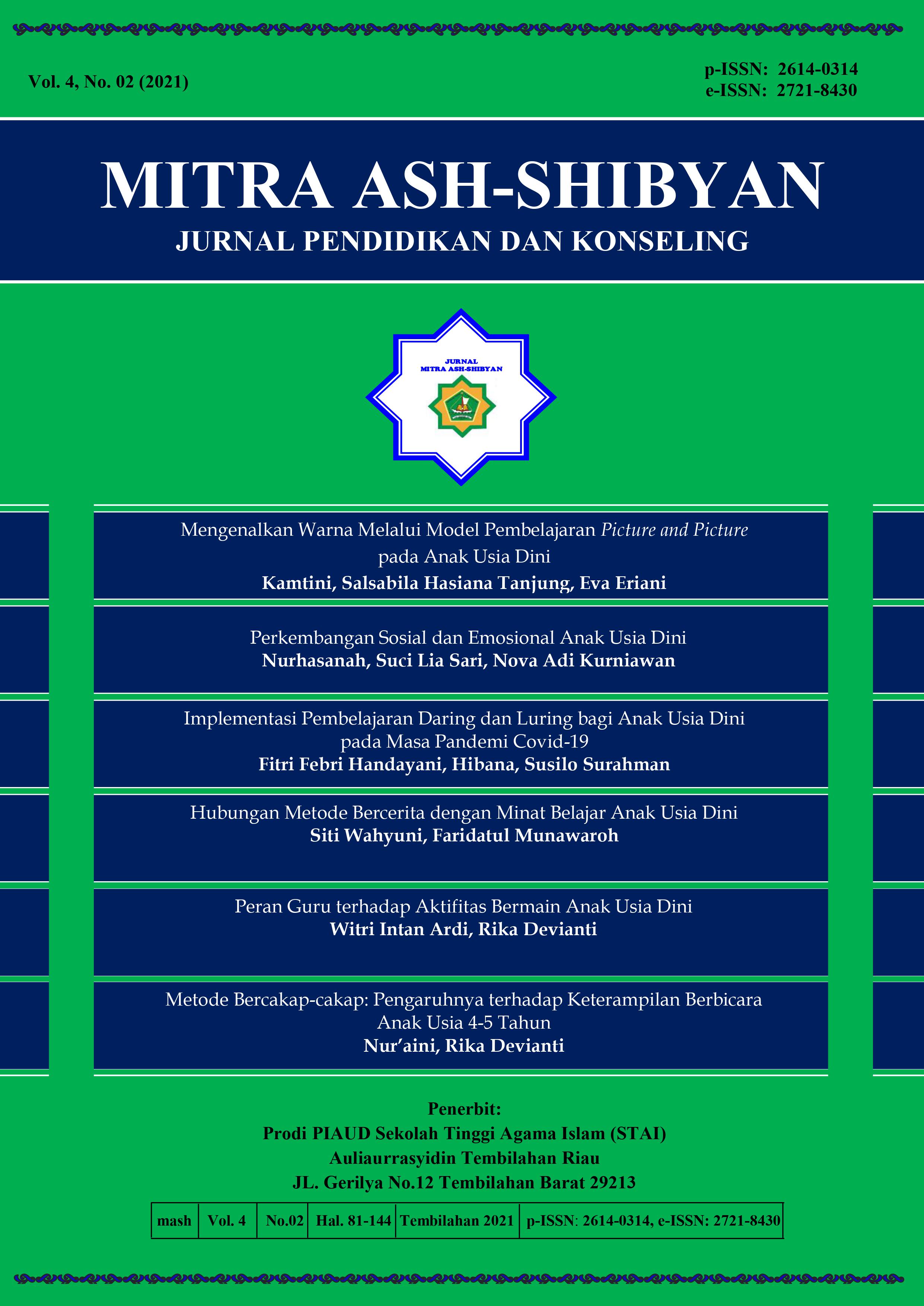 Downloads
How to Cite
Nuraini, N., & Rika Devianti. (2021). Metode Bercakap-cakap: Pengaruhnya terhadap Keterampilan Berbicara Anak Usia 4-5 Tahun. Mitra Ash-Shibyan: Jurnal Pendidikan Dan Konseling, 4(02), 135–144. https://doi.org/10.46963/mash.v4i02.343
License
Authors who publish with this journal agree to the following terms:
1. Copyright on any article is retained by the author(s).
2. The author grants the journal, right of first publication with the work simultaneously licensed under a Creative Commons Attribution shareAlike 4.0 International License that allows others to share the work with an acknowledgment of the work's authorship and initial publication in this journal.
3. Authors are able to enter into separate, additional contractual arrangements for the non-exclusive distribution of the journal's published version of the work (e.g., post it to an institutional repository or publish it in a book), with an acknowledgment of its initial publication in this journal.
4. Authors are permitted and encouraged to post their work online (e.g., in institutional repositories or on their website) prior to and during the submission process, as it can lead to productive exchanges, as well as earlier and greater citation of published work.
5. The article and any associated published material is distributed under the Creative Commons Attribution-ShareAlike 4.0 International License