Pengaruh Religiositas terhadap Minat Mahasiswa Menabung di Bank Syariah
Keywords:
Religiosity, Interest, Saving
Abstract
As students who have an educational background in Islamic Economics, each has a different perception of Islamic Banking. There are still students who compare Islamic banks and conventional banks, a doubt toward the operational saving system, financing or discounting, and the existence of conventional Banks being more affordable than Islamic banks in remote areas. This study aimed to examine the effect of religiosity on students' interest in saving in Islamic banks. This type of research was quantitative with data analysis using a simple regression method. The results showed that the t count was 14,832, and the t table was 1,975 < t count 14,832 with a significance of 0.000 under 0.05. Therefore, it concluded that religiosity significantly affects the saving interest of students at Islamic Banks.
Downloads
Download data is not yet available.
References
Ali, M. D. (2016). Pendidikan Agama Islam. Jakarta: Rajawali Pers.
Ancok, D., & Suroso, F. N. (2011). Psikologi Islami. Yogyakarta: Pustaka Pelajar.
Antonio, M. S. (2001). Bank Syariah Dari Teori ke Praktik. Jakarta: Gema Insani Press.
Arif, M. N., Rianto A. (2012). Dasar-Dasar Pemasaran Bank Syariah. Bandung: Alfabeta.
Arifin, B. S. (2015). Psikologi Agama. Bandung: CV Pustaka Setia.
Astuti, T., & Mustikawati, R. I. (2013). Pengaruh persepsi nasabah tentang tingkat suku bunga, promosi dan kualitas pelayanan terhadap minat menabung nasabah. Nominal: Barometer Riset Akuntansi dan Manajemen, 2(1), 182-198. https://doi.org/10.21831/nominal.v2i1.1655
Azis, M. A. (2019). Analisis Faktor-Faktor Yang Mempengaruhi Minat Menabung Di Bank Syariah". Skripsi, Salatiga: IAIN Salatiga.
Aziz, A. (2010). Manajemen Investasi Syariah. Bandung: Alfabeta.
Bugin, B. (2010). Metodologi Penelitian Kuantitatif. Jakarta: Pranada Media Groub.
Chaplin, James P. (2006). Kamus Lengkap Psikologi. Jakarta: PT Raja Grafindo Persada.
Departemen Agama RI. (2008). Al-Quran dan Terjemahnya. Bandung: CV Diponegoro.
Fahmi, Irham. (2014). Pengantar Perbankan Teori & Aplikasi. Bandung: Alfabeta.
Ferdinand, Augusty. (2006). Metode Penelitian Manajemen. Semarang: Badan Penerbit Universitas Diponegoro.
Hasan, Fuad, dkk. (2003). Kamus Istilah Psikologi. Jakarta: Progres.
Ismail. (2013). Perbankan Syariah. Jakarta: Kencana.
Jamaludin, A. N. (2015). Agama dan Konflik Sosial. Bandung: CV Pustaka Setia.
Kristiyadi, K., & Hartiyah, S. (2017). Pengaruh kelompok acuan, religiusitas, promosi dan pengetahuan tentang lembaga keuangan syariah terhadap minat menabung di koperasi jasa keuangan syariah (Studi Kasus pada BMT TAMZIS Wonosobo). Jurnal Ekonomi dan Teknik Informatika, 4(2), 44-63.
Kuncoro, M. (2013). Metode Riset untuk Bisnis & Ekonomi. Edisi 4. Jakarta: Erlangga.
Latumaerissa, J. R. (2013). Bank dan Lembaga Keuangan Lain. Jakarta: Salemba Empat.
Muhaimin. (2014). Studi Islam Dalam ragam Dimensi dan Pendekatan. Jakarta: Kencana.
Puspito, H. (1990). Sosiologi Agama. Yogyakarta: Kanisus dan BPK Gunung Mulia.
Rusdianto, H., & Ibrahim, C. (2016). Pengaruh Produk Bank Syariah Terhadap Minat Menabung Dengan Persepsi Masyarakat Sebagai Variabel Moderating Di Pati. Equilibrium: Jurnal Ekonomi Syariah, 4(1), 43-61. http://dx.doi.org/10.21043/equilibrium.v4i1.1837
Santoso, S. (2014). SPSS From Essential to Expert Skilss. Jakarta: PT Elex Media Komputindo.
Sugiyono. (2016). Metode Penelitian Kuantitatif Dan Kualitatif, Dan R&D. Bandung: Alfabeta.
Sugiyono. (2016). Metode Penelitian Manajemen. Bandung: Alfabeta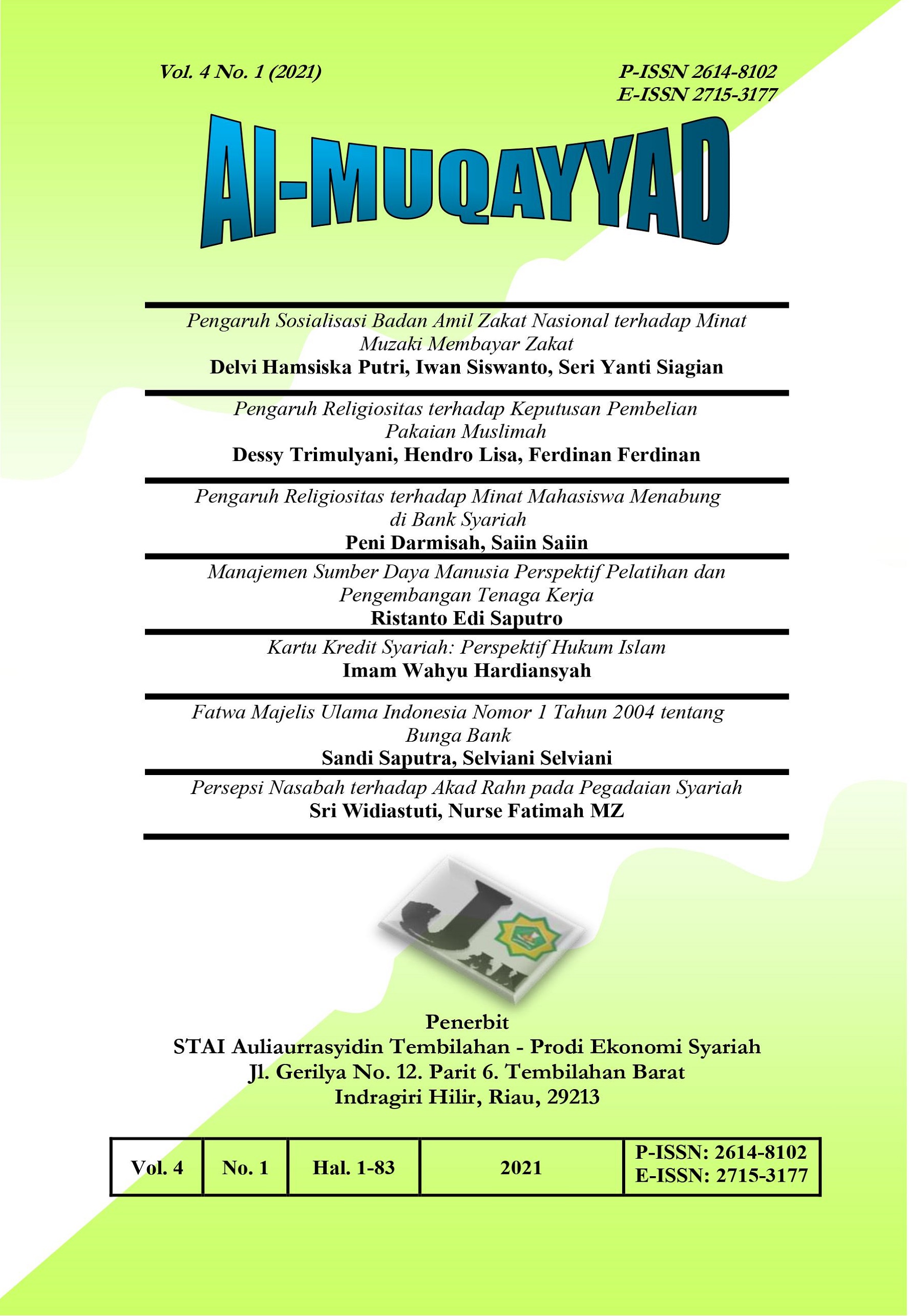 Downloads
How to Cite
Darmisah, P., & Saiin, S. (2021). Pengaruh Religiositas terhadap Minat Mahasiswa Menabung di Bank Syariah. AL-Muqayyad, 4(1), 25–35. https://doi.org/10.46963/jam.v4i1.339
License
Authors who publish with this journal agree to the following terms:
1. Copyright on any article is retained by the author(s).
2. The author grants the journal, right of first publication with the work simultaneously licensed under a Creative Commons Attribution shareAlike 4.0 International License that allows others to share the work with an acknowledgment of the work's authorship and initial publication in this journal.
3. Authors are able to enter into separate, additional contractual arrangements for the non-exclusive distribution of the journal's published version of the work (e.g., post it to an institutional repository or publish it in a book), with an acknowledgment of its initial publication in this journal.
4. Authors are permitted and encouraged to post their work online (e.g., in institutional repositories or on their website) prior to and during the submission process, as it can lead to productive exchanges, as well as earlier and greater citation of published work.
5. The article and any associated published material is distributed under the Creative Commons Attribution-ShareAlike 4.0 International License