Gaya Belajar SAVIO: Membentuk Pelajar Multitalent dalam Pembelajaran Bahasa Arab
Keywords:
SAVIO, Multitalented, Arabic Learning
Abstract
The purpose of this study is to find out how SAVIO's learning style activities can form multitalented students in learning Arabic for students. This research includes phenomenological research with a qualitative approach. The location of the research was carried out at MI Nahdlatul Ulama' Kraksaan. Data collection techniques were carried out through the process of observation, in-depth interviews, and documentation. The data analysis technique uses the Miles and Huberman Interactive Model with data reduction activities, data presentation, and drawing conclusions. The validity of the data with the process of triangulation of sources and techniques. The results of this study state that the SAVIO learning style applied by MI Nahdhatul Ulama', especially in learning Arabic, reaches the stage of forming students who master many fields (multitalent) through four main activities, namely (1) see and demonstrate, (2) matching picture, (3 ) analyze problem solving with true or false, and (4) dialogue habits. So this SAVIO learning style can awaken students' integrated intelligence in full by combining physical movement with intellectual activity, creating a better, interesting and effective learning atmosphere.
Downloads
Download data is not yet available.
References
Alfiani, D. A. (2019). Penerapan Model Pembelajaran SAVI (Somatis, Auditori, Visual, Intelektual) terhadap Hasil Belajar Anak Usia Dini. E-Journal Pendidikan Anak Usia Dini Universitas Pendidikan Ganesha, 11(02), 1–15.
Azim, A. (2020). Pesantren Berdialog dengan Zaman (Mewujudkan Integrasi Ilmu Menjawab Modernitas). JPPI (Jurnal Penelitian Pendidikan Indonesia), 6(6).
Fatimah, T. S., Arwani, W., & Masri'ah. (2020). Pengaruh Inteligensi Linguistik terhadap Hasil Belajar. El-Ibtikar, 09(2), 208–225.
Goodman, B. E., Barker, M. K., & Cooke, J. E. (2022). Best Practices in Active and Student-Centered Learning in Physiology Classes. Advances in Physiology Education, 42(3), 417–423. https://doi.org/10.1152/advan.00064.2018
Helm, F. (2021). Dialogue Facilitation: Learning to Listen. Innovative Language Pedagogy Report, 2021, 11–15. https://doi.org/10.14705/rpnet.2021.50.1229
Hwang, G. J., Chang, S. C., Chen, P. Y., & Chen, X. Y. (2018). Effects of Integrating an Active Learning-Promoting Mechanism into Location-Based Real-World Learning Environments on Students' Learning Performances and Behaviors. Educational Technology Research and Development, 66(2), 451–474. https://doi.org/10.1007/s11423-017-9567-5
Konyushkova, K., Sznitman, R., & Fua, P. (2019). Discovering General-Purpose Active Learning Strategies. International Journal of Instruction, 3(2), 1–10. http://arxiv.org/abs/1810.04114
Lestari, N. F. (2020). Efektivitas Model Pembelajaran SAVI ( Somatic, Auditory, Visual, Intellectualy) dalam Meningkatkan Hasil Belajar dan Mengembangkan Keterampilan 4C di Sekolah Dasar. JPdK, 2(1).
Macdonald, R., Brandt, S., Theakston, A., Lieven, E., & Serratrice, L. (2020). The Role of Animacy in Children's Interpretation of Relative Clauses in English: Evidence From Sentence–Picture Matching and Eye Movements. Cognitive Science, 44(8), 1–35. https://doi.org/10.1111/cogs.12874
Madiistriyanto, H., & Hadiwijaya, D. (2020). Generasi Milenial : Tantangan Membangun Komitmen Kerja/Bisnis dan Adversity Quotient (AQ). Indigo Media.
Mary, M., & Price, E. (2021). National Coalition of Alternative Community Schools. 29.
Nur, S., & Mufidah, A. (2020). Pembentukan Kecerdasan Linguistik dan Keterampilan Membaca Alquran Siswa Madrasah Tsanawiyah. 4(1), 59–78.
Nurhayati, N. (2017). Peningkatan Partisipasi dan Hasil Belajar Siswa Kelas IVA dalam Pembelajaran PAI dengan Strategi True Or False di SD Negeri 21 Batang Anai. JPPI (Jurnal Penelitian Pendidikan Indonesia), 3(2), 30–43. https://doi.org/10.29210/02017115
Rahayu, A., Nuryani, P., & Riyadi, A. R. (2019). Penerapan Model Pembelajaran SAVI untuk Meningkatkan Aktivitas Belajar Siswa. Jurnal Pendidikan Guru Sekolah Dasar, 4(II), 102–111.
Rahmat, P. S. (2019). Peran Pendidikan dalam Menyiapkan Generasi Emas. El-Ibtikar, 03(2), 387–398.
Rizam, M. M., Ayuanita, K., & Kusumawati, H. (2021). Strategi Multitalenta untuk Mengaktifkan Siswa dalam Pembelajaran Menulis Naskah Drama. GHANCARAN: Jurnal Pendidikan Bahasa dan Sastra Indonesia, 142–152. https://doi.org/10.19105/ghancaran.vi.5619
Ropii, M., & Fahrurrozi, M. (2017). Evaluasi Hasil Belajar. Universitas Hamzanwadi Press.
Sapti, M. (2018). Kemampuan Koneksi Matematis (Tinjauan (Tinjauan terhadap Pendekatan Pembelajaran SAVI). Jurnal Pendidikan Tambusai, 2(1).
Shariq, M. (2020). First Language Acquisition : A Qur'anic and Linguistic Perspective. TESOL International Journal, 15(3), 89–101.
Shobirin, A., & Hilmi, D. (2021). Implikasi Manajemen Program Bahasa Arab dalam Mencetak Lulusan Unggul. Tarbiyatuna : Jurnal Pendidikan Ilmiah, 6(1), 15–26.
Staker, H., Arnett, T., Powell, A., & Innovation, C. C. I. for D. (2020). Developing a Student-Centered Workforce through Micro-Credentials. Clayton Christensen Institute for Disruptive Innovation, September. https://acces.bibl.ulaval.ca/login?url=https://search.ebscohost.com/login.aspx?direct=true&db=eric&AN=ED610709&amp%0Alang=fr&site=ehost-live
Suprihatin, D., & Hariyadi, A. (2021). Peningkatan Kemampuan Menentukan Ide Pokok Melalui Model SAVI Berbasis Mind Mapping pada Siswa Sekolah Dasar. Jurnal Educatio, 7(4), 1384–1393. https://doi.org/10.31949/educatio.v7i4.1468
Waritsman, A., & R, H. (2020). Kreativitas Guru dalam Mengajar Untuk Meningkatkan Motivasi Belajar Siswa di MA Madinatul Ilmi DDI SIAPO. NUSANTARA : Jurnal Ilmu Pendidikan, 1(2), 27–34.
Yulianty, L. T., Martono, & Piyadi, A. T. (2017). Peningkatan Keterampilan Berbicara melalui Dialog Pementasan Drama Menggunakan Teknik SAVI. Jurnal Al Lubab, 15(2), 1–23.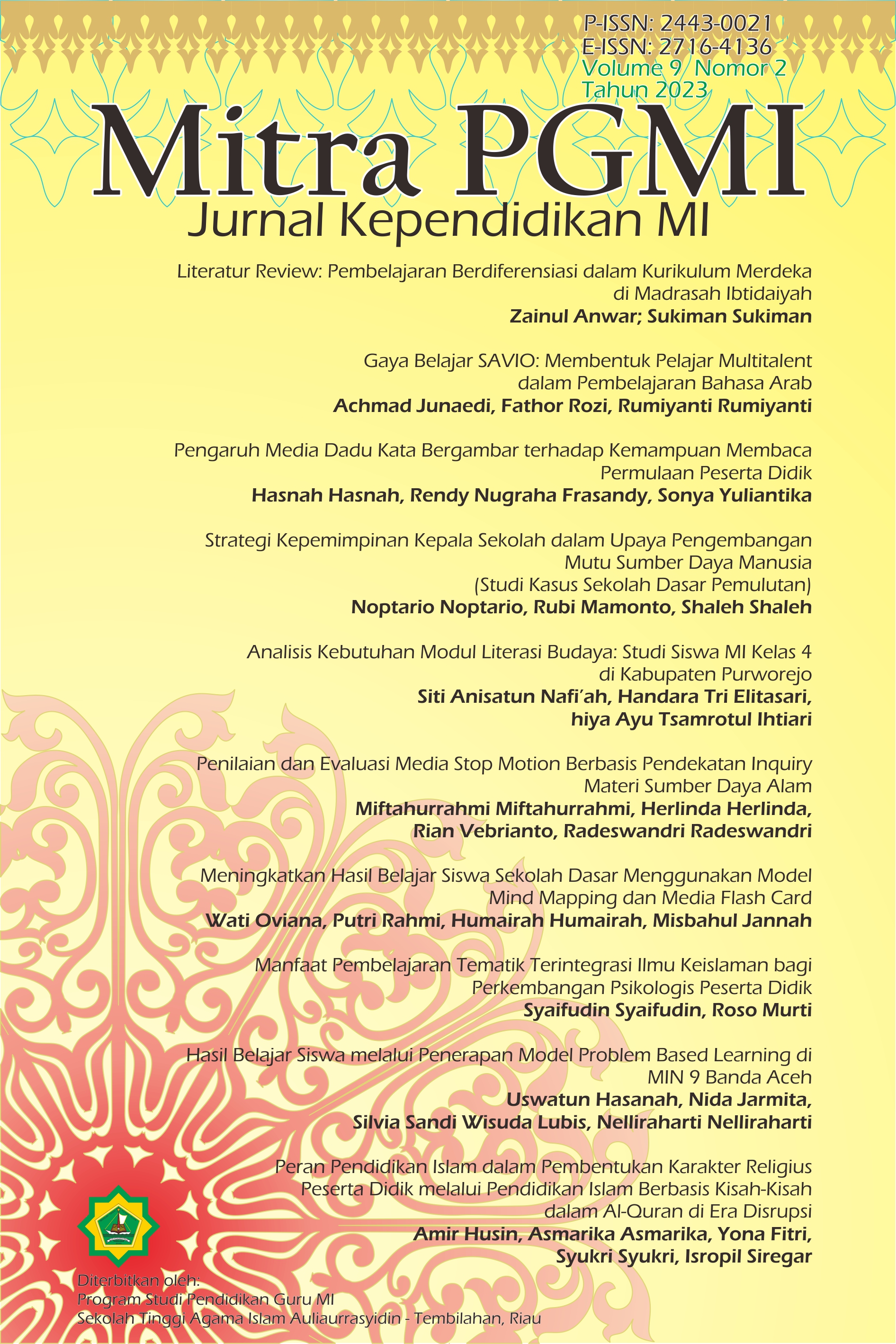 Downloads
How to Cite
Junaedi, A., Rozi, F., & Rumiyanti, R. (2023). Gaya Belajar SAVIO: Membentuk Pelajar Multitalent dalam Pembelajaran Bahasa Arab. Mitra PGMI: Jurnal Kependidikan MI, 9(2), 90–105. https://doi.org/10.46963/mpgmi.v9i2.918
License
Copyright (c) 2023 Achmad Junaedi, Fathor Rozi, Rumiyanti Rumiyanti
This work is licensed under a Creative Commons Attribution-ShareAlike 4.0 International License.
Authors who publish with this journal agree to the following terms:
1. Copyright on any article is retained by the author(s).
2. The author grants the journal, right of first publication with the work simultaneously licensed under a Creative Commons Attribution shareAlike 4.0 International License that allows others to share the work with an acknowledgment of the work's authorship and initial publication in this journal.
3. Authors are able to enter into separate, additional contractual arrangements for the non-exclusive distribution of the journal's published version of the work (e.g., post it to an institutional repository or publish it in a book), with an acknowledgment of its initial publication in this journal.
4. Authors are permitted and encouraged to post their work online (e.g., in institutional repositories or on their website) prior to and during the submission process, as it can lead to productive exchanges, as well as earlier and greater citation of published work.
5. The article and any associated published material is distributed under the Creative Commons Attribution-ShareAlike 4.0 International License