Meningkatkan Hasil Belajar Siswa Sekolah Dasar Menggunakan Model Mind Mapping dan Media Flash Card
Keywords:
Learning Outcomes, Flash Card Media, Mind Mapping Models
Abstract
Based on the results of initial observations at SD Negeri Lamreung Aceh Besar it is known that some students have not reached the minimum completeness criteria (KKM) that has been determined by the school, namely 69. This study aims to find out how teacher activities, student activities and student learning outcomes are in the learning process using the model mind mapping and flash card media in thematic learning in class V SD Negeri Lamreung Aceh Besar. The research method used is classroom action research. Collecting data in this study used teacher activity observation sheets, student activity sheets and test questions. The data analysis technique used is descriptive qualitative. The results obtained showed that teacher activity in cycle I was 78.44 (good) and increased in cycle II to 91.37 (very good). Student activity in cycle I obtained a score of 73.27 (good) and increased in cycle II to 88.79 (very good). Student learning outcomes in cycle I was 65.21% (enough) and there was an increase in cycle II to 82.60% (very good). The results of this study indicate that the use of mind mapping models and flash card media can improve student learning outcomes in thematic learning.
Downloads
Download data is not yet available.
References
Aprinawati, I. (2018). Penggunaan Model Peta Pikiran (mind mapping) untuk Meningkatkan pemahaman Membaca Wacana Siswa Sekolah Dasar. Jurnal Basicedu: Vol.2, No.1 .
Arikunto, S. (2009). Penelitian Tindakan kelas. Jakarta: PT Bumi Aksara .
Arsyad, A. (2021). Media pembelajaran. Jakarta: PT Raja Grafindo Persada.
Harwanti, M. S., Pratiwi, I. A., & Setiawan, D. (2021). Penerapan Model Mind Mapping Menggunakan Media Flash Card untuk Meningkatkan Hasil Belajar Tema 5 pada siswa Kelas IV SD 02 Megawon. Jurnal Pendidikan Dasar, Vol.1, No.1 .
Kadir, A., & Asrohah, H. (2015). Pembelajaran Tematik . Jakarta: PT Grafindo Persada .
Kurniansih, I., & Berlin, S. (2014). Teknik dan Cara Mudah Membuat Penelitian Tindakan Kelas untuk Membangun Profesi Guru . Jakarta: Kata Pena.
Lestari, W. A., Akhdinirwanto, R. W., & Maftukhin, A. (2012). Penggunaan Mind mapping untuk Meningkatkan hasil Belajar pada Siswa MtS negeri Purworejo. Radiasi: Jurnal Berkala Pendidikan Fisika, Vol.1, No.1 , 76-79.
Nurrita, T. (2018). Pengembangan Media Pembelajaran untuk Meningkatkan hasil Belajar Siswa. Jurnal Misykat, Vol.3, No.1 , 171-187.
Octavia, A. S. (2020). Model Model Pembelajaran . yogyakarta: CV Budi Utama.
Sanjaya, W. (2016). Penelitian Tindakan Kelas. Jakarta: Prenada Media.
Sardiman. (2007). Interaksi dan Motivasi Belajar Mengajar . Jakarta: PT grafindo Persada.
Slameto. (2010). Belajar dan Faktor-Faktor yang Mempengaruhinya. Jakarta: Rieneka Cipta.
Sudjana, N. (2018). penilaian hasil Proses Belajar Mengajar . Bandung: PT Remaja Rosda Karya.
Suryani, N. (2018). Media Pembelajaran Inovatif dan Pengembangannya. Bandung: PT RosdaKarya.
Susilana, R., & Riyana, C. (2008). Media Pembelajaran . Bandung: CV Wacana Prima .
Suyadi. (2013). Panduan Penelitian Tindakan Kelas. Yogyakarta : Diva Press.
Swadarma, D. (2013). Penerapan Model Mind mapping dalam Kurikulum Pembelajaran. Jakarta: PT Elex Media Komputindo .
Syam, N., & Ramlah. (2015). Penerapan Model pembelajaran Mind Mapping dalam Meningkatkan hasil Belajar pda mata Pelajaran Ilmu Pengetahuan Sosial Siswa Kelas IV SDN Kota ParePare. Publikasi Pendidikan, Vol. 5,No.3 , 13-19.
Tampubolon, S. (2014). Penelitian Tindakan Kelas Sebagai Pengembangan profesi Pendidik dan Keilmuan . Jakarta : Erlangga.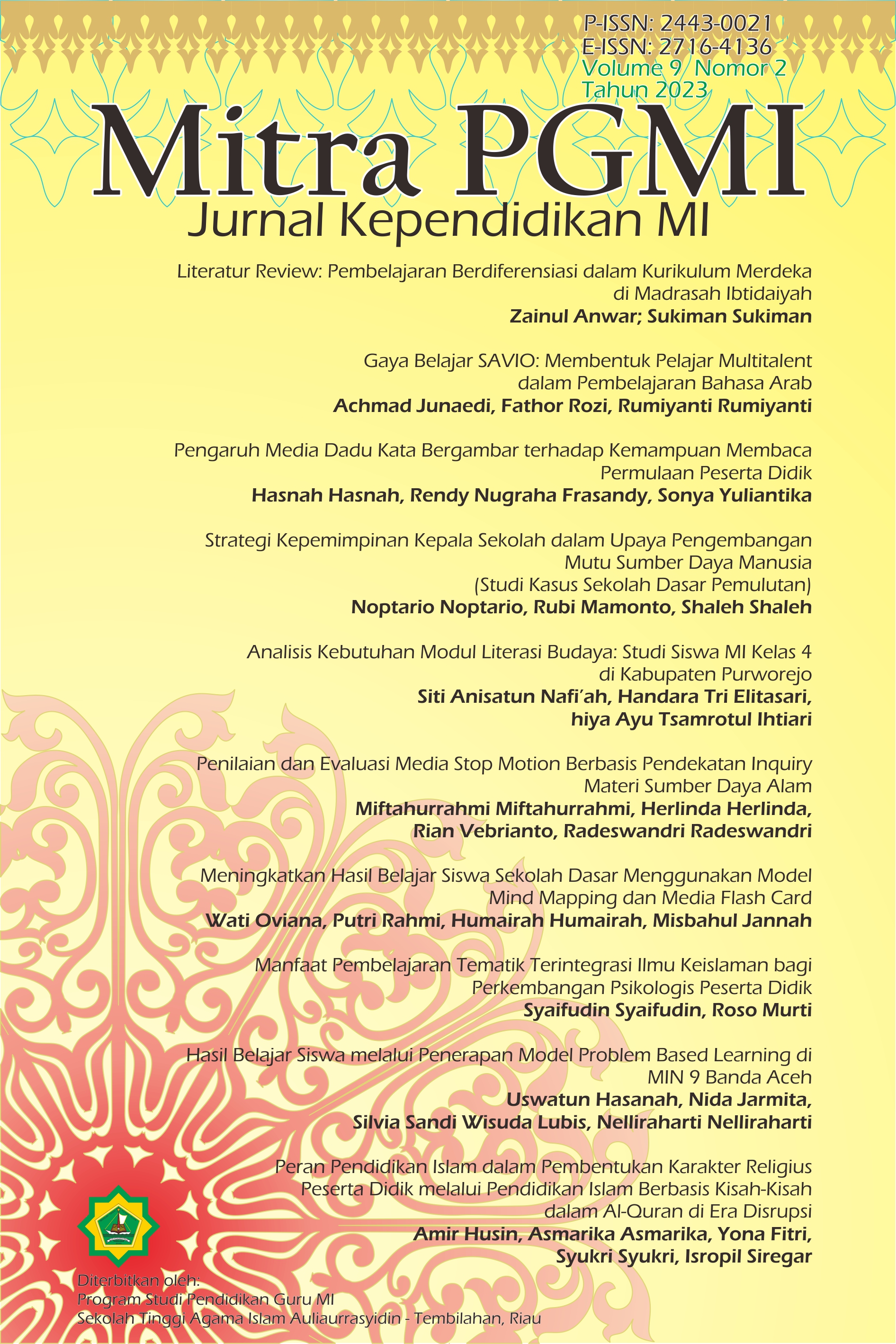 Downloads
How to Cite
Oviana, W., Rahmi, P., Humairah, H., & Jannah, M. (2023). Meningkatkan Hasil Belajar Siswa Sekolah Dasar Menggunakan Model Mind Mapping dan Media Flash Card. Mitra PGMI: Jurnal Kependidikan MI, 9(2), 159–171. https://doi.org/10.46963/mpgmi.v9i2.845
License
Copyright (c) 2023 Wati Oviana, Putri Rahmi, Humairah Humairah, Misbahul Jannah
This work is licensed under a Creative Commons Attribution-ShareAlike 4.0 International License.
Authors who publish with this journal agree to the following terms:
1. Copyright on any article is retained by the author(s).
2. The author grants the journal, right of first publication with the work simultaneously licensed under a Creative Commons Attribution shareAlike 4.0 International License that allows others to share the work with an acknowledgment of the work's authorship and initial publication in this journal.
3. Authors are able to enter into separate, additional contractual arrangements for the non-exclusive distribution of the journal's published version of the work (e.g., post it to an institutional repository or publish it in a book), with an acknowledgment of its initial publication in this journal.
4. Authors are permitted and encouraged to post their work online (e.g., in institutional repositories or on their website) prior to and during the submission process, as it can lead to productive exchanges, as well as earlier and greater citation of published work.
5. The article and any associated published material is distributed under the Creative Commons Attribution-ShareAlike 4.0 International License