Persepsi Guru terhadap Pembelajaran Daring pada Masa Pandemi Covid-19 di MI Se-Kecamatan Rajagaluh Majalengka
Keywords:
Perception, Teacher, Online Learning
Abstract
This research is motivated by the existence of obstacles that occur in the online learning process. Obstacles that occur can lead to not achieving the competencies that must be possessed by students. The purpose of this study is to describe the teacher's perception of online learning, the implementation of online learning, the obstacles to online learning, and the inhibiting factors of online learning. This study uses a qualitative approach with a descriptive method. Data collection techniques used are observation, interviews, and documentation. Meanwhile, the data analysis techniques used are data reduction, data presentation, and drawing conclusions based on Miles and Huberman. The results show that teachers think online learning is the right strategy to use during the Covid-19 pandemic. The implementation is only in the form of assignments via whatsapp groups. The obstacles include decreased student enthusiasm for learning, students' difficulties in understanding learning material, and the lack of maximum learning provided. The inhibiting factor for online learning is in the learning device such as cellphone.
Downloads
Download data is not yet available.
References
Adijaya, N., & Santoso, L. (2018). Persepsi mahasiswa dalam pembelajaran online. E-Jurnal BSI.
Anggito, A., & Johan, S. (2018). Metodologi Penelitian Kualitatif. CV Jejak.
Anugrahana, A. (2020). Hambatan, solusi dan harapan: pembelajaran daring selama masa pandemi covid-19 oleh guru sekolah dasar. Scholaria: Jurnal Pendidikan dan Kebudayaan, 10(3), 282–289.
Carlian, Y., & Yulianti, R. S. (2018). Penggunaan media boneka di kelas awal pada madrasah ibtidaiyah. al-Aulad: Journal of Islamic Primary Education, 1(1), 10–17.
Hamdani, A. R. (2020). Efektivitas Implementasi Pembelajaran Daring (Full Online) Dimasa Pandemi Covid-19. Jurnal Ilmiah PGSD STKIP Malang, Volume 6, 1–9.
Hikmat, Hermawan, E., Aldim, & Irwandi. (2020). Efektivitas Pembalajaran Daring Selama Masa Pandemi Covid-19 : Sebuah Survey Online. Digital Library, UIN SUnan Gung Djati, Bandung, 1–7.
Huzaimah, P. Z., & Risma, A. (2021). Hambatan yang dialami siswa dalam pembelajaran daring matematika pada masa pandemi covid-19. Jurnal Cendekia: Jurnal Pendidikan Matematika, 05(01), 533–541.
Ilma, N. (2015). Peran pendidikan sebagai modal utama membangun karakter bangsa. TADBIR: Jurnal Manajemen Pendidikan Islam, IAIN Sultan Amai Gorontalo, 3(1), 82–87.
Jamaluddin, D., Ratnasih, T., Gunawan, H., & Paujiah, E. (2020). Pembelajaran Daring Masa Pandemik Covid-19 Pada Calon Guru : Hambatan, Solusi dan Proyeksi. Karya Tulis Ilmiah UIN Sunan Gunung Djjati Bandung, 1–10.
Labudasari, E., & Sriastria, W. (2018). Perkembangan emosi, sekolah dasar. academia.education, 1–8.
Mawani, S. (2017). HOS Tjokroaminoto. Anak Hebat Indonesia.
Meidawati, Sobron A.N, Bayu, R. (2019). Persepsi siswa dalam studi pengaruh daring learning terhadap minat Belajar ipa. SCAFFOLDING: Jurnal Pendidikan Islam dan Multikulturalisme, 1(2), 30–38.
Oktawirawan, D. H. (2020). Faktor pemicu kecemasan siswa dalam melakukan pembelajaran daring di masa pandemi covid-19. Jurnal Ilmiah Universitas Batanghari Jambi, 20(2), 541.
Prastowo, A. (2012). Metode Penelitian Kualitatif Dalam Persektif Rancangan Penelitian. Ar-ruzzmedia.
Rahman, Ariawan, V. A. N., & Pratiwi, I. M. (2020). Digital literacy abilities of students in distance learning. 509(Icollite), 592–598.
Rigianti, H. A. (2020). Kendala pembelajaran daring guru sekolah dasar di kabupaten Banjarnegara. Jurnal Pendidikan dan Pembelajaran Ke-SD-an, 21(1), 1–9.
Sadikin, A., & Hamidah, A. (2020). Pembelajaran daring di tengah wabah Covid-19. Biodik, 6(2), 109–119.
Suci, R. (2021). Evaluasi pembelajaran daring era pandemi civid-19. 6.
Sukarini, K., & Manuaba, I. B. S. (2021). Pengembangan Video Animasi Pembelajaran Daring Pada Mata Pelajaran IPA Kelas VI Sekolah Dasar. Jurnal Edutech Undiksha, 9(1), 48–56.
Suriadi, H. J., Firman, F., & Ahmad, R. (2021). Analisis problema pembelajaran daring terhadap pendidikan karakter peserta didik. Edukatif : Jurnal Ilmu Pendidikan, 3(1), 165–173.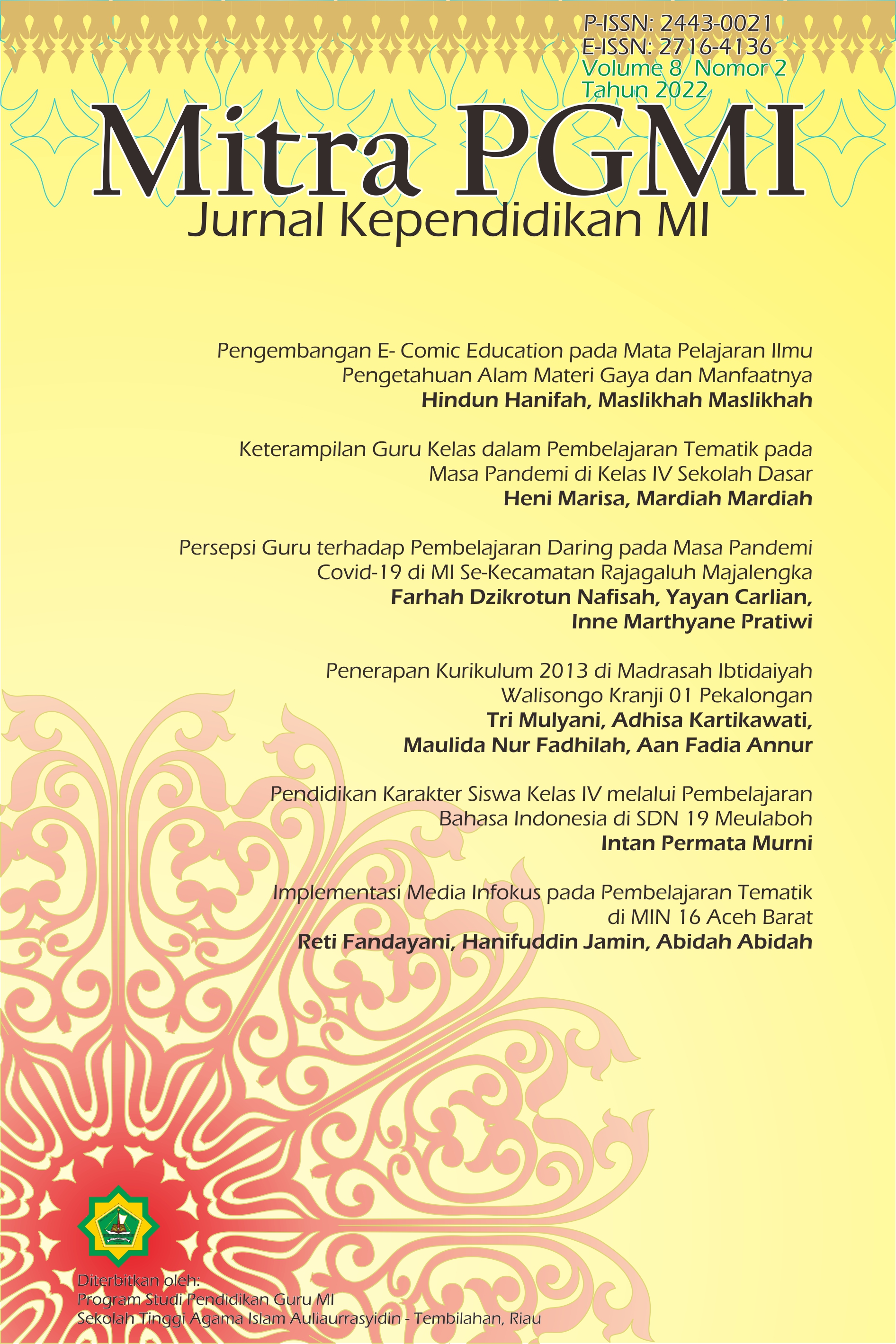 Downloads
How to Cite
Nafisah, F. D., Carlian, Y., & Pratiwi, I. M. (2022). Persepsi Guru terhadap Pembelajaran Daring pada Masa Pandemi Covid-19 di MI Se-Kecamatan Rajagaluh Majalengka. Mitra PGMI: Jurnal Kependidikan MI, 8(2), 88–99. https://doi.org/10.46963/mpgmi.v8i2.481
License
Copyright (c) 2022 Farhah Dzikrotun Nafisah, Yayan Carlian, Inne Marthyane Pratiwi
This work is licensed under a Creative Commons Attribution-ShareAlike 4.0 International License.
Authors who publish with this journal agree to the following terms:
1. Copyright on any article is retained by the author(s).
2. The author grants the journal, right of first publication with the work simultaneously licensed under a Creative Commons Attribution shareAlike 4.0 International License that allows others to share the work with an acknowledgment of the work's authorship and initial publication in this journal.
3. Authors are able to enter into separate, additional contractual arrangements for the non-exclusive distribution of the journal's published version of the work (e.g., post it to an institutional repository or publish it in a book), with an acknowledgment of its initial publication in this journal.
4. Authors are permitted and encouraged to post their work online (e.g., in institutional repositories or on their website) prior to and during the submission process, as it can lead to productive exchanges, as well as earlier and greater citation of published work.
5. The article and any associated published material is distributed under the Creative Commons Attribution-ShareAlike 4.0 International License