Penilaian dan Evaluasi Media Stop Motion Berbasis Pendekatan Inquiry Materi Sumber Daya Alam
Keywords:
Animation, Stop Motion, Inquiry, Natural Resources
Abstract
Learning media is a learning resource that can facilitate the learning process. The era of the 21st century as it is today increasingly developing, making the media increasingly innovate in accordance with what is currently industry 4.0. For this reason, the researchers assessed and evaluated the media that had been developed in the form of stop motion media based on an inquiry approach with Lee & Owens instructional materials on natural resources. The methodology used in this research is Research and Development research. This study involved 8 experts, 5 teachers and 3 lecturers, to validate the media using media validation instruments (media, language, and technology). Meanwhile, to assess the practicality of using media practicality instruments to see the effectiveness of the media by involving 30 students and 15 teachers in accordance with the scientific data were taken using the Google form and direct meetings with respondents. Data were analyzed using SPSS descriptively to reproduce the results of the media assessment. The results of this study are for the validation instrument it is known that the results of technologist (3.59%), media (3.75%) and language (3.62%) while for practical instruments it is known that teachers (3.70%) and students (3 .73%) in this case the media used is valid and has effectiveness and efficiency in an effective teaching and learning process.
Downloads
Download data is not yet available.
References
Akbar, T. N. (2016). Pengembangan multimedia interaktif IPA berorientasi guided inquiry pada materi sistem pernapasan manusia kelas V SDN Kebonsari 3 Malang. Malang: Repositori Universitas Negeri Malang.
Berger, R. P., Lee, R. L., Nixon, R. L., Ricci, G., Shavell, H. M., Kementerian Kesehatan Republik Indonesia, Araújo, L. F. De, Aldana P, A., Báez R, J., Sandoval C, C., Vergara N, C., Cauvi L, D., Fernández De La Reguera, A., Espinoza Espinoza, S., Marfull Salazar, N., Fonseca, I. O., De, M., Consuelo, P., Saavedra, A., … Tapia, V. (1983). Dwi Surjono, H. (2017). Multimedia Embelajaran Nteraktif.
Djaali. (2008). Skala Likert. Jakarta: Pustaka Utama.
Fadilah, A., & Kanya, N. A. (2023). Pengertian Media, Tujuan, Fungsi , Manfaat Dan Urgensi Media Pembelajaran. 1(2).
Fakhriyah, F., Masfuah, S., & Mardapi, D. (2019). Developing Scientific Literacy-Based Teaching Materials to Improve Students' Computational Thinking Skills. Jurnal Pendidikan IPA Indonesia, 8(4), 482–491. Https://Doi.Org/10.15294/Jpii.V8i4.19259
Fauziana. (2019). Pengaruh Self Efficacy Terhadap Kemampuan Memecahkan Masalah Ipa. Jurnal Didactical Mathematics, 2(1), 17–22. Https://Jurnal.Unma.Ac.Id/Index.Php/Dm/Article/View/1963/1659
Hakim, A. R., Mansur, H., & Mangkurat, U. L. (2023). Evaluasi Multimedia Pembelajaran Dasar-Dasar Sinematografi Untuk Mata Kuliah Media Televisi Dan Video. 4(2), 67–79.
Hanum, N. S. (2013). Keefektifan E-Learning Sebagai Media Pembelajaran (Studi Evaluasi Model Pembelajaran E-Learning Smk Telkom Sandhy Putra Purwokerto ) The Effectiveness Of E-Learning As Instructional Media ( Evaluation Study Of E-Learning Instructional Model Insmk Telkom . 3, 90–102.
Haryanto. (2020). Evaluasi Pembelajaran (S. Amalia & : Arief Mizuary : Ngadimin (Eds.); Cetakan 1). UNY PRESS Jl. Gejayan, Gg. Alamanda, Komplek Fakultas Teknik UNY Kampus UNY Karangmalang Yogyakarta 55281.
Irfan, I., Muhiddin, M., & Ristiana, E. (2019). Pengembangan Media Pembelajaran IPA Berbasis Powerpoint Di Sekolah Dasar. Indonesian Journal Of Primary Education, 3(2), 16–27. Https://Doi.Org/10.17509/Ijpe.V3i2.21765
Jennah, R. (2009). Media Pembelajaran (Erwin Muahammad Nur Huda Suhartono (Ed.); Cetakan1 Ed.). ANTASARI PRESS.
Joni, P. (2014). Penggunaan Media Audio Visual Pada Materi Pelajaran Ilmu Pengetahuan Alam Di Sekolah Menengah Pertama Negeri 1 Pacitan. Jurnal FKIP UNS.
Kurniawati, D., & Judisseno, R. K. (2020). Issn: 2775-7374 Penggunaan Skala Likert Untuk Menganalisa Efektivitas Registrasi Stakeholder Meeting: Exhibition Industry 2020 Issn : 2775-7374. Seminar Nasional Riset Terapan Administrasi Bisnis & Mice X, 10(1), 142–152.
Lasaret, Putri, M., & Suryawati. (2020). Penilaian Media Pembelajaran E-Modul Materi Kerah Kemeja. Practice Of Fashion and Textile Education Journal; 2(2), 110–119.
Luh, N., & Ekayani, P. (2021). Pentingnya Penggunaan Media Siswa. Pentingnya Penggunaan Media Pembelajaran Untuk Meningkatkan Prestasi Belajar Siswa, March, 1–16. Https://Www.Researchgate.Net/Profile/Putu-Ekayani/Publication/315105651_Pentingnya_Penggunaan_Media_Pembelajaran_Untuk_Meningkatkan_Prestasi_Belajar_Siswa/Links/58ca607eaca272a5508880a2/Pentingnyapenggunaan-Media-Pembelajaran-Untuk-Meningkatkan-Prestasi-
Maglearning. (2022). Apa Itu Animasi Stop Motion? Kelebihan Dan Kelemahannya? Maglearning.
Mahfi, F. K., Marzal, J., & Saharudin, S. (2020). Pengembangan Game Edutainment Berbasis Smartphone Sebagai Media Pembelajaran Berorientasi Pada Kemampuan Berpikir Kreatif [Development of Smartphone-Based Edutainment Games as Learning Media Oriented to Creative Thinking Skills]. Jurnal Pendidikan Matematika, 11(1), 39.
Masturah, E. D., Mahadewi, L. P. P., & ... (2018). Pengembangan Media Pembelajaran Pop-Up Book Pada Mata Pelajaran IPA Kelas III Sekolah Dasar. Jurnal EDUTECH Univrsitas Pendidikan Ganesha, 6(2), 212–221. Https://Ejournal.Undiksha.Ac.Id/Index.Php/JEU/Article/View/20294
Miftah, M. (2013). Sebagai Upaya Peningkatan Kemampuan Belajar Siswa. Journal Of Chemical Information and Modeling, 1(2), 95–105.
Novita, L., Sukmanasa, E., & Pratama, M. Y. (2019). Indonesian Journal of Primary Education Penggunaan Media Pembelajaran Video Terhadap Hasil Belajar Siswa SD. 3(2), 64–72.
Nugroho Rachmad, A., Wakidi, & Arif, Suparman. (2016). MEDIA PEMBELAJARAN GAMBAR DENGAN ANIMASI STOP MOTION PADA MATA PELAJARAN SEJARAH KELAS XI. Kearsipan FKIP Unila Jalan Prof. Dr. Soemantri Brojonegoro No., 1.
Nuraini, M., Susilaningsih, S., & Wedi, A. (2021). Pengembangan Multimedia Interaktif Materi Perubahan Wujud Benda Bagi Siswa Sekolah Dasar. JKTP: Jurnal Kajian Teknologi Pendidikan, 4(1), 33–40. Https://Doi.Org/10.17977/Um038v4i12021p033
Nurrita. (2018). Kata Kunci: Media Pembelajaran Dan Hasil Belajar Siswa. Misykat, 03, 171–187.
Pangestu, A. R. (2021). Pengembangan Media Pembelajaran Berbasis Video Animasi Stop Motion Pada Mata Pelajaran Geografi. Geodika: Jurnal Kajian Ilmu Dan Pendidikan Geografi, 5(2), 216–225. Https://Doi.Org/10.29408/Geodika.V5i2.3807
Pranatawijaya, V. H., Widiatry, W., Priskila, R., & Putra, P. B. A. A. (2019). Penerapan Skala Likert Dan Skala Dikotomi Pada Kuesioner Online. Jurnal Sains Dan Informatika, 5(2), 128–137. Https://Doi.Org/10.34128/Jsi.V5i2.185
Praiwi, A. (2018). Pengaruh Model Pembelajaran Kooperatif Tipe Jigsaw Terhadap Hasil Belajar Tematik Peserta Didik Kelas V Madrasah. Lampung: Universitas Lampung.
Purwati, Y., Sagita, S., Utomo, F. S., Baihaqi, W. M., & Korespondensi, P. (2020). Pengembangan Media Pembelajaran Tata Surya Berbasis Virtual Reality Untuk Siswa Kelas 6 Sekolah Dasar Dengan Evaluasi Virtual Reality-Based Solar System Learning Media Development for Class 6 Students Elementary School with Evaluation of User. 259–266. Https://Doi.Org/10.25126/Jtiik.202071894
Ramadhan, N., & Khairunnisa. (2021). Efektivitas Penggunaan Media Pembelajaran Big Book Subtema Indahnya Keberagaman Budaya Negeriku. Tarbiyah Wa Ta'lim: Jurnal Penelitian Pendidikan Dan Pembelajaran, 8(1), 49–60. Https://Journal.Uinsi.Ac.Id/Index.Php/Tarbiyawat/Article/View/3208
Riwanto, M. A., Nahdlatul, U., & Al, U. (2020). Efektivitas Penggunaan Media Komik Digital (Cartoon Story Maker) Dalam Pembelajaran Tema Selalu Berhemat Energi. January.
Rohani. (2020). Media Pembelajaran.
Sandyka, D., Made Putrama, I., Gede, D., & Divayana, H. (2020). Kombinasi Animasi Stop Motion, 2 Dimensi Dan Infografis Dalam Media Pembelajaran Ipa Materi Gaya. Kumpulan Artikel Mahasiswa Pendidikan Teknik Informatika (KARMAPATI), 9(2), 125–132.
Sugiono. (2008). Metode Penelitian Pendidikan: (Pendekatan Kuantitatif, Kualitatif Dan R & D) (Cet. 6). Alfabeta.
Suwandi, E., Imansyah, F. H., & Dasril, H. (2018). Analisis Tingkat Kepuasan Menggunakan Skala Likert Pada Layanan Speedy Yang Bermigrasi Ke Indihome. Jurnal Teknik Elektro, 11.
Tafanao, T. (2018). PERANAN MEDIA PEMBELAJARAN DALAM MENINGKATKAN THE ROLE OF INSTRUCTIONAL MEDIA TO IMPROVING. Komunikasi Pendidikan, 2(2).
Taufiq Nuril, A. (2016). Pengembangan Multimedia Interaktif IPA Berorientasi Guided Inquiry Pada Materi Sistem Pernapasan Manusia Kelas V SDN Kebonsari 3 Malang. Jurnal Pendidikan: Teori, Penelitian, Dan Pengembangan, 1.6, 1120–1126.
Wahid, A. (2018). Pentingnya Media Pembelajaran Dalam Meningkatkanprestasi Belajar (. V.
Wahyuningtyas, R., & Sulasmono, B. Suteng. (2020). PENTINGNYA MEDIA DALAM PEMBELAJARAN GUNA MENINGKATKAN HASIL BELAJAR DI SEKOLAH DASAR. Edukatif: Jurnal Ilmu Pendidikan, 2(1), 23–27.
Warsita, B., Kemdikbud, P., & Selatan, T. (2013). EVALUASI MEDIA PEMBELAJARAN SEBAGAI. 17(1), 438–447.
Wiranata, A. A. (2022). Evaluasi Media Video Pembelajaran Untuk Sekolah Dasar Pokok Bahasan Pengurangan Dan Penjumlahan. Educate: Jurnal Teknologi Pendidikan, 7(1), 83. Https://Doi.Org/10.32832/Educate.V7i1.5110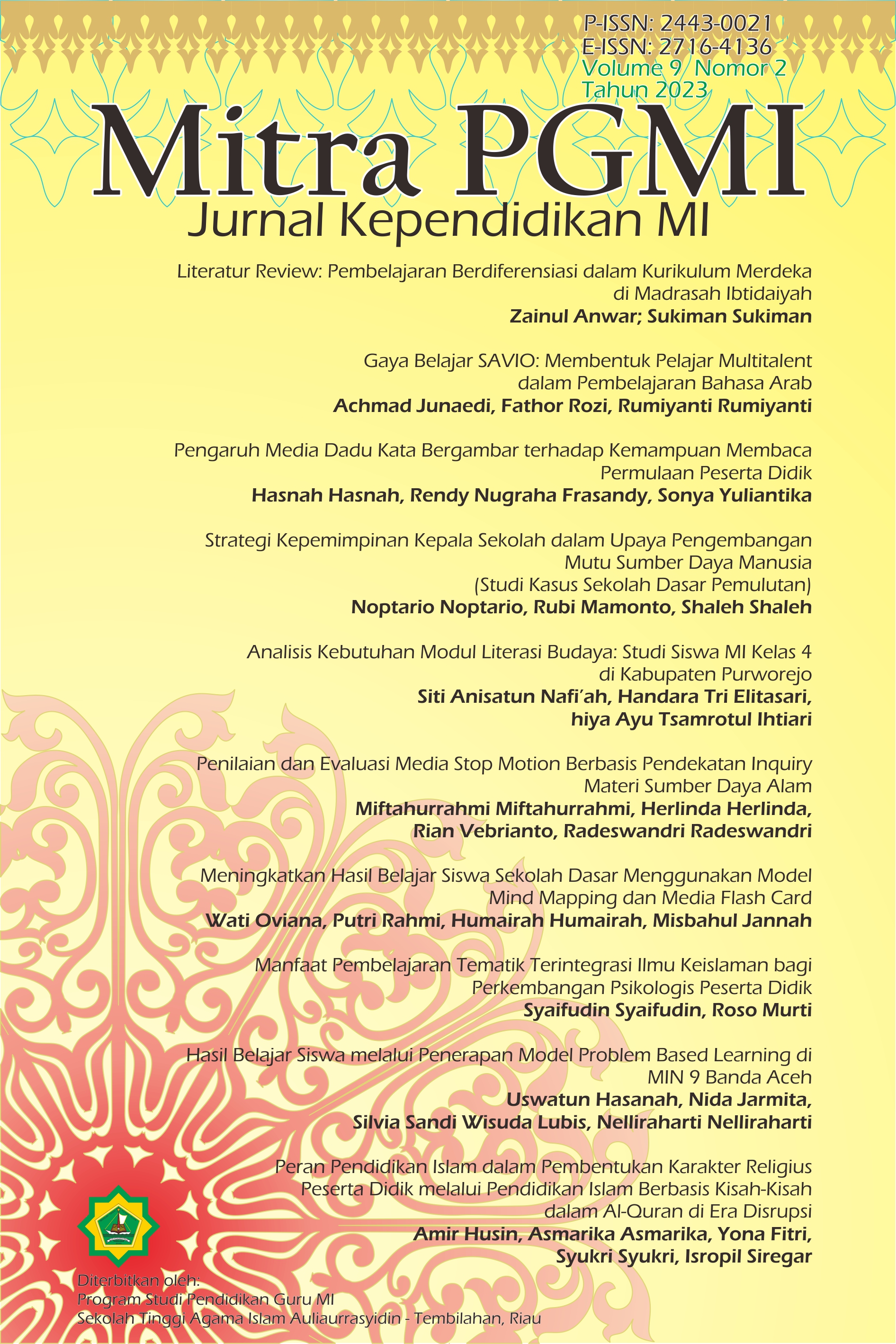 Downloads
How to Cite
Miftahurrahmi, M., Herlinda, H., Vebrianto, R., & Radeswandri, R. (2023). Penilaian dan Evaluasi Media Stop Motion Berbasis Pendekatan Inquiry Materi Sumber Daya Alam. Mitra PGMI: Jurnal Kependidikan MI, 9(2), 143–158. https://doi.org/10.46963/mpgmi.v9i2.1106
License
Copyright (c) 2023 Miftahurrahmi Miftahurrahmi, Herlinda Herlinda, Rian Vebrianto, Radeswandri Radeswandri
This work is licensed under a Creative Commons Attribution-ShareAlike 4.0 International License.
Authors who publish with this journal agree to the following terms:
1. Copyright on any article is retained by the author(s).
2. The author grants the journal, right of first publication with the work simultaneously licensed under a Creative Commons Attribution shareAlike 4.0 International License that allows others to share the work with an acknowledgment of the work's authorship and initial publication in this journal.
3. Authors are able to enter into separate, additional contractual arrangements for the non-exclusive distribution of the journal's published version of the work (e.g., post it to an institutional repository or publish it in a book), with an acknowledgment of its initial publication in this journal.
4. Authors are permitted and encouraged to post their work online (e.g., in institutional repositories or on their website) prior to and during the submission process, as it can lead to productive exchanges, as well as earlier and greater citation of published work.
5. The article and any associated published material is distributed under the Creative Commons Attribution-ShareAlike 4.0 International License