Sosialisasi Investasi Syariah di Masyarakat
Keywords:
Pasar Modal, Syariah, Edukasi, Minat
Abstract
Perkembangan pasar modal syariah, salah satunya didukung oleh peranan berbagai pihak terutama dalam melakukan sosialisasi dan edukasi. Penelitian bertujuan mengidentifikasi peran sosialisasi dan edukasi terhadap minat investasi di pasar modal syariah. Data-data yang digunakan dalam penyusunan karya tulis ini berasal dari berbagai literatur kepustakaan yang berkaitan dengan permasalahan yang dibahas. Jenis data yang diperoleh variatif, baik yang bersifat kualitatif maupun kuantitatif. Metode penulisan bersifat studi pustaka.
Downloads
Download data is not yet available.
References
Achsien, Iggi. Investasi Syariah di Pasar Modal. 2003. Jakarta, PT Gramedia Pustaka Utama.
Aziz, Abdul & Mariyah Ulfah. Kapita Selekta Ekonomi Islam Kontemporer. 2010. Bandung, Alfabeta.
Aziz, Abdul. Manajemen investasi syariah. 2010. Alfabeta, Bandung.
Belouafi, Ahmed dan Abdelkader Chachi. 2014. Islamic Finance in the United Kingdom:Factor Behind it Development and Growth, Islamic Economic Studies (Keuangan Islam di Inggris: Faktor dibalik Perkembangan dan Pertumbuhannya) Vol. 22, No. 1.
Direktorat Pasar Modal Syariah Otoritas Jasa Keuangan. 2015. Roadmap Pasar Modal Syariah 2015-2019 ; Membangun Sinergi untuk Pasar Modal Syariah yang Tumbuh Stabil, dan Berkelanjutan.
Ganjar Isnawan. Jurus Cerdas Investasi Syariah. 2012. Jakarta, Laskar Aksara, 2012.
Gunawan, Pengaruh Analisis Fundamental Terhadap Harga Saham (Studi Empiris Terhadap Saham-Saham Syariah di Jakarta Islamic Indeks), Jurnal Wira Ekonomi Mikroskil, 1 April 2011, hlm. 47-58
Huda, Nurul & Mustafa Edwin Nsution, Investasi Pasar Modal Syariah. 2008. Jakarta, Kencana Prenada Media Group.
Irvani, Ahmad. 2016. Inggris Sebagai Sentral Keuangan Islams di Barat, ASY-SYAR"IYYAH, Vol. 1 No. 1.
Jogiyanto. Teori Fortofolio dan Analisis Investasi. 2003. Yogyakarta, BPFE
Kettani, M. Ali. 2005. Minoritas Muslim di Dunia Dewasa Ini, terj. Zarkowi Soejoeti. Jakarta: PT. Raja Grafindo Persada
Konsultan Hukum Ekonomi Syariah, Asuransi Islam Takaful Permintaan dan Penawaran di Inggris. 28 Oktober 2018
Latifah, Nur Aini. Konsep dan Aplikasi Asuransi Syariah di Indonesia. 30 September 2018.
Masrifah, Eva. 2010. "Analisis Pengembangan Produk Takaful Mikro Syariah", Skripsi S-I Kearsipan Fakultas Syariah Dan Hukum Universitas Islam Negeri Syarif Hidayatullah.
Mubarok, Ferry Khusnul. Peran Sosialisasi dan Edukasi dalam Menumbuhkan Minat Investasi di Pasar Modal Syariah, Jurnal Inovasi, 14 (2) 2018, 113-122.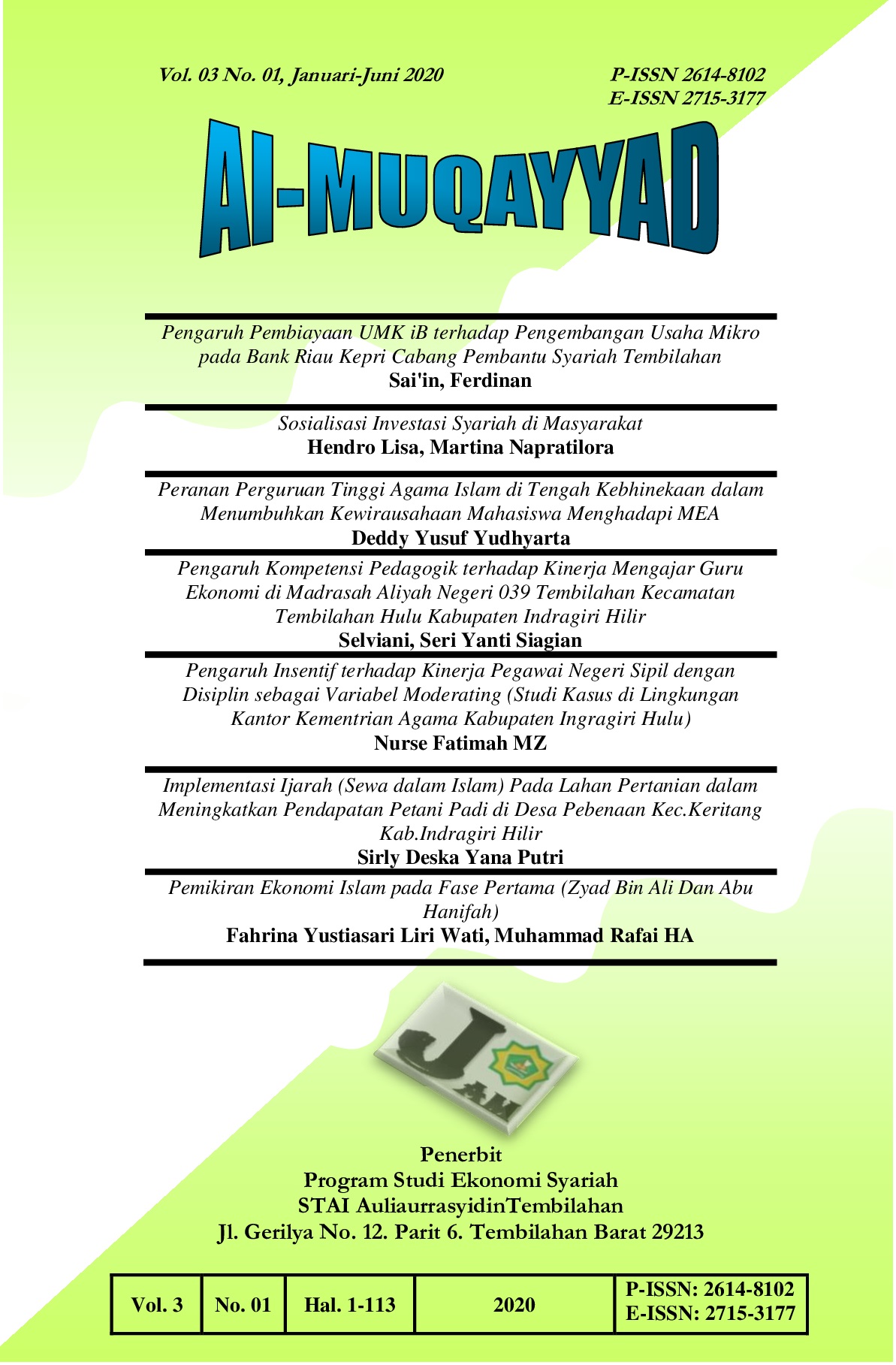 Downloads
How to Cite
Lisa, H., & Napratilora, M. (2020). Sosialisasi Investasi Syariah di Masyarakat. AL-Muqayyad, 3(1), 18–43. https://doi.org/10.46963/jam.v3i1.152
License
Authors who publish with this journal agree to the following terms:
1. Copyright on any article is retained by the author(s).
2. The author grants the journal, right of first publication with the work simultaneously licensed under a Creative Commons Attribution shareAlike 4.0 International License that allows others to share the work with an acknowledgment of the work's authorship and initial publication in this journal.
3. Authors are able to enter into separate, additional contractual arrangements for the non-exclusive distribution of the journal's published version of the work (e.g., post it to an institutional repository or publish it in a book), with an acknowledgment of its initial publication in this journal.
4. Authors are permitted and encouraged to post their work online (e.g., in institutional repositories or on their website) prior to and during the submission process, as it can lead to productive exchanges, as well as earlier and greater citation of published work.
5. The article and any associated published material is distributed under the Creative Commons Attribution-ShareAlike 4.0 International License