Faktor-Faktor yang Mempengaruhi Perilaku Dosen STAI Auliaurrasyidin Tembilahan dalam Memilih Produk Bank Syariah
Keywords:
Behavior, Decision, Sharia Bank
Abstract
This research was motivated by The sharia economy is now entering the world of education, in addition to banks and other non-bank financial institutions that are busy adding the "sharia" label to their institutions. TThe purpose of this research is to find out and analyze The factors that influence the behavior of STAI Lecturer Auliaurrasyidin through cultural, social, personal, psychological and knowledge factors as moderating variables in choosing Islamic bank products in Tembilahan. This research was conducted at STAI Auliaurrasyidin Tembilahan with the number of respondents as many as 32 permanent lecturers. The method used in this quantitative research is the survey method. This research is a mixed research, which combines quantitative and qualitative research. The results of the study based on the correlation coefficient analysis test showed that the level of influence of the variables of consumer behavior factors, namely cultural factors, social factors, personal factors and psychological factors simultaneously on the decision of STAI Lecturer Auliaurrasyidin Tembilahan in choosing Islamic bank products was worth 0.776 and the level of the relationship was in the category " strong" or "high" while the knowledge moderation variable is worth 0.411 and the level of the relationship is in the "medium" or "fair" category
Downloads
Download data is not yet available.
References
Adnan. (2018). Pengaruh Perilaku Konsumen terhadap Keputusan Pembelian Susu Morinaga di Kota Lhokseumawe, Jurnal Visioner & Strategis, 7(2).
Asra, A., Irawan, P.B., & Purwoto, A. (2016). Metode Penelitian Survei, Bandung: In Media.
Arifin, Z. (2010). Memahami Bank Syari'ah, Jakarta: Alvabet
Dragosa, S. L, Dragos, C. M. & Muresanc, G. M. (2020), From Intention To Decision In Purchasing Life Insurance And Behavioural Factors, Journal of Behavioural and Experimental economics, 87, 101555
https://www.ojk.go.id/id/kanal/syariah/data-dan-statistik/statistik-perbankan-syariah/default.aspx, Maret 2020.
Kasmir. (2015). Manajemen Perbankan, Edisi-Revisi, Jakarta: Rajawali Pers.
Kotler, P. & Amstrong, G. (2012). Prinsip-prinsip Pemasaran Edisi 12, Jilid 1, Jakarta: Erlangga,
Kolter, P. & Keller, K. L. (2016). "Manajemen Pemasaran", Jakarta: Indeks
Nashoha, M. R. (2019). Pengaruh Faktor Kebudayaan, Sosial, Pribadi dan Psikologis terhadap Keputusan Memilih Bank Syariah di Kota Yogyakarta (Studi pada Masyarakat Non-Muslim Kota Yogyakarta), At-Taradhi: Jurnal Studi Ekonomi, X (2), Desember P-ISSN: 1979-3804, E-ISSN: 2548-9941.
Nofri, O., & Hafifah, A. (2018). Analisis perilaku konsumen dalam melakukan online shopping di kota Makassar. Jurnal Minds: Manajemen Ide dan Inspirasi, 5(1), 113-132.
Nurlaeli, I. (2017). Pengaruh faktor budaya, psikologi, pelayanan, Promosi dan pengetahuan tentang produk terhadap Keputusan nasabah memilih BPRS di banyumas. Islamadina: Jurnal Pemikiran Islam, 18(2), 75-106.
Prayitno, D. (2010). Teknik Mudah dan Cepat Melakukan Analisis Data Penelitian dengan SPSS, Yogyakarta: Gava Media
Rafikah, A., & Razak, A. (2019). Keputusan Nasabah Menabung Pada Bank Aceh Syariah Cabang Banda Aceh. Jurnal Economica Didactica, 1(1), 53-74.
Romiansyah, R., Sugianto, S., & Yuliani, T. (2019). Pengaruh Faktor Internal Terhadap Pengambilan Keputusan Nasabah Dalam Memilih Menabung Pada Bank Syariah. Jurnal Edueco, 2(1), 5-15.
Singarimbun, M. & Effendi, S., (2014). Metode Penelitian survai, Jakarta: LP3ES
Sufitrayati, S. & Nailufar, F. (2018). Faktor-Faktor Yang Mempengaruhi Keputusan Nasabah Dalam Memilih Bank Syari'ah Di Kota Banda Aceh, Ihtiyat, 2(1), September.
Sugiyono, (2014). Metode Penelitan Bisnis, Bandung: Alfabeta.
________, (2012). Statistika Untuk Penelitian, Bandung: CV. Alfa Beta Sukmadinata,
Sunarto, S. (2018). Analisis Perilaku Konsumen Terhadap Keputusan Pembelian Handphone Xiaomi Redmi 3S. Moneter-Jurnal Akuntansi dan Keuangan, 5(1), 35-43.
Wahyulkarima, A., Nurlaeli, I., & Makhrus, M. (2018). Pengaruh Budaya, Psikologis, Pelayanan, Promosi, dan Pengetahuan tentang Produk Terhadap Keputusan Nasabah dalam Memilih Bank Syariah. Jurnal Hukum Ekonomi Syariah, 1(1), 51-79.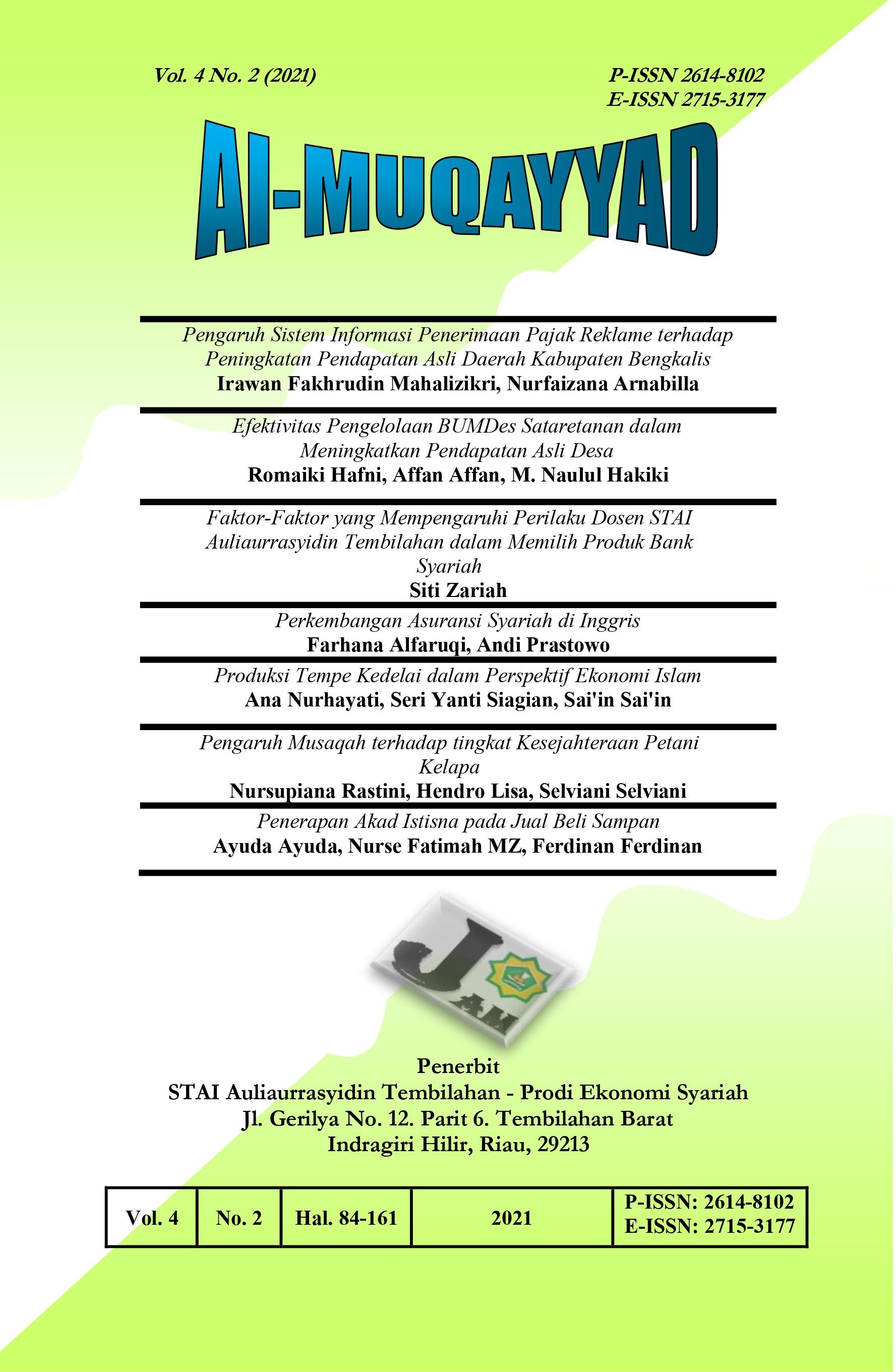 Downloads
How to Cite
Zariah, S. (2021). Faktor-Faktor yang Mempengaruhi Perilaku Dosen STAI Auliaurrasyidin Tembilahan dalam Memilih Produk Bank Syariah. AL-Muqayyad, 4(2), 108–127. https://doi.org/10.46963/jam.v4i2.439
License
Authors who publish with this journal agree to the following terms:
1. Copyright on any article is retained by the author(s).
2. The author grants the journal, right of first publication with the work simultaneously licensed under a Creative Commons Attribution shareAlike 4.0 International License that allows others to share the work with an acknowledgment of the work's authorship and initial publication in this journal.
3. Authors are able to enter into separate, additional contractual arrangements for the non-exclusive distribution of the journal's published version of the work (e.g., post it to an institutional repository or publish it in a book), with an acknowledgment of its initial publication in this journal.
4. Authors are permitted and encouraged to post their work online (e.g., in institutional repositories or on their website) prior to and during the submission process, as it can lead to productive exchanges, as well as earlier and greater citation of published work.
5. The article and any associated published material is distributed under the Creative Commons Attribution-ShareAlike 4.0 International License