Persepsi Nasabah terhadap Akad Rahn pada Pegadaian Syariah
Sri Widiastuti

UIN Sultan Syarif Kasim Pekanbaru, Riau, Indonesia

Nurse Fatimah MZ

STAI Auliaurrasyidin Tembilahan, Indragiri Hilir, Riau, Indonesia
Keywords:
Perception, Rahn, Pawnshop
Abstract
This research was motivated by the author's preliminary observations regarding customers' points of view between Sharia Pawnshops, and conventional Pawnshops were the same, some customers thought that Sharia Pawnshops also apply interest, even though the system were different. The purposes of this study were to find out how the Rahn contract, and the customer's perception of the Rahn at the Syariah Pawnshops. Data analysis used qualitative descriptive by deductive, and inductive methods. The results showed that most of the customers did not understand the Rahn, but they believed that the pawn products available at the Sharia Pawnshop and the pawn products in conventional pawnshops were the same. Furthermore, the implementation of the Rahn contract at the Sharia Pawnshop was under Islamic roles because there were no rules that violate Islamic law.
Downloads
Download data is not yet available.
References
Abdullah, A. A. (2006). Syarah Bulughulmaram, Jakarta: Pustaka Azzam.
Ali, Z. (2008). Hukum Gadai Syariah. Jakarta: Sinar Grafika
Andri, S. (2010). Bank dan Lembaga Keuangan Syariah. Jakarta: Kencana.
Anshori, A. G. (2006). Gadai Syariah di Indonesia. Yogyakarta.
Antonio, M. S. (2001). Bank Syariah dari Teori ke Praktik. Jakarta: Gema Insani.
Buchari, A., & Doni, J. P. (2009). Manajemen Bisnis Syariah. Bandung: CV. Alfabeta.
Dewan Syariah Nasional Majelis Ulama Indonesia. (2002). Himpunan Fatwa Dewan Syariah Nasional. Jakarta: PT. Intermasa.
Hadi, M. S. (2003). Pegadaian Syariah. Jakarta: Salemba Diniyah.
Harun, N. (2007). Fiqh Muamalah. Jakarta: Gaya Media Pratama.
Muhammad. (2000). Lembaga-lembaga Keuangan Umat Kontemporer. Yogyakarta: UII Press.
Muhammad. (2008). Metodologi Penelitian Ekonomi Islam. Jakarta: Rajagrafindo Persada.
Muslehuddin, M. (2004). Sistem Perbankan Dalam Islam. Jakarta: PT. Asdi Mahasatya.
Nurhayati, S. (2008). Akuntansi Syariah di Indonesia. Jakarta: Salemba Empat.
Ridwan, M. ((2004). Manajemen BMT. Yogyakarta: UII Press.
Rifqi, M. (2008). Akuntansi Keuangan Syariah,Konsep dan Implementasi PSAK Syariah. Yogyakarta: P3EI Press.
Soemitra, A. (2010). Bank dan Lembaga Keuangan Syariah. Jakarta: Kencana.
Sutedi, A. (2011). Hukum Gadai Syariah. Bandung: Alfabeta.
Veithzal, R., Andria, P. V., & Ferry, N. I. (2007). Bank and Financial Institution Management. Jakarta: PT Rajagrafindo Persada.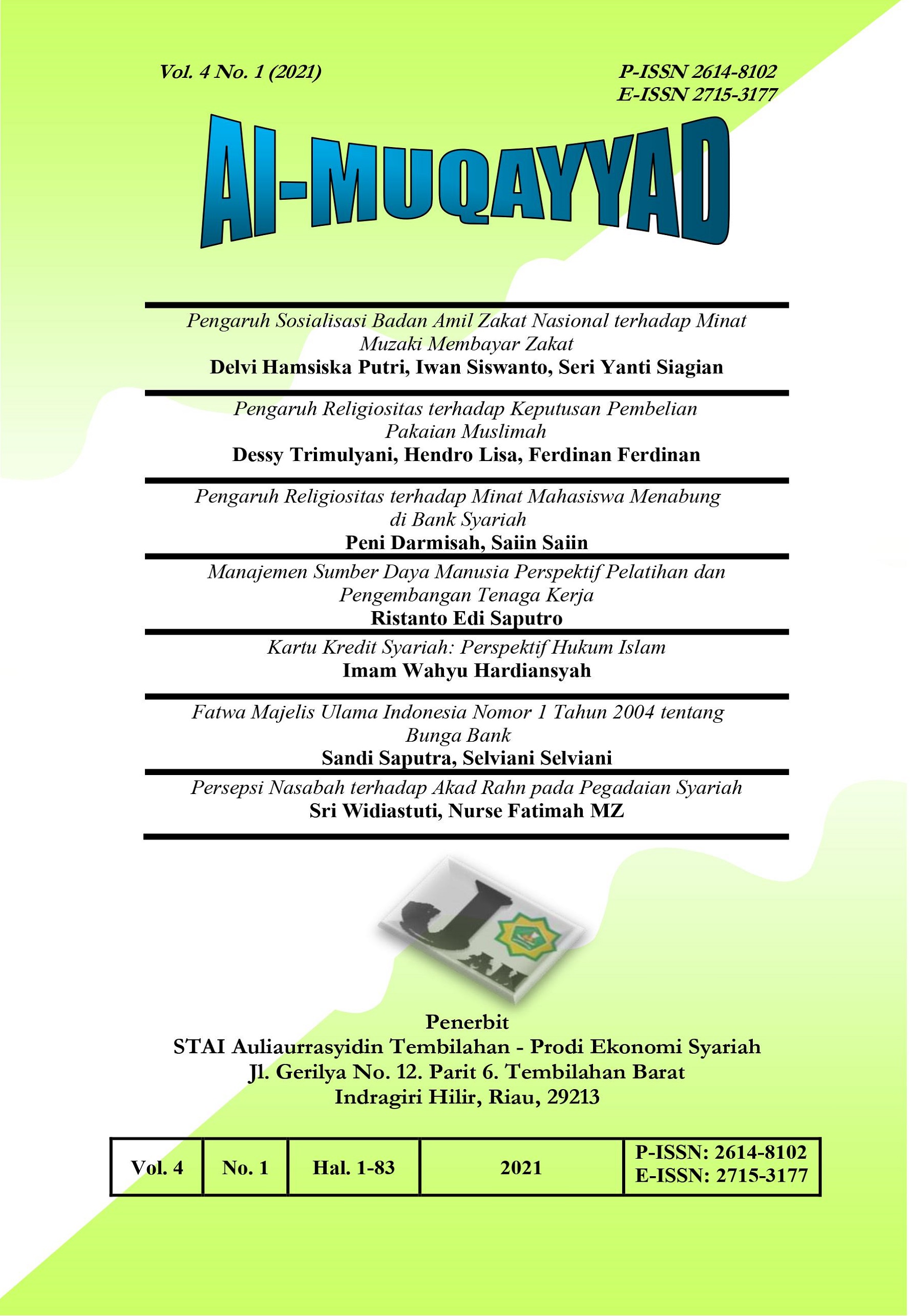 How to Cite
WidiastutiS., & Fatimah MZN. (2021). Persepsi Nasabah terhadap Akad Rahn pada Pegadaian Syariah. AL-Muqayyad, 4(1), 70-83. https://doi.org/10.46963/jam.v4i1.376
Copyright (c) 2021 Sri Widiastuti, Nurse Fatimah MZ
This work is licensed under a Creative Commons Attribution-ShareAlike 4.0 International License.
Authors who publish with this journal agree to the following terms:
1. Copyright on any article is retained by the author(s).
2. The author grants the journal, right of first publication with the work simultaneously licensed under a Creative Commons Attribution shareAlike 4.0 International License that allows others to share the work with an acknowledgment of the work's authorship and initial publication in this journal.
3. Authors are able to enter into separate, additional contractual arrangements for the non-exclusive distribution of the journal's published version of the work (e.g., post it to an institutional repository or publish it in a book), with an acknowledgment of its initial publication in this journal.
4. Authors are permitted and encouraged to post their work online (e.g., in institutional repositories or on their website) prior to and during the submission process, as it can lead to productive exchanges, as well as earlier and greater citation of published work.
5. The article and any associated published material is distributed under the Creative Commons Attribution-ShareAlike 4.0 International License