Faktor yang Mempengaruhi Likuiditas Bank Umum Syariah (BUS) di Indonesia Tahun 2020-2023
Keywords:
Short Term Mistmach, CAR, ROA, NPF
Abstract
The purpose of this research is to analyze the factors that affect liquidity in Islamic Commercial Banks (ICBs) in Indonesia. The data used in this study are secondary data obtained from the Financial Services Authority (OJK). The method used in this research is Multiple Linear Regression. To examine the factors influencing the liquidity of Islamic banks in Indonesia, the variables used are Short Term Mismatch (STM), Capital Adequacy Ratio (CAR), Return on Assets (ROA), and Non-Performing Financing (NPF). This study uses monthly data from 2020 to 2023. The results of the study indicate that CAR and NPF variables have a positive and significant influence on STM, while the ROA variable has a positive influence but is not significant to the dependent variable STM. In this regard, it is recommended that Islamic banks maintain a healthy STM condition by increasing CAR and ROA and reducing NPF.
Downloads
Download data is not yet available.
References
Bank Indonesia. Surat Edaran Bank Indonesia No.9/24/DPbS/2007. , 3 Bank Indonesia § (2007).
Bank Indonesia. Peraturan Bank Indonesia No.13/1/PBI/2011 Tentang Penilaian Tingkat Kesehatan Bank. , Peraturan Bank Indonesia § (2011).
Farhan, M., & Alam, H. M. (2018). Operational Risk Management in Islamic Banking; a System Thinking Approach. Journal of Islamic Business and Management (JIBM), 8(2), 450–464. https://doi.org/10.26501/jibm/2018.0802-007
Iswandi, L. (2020). Strategi Peningkatan Likuiditas Di Bank Syariah Mandiri Kcp Padang Panjang Melalui Penambahan Customer Base. Tamwil, 6(2), 165. https://doi.org/10.31958/jtm.v6i2.2670
Jufendri, Nurnasrina, & Sunandar, H. (2023). MANAJEMEN EKUITAS DAN LIKUIDITAS PADA BANK SYARIAH DI INDONESIA. MONEY: Journal of Financial and Islamic Banking, 1(1), 44–52.
Kasmir. (2018). Analisis Laporan Keuangan. Depok: Rajawali Pers.
KNKS. (2020). Knks.Go.Id. Insight: Buletin Ekonomi Syariah, (9), 1–11.
Lee, V., & Wage, S. (2022). Terhadap Profitabilitas Perbankan yang Terdaftar di Bursa Efek Indonesia. JIMAT (Jurnal Ilmiah Mahasiswa Akuntansi), 13(2), 521–530.
Liana, N., Muhammad Rafi roykhan, & Kharis Fadlullah Hana. (2022). Strategi Pengelolaan Likuiditas Pada Bank Syariah Indonesia. Jurnal Ilmu Perbankan Dan Keuangan Syariah, 4(1), 91–109. https://doi.org/10.24239/jipsya.v4i1.138.91-109
Lukman Santoso, A., Murni, S., & Nugrahaningsih, P. (2018). Faktor-Faktor Yang Mempengaruhi Likuiditas Perbankan Syariah di Indonesia. PROSIDING Seminar Nasional Dan Call For Papers Ekonomi Syariah"Indonesia Sebagai Kiblat Ekonomi Syariah," 221–231. Retrieved from http://digilib.mercubuana.ac.id/manager/t!@file_artikel_abstrak/Isi_Artikel_170922909233.pdf
Mobin, M Ashraful; Ahmad, A. F. (2014). Liquidity management of Islamic banks : the evidence from Malaysian practice LIQUIDITY MANAGEMENT OF ISLAMIC BANKS : THE EVIDENCE FROM MALAYSIAN PRACTICE. file:///D:(2), 175–186.
Mujaddid, F., & Wulandari, S. (2017). Analisis Faktor Internal dan Eksternal Terhadap Rentabilitas Bank Syariah dii Indonesia. Jurnal Ekonomi Islam, 8(2), 202–218. Retrieved from http://journal.uhamka.ac.id/index.php/jei
Nur'aini Ihsan, D. (2015). Manajemen Treasury Bank Syariah. Jakarta: UIN Jakarta Press.
Nuraeni, L., Tanuatmodjo, H., & Cakhyaneu, A. (2021). Likuiditas Bank Umum Syariah di Indonesia: Analisis Tingkat Kecukupan Modal, Tingkat Pembiayaan Bermasalah dan Inflasi. Journal of Islamic Economics and Business, 1(1). https://doi.org/10.15575/.v1i1.13146
Pertiwi, B. P., & Sudarsono, H. (2020). Analisis Likuiditas Bank Umum Syariah dengan Pendekatan Autoregressive distributed lag (ARDL). Al-TijaryJurnal Ekonomi Dan Bisnis Islam, 6(1), 113–128.
Pravasanti, Y. A. (2018). Pengaruh NPF dan FDR Terhadap CAR dan Dampaknya Terhadap ROA Pada Perbankan Syariah Di Indonesia. Jurnal Ilmiah Ekonomi Islam, 4(03), 148. https://doi.org/10.29040/jiei.v4i03.302
Rahajeng, Y. (2016). Analisis Penilaian Tingkat Kesehatan Bank Menggunakan Metode CAMELS Pada PT Bank Syariah Mandiri Tbk. Jurnal Ecobuss, 4(1), 1–14.
Rianto, B. (2013). Manajemen Risiko Perbankan Syariah di Indonesia. Jakarta: Salemba Empat.
Rivai, V., & Arifin, A. (2010). Islamic Banking: sebuah teori, konsep dan aplikasi. Jakarta: Bumi Aksara.
Sudarsono, H., Afriadi, F., & Suciningtias, S. A. (2021). Do stability and size affect the profitability of Islamic rural bank in Indonesia? Jurnal Ekonomi & Keuangan Islam, 7(2), 161–174. https://doi.org/10.20885/jeki.vol7.iss2.art5
Ush, N., Titis, D., & Wardani, K. (2018). Analisis Likuiditas Pada Bank Syariah di Indonesia Pendahuluan Tinjauan Pustaka. 2(2).
Winanti, W. (2019). Manajemen Risiko Likuiditas Pada Perbankan Syariah. EKSISBANK: Ekonomi Syariah Dan Bisnis Perbankan, 3(1), 81–90. https://doi.org/10.37726/ee.v3i1.34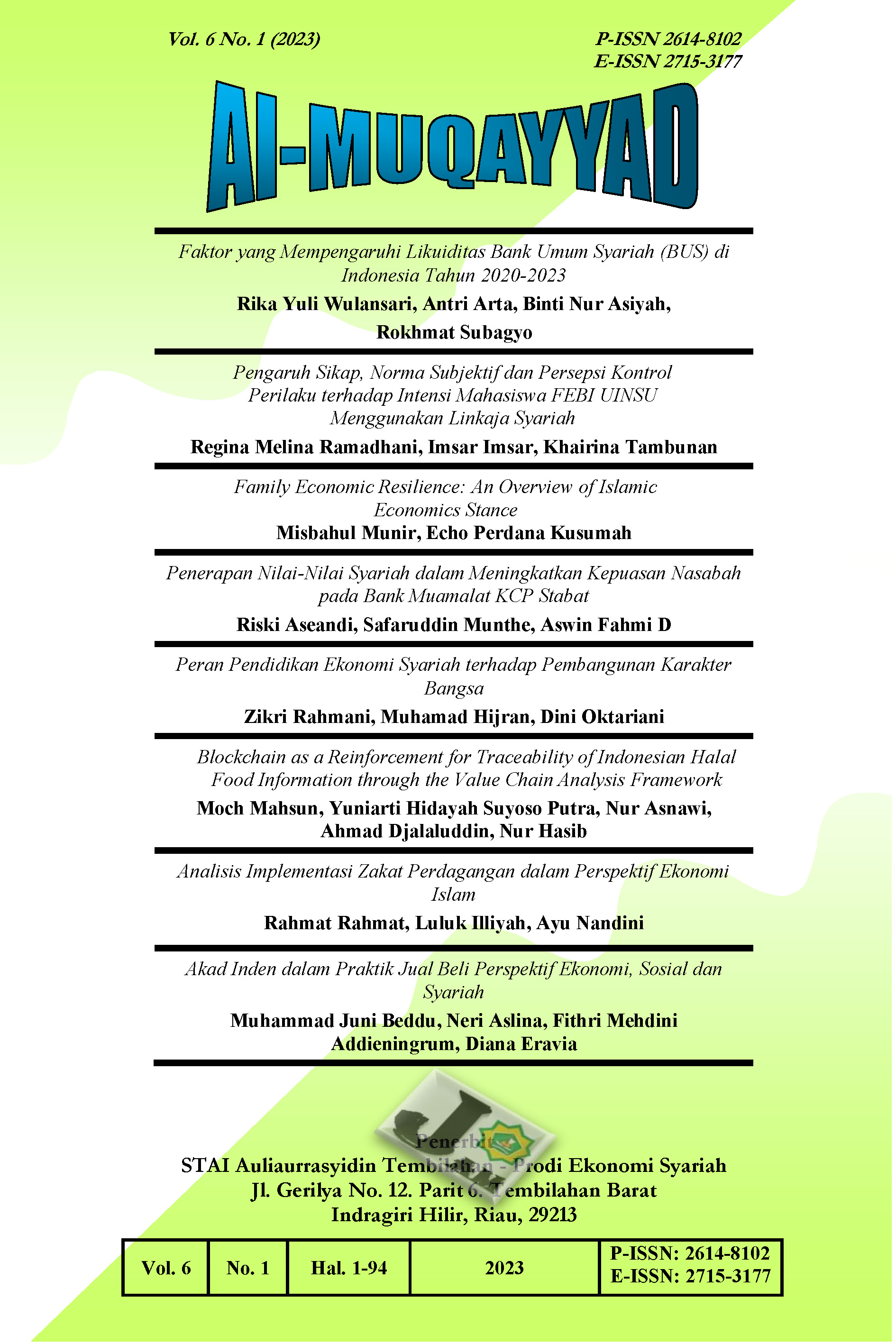 Downloads
How to Cite
Wulansari, R. Y., Arta, A., Asiyah, B. N., & Subagyo, R. (2023). Faktor yang Mempengaruhi Likuiditas Bank Umum Syariah (BUS) di Indonesia Tahun 2020-2023. AL-Muqayyad, 6(1), 1–16. https://doi.org/10.46963/jam.v6i1.967
License
Copyright (c) 2023 Rika Yuli Wulansari, Antri Arta, Binti Nur Asiyah, Rokhmat Subagyo
This work is licensed under a Creative Commons Attribution-ShareAlike 4.0 International License.
Authors who publish with this journal agree to the following terms:
1. Copyright on any article is retained by the author(s).
2. The author grants the journal, right of first publication with the work simultaneously licensed under a Creative Commons Attribution shareAlike 4.0 International License that allows others to share the work with an acknowledgment of the work's authorship and initial publication in this journal.
3. Authors are able to enter into separate, additional contractual arrangements for the non-exclusive distribution of the journal's published version of the work (e.g., post it to an institutional repository or publish it in a book), with an acknowledgment of its initial publication in this journal.
4. Authors are permitted and encouraged to post their work online (e.g., in institutional repositories or on their website) prior to and during the submission process, as it can lead to productive exchanges, as well as earlier and greater citation of published work.
5. The article and any associated published material is distributed under the Creative Commons Attribution-ShareAlike 4.0 International License