Analisis Fundamental terhadap Saham Syariah dalam Memutuskan Berinvestasi di Saham yang Listing di Indeks Saham Syariah Indonesia
Keywords:
Fundamental Analysis, Islamic Stock, Listing
Abstract
The purpose of this article is to find out the fundamental analysis of the Indonesian Sharia Stock Index by observing and observing stock price movements. This type of quantitative research uses secondary data, financial statement analysis is taken through the official website www.idx.co.id. Data analysis using the Simple Moving Average and Relative Strength Index methods, with the approach of Price Earning Ratio (PER) and Price Book Value (PBV). The data is used in 2016-2019 as the object of research on Xl Axiata shares and Indofood CBP Sukses Makmur shares. The results of Indonesia's macroeconomic fundamental analysis provide a positive signal for investing in the 2016-2019 period in the Indonesian capital market. Analysis of financial ratios, XL shares have a negative signal for investment, XL shares intrinsic value is smaller than the market price so that it is said to be overvalued shares based on the PBV method. While ICBP shares provide a positive picture for investment based on the intrinsic value of ICBP shares which is also higher than the market price, it is said to be undervalued shares worth buying based on the PER method, ICBP shares have fairly good financial ratios seen from effective and efficient liquidity, solvency and profitability ratios.
Downloads
Download data is not yet available.
References
Andi Runis Makkulau, Indira Yuana. (2021). Penerapan Analisis Fundamental dan Technical Analysis Sebagai Upaya Dalam Meningkatkan Keinginan Investasi Mahasiswa di Pasar Modal Syariah. YUME: Journal of Management, 4(3). https://10.37531/yume.vxix.432
Andri Soemitra, (2016). Bank Lembaga Keuangan Syariah, Depok: Kencana.
Bebasari, N., Ilahi, R. R. K. (2021). Pengaruh analisis fundamental keuangan terhadap harga saham pada pasar modal syariah periode 2016-2019. Jurnal Ekonomi Bisnis, Manajemen dan Akuntansi, 1(2), 66–76. https://doi.org/10.47709/jebma.v1i2.993
Dedi Putra. (2010). Pengaruh Nilai Intrinsik Saham Dan Nilai Pasar Saham Ditinjau Dari Analisis Fundamental Terhadap Tingkat Return Saham Pada Perusahaan Manufaktur Di Bursa Efek Indonesia. JMK, 8(2).
Editor, S., Raditya, B., Editor, D., Farida, I., Baruno, A. D., Editor, L., & Kom, N. A. S. (n.d.). No Title.
Gede, L., Artini, S., Aryati, N. T., Putu, N., & Darmayanti, A. (2017). Pasar saham dunia dengan bursa efek Indonesia. Matrik : Jurnal Manajemen, Strategi Bisnis dan Kewirausahaan, 11(2), 128–135.
Gumati, A., & Takahshi, H. (2011). Experimental study and modeling of pressure loss for foam-cuttings mixture flow in horizontal pipe. Journal of Hydrodynamics, 23(4), 431–438.
Jogiyanto Hartono. (2016). Teori Portofolio dan Analisis Investasi. Yogyakarta: BPFE.
Muhammad Zubayr. (2015). Analisis Fundamental dan Teknikal Saham-Saham dengan Nilai Kapitalisasi Pasat Terbesar di JII, Sikripsi (Jakarta: UIN Syarif Hidayatullah.
Mulyani, E., Thabrani, G., & Linda, M. R. (2019). PKM Pelatihan Analisis Fundamental dan Teknikal Sebagai Alat Analisis Pengambilan Keputusan Investasi di Pasar Modal Pada Guru MGMP Akuntansi dan Ekonomi SMA/SMK Kota Bukittinggi. 7(2), 1567–1574.
Oktavia, T. A., Widodo, N. M., Rejeki, H., & Hartono, P. (2021). Analisis fundamental saham sebelum dan sesudah pandemi covid-19: Studi empiris di Bursa Efek Indonesia. Monex: Journal Research Accounting Politeknik Tegal, 10(2), 213–218. http://dx.doi.org/10.30591/monex.v10i2.2553
P Rahardja, Manurung. (2018). Pengantar Ilmu Ekonomi. Jakarta: Lembaga Penerbit Fakultas Ekonomi Universitas Indonesia, Edisi Ketiga
Pratomo, W. A. (n.d.). No Title. Idx, 205–219
Putra, D. (2010). Pengaruh nilai intrinsik saham dan nilai pasar saham ditinjau dari analisis fundamental terhadap tingkat return saham pada perusahaan manufaktur di bursa efek Indonesia. Jurnal Manajemen dan Keuangan, 8(2), 166–176. https://jurnal.darmajaya.ac.id/index.php/jmk/article/view/299
Sri Hermuningsih, (2019). Pasar Modal Indonesia, Yogyakarta: UPP STIM YKPN, Edisi Kedua.
Sutikno, S., Ramadani, M. R. M. (2021). Analisis Fundamental, Deviden, Over confidence Dan Promosi Terhadap Keputusan Investasi Di Pasar Modal. Jurnal Ekonomi Vokasi, 4(2), 54–65. https://e-jurnal.lppmunsera.org/index.php/JEV/article/view/3494
www.idx.co.id
Yatimin Abdullah, Studi Islam Kontemporer, (2009). Jakarta: Amzah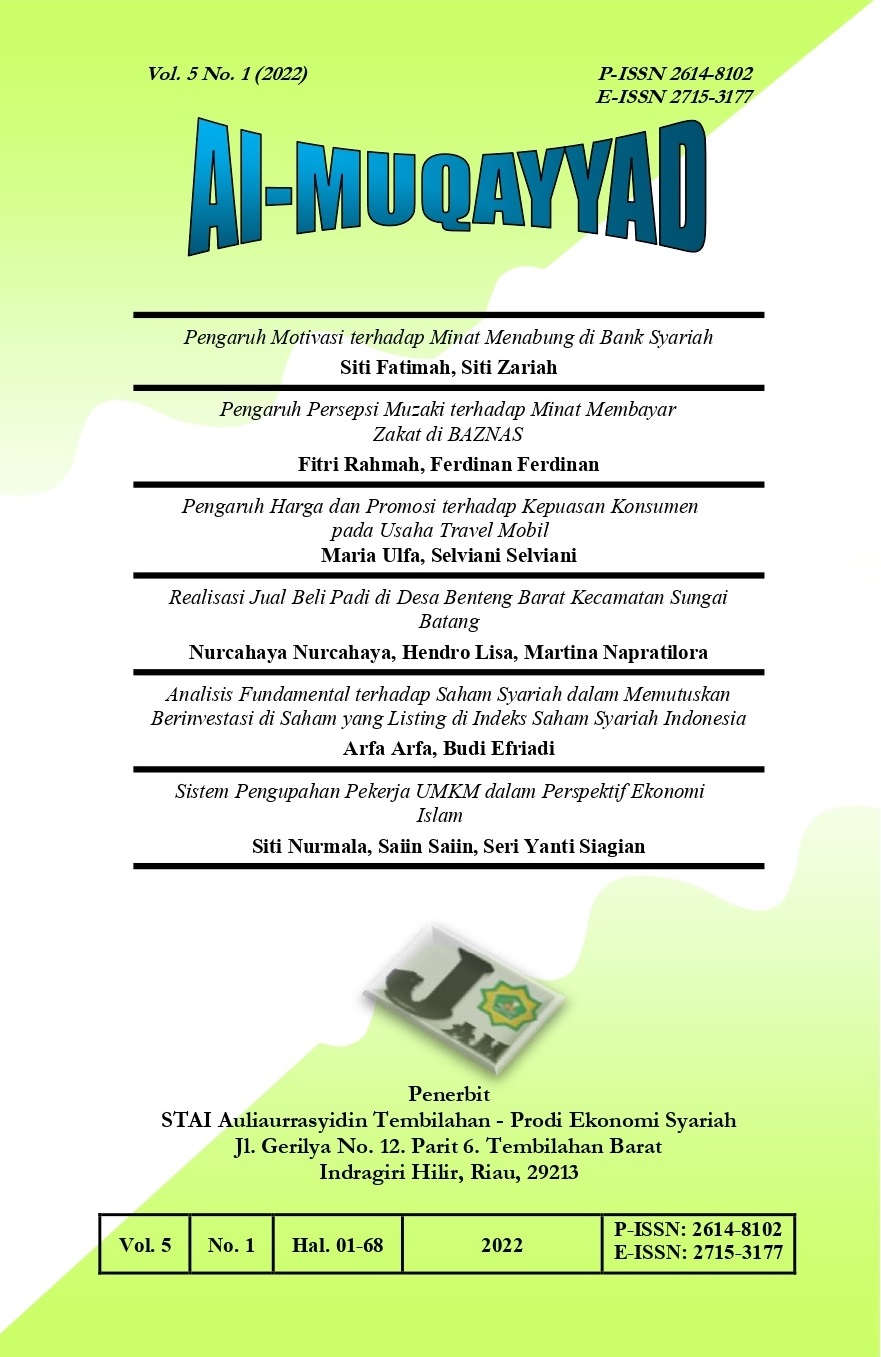 Downloads
How to Cite
Arfa, A., & Efriadi, B. (2022). Analisis Fundamental terhadap Saham Syariah dalam Memutuskan Berinvestasi di Saham yang Listing di Indeks Saham Syariah Indonesia. AL-Muqayyad, 5(1), 42–59. https://doi.org/10.46963/jam.v5i1.568
License
Copyright (c) 2022 Arfa Arfa, Budi Efriadi
This work is licensed under a Creative Commons Attribution-ShareAlike 4.0 International License.
Authors who publish with this journal agree to the following terms:
1. Copyright on any article is retained by the author(s).
2. The author grants the journal, right of first publication with the work simultaneously licensed under a Creative Commons Attribution shareAlike 4.0 International License that allows others to share the work with an acknowledgment of the work's authorship and initial publication in this journal.
3. Authors are able to enter into separate, additional contractual arrangements for the non-exclusive distribution of the journal's published version of the work (e.g., post it to an institutional repository or publish it in a book), with an acknowledgment of its initial publication in this journal.
4. Authors are permitted and encouraged to post their work online (e.g., in institutional repositories or on their website) prior to and during the submission process, as it can lead to productive exchanges, as well as earlier and greater citation of published work.
5. The article and any associated published material is distributed under the Creative Commons Attribution-ShareAlike 4.0 International License