Analisis Implementasi Zakat Perdagangan dalam Perspektif Ekonomi Islam
Keywords:
Zakat, Trade, Islamic Economics
Abstract
This study aims to determine the implementation of trade zakat in the perspective of Islamic economics at the Thrift shop Gembong Surabaya. This type of research is field research with a qualitative descriptive method. Taking purposive sampling. With the data collection method of interviews, observation and documentation. The results of the study show that the implementation of trade zakat at the Gembong Thrift shop in Surabaya is generally carried out, but in practice it is not in accordance with Islamic law. Because the traders there do not know the procedures for implementing trade zakat. Starting from the obligatory conditions of zakat, its distribution, nisab, haul, and the levels of zakat on trade assets. Reviewed based on Islamic economics in general is not in accordance with the rules of Islamic law. This is because traders in carrying out their trade zakat do not use the laws that have been established for trade zakat. There are even those who equate the concept of this trade with alms. However, among them there are those who carry it out correctly and in accordance with the rules of Islamic.
Downloads
Download data is not yet available.
References
Abdussamad, Zuhri. (2020). Penelitian Kualitatif. Makasar: CV Syakir media press.
Ahmad fauzi Qosim. (2023). Jenis-jenis zakat. https://zakat.or.id/jenis-jenis-zakat/. Diakses pada 22 Januari jam 21. 45 WIB
Alpriyamah, Q. U., & Adityawarman, A. (2017). Analisis Faktor-Faktor yang Mempengaruhi Perilaku Kepatuhan (Compliance Behavior) Pembayaran Zakat Perdagangan (Studi Kasus Pengusaha Muslim Batik di Kota Pekalongan Tahun 2017). Diponegoro Journal of Accounting, 6(3), 680-692.
Al-Qahthani, Sa'id Bin Ali Bin Wahf. (2018). Ensiklopedia Zakat (mencakup zakat mal, zakat perusahaan, zakat fitrah, dan sedekah Sunnah. Jakarta: Pustaka Imam Asy-Syafi'i.
Firdausa, L. A. (2022). Praktik Zakat Perdagangan Oleh Pengusaha Muslim di Pasar Sudimampir Kota Banjarmasin.
Hardani Dkk. (2020). Metode Penelitian Kualitatif & Kuantitatif. Yogyakarta: Cv. Pustaka Ilmu Group Yogyakarta.
Kedaton, P. A. S. (2018). SISTEM PERHITUNGAN ZAKAT PERTANIANLADA KECAMATAN SEBERANG MUSI KABUPATEN KEPAHIANG (Doctoral dissertation, UIN Fatmawati Sukarno Bengkulu).
Kementrian Agama RI. (2013). Ar-Rahim Al-Quran dan terjemahan. Bandung: CV Mikraj Khazanah Ilmu.
Khoeriyah, lulun. (2022.) Analisis tingkat pemahaman pedagang terhadap zakat perdagangan (studi kasus pasar manis Purwokerto Banyumas Jawa Tengah).. Purwokerto. Fakultas ekonomi dan bisnis Universitas islam negeri PROF.KH. Saifuddin Zuhri Purwokerto.
Lestari, O. R., Fauziah, N. E., & Maryandi, Y. (2019). Implementasi Pemahaman Para Pedagang Tentang Zakat Perdagangan di Pasar Anyar Kota Bandung. Prosiding Hukum Ekonomi Syariah, 449-454.
Mardani. (2016). Hukum Islam: Zakat, Infak, Sedekah, Wakaf (konsep islam mengentaskan kemiskinan dan menyejahterakan umat).. Bandung: PT Citra Aditya Bakti.
Merlinda, S. (2015). Determinan Keputusan Muslim dalam Pembayaran Zakat Perdagangan (Studi Kasus di Kota Malang Provinsi Jawa Timur) (Doctoral dissertation, Universitas Brawijaya).
Novia, N., Noor, I., & Ekawaty, M. (2018). Analisis Pengaruh Faktor Non-Ekonomi terhadap Sikap Pedagang Madura dalam Membayar Zakat Perdagangan. Al-Muzara'ah, 6(1), 61-76.
Nurjannah. (2017). Pemahaman pedagang tentang zakat perdagangan dan implementasinya di pasar lakessi kota Parepare. Parepare: Sekolah Tinggi Agama Islam Negeri Parepare.
Qalbiah, N. (2013). Perhitungan Zakat Perdagangan Dan Pengaruhnya Terhadap Pajak Penghasilan. Jurnal INTEKNA: Informasi Teknik dan Niaga, 13(3).
Rohani, S. (2018). Peran Badan Amil Zakat Nasional (BAZNAS) Terhadap Zakat Perdagangan Di Kota Metro (Doctoral dissertation, IAIN Metro).
Sahroni, Oni. (2020). Fikih zakat kontemporer. Depok: PT RAJA GRAFINDO PERSADA.
Sugiarto, Eko. (2015). Menyusun proposal penelitian kualitatif. Yogyakarta: Suaka Media.
Tamimi SF, Nazhira. (2020). Pengaruh pengetahuan lingkungan sosial religiusitas dan pendapatan terhadap minat Muzakki dalam membayar zakat perdagangan di Kota Banda Aceh. Banda Aceh: Fakultas Ekonomi Dan Bisnis Islam Universitas Islam Negeri Ar-Raniry Banda Aceh.
Tim Penyusun Buku Panduan Zakat Praktis. (2013). Panduan Zakat Praktis. Jakarta: Kementrian Agama Republik Indonesia. Direktorat pemberdayagunaan Zakat.
Yuniarti, Vinna Sri. (2016). Ekonomi Mikro Syariah. Bandung. CV.Pustaka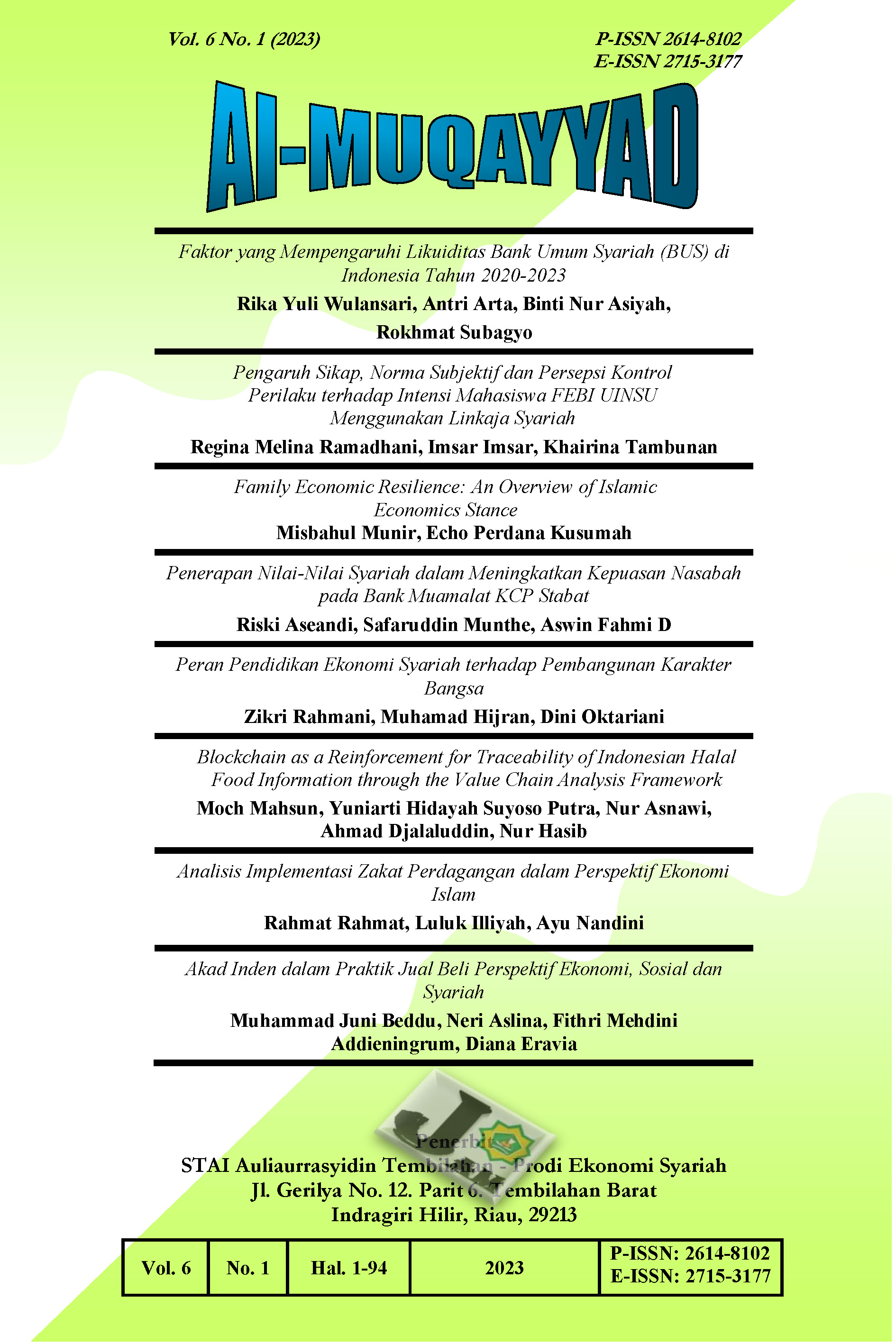 Downloads
How to Cite
Rahmat, R., Illiyah, L., & Nandini, A. (2023). Analisis Implementasi Zakat Perdagangan dalam Perspektif Ekonomi Islam. AL-Muqayyad, 6(1), 67–76. https://doi.org/10.46963/jam.v6i1.1052
License
Copyright (c) 2023 Rahmat Rahmat, Luluk Illiyah, Ayu Nandini
This work is licensed under a Creative Commons Attribution-ShareAlike 4.0 International License.
Authors who publish with this journal agree to the following terms:
1. Copyright on any article is retained by the author(s).
2. The author grants the journal, right of first publication with the work simultaneously licensed under a Creative Commons Attribution shareAlike 4.0 International License that allows others to share the work with an acknowledgment of the work's authorship and initial publication in this journal.
3. Authors are able to enter into separate, additional contractual arrangements for the non-exclusive distribution of the journal's published version of the work (e.g., post it to an institutional repository or publish it in a book), with an acknowledgment of its initial publication in this journal.
4. Authors are permitted and encouraged to post their work online (e.g., in institutional repositories or on their website) prior to and during the submission process, as it can lead to productive exchanges, as well as earlier and greater citation of published work.
5. The article and any associated published material is distributed under the Creative Commons Attribution-ShareAlike 4.0 International License