Peran Pendidikan Ekonomi Syariah terhadap Pembangunan Karakter Bangsa
Keywords:
Education, Islamic Economics, National Character
Abstract
The Sharia economy is a solution and alternative for the world economy. This is due to the weakness of the existing economic system in the world that has been implemented. The development of the Syari'ah economy is increasingly showing positive changes with the emergence of Islamic financial institutions, sharia-based businesses as well as training and education that discusses the Sharia Economy. Sharia Economic Education must be introduced to the wider community, this is because it has an impact on human values ​​and behavior in fulfilling their life needs in accordance with Islamic law. The purpose of this research is to look at the role of sharia economic education in the development of national character. The analysis in this study uses a qualitative phenomenological approach which is descriptive qualitative through library research.
Downloads
Download data is not yet available.
References
Badri, M. A. (2016). Konsep Kaya dan Miskin; Studi Analisa Atas Status Sosial Nabi Muhammad. Al-Majaalis, 3(2), 143–181.
Fadilla, F. (2017). Permasalahan Ekonomi Sesungguhnya dalam Islam. Islamic Banking : Jurnal Pemikiran Dan Pengembangan Perbankan Syariah, 3(1), 1–10. https://doi.org/10.36908/isbank.v3i1.71
Indonesia, B. (2021). Indeks Literasi Ekonomi Syariah. https://www.bi.go.id/id/edukasi/Pages/Indeks-Literasi-Ekonomi-Syariah.aspx
Iskandar, E. (2017). Urgensi Pendidikan Sistem Ekonomi Islam Sejak Dini. Sabilarrasyad, II(02), 251–263.
Lexi J, M. (2007). Metodologi Penelitian Kualitatif. PT Remaja Rosdakarya.
Nuraulia, G. W. (2017). Penerapan Pendidikan Ekonomi Syariah Di Sekolah Menengah Melalui Koperasi Syariah. Prosiding Seminar Pendidikan Ekonomi Dan Bisnis, 3(1).
Parman Komaruddin dan Muhammad Rifqi Hidayat. (2020). AL-IQTISHADIYAH. 6, 1–18.
Pristiwiyanto. (2020). EKONOMI SYARIAH SOLUSI KRISIS KEUANGAN GLOBAL. Al-Iqtishod, 8(1). https://jurnal.stai-alazharmenganti.ac.id/index.php/AlIqtishod/article/view/83/68
Remund, D. L. (2010). Financial literacy explicated: The case for a clearer definition in an increasingly complex economy. Journal of Consumer Affairs, 44(2), 276–295. https://doi.org/10.1111/j.1745-6606.2010.01169.x
Rozalinda. (2014). Ekonomi Islam : Teori dan Aplikasinya pada Aktivitas Ekonomi. PT RajaGrafindo Persada.
Suharto Abdul Majid, et al. (2016). Pedoman Penulisan Tesis dan Disertasi.
Sukirno, S. (2016). MAKROEKONOMI TEORI PENGANTAR (3rd ed.). Rajawali Pers.
Sumadi. (2018). Peran Pendidikan dan PEngenalan Sistem EKonomi Syariah Kepada Generasi Muda di Era Perkembangan Ekonomi Syariah. Edunomika – Vol. 02, No. 02 (Agustus 2018), 02(02), 196–205.
Wahdah. (2019). Problematika Toleransi Umat Beragama Di Indonesia Di Era Modern: Solusi Perspektif Al-Quran. Prosiding Konferensi International Antasari, 1(1), 464–478.
World Popultion Review. (2022). Muslim Population By Country 2022. https://worldpopulationreview.com/country-rankings/muslim-population-by-country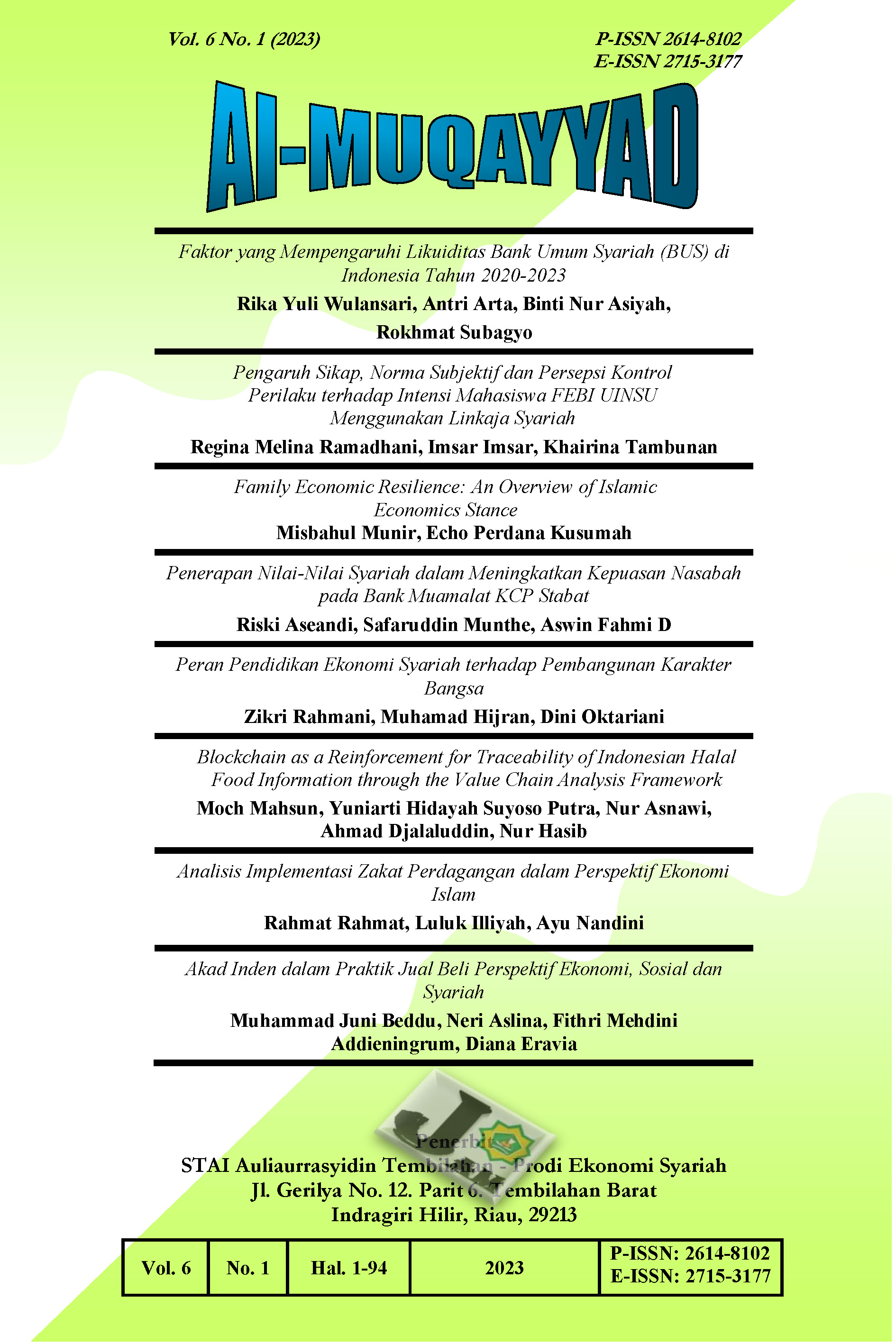 Downloads
How to Cite
Rahmani, Z., Hijran, M., & Oktariani, D. (2023). Peran Pendidikan Ekonomi Syariah terhadap Pembangunan Karakter Bangsa. AL-Muqayyad, 6(1), 42–48. https://doi.org/10.46963/jam.v6i1.1017
License
Copyright (c) 2023 Zikri Rahmani, Muhamad Hijran, Dini Oktariani
This work is licensed under a Creative Commons Attribution-ShareAlike 4.0 International License.
Authors who publish with this journal agree to the following terms:
1. Copyright on any article is retained by the author(s).
2. The author grants the journal, right of first publication with the work simultaneously licensed under a Creative Commons Attribution shareAlike 4.0 International License that allows others to share the work with an acknowledgment of the work's authorship and initial publication in this journal.
3. Authors are able to enter into separate, additional contractual arrangements for the non-exclusive distribution of the journal's published version of the work (e.g., post it to an institutional repository or publish it in a book), with an acknowledgment of its initial publication in this journal.
4. Authors are permitted and encouraged to post their work online (e.g., in institutional repositories or on their website) prior to and during the submission process, as it can lead to productive exchanges, as well as earlier and greater citation of published work.
5. The article and any associated published material is distributed under the Creative Commons Attribution-ShareAlike 4.0 International License