Nilai-Nilai Pendidikan Agama Islam
Tamrin Tamrin

STIT DAR Aswaja Rokan Hilir, Riau, Indonesia
Keywords:
Values, Education, Islam, Teachers
Abstract
The problem that has been forgotten, abandoned and never received more is the problem of value. One thing that becomes more fundamental is how humans become more mature and able to live a more respectful life based on values ​​and conscience so as to bring out the whole human character (insan kamil). An interesting question often arises, can values ​​be taught? Questions like this can arise among educators, academics, or the wider community. So many people then discussed this issue. This shows a great deal of attention to this issue, and the answer to that question is very clear that values ​​can be taught through the educational process. To realize the value of good and quality education, it is necessary to have supporting components, one of which is the professional performance of teachers. Teacher performance is the key to the success of education, because the presence of teachers is very influential on all existing educational resources such as facilities and infrastructure, costs, technology, information, students and parents of students can function properly if the teacher has a good ability to use all existing resources.
References
Ahmad Tafsir, Ilmu Pendidikan dalam Perspektif Islam, Bandung: PT. Remaja Rosdakarya, 1992.
Bafadal Ibrahim, Peningkatan Profesionalisme Guru Sekolah Dasar, Jakarta: PT Rineka Cipta, 2003.
Departemen Pendidikan Nasional RI. Undangan-Undang Republik Indonesia Nomor 20 Tahun 2003 Tentang Sistem pendidikan Nasional, Jakarta: Departemen Pendidikan Nasinal, 2003.
HAR. Tilaar, Pendidikan Untuk Masyarakat Indonesia Baru, Jakarta: Grasindo. 2002.
Hasan Langgulung, Beberapa Pemikiran Tentang Pendidikan Islam, Bandung: Al Maarif, 1980
H. Titus, M.S, et al, Persoalan-persoalan Filsafat, Jakarta: Bulan Bintang, 1984.
HM. Chabib Thoha, Kapita Selekta Pendidikan Islam, Yogyakarta: Pustaka Pelajar, 1996.
Isjoni dan Mohd. Arif. Hj. Ismail, Model-model Pembelajaran Mutakhir Perpaduan Indonesia-Malaysia, Yogyakarta: Pustaka Pelajar, 2008.
Khalid ibn 'Abd Allah al-Qurasyi, Tarbiyah al-Nabi li Ashabih fi Dau' al-Kitab wa al-Sunnah, Mekah: Dar al-Tarbiyah wa al-Turas, 2001.
Moh Uzer Usman, Menjadi Guru Profesional, Bandung: PT Remaja Rosdakarya, 2005.
Martinis Yamin, Maisah, Standarisasi Kinerja Guru, Jakarta: Gaung Persada. 2010.
Masnur Muslich, Pendidikan Karakter Menjawab Tantangan Krisis Multidimensional, Jakarta: Bumi Aksara, 2011.
Muhaimin dan Abdul Mujib, Pemikiran Pendidikan Islam, bandung: Trigenda Karya,1993.
Muhammad Jamaluddin Ali Mahfuzd, Psikologi Anak dan Remaja Muslim, Jakarta: Pustaka Al-Kautsar, 2001.
Nur Uhbiyati, Ilmu Pendidikan Islam, Bandung: pusfaka Al-Kautsar, 2005.
Omi Intan Naomi, Menggugat Pendidikan Fundamentais Konservatif Liberal Anarkis, Yogyakarta: Pustaka Pelajar, 1998.
Ramayulis, Ilmu Pendidikan Islam, Jakarta: Kalam Mulia, 1998.
Soebagio Atmodiwiryo, Manajemen Pendidikan Indonesia, Jakarta: PT. Ardadizya Jaya, 2000.
Syaiful Bahri, Guru dan Anak Didik, Jakarta: Rineka Cipta, 2000.
W.JS. Purwadarminta, Kamus Umum Bahasa Indonesia, Jakarta: Balai Pustaka,1999.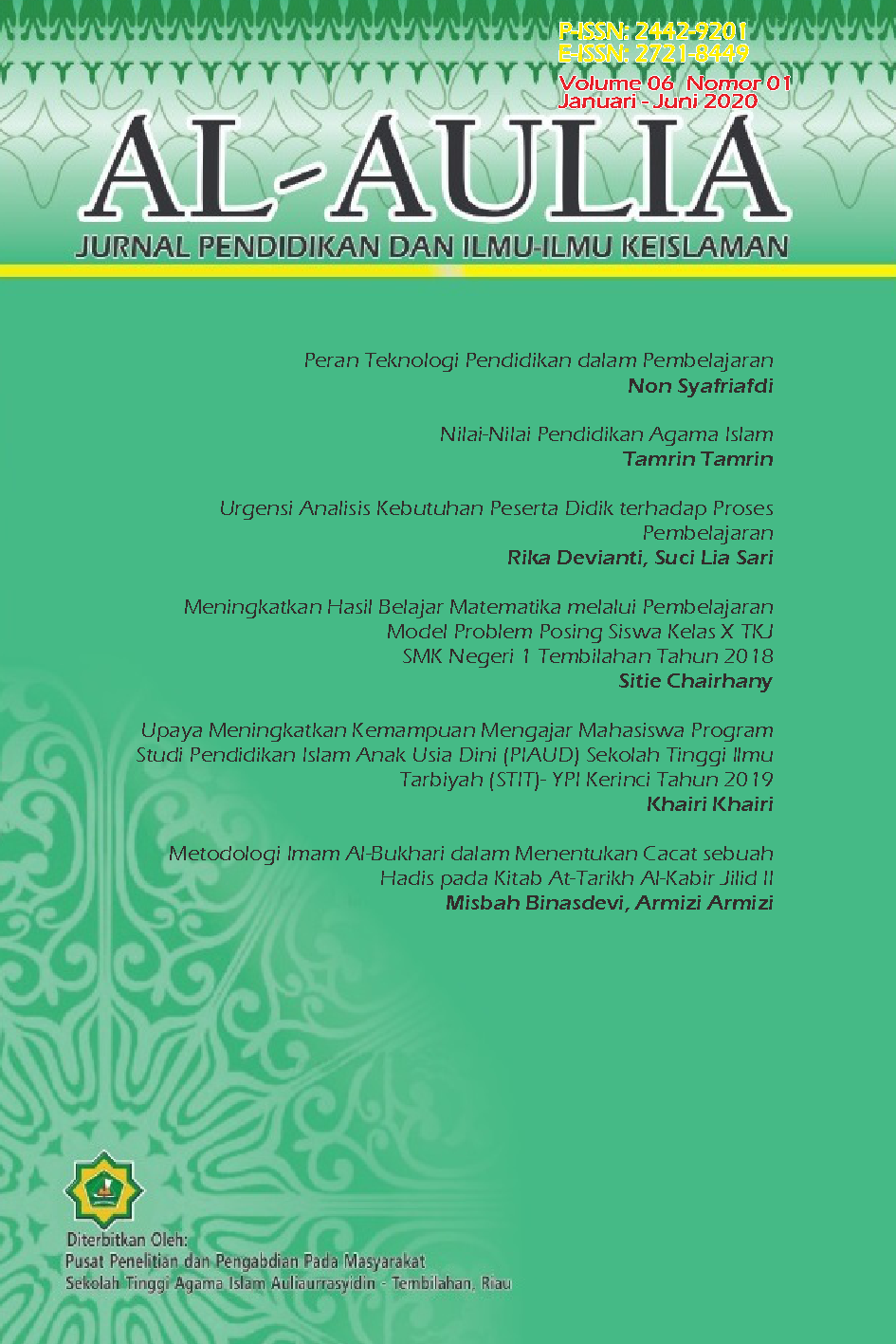 How to Cite
TamrinT. (2020). Nilai-Nilai Pendidikan Agama Islam. AL-AULIA: Jurnal Pendidikan Dan Ilmu-Ilmu Keislaman, 6(1), 9-20. Retrieved from https://ejournal.stai-tbh.ac.id/index.php/al-aulia/article/view/200
Copyright (c) 2020 Tamrin Tamrin
This work is licensed under a Creative Commons Attribution-ShareAlike 4.0 International License.
Authors who publish with this journal agree to the following terms:
1. Copyright on any article is retained by the author(s).
2. The author grants the journal, right of first publication with the work simultaneously licensed under a Creative Commons Attribution License that allows others to share the work with an acknowledgment of the work's authorship and initial publication in this journal.
3. Authors are able to enter into separate, additional contractual arrangements for the non-exclusive distribution of the journal's published version of the work (e.g., post it to an institutional repository or publish it in a book), with an acknowledgment of its initial publication in this journal.
4. Authors are permitted and encouraged to post their work online (e.g., in institutional repositories or on their website) prior to and during the submission process, as it can lead to productive exchanges, as well as earlier and greater citation of published work.
5. The article and any associated published material is distributed under the Creative Commons Attribution-ShareAlike 4.0 International License