Meningkatkan Hasil Belajar Matematika melalui Pembelajaran Model Problem Posing Siswa Kelas X TKJ SMK Negeri 1 Tembilahan Tahun 2018
Sitie Chairhany

SMKN 01 Tembilahan, Riau, Indonesia
Keywords:
Learning Outcomes, Problem Posing Method
Abstract
The Learning Model is one of the supporting factors in teaching mathematics. In choosing one of the teaching methods it will affect the type of learning method that is appropriate, although there are still various other aspects that must be considered in choosing a method including: learning objectives, types of tasks and responses that students are expected to master after learning takes place Problem Posing is a learning method that can increase student activity. It is hoped that students can develop critical and creative thinking skills to build positive attitudes and increase quality human resources in facing a future that is more challenging. Learning problem posing models can be interpreted as the formation of questions to make them simpler and understandable. From the results of the study on the discussion of eating, it can be concluded that the
application of problem posing model learning can improve mathematics learning outcomes for students in class X-TKJ-1 SMK Negeri 1 Tembilahan 2018 with the subject matter of rank numbers, root forms and logarithms. Periclus learning outcomes before experiencing improvement so that students can achieve mastery in learning. Student completeness in learning cycle 1 was 71.6%, cycle II was 79.7% and cycle III was 95.9%.
References
Arikunto, Suharsismi. 2002. Dasar-Dasar Evaluasi Pendidikan. Jakarta : Bumi Aksara.
Arikunto, Suharsismi. 2007.Penelitian Tindakan Kelas. Jakarta : Bumi Aksara.
Arsyad, Azhar. 2005. Metode Pembelajaran. Jakarta: Pt Rajagrafindo Persada.
Darsono, Marx. 2000. Belajar dan Pembelajaran. Gedongtataan: IKIP Pres.
Depdikbud. 1999. (Penelitian Tindakan Action Research). Depdikbud.
Dimyati, Mudjiono. 2002. Belajar dan Pembelajaran. Jakarta: Rineka Cipta.
Fatrima,santri. 2016. Pembelajaran Matematika. Yogyakarta :Matematika..
Kemdikbud.2014. Buku Matematika Kelas X SMA/MA/SMK/MAK Edisi Revisi. Jakarta: Kemdikbud.
Kusumah, wijaya. 2009.Mengenal Penelitian Tindakan. Jakarta: PT Malta Printindo.
LAPIS. 2008. Matematika 1.Surabaya: LAPIS-PGMI.
Oemar, Hamalik. 2003. Proses Belajar Mengajar. Jakarta: Bumi aksara.
Mulyasa. 2002. Kurikulum Berbasis Kompetensi. Bandung: PT Remaja Rosdakarya.
Nasution. 2004. Didaktit Asas-Asas Mengajar. Jakarta: Bumi Aksara.
Sudjana, Nana. 1999. Penilaian Hasil Proses Belajar Mengajar. Bandung: Remaja Rosdakarya.
Slamet. 2006. Upaya Peningkatan Aktivitas Belajar Mahasiswa Melalui Pendekatan Problem Posing Pada Pembelajaran Matematika Dasar. Bandung: Jurnal Pendidikan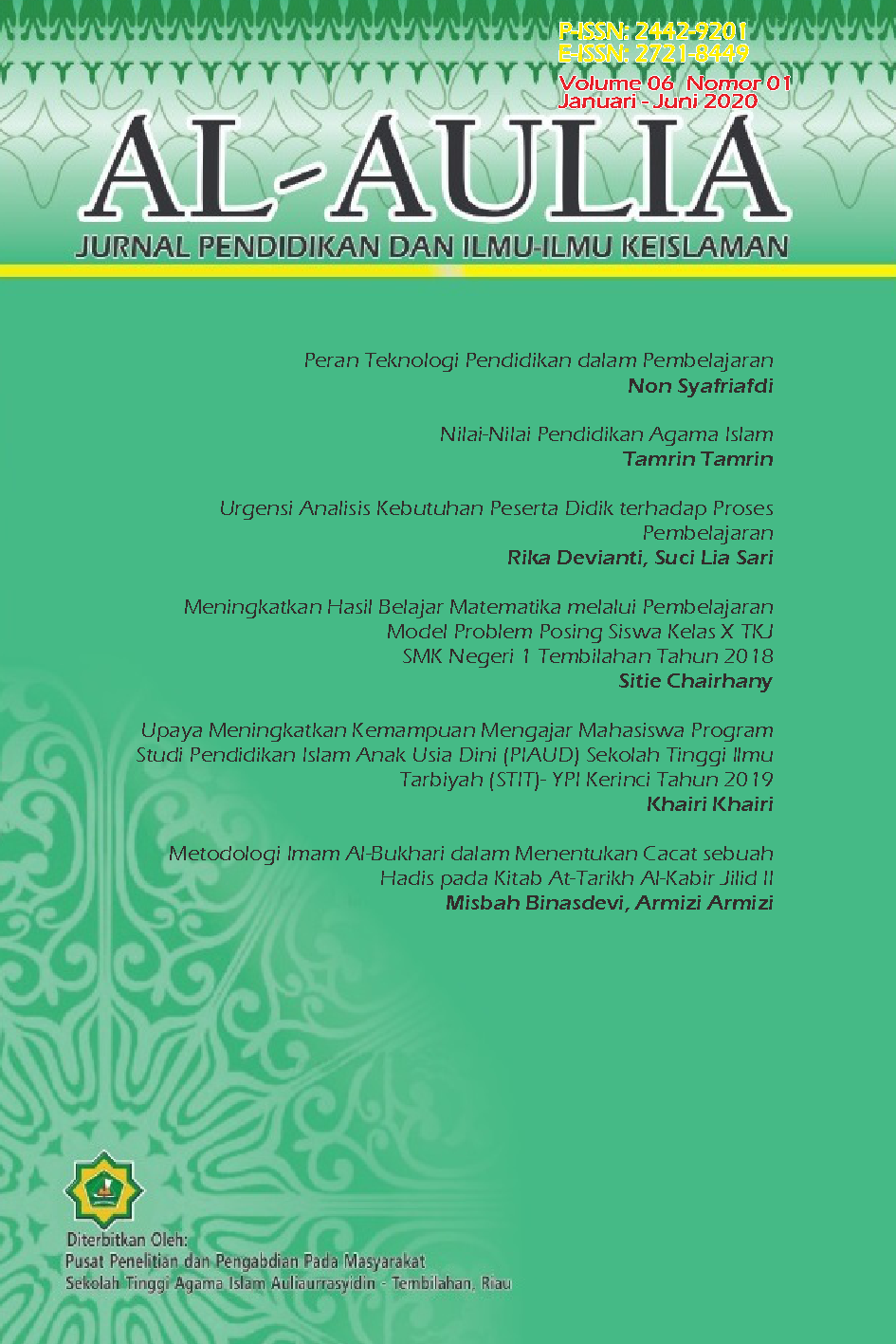 How to Cite
ChairhanyS. (2020). Meningkatkan Hasil Belajar Matematika melalui Pembelajaran Model Problem Posing Siswa Kelas X TKJ SMK Negeri 1 Tembilahan Tahun 2018. AL-AULIA: Jurnal Pendidikan Dan Ilmu-Ilmu Keislaman, 6(1), 37-43. Retrieved from https://ejournal.stai-tbh.ac.id/index.php/al-aulia/article/view/190
Copyright (c) 2020 Sitie Chairhany
This work is licensed under a Creative Commons Attribution-ShareAlike 4.0 International License.
Authors who publish with this journal agree to the following terms:
1. Copyright on any article is retained by the author(s).
2. The author grants the journal, right of first publication with the work simultaneously licensed under a Creative Commons Attribution License that allows others to share the work with an acknowledgment of the work's authorship and initial publication in this journal.
3. Authors are able to enter into separate, additional contractual arrangements for the non-exclusive distribution of the journal's published version of the work (e.g., post it to an institutional repository or publish it in a book), with an acknowledgment of its initial publication in this journal.
4. Authors are permitted and encouraged to post their work online (e.g., in institutional repositories or on their website) prior to and during the submission process, as it can lead to productive exchanges, as well as earlier and greater citation of published work.
5. The article and any associated published material is distributed under the Creative Commons Attribution-ShareAlike 4.0 International License